Hello Everyone! Welcome to lesson 3 of The Beginning! Throughout this series of the Bible Art Journaling Challenge, we're looking at key scriptures to understand the Bible story, while focusing on a select few supplies which any beginner can gain confidence with. If you feel less like a beginner, you'll enjoy all the refreshers and some new insights. In previous lessons we covered Bible art journaling colored pencil basics, while we talked about how God is the first and the last and the topic of covenants! In this lesson we're shifting gears a bit and looking at the birth of Jesus and what that means for us, while doing some simple Bible art journaling Inktense Blocks brush lettering for beginners.
If you're just finding The Beginning, I encourage you to start with Lesson 1, as this 6 lesson series is in a particular order for you to get the most out of our time together. By the time we finish with lesson 6, you'll be able to look back and see the Bible in a fresh way with some new understanding. You'll also be more confident in stepping out creatively, which means you'll then be ready to move on from The Beginning to even bigger Bible art journaling things! Let's buckle up for some creative fun as we study more of the Bible story together!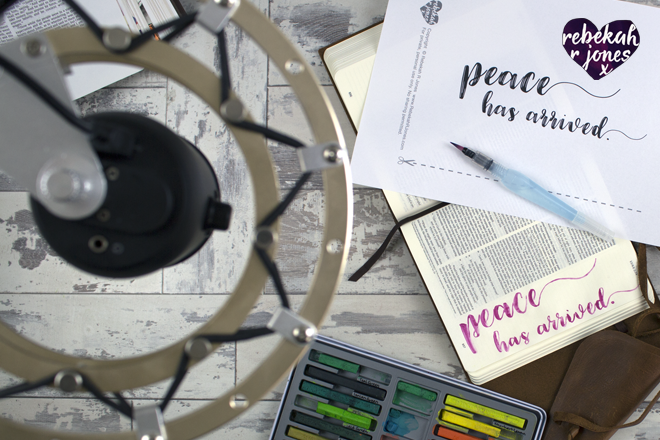 The Point of Bible Art Journaling
First, I want to remind you once again that the point of Bible art journaling is to grow in God, not to create something you'd be proud to put on your fridge. Our heavenly Father delights in watching us connect with His Word through creative pleasure. Enjoy the creative process and put away any lies that creating something "beautiful" is the goal. Record what He is doing in your life and delight in where you are today. Have fun!