About the Bible Art Journaling Challenge…
Since 2015, I've offered 4 Bible Art Journaling Challenge series' where together, we encounter Jesus through creativity in the Word. It's free to participate and you are encouraged to use whatever supplies you have available to you. This is the kind of content people charge for and it's my free gift to you, as an investment in your spiritual and creative growth. Why? Because you are loved!

Each lesson includes a video and blog post, which combines a devotional (aka Bible study) with a creative tutorial. They center around a particular section of scripture, finishing with a challenge for you to join me creating on/about that same section of scripture and to then share the experience with our growing and very lovely community. Start today and come on a life changing journey!
Which free series of the Bible Art Journaling Challenge is right for you?
Each series comes with its own creative and spiritual focus. They were designed to be as useful today, as the day they were first shared. There is no wrong place, or time to start. We have a supportive, large community and lots of people are regularly joining so you're not alone. I recommend you participate in each Bible Art Journaling Challenge, in the order you see outlined below, to get the maximum benefit from this experience.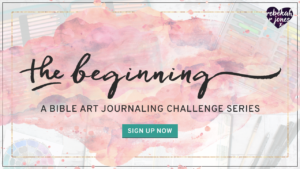 1. The Beginning is a 6-part monthly series, which is the start we've always needed! We'll look at key scriptures in the Bible story, while focusing on a select few supplies which any beginner can gain confidence with. Sign up now to get supplies and prepare for this exciting new series starting July 2019!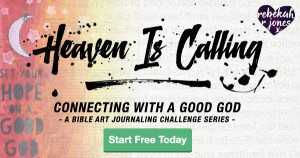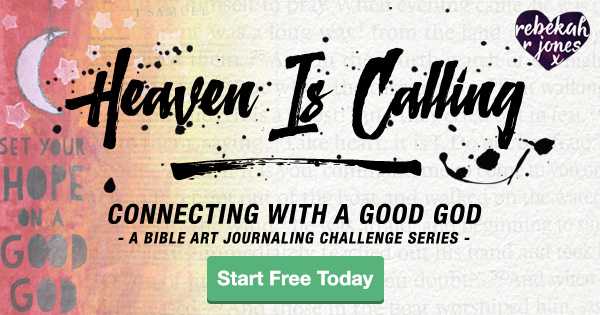 2. Heaven Is Calling is a 12-part monthly series, focused on helping you connect with a good God.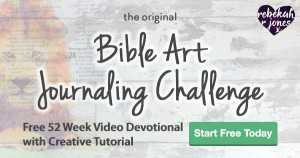 3. The Original Bible Art Journaling Challenge is a 52-week series, focused on helping you encounter Jesus through creativity. Though it was the 1st series released, it's recommended that you advance to it only after completing The Beginning and Heaven is Calling. You'll be more confident to take on some of the exciting techniques you'll learn in this series. It's important to me that you engage rather than simply be inspired. Dive into those beginner lessons so you're ready for this when the time comes.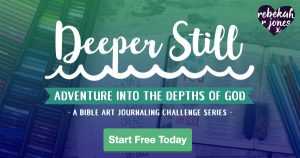 4. Deeper Still is a 12-part monthly series, focused on helping you adventure into the beautiful depths of God. It's a great series to take after completing the Original Series, to take your spiritual journey a bit deeper.
The Bible Art Journaling Challenge is my gift to you, for your creative journey with God. I pray these series are a blessing to you, as they have come to be for thousands of others like you. See this as a bonus to your time with God as you meditate on His Word with creative pleasure!
Frequently Ask Questions (FAQ)
Can you recommend Bible art journaling supplies to get started?
If you're looking for supplies to get started, each series in the Bible Art Journaling Challenge has a supplies list attached, when you go to their specific blog page to learn more.
Also, I've made a fairly comprehensive page full of links to general Bible journaling supplies I can recommend, PLUS my free Complete Guide To Choosing A Journaling Bible. It also links to my internal blog posts I've done with helpful tips on specific Bible journaling techniques.
You can view my general Bible Journaling Supplies page here.
Where can I find an archive of challenges?
You'll find a FULL archive with details on how to participate, when you head to any particular series of your choice, to get started today!
What Is Bible art journaling?
Bible journaling is a growing movement, where many are creating on the pages of their Bible as a devotional process. It is also sometimes called "Bible art journaling" or, "illuminated journaling". The idea is to engage more freely with the Word of God in new ways and to record personally inspiring scriptures in creative and artistic ways, which serve to remind us of moments in our personal journey with God and help us grow in our faith.
Save
Save
Save
Save
Save
Save
Save