Epic Illustrating Bible Pen Test – Watch The Results

Hey friend! I've had SOOO many questions about the Illustrating Bible. "Is the paper really thicker?", "What's makes it different than other Bibles?", "Will my pens bleed through?", the list goes on and on. Last week I did a full Illustrating Bible video review. Earlier this week I went on to create a Journaling Bible Paper Thickness video which many of you found really helpful. I think it should have nicely set the stage for this Illustrating Bible pen test.
A Epic Illustrating Bible Pen Test

In this post, I've got a video, supplies link and a free download so you can test your own pens in whatever Bible you have! Let's get started with this Illustrating Bible pen test with no less than 86 of your favorite pens! Below I'll
link the pens which I can recommend after this epic testing. I'll break them into three categories for ease of your own research… black and white fineliner pens, colored fineliner pens and finally, brush pens. This post may contain affiliate links. If you make a purchase after clicking an affiliate link, this art ministry gets a small commission, with no extra cost to you. You may read my full disclosure, for details. Thank you, I appreciate you partnering to help impact lives!
The Illustrating Bible
First though…. if you're wondering what the Illustrating Bible is…
The Illustrating Bible was created as the worlds first spiral bound Bible, with 75% thicker paper than traditional Journaling Bibles and twice the margin space for creativity. I have to say, there is a LOT to love about it. It is entirely to be considered an "investment" in your spiritual growth. It's on the more expensive side with so much packed into it, but I believe the price is quite comparable when you stack it against other Bibles around the same price. So, it's not for everyone, but it will serve many in their creative spiritual journey with God and I'm personally very impressed with it. I only recommend what I believe is good value and that I honestly love. This Illustrating Bible fits into that nicely.
If you'd like to learn more or order the Illustrating Bible and want to support this art ministry while you do, you can click this link: http://shrsl.com/15jcp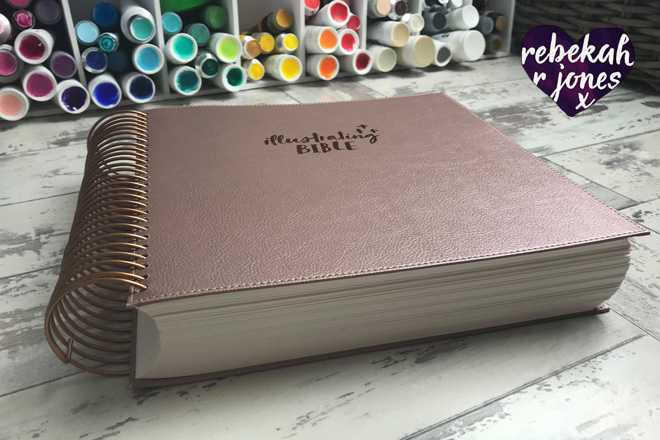 I've got more posts coming out in this Illustrating Bible over the next several days, so stay tuned! In this post and video, we're looking at an Illustrating Bible pen test. Against my own better judgement, I've even used pens I knew would bleed terribly, so you can see the results for yourself.
Illustrating Bible Pen Test – What To Know
The key "take-home" I hope to make clear is that every pen is made of different chemical structure and all paper types are made differently. Some pens are made for specific paper and some paper only "takes" certain types of ink. Bible paper isn't all equal, but the finish and tooth is similar regardless the quality Bible these days.
When we run a pen across the surface of Bible paper, how it is made and what is in the ink, will have everything to do with whether it bleeds or not. Is is alcohol based? I hands-down guarantee bleed through even with the most epic Bible paper. The paper just cannot be made for it. Is your pen juicy, or rather old and dry in a desert climate? So much can affect how pens act. I hope you find this post and video a great guide.
But ultimately, you need to get out your own Journaling Bible and test the pens you have! I've created a free download which you can trace into your Illustrating Bible (or any Journaling Bible if you shrink it!).
Why not grab a hot drink, your Journaling Bible and pens and let's get started! Don't forget all the pens I can recommend are below and remember… test them in your own Bible first. It's just good practice and especially if you want to use these in a different Journaling Bible, which has thinner paper. Let's get started…
Let's look at the pens you can use in the Illustrating Bible…
Illustrating Bible Pen Test – Black & White Fineliner Pens
Black and white fineliner pens come in all sizes and shapes. I think Faber-Castell Pitt Pens stand the test of time and work amazingly well on just about anything you draw on. Remember to steer clear of Micron if you are doing page prep and that the smaller the nib (aka tip), the more likely page prep can clog your pen. Signo Uni-Ball white gel pen is fantastic for little creative white marking and drawing. The Posco paint pen will add a bold white to cover mistakes.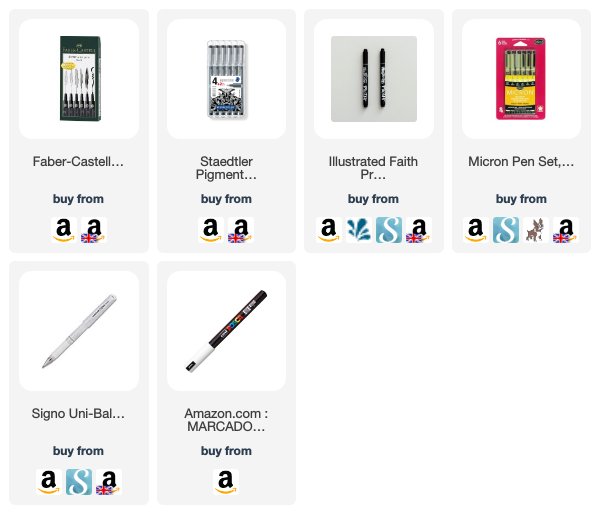 Illustrating Bible Pen Test – Colored Fineliner Pens
Paint pens work great in the Illustrating Bible! I think the Posca pens are very simple to use and come in a range of colors. If you'd rather a felt-tipped dye or pigment ink instead, try the Illustrated Faith Basics, or the Microns. Just be careful of Microns on page prep as it doesn't tend to dry well.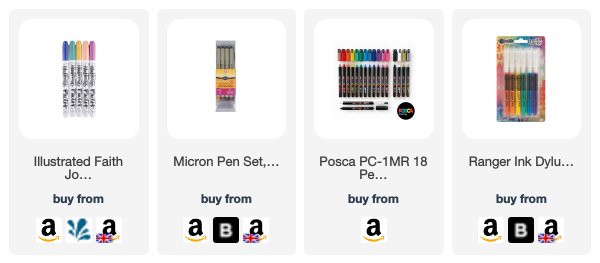 Illustrating Bible Pen Test – Brush Pens
Brush pens are so much fun! Faber-Castell Pitt Brush Pens come in a huge range of colors and can be used for everything from lettering to mixed media coloring. Just remember with any of these, brief exposure is your friend. The longer you sit in one spot, the more ink flows out into one area of the paper, causing potential bleed through. Decide ahead of time what you want to do and then be bold and confident with your strokes. You can do it!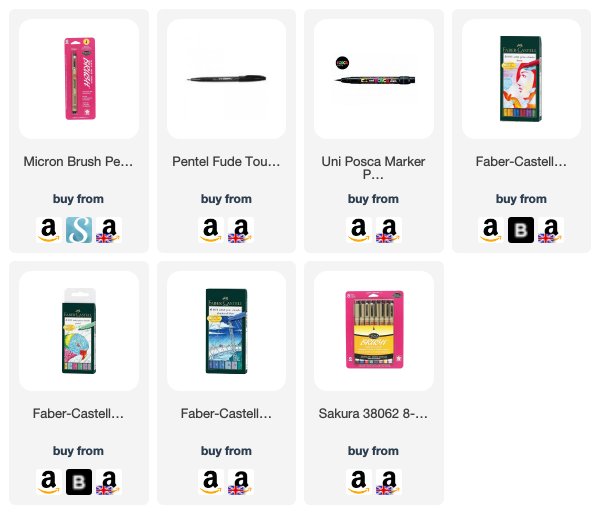 I hope you've found this Illustrating Bible pen test super helpful! If you wish I would show how this all works in traditional Journaling Bibles, that is something I have already covered in great length over in my Page Prep course.
Has this post helped you in some way? Please consider using the share buttons to spread the word! It is a simple way you can partner with me to impact lives. Thanks for your support!
Join the discussion below!
What is your favorite pen to use in your Journaling Bible?
What pens have given you the most trouble in your Journaling Bible?
Any tips, tricks or insider secrets you wanna share about using pen in your Journaling Bible?
You are loved. x