The Beginning Bible Art Journaling Challenge Lesson 2

Hello Everyone! Welcome to lesson 2 of The Beginning! Throughout this series of the Bible Art Journaling Challenge, we're looking at key scriptures in the Bible story, while focusing on a select few supplies which any beginner can gain confidence with. If you feel less like a beginner, you'll enjoy all the refreshers and some new insights. In lesson 1 you learned some Bible art journaling colored pencil basics, while we talked about how God, (the God of Abraham, Isaac and Jacob and the Father of Jesus), is the first and the last. In this lesson I'll be sharing more tips for Bible art journaling coloring, while focusing on the topic of covenants, the next part of the Bible story we're tying together in this series.
If you're just finding The Beginning, I encourage you to start with Lesson 1, as this 6 lesson series is in a particular order for you to get the most out of our time together. By the time we finish with lesson 6, you'll be able to look back and see the Bible in a fresh way with some new understanding. You'll also be more confident in stepping out creatively, which means you'll then be ready to move on from The Beginning to even bigger Bible art journaling things! Let's buckle up for some creative fun as we study more of the Bible story together!
The Point of Bible Art Journaling
First, I want to remind you that the point of Bible art journaling is to grow in God, not to 
create something you'd be proud to put on your fridge. The truth is, God… our Father in heaven, would put ANY of your artwork on His fridge. Fathers LOVE to delight in the process of their children learning and enjoying themselves. How much more does our heavenly Father delight in watching us connect with His Word through creative pleasure. Enjoy the creative process and put away the adult lie that creating something "beautiful" is the goal. (Whose measuring stick could accurately decide what is beautiful anyway?! Ahem…God.)
Record what He is doing in your life and delight in where you are today. Create with the same uninhibited pleasure a child has when enjoying the process. Nobody wakes up a master painter and the goal with Bible art journaling coloring is to enjoy growing our relationship and understanding of God. Have fun! The very act of enjoying the process of creating in the Word, is a position of respect to Him, by choosing to enjoy His love letter to us… the Bible.
Now, to get started with lesson 2, you'll want to get your free download below. I'll explain how to use it, but let me tell ya now… it is really simple!
Free downloads for Bible Art Journaling
If you'd like to use the free traceable download which I created for your Bible art journaling session of Lesson 2 in The Beginning, then you can click below to request yours now. What to know:
If you sign up here, I'll get you set up with The Beginning series and as a Rebekah R Jones subscriber. Yay!
If you're already signed up to The Beginning, your "The Beginning Lesson 2" email is in your inbox with this download already waiting for you.
Check out these help articles for getting a download, if you want help.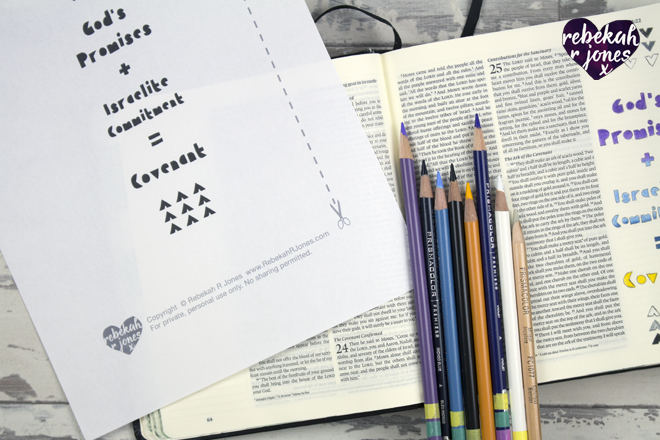 When you request your free download, you'll get signed up for The Beginning series (if you're not already) and will start receiving emails from me which you're welcome to unsubscribe from. Just know though, that you will miss out if you unsubscribe. I LOVE to love on my 'Jonesies' with extra surprise treats. 🙂
Once you've got your download, you just need to ensure you've got whatever Bible art journaling supplies you'll be using for the lesson, before we get started with the video and then dive into some extra context to learn even more below!
The Beginning Lesson 2 Supplies
You'll notice with each of our 6 lessons, that I'm sticking to a strict list of products across the series, so you can learn to use this small kit really well. You can refer to the series supplies list to see everything you'll want, on The Beginning series page. Although I highly recommend you use what I'm featuring to get the most out of our time together in this series, you are free to participate with whatever you have, using the devotional for this lesson.
This post may contain affiliate links. If you make a purchase after clicking an affiliate link, this ministry gets a small commission, with no extra cost to you. You may read my full disclosure, for details. Thank you, I appreciate you partnering to help impact lives!
The supplies from Lesson 1 are almost exactly the same as Lesson 2. I have added the mechanical pencil and super thin eraser to make the creative process super simple. As before, I've featured some Post-It Tape Roll and the Pocket Color Wheel, both of which are not necessary, but very useful. I've also listed my ESV Double Column Black Journaling Bible, (which is a real winner for budget friendly Bible art journaling), but check out my Journaling Bible guide to get one more specific to your own needs if you wish.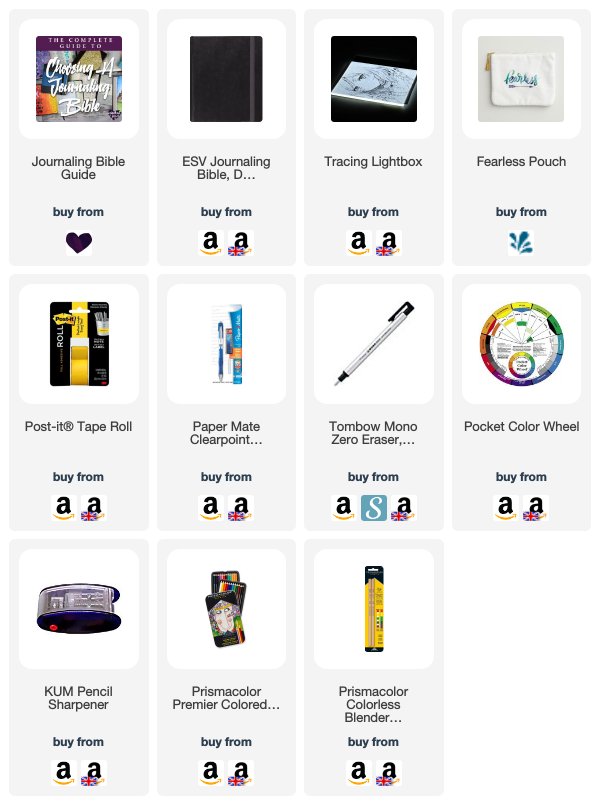 Lesson 2 of The Beginning Bible Art Journaling Challenge
I had so much fun Bible art journaling coloring for this lesson and also diving into the scripture around this. I'm doing my best to keep each video short to consider your time but there is more below to enrich your experience. Let's get started!
Everyone who is signed up for The Beginning series, will automatically get this free guide to the Biblical meanings of colors, right in their Lesson 1 email. I created the guide myself. The Bible gives us many meanings for colors which I think adds a beautiful richness to our creative time in the Word. This little guide is a really useful tool to fold up in the back of your Journaling Bible for help in choosing colors meaningfully for your Bible art journaling sessions.
If you are not yet signed up for The Beginning and want this guide, just sign up on this post to get the download for this week and you'll receive this guide in your Lesson 1 email.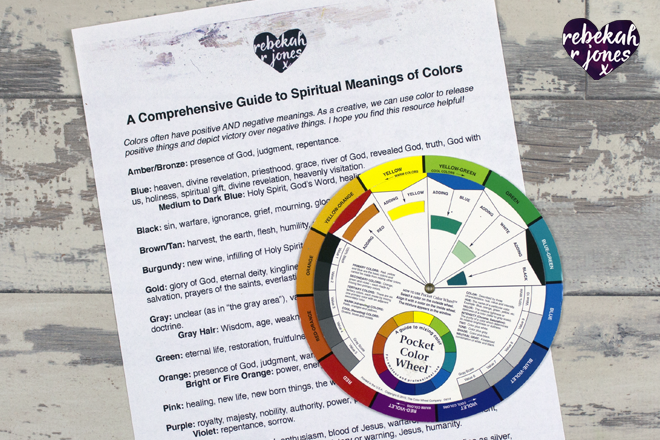 Bible Art Journaling Coloring Tips
I want to give you a close up of some images to help you with your Bible art journaling coloring. This literally is tracing into your Bible and then coloring as you feel led or interested. Simple! Now, have a look at this image where I've already traced the download into my Journaling Bible…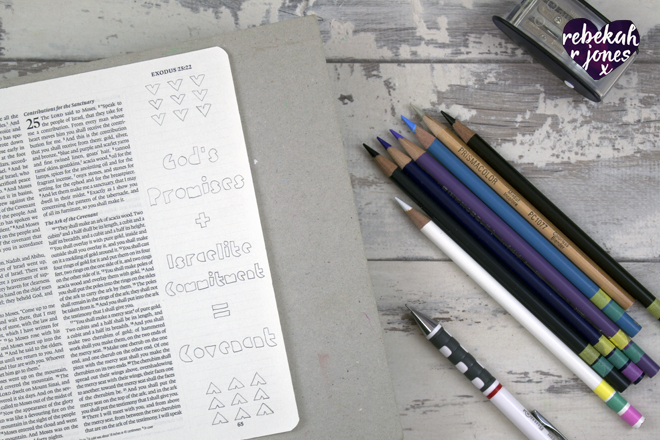 I chose to use a mechanical pencil and eraser instead of colored pencils like I did in lesson 1, because I wanted to create a sort of ombre effect and wasn't exactly sure where each color would start or end. By using pencil, I didn't get any particular color stuck somewhere I later might decide I didn't want it. Pencil creates flexibility when you need it.
Once the image has been traced in, you can pick a range of colors and "assign" them to sections of your image by coloring next to them on the download like I have in the image below. It acts as a cheatsheet for me so I can focus on creating and less on remembering what I'm trying to accomplish. It lets my brain focus on the Word instead of creative skill.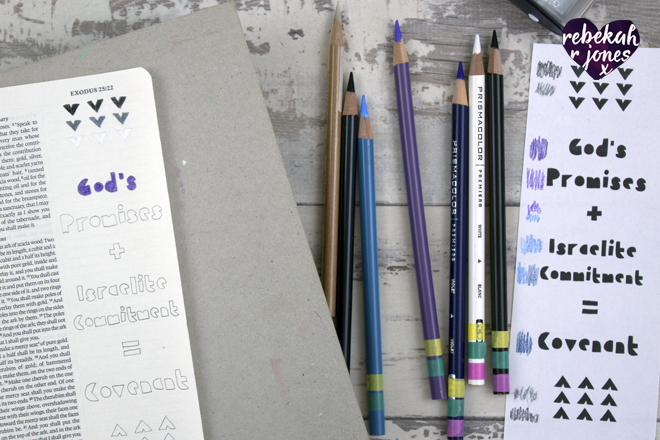 I decided to do Bible art journaling coloring with yellow for the word "Covenant". As you can see here, I decided it would be better for the mechanical pencil to be less noticed on this occasion so I used my eraser to very lightly erase the "top later" of graphite so I'd be left with the remnants of traced outline, rather than the clearly visible outline of other sections. By erasing with a light hand, you can still see what's there and continue to enjoy the benefits of tracing, without the bold outline. Do what makes sense to you and your color choices. Notice that I made this decision after starting to color yellow. Our creative process doesn't need to be perfect, it's needs to happen.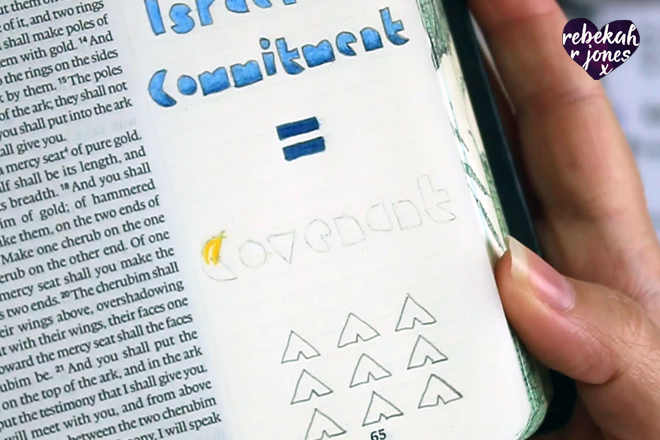 I love the simplicity of Bible art journaling coloring. With such a few simple supplies we can do so many things!
Make Time for Bible Art Journaling
I'm gonna say what I did in lesson 1… If you've been holding back, you are officially out of excuses! This lesson is easy to do, time considerate and full of simple stuff to ponder while you do dishes and laundry, (or sit in the car!). There is nothing to be scared of and everything to gain. There is grace if you need to be kind to yourself but I'm here to remind you to go after your friendship with God if you're in need of a friendly nudge. If I may be so bold… we owe it to the Guy Upstairs who gives us oxygen, to make time to deepen our understanding of Him. Let's consider it a date.
Have you decided when you'll create for lesson 2 in your Bible? Okay, good… let's look at the topic for this lesson a bit more.
God Made A Covenant Which Couldn't Be Kept!
I find it fascinating that God made a covenant with the Israelites which He knew they wouldn't keep. He is so intent on loving, that even knowing they wouldn't keep the covenant, He made it with them anyway. I believe God in His amazing wisdom, was giving us access to a greater understanding that without God, we are not able to live blamelessly before Him.
Exodus chapter 24 is the scripture for this lesson. We'll look at the covenant of the Old Testament which the Israelites confirmed with God. He starts out speaking to Moses, (in the NASB translation):
"1 Then He said to Moses, "Come up to the Lord, you and Aaron, Nadab and Abihu and seventy of the elders of Israel, and you shall worship at a distance.2 Moses alone, however, shall come near to the Lord, but they shall not come near, nor shall the people come up with him."

3 Then Moses came and recounted to the people all the words of the Lord and all the ordinances; and all the people answered with one voice and said, "All the words which the Lord has spoken we will do!" 4 Moses wrote down all the words of the Lord. Then he arose early in the morning, and built an altar at the foot of the mountain with twelve pillars for the twelve tribes of Israel. 5 He sent young men of the sons of Israel, and they offered burnt offerings and sacrificed young bulls as peace offerings to the Lord. 6 Moses took half of the blood and put it in basins, and the other half of the blood he sprinkled on the altar. 7 Then he took the book of the covenant and read it in the hearing of the people; and they said, "All that the Lord has spoken we will do, and we will be obedient!" 8 So Moses took the blood and sprinkled it on the people, and said, "Behold the blood of the covenant, which the Lord has made with you in accordance with all these words."

9 Then Moses went up with Aaron, Nadab and Abihu, and seventy of the elders of Israel, 10 and they saw the God of Israel; and under His feet there appeared to be a pavement of sapphire, as clear as the sky itself. 11 Yet He did not stretch out His hand against the nobles of the sons of Israel; and they saw God, and they ate and drank.

12 Now the Lord said to Moses, "Come up to Me on the mountain and remain there, and I will give you the stone tablets with the law and the commandment which I have written for their instruction." 13 So Moses arose with Joshua his servant, and Moses went up to the mountain of God. 14 But to the elders he said, "Wait here for us until we return to you. And behold, Aaron and Hur are with you; whoever has a legal matter, let him approach them." 15 Then Moses went up to the mountain, and the cloud covered the mountain. 16 The glory of the Lordrested on Mount Sinai, and the cloud covered it for six days; and on the seventh day He called to Moses from the midst of the cloud. 17 And to the eyes of the sons of Israel the appearance of the glory of the Lord was like a consuming fire on the mountain top. 18 Moses entered the midst of the cloud as he went up to the mountain; and Moses was on the mountain forty days and forty nights."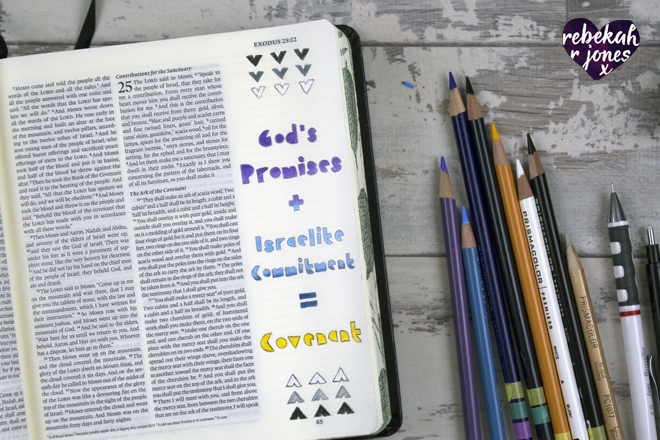 Gain Some Context
The Israelites promised to keep God's commands and then were unable to do it in their own strength. They kept on sinning and returning back to sinful ways. They needed God to help them.
This is because the "Old covenant" wasn't God's full plan. At the time in history when it was being lived out, the Israelites would commit to keep the covenant with God and then would break the covenant by sinning. It wasn't until Jesus came into the world and became the ultimate sacrifice, that people could invite God into our hearts where He guides us into all truth.
We can see in our own personal lives that without God living in us as a sort of internal compass, we can stray from our own promises to hold fast to the commands He has given us in His Word. We need God's help to fulfill what He has asked of us and the old covenant didn't provide this.
Was the old covenant a mistake? Something God thought up and then realized wasn't working? No! I believe God needed to demonstrate through history, that we need Him. As the Israelites tried to please God of their own strength, they realized a need for Him. As we read through scripture, we gain understanding of how much we need God's help. We need a Savior.
Until we invite Jesus into our life, recognizing our need of being saved from our continual sin, then we have nothing to guide us into freedom. By accepting Jesus, we get to live free from the law of sin and death. To learn more about to topic of sin, read my post on Doing Community Effectively, where I discuss the topic of sin in depth.
Where appropriate, I'm going to share some helpful videos which can aid you in grasping the lessons in this series. To better understand the full picture of this topic in the Bible and this scripture in the context of the book it's in, I want to share with you some wonderful videos from the guys over at The Bible Project. They are "helping people experience the Bible as a unified story that leads to Jesus". Good stuff!
They don't know who I am, (even though I grew up in the city they are based in). I believe that understanding the context of scripture we read is a huge part of how we don't misunderstand the Bible. If we want to grow in God, then we need to understand the broader story when we read something. These videos from The Bible Project really help you gain more understanding. I highly recommend you consider them part of the lesson. You can check The Bible Project out on their website: https://thebibleproject.com/
Let's firstly look at the topic of covenant in the Bible…
Next, I want you to look at the literary context of the book of Exodus. In essence, look at how the book was written and pay attention to our chapter for this lesson, in Exodus 24. You'll be able to understand better, how what we're looking at, fits into the bigger picture. It's a lot of information so this is broken into 2 shorter videos.
Lastly, watch these 2 videos which have a different take on things. Instead of looking at the literary context, you can look at the actual story as it unfolds in the book of Exodus. Again, keep an eye out for where chapter 24 fits into the story. This is how we sharpen our skills of studying the Bible… to look for how what we're studying, fits into the broader story and how that context can help us gain understanding.
Isn't all this context interesting?! So much to grasp. I'd love to hear your comments and thoughts below.
Making Room for Bible Art Journaling
This Bible art journaling stuff… it's an intentional place we make room for God to encounter us with His freedom. Isn't that what we're all hungry for? Let's be intentional and grow in God together.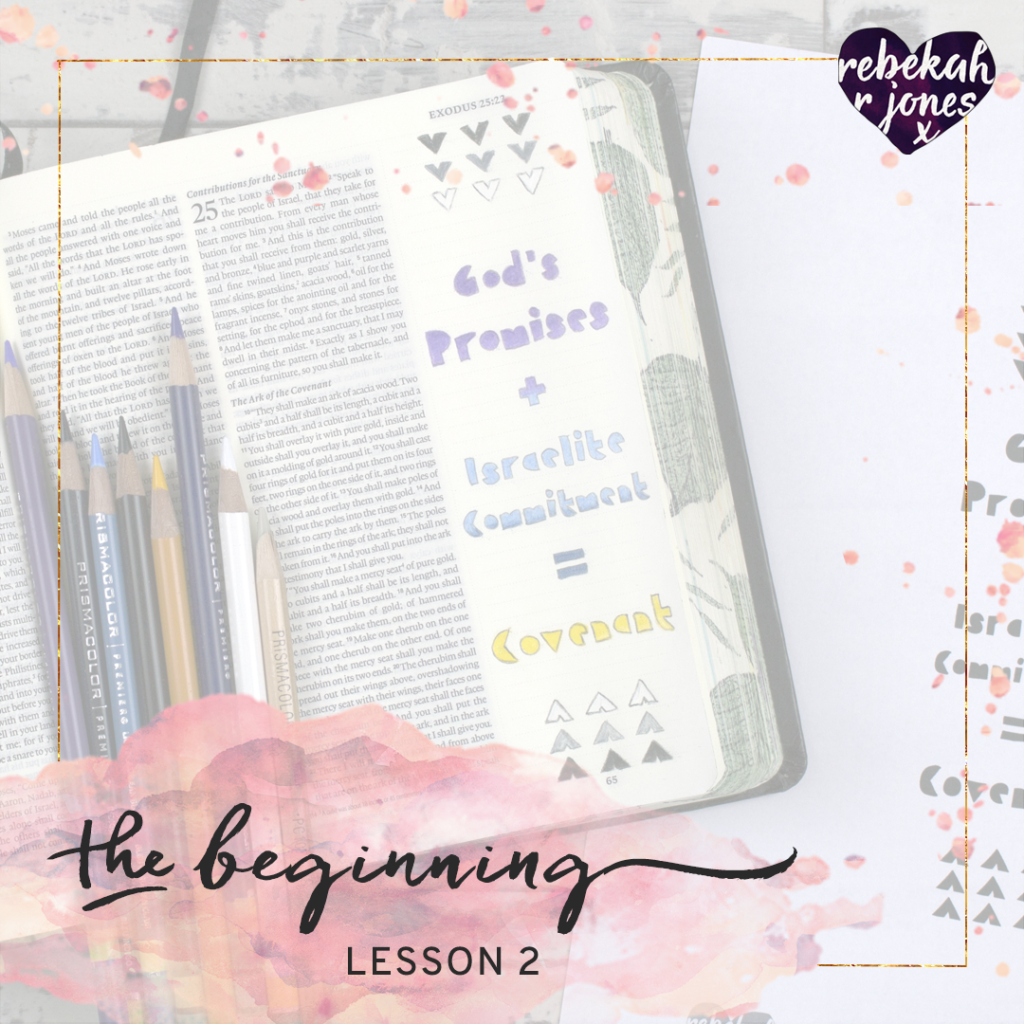 You can find answers to most any question you may have about participating in this challenge, on The Beginning page, which holds the lesson archive, series supplies list, how to join in and more!
Many ask if it is okay to share these posts with your friends. Please share! It is a simple way you can partner with me to impact lives. If you're discovering this when it's been a while since I published, that's okay! It's not too late to join in, (it never is!).
Join the discussion below!
As we wrap up the "consuming" part of lesson 2 in The Beginning Bible Art Journaling Challenge, it's time for us to connect in the comments! Please pop below and answer these 2 questions, then head to your email inbox to grab your download and get started with Bible art journaling coloring!
What have you learned today and how can you apply it to your life?
What colors will you choose for this Bible art journaling entry?
You are loved. x