The Beginning Bible Art Journaling Challenge Lesson 4

Hello Everyone! Welcome to lesson 4 of The Beginning! (I've got a fun little Journaling Bible tour of some of my Journaling Bibles in this lessons video!) Throughout this series of the Bible Art Journaling Challenge, we're looking at key scriptures to understand the Bible story, while focusing on a select few supplies which any beginner can gain confidence with. If you feel less like a beginner, you'll enjoy all the refreshers and some new insights. In lesson 1 you learned some Bible art journaling colored pencil basics, while we talked about how God, (the God of Abraham, Isaac and Jacob and the Father of Jesus), is the first and the last. We went on to focus on the topic of covenants! In lesson 3 we shifted gears a bit looking at the birth of Jesus and what that means for us. Now in lesson 4 we're moving on to the crucifixion, burial and resurrection of Jesus!
If you're just finding The Beginning, I encourage you to start with Lesson 1, as this 6 lesson series is in a particular order for you to get the most out of our time together. By the time we finish with lesson 6, you'll be able to look back and see the Bible in a fresh way with some new understanding. You'll also be more confident in stepping out creatively, which means you'll then be ready to move on from The Beginning to even bigger Bible art journaling things! Let's buckle up for some creative fun as we study more of the Bible story together!
The Point of Bible Art Journaling
First, I want to remind you once again that the point of Bible art journaling is to grow in God, not to create something you'd be proud to put on your fridge. Our heavenly Father delights in watching us connect with His Word through creative pleasure. Enjoy the creative process and put away any lies that creating something "beautiful" is the goal. Record what He is doing in your life and delight in where you are today. Have fun!
Now, to get started with lesson 4, you'll want to get your free download below. I'll explain how to use it, but let me tell ya now… it is really simple!
Free downloads for Bible Art Journaling
If you'd like to use the free traceable download which I created for your Bible art journaling session of Lesson 4 in The Beginning, then you can click below to request yours now. What to know:
If you sign up here, I'll get you set up with The Beginning series and as a Rebekah R Jones subscriber. Yay!
If you're already subscribed to The Beginning, your "The Beginning Lesson 4" email is in your inbox with this download already waiting for you.
Check out these help articles for getting a download, if you want help.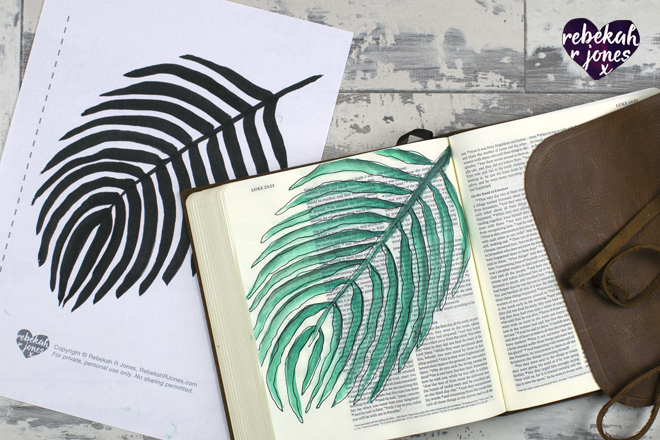 When you request your free download, you'll get signed up for The Beginning series (if you're not already) and will start receiving emails from me which you're welcome to unsubscribe from. Just know though, that you will miss out if you unsubscribe. I LOVE to love on my 'Jonesies' with extra surprise treats. 🙂
Once you've got your download, you just need to ensure you've got whatever Bible art journaling supplies you'll be using for the lesson, before we get started with the video and then dive into some extra context to learn even more below!
The Beginning Lesson 4 Supplies
You'll notice with each of our 6 lessons, that I'm sticking to a strict list of products across the series, so you can learn to use this small kit really well. You can refer to the series supplies list to see everything you'll want, on The Beginning series page. Although I highly recommend you use what I'm featuring to get the most out of our time together in this series, you are free to participate with whatever you have, using the devotional for this lesson.
This post may contain affiliate links. If you make a purchase after clicking an affiliate link, this ministry gets a small commission, with no extra cost to you. You may read my full disclosure, for details. Thank you, I appreciate you partnering to help impact lives!
The supplies from Lesson 1 and 2 were almost exactly the same. In lesson 3 and again in this lesson, we are using Inktense! If you don't have it, watercolor is a nice substitute. As before, I've featured the Pocket Color Wheel, which is not necessary, but very useful. I've listed my beautiful leather Bible, but check out my Journaling Bible guide to get one more specific to your own needs if you wish. You can see how few supplies are necessary to create in the Word!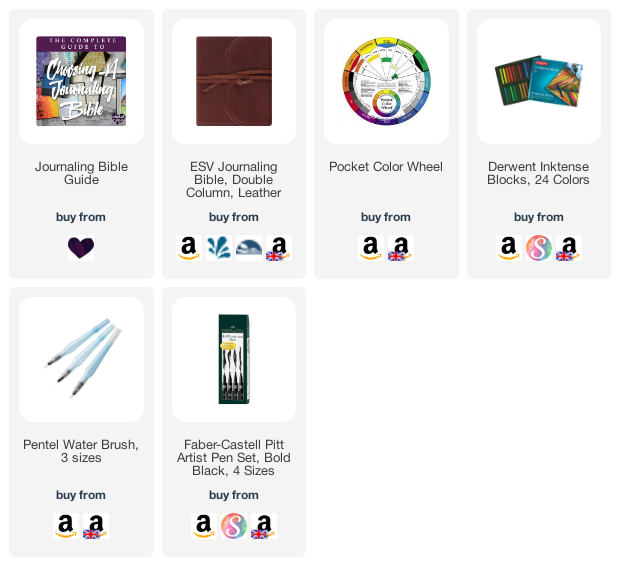 Lesson 4 of The Beginning Bible Art Journaling Challenge
In this lesson I'm throwing in a little Journaling Bible Tour into the lesson! I'm doing my best to keep each video short to consider your time but there is more below to enrich your experience. Let's get started!
Everyone who is signed up for The Beginning series, will automatically get this free guide to the Biblical meanings of colors, right in their Lesson 1 email. I created the guide myself. The Bible gives us many meanings for colors which I think adds a beautiful richness to our creative time in the Word. This little guide is a really useful tool to fold up in the back of your Journaling Bible for help in choosing colors meaningfully for your Bible art journaling sessions.
If you are not yet signed up for The Beginning and want this guide, just sign up on this post to get the download for this week and you'll receive this guide in your Lesson 1 email.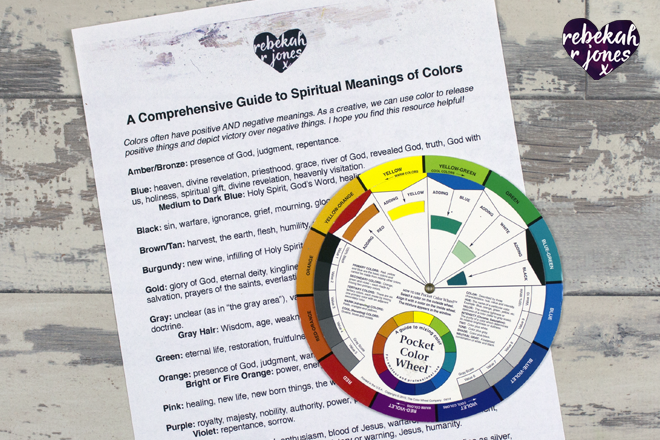 Bible Art Journaling Coloring Tips
I want to give you a close up of some images to help you with your Bible art journaling. See in this image how easy it is to see the dark download through the thin Bible paper? The trick to tracing without a light behind, is dark and thick lines like this. But, don't be put off. If you've got a light pad and would find it useful, turn it on and enjoy!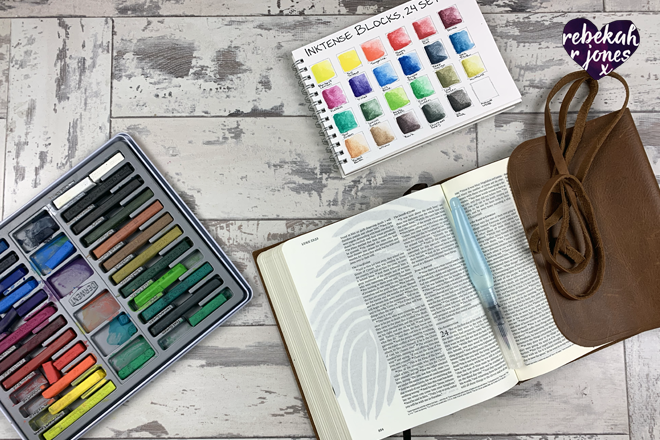 The other thing I wanted to mention here is to not be too particular about things. Get the essence of something and let that be enough. As you trace, don't be worried about staying within my lines. Instead, be conscious of their general area and focus more on that sweeping motion with your hand while you glide your brush across the surface of the paper. Things in nature are organic and free, so let them flow. Don't be intimidated, you've got this!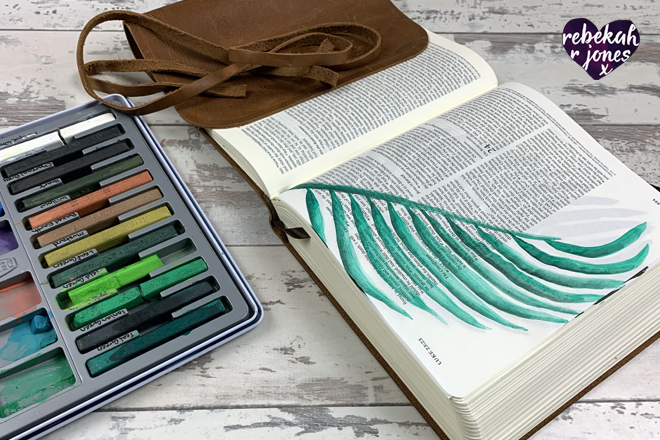 Make Time for Bible Art Journaling
I'm gonna say what I always do… This lesson is easy to do, time considerate and full of simple stuff to ponder while you do dishes and laundry, (or sit in the car!). There is nothing to be scared of and everything to gain. There is grace if you need to be kind to yourself but I'm here to remind you to go after your friendship with God if you're in need of a friendly nudge. If I may be so bold… we owe it to the Guy Upstairs who gives us oxygen, to make time to deepen our understanding of Him. Let's consider it a date.
Have you decided when you'll create for lesson 4 in your Bible? Okay, good.
Luke 23:33 – 24:12 is the section of scripture for this lesson.
We'll look at it in the NASB translation:
"The Crucifixion

33 1When they came to the place called The Skull, there they crucified Him and the criminals, one on the right and the other on the left. 34 But Jesus was saying, "Father, forgive them; for they do not know what they are doing." And they cast lots, dividing up His garments among themselves. 35 And the people stood by, looking on. And even the rulers were sneering at Him, saying, "He saved others; let Him save Himself if this is the Christ of God, His Chosen One." 36 The soldiers also mocked Him, coming up to Him, offering Him sour wine, 37 and saying, "If You are the King of the Jews, save Yourself!" 38 Now there was also an inscription above Him, "THIS IS THE KING OF THE JEWS."

39 One of the criminals who were hanged there was hurling abuse at Him, saying, "Are You not the Christ? Save Yourself and us!" 40 But the other answered, and rebuking him said, "Do you not even fear God, since you are under the same sentence of condemnation? 41 And we indeed are suffering justly, for we are receiving what we deserve for our deeds; but this man has done nothing wrong." 42 And he was saying, "Jesus, remember me when You come in Your kingdom!" 43 And He said to him, "Truly I say to you, today you shall be with Me in Paradise."

44 It was now about the sixth hour, and darkness fell over the whole land until the ninth hour, 45 because the sun was obscured; and the veil of the temple was torn in two. 46 And Jesus, crying out with a loud voice, said, "Father, into Your hands I commit My spirit." Having said this, He breathed His last. 47 Now when the centurion saw what had happened, he began praising God, saying, "Certainly this man was innocent." 48 And all the crowds who came together for this spectacle, when they observed what had happened, began to return, beating their breasts. 49 And all His acquaintances and the women who accompanied Him from Galilee were standing at a distance, seeing these things.

Jesus Is Buried

50 And a man named Joseph, who was a member of the Council, a good and righteous man 51 (he had not consented to their plan and action), a man from Arimathea, a city of the Jews, who was waiting for the kingdom of God; 52 this man went to Pilate and asked for the body of Jesus. 53 And he took it down and wrapped it in a linen cloth, and laid Him in a tomb cut into the rock, where no one had ever lain. 54 It was the preparation day, and the Sabbath was about to begin. 55 Now the women who had come with Him out of Galilee followed, and saw the tomb and how His body was laid. 56 Then they returned and prepared spices and perfumes.

And on the Sabbath they rested according to the commandment.

The Resurrection

24 1 But on the first day of the week, at early dawn, they came to the tomb bringing the spices which they had prepared. 2 And they found the stone rolled away from the tomb, 3 but when they entered, they did not find the body of the Lord Jesus. 4 While they were perplexed about this, behold, two men suddenly stood near them in dazzling clothing; 5 and as the women were terrified and bowed their faces to the ground, the men said to them, "Why do you seek the living One among the dead? 6 He is not here, but He has risen. Remember how He spoke to you while He was still in Galilee, 7 saying that the Son of Man must be delivered into the hands of sinful men, and be crucified, and the third day rise again." 8 And they remembered His words, 9 and returned from the tomb and reported all these things to the eleven and to all the rest. 10 Now they were Mary Magdalene and Joanna and Mary the mother of James; also the other women with them were telling these things to the apostles. 11 But these words appeared to them as nonsense, and they would not believe them. 12 But Peter got up and ran to the tomb; stooping and looking in, he *saw the linen wrappings only; and he went away to his home, marveling at what had happened."
Gain Some Context
In the last lesson, we looked at our need for a Savior and how Jesus has come to be that (and so much more) for us. We are continuing that story, looking at the end of Jesus time on earth. He truly loves us SO much!
Until we invite Jesus into our life, recognizing our need of being saved from sin, then we have nothing to guide us into freedom. By accepting Jesus, we get to live free from the law of sin and death. You may read my post on Doing Community Effectively, where I discuss the topic of sin in depth.
In this lesson, we've been looking at the Gospel of Jesus Christ and what it truly meant for Jesus to die on the cross and then be raised to life again. Where appropriate, I'm going to share some helpful videos which can aid you in grasping the lessons in this series. To better understand the full picture of this topic in the Bible and this scripture in the context of the book it's in, I want to share with you some wonderful videos from the guys over at The Bible Project. They are "helping people experience the Bible as a unified story that leads to Jesus". Good stuff!
They don't know who I am, (even though I grew up in the city they are based in). I believe that understanding the context of scripture we read is a huge part of how we don't misunderstand the Bible. If we want to grow in God, then we need to understand the broader story when we read something. These videos from The Bible Project really help you gain more understanding. I highly recommend you consider them part of the lesson. You can check The Bible Project out on their website: https://thebibleproject.com/
Let's firstly look at the Messiah…
Next, let's look at a series of small videos about the Gospel…
Next, I want you to look at the literary context of the book of Luke. In essence, look at how the this second half of the book was written and pay attention to our chapters for this lesson, in Luke 23 and 24. You'll be able to understand better, how what we're looking at, fits into the bigger picture. It's a lot of information so this is broken into 2 shorter videos and I've only included the half we're looking at in this lesson.
Lastly, watch these 2 videos which have a different take on things. Instead of looking at the literary context, you can look at the actual story as it unfolds in the book of Luke. These are from a whole series on Luke. Again, keep an eye out for where chapter 23-24 fits into the wider Bible story. This is how we sharpen our skills of studying the Bible… to look for how what we're studying, fits into the broader story and how that context can help us gain understanding.
Isn't all this context interesting?! So much to grasp. I'd love to hear your comments and thoughts below.
Heart To Freedom, Bible Art Journaling Membership Community
This Bible art journaling stuff… it's an intentional place we make room for God to encounter us with His freedom. Isn't that what we're all hungry for? Let's be intentional and grow in God together. As I mentioned in the video for this lesson, I would be honored to pour into you through my Heart To Freedom membership program if you're interested in learning more from me. Our month-long Freedom Journey for October 2019 is on Hearing God's Voice 101.

We have an amazing community! Don't take my word for it… here is a recemt review:
"Rebekah & team, a credit to you all on making such a brilliant, fun & exciting membership site – Heart To Freedom. It looks absolutely amazing & so excited to be getting plugged in. Well done…"
If you'd like to join our Heart To Freedom community, learn more here: hearttofreedom.com (doors close soon until late 2019)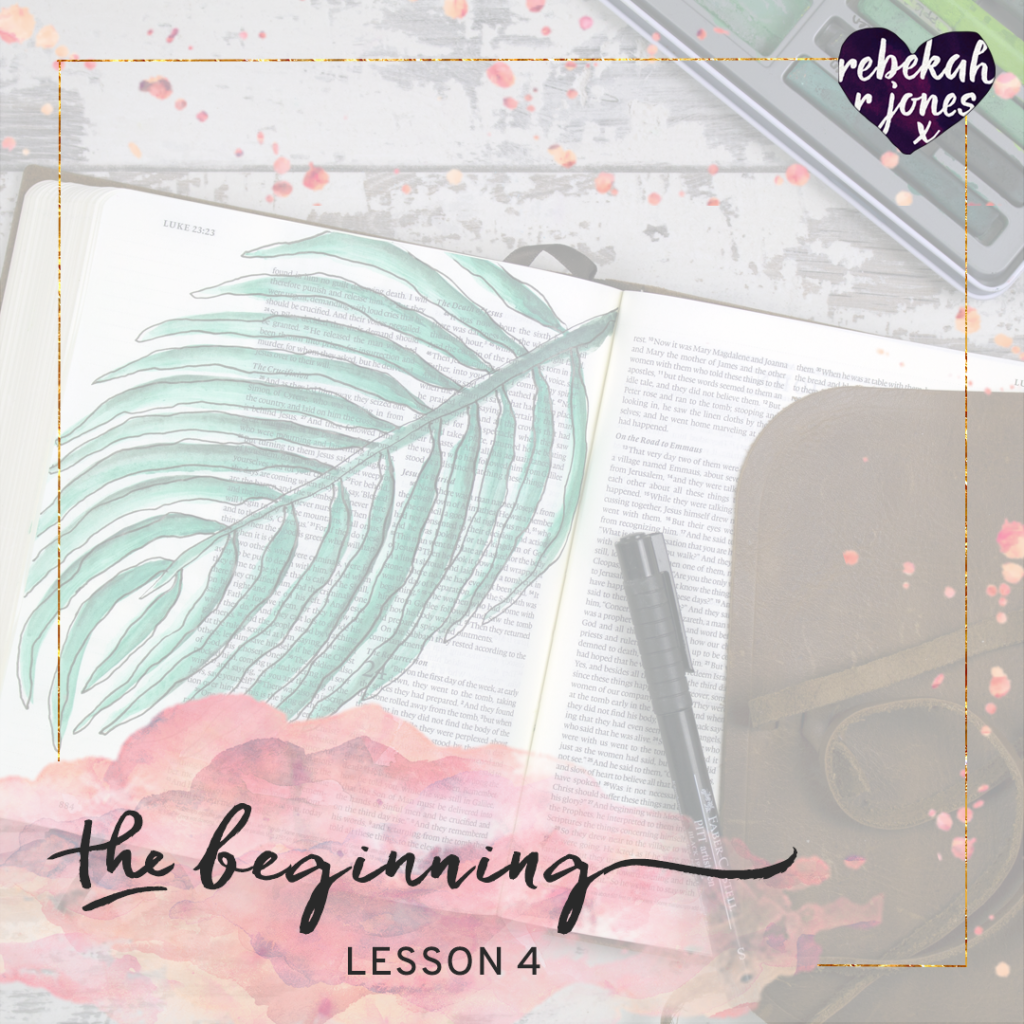 You can find answers to most any question you may have about participating in this challenge, on The Beginning page, which holds the lesson archive, series supplies list, how to join in and more!
Many ask if it is okay to share these posts with your friends. Please share! It is a simple way you can partner with me to impact lives. If you're discovering this when it's been a while since I published, that's okay! It's not too late to join in, (it never is!).
Join the discussion below!
As we wrap up the "consuming" part of lesson 4 in The Beginning Bible Art Journaling Challenge, it's time for us to connect in the comments! Please pop below and answer these 2 questions, then head to your email inbox to grab your download and get started with your Bible art journaling!
What have you learned today and how can you apply it to your life?
What colors will you choose for this Bible art journaling entry?
You are loved. x