Hello! My name is Rebekah R Jones. I am a born again Christian who is passionately in love with Jesus. He captured my heart as a tiny 4 year old with an encounter that left me transformed for life. I love creativity in all shapes and sizes. I live an international life, having been born in America and now living as a dual citizen in England.
I have studied, pursued and taught various forms of creativity much of my life. My mom taught me how to live and breathe all things crafty. Meanwhile, my dad's mom, (a professional fine artist and designer) invested in refining my creativity to an artistic level. I honestly didn't always fully appreciate the impact of it in the early stages of life. Classes, random museum visits and endless questions on how I would improve my artistic choices, seemed pointless when I didn't care for the refinement. I am grateful she cared enough to pour her knowledge and creative way of thinking into me. I miss her greatly yet realise much of her, lives on in my creative process. My mom was the one who simply helped me fall in love with creativity and stay excited with the process. That love remains and she would be ecstatic about all I am doing creatively if she were here still. Along the way, God has taught me so many wonderful keys to unlocking life transforming encounters with Him through creativity, which I am passionate about passing along, so you can also get the breakthroughs you dream of.
My mission is to help you encounter Jesus through creativity. Think… Christian, encouraging art, using a mixture of medias, with 'no rules' and an emphasis on having fun in God's presence. My aim is to release Heaven on earth through creativity and to support you in doing the same. Creativity is a key to unlocking heavenly encounters, releasing destiny and uncovering God's undieing affection for you. The very nature of being created in God's image makes you creative.
A Bit Of My History
I'll back up and share a bit about my background and also the different creative projects I am running which you might want to get involved with.
I grew up in Northwest America in the beautiful city of Portland, Oregon. At age 18, I moved to sunny Northern California where my webbed feet finally dried out. 🙂 7 years later, I graduated from an amazing ministry school at Bethel Church in Redding, California, (the second Biblical training school I graduated from and third I'd been in). I sold nearly everything, packed my bags and moved to England to marry my best friend Dan, (a British man) and settle in as Christian missionaries here. By "here", I mean, we never left England. Although I miss family and friends back home deeply, I know we're just where we aught to be for this season. Jesus is the center of our lives and we love sharing His amazing love wherever we are. God has taken us all over the country in different seasons and we are currently based in Northern, England.
We founded Kingdom Culture Ministries together which is the umbrella for the different aspects of our ministries as a couple. My creative ministry also sits under that umbrella. One thing we love, is to study the lives and ministries of those who have gone before us, to learn from them. As another part of this ministry, we started www.RevivalHistory.com together after a nearly 9 month process of creating the Revival History Timeline poster. It's a simple and beautiful way to learn about God's works worldwide over the past 500 years. The website continues to be a place to find out of print revival history resources which we've digitized over time to make available once again.
I'd say there is a lot of creative juice in our house. Dan helped companies gain recognition with his website building as a teenager. He then trained and became a digital designer where he helped clients win awards. After years of experience building websites and designing them, he took a turn in his career and started working for a wonderful agency recognized by the Sunday Times as one of the top 100 companies to work for, leading a department helping companies optimize their websites for measurable results. Although I built this website alongside him (so I could put my artistic touch on it), most everything genius about it, is Dan's doing. We make a great team.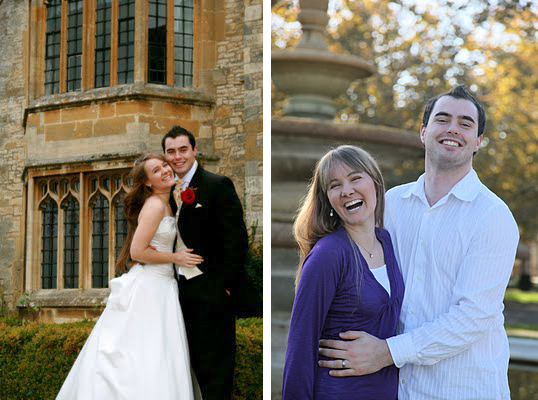 (My husband and I: Left, our wedding in England – Right, in California on holiday.)
Creativity makes me tick. A dear friend asked me years ago, "Do you think its possible you wilt without creativity in your life?"… Why yes, I do. When growing up, my mom had taught me that she gained energy to complete menial tasks by promising herself a "reward" of some craft or project she'd been eying up. I've come to realize that if I wait for a reward of creativity, I will likely wilt before a job is done. (You can read more about that here.) God made me that way and I need to respect that about myself. I've learned that making time for creativity isn't an option for me. It's a requirement.
At about age 12, I started to noticed poor health symptoms in my body but, as my new sister was undergoing life threatening surgeries, understandably, none of us took much notice of it at the time. For years I, 'kept it under control' but had a few difficult things to deal with along the way which all mounted up on my health. I lost my mom, (best friend) in 2005. A couple years later my dad got married and moved away with the family, only months before I moved internationally to get married. All a lot to take in! You can read more on my health story here and how, after 2 years of being bedridden, I was supernaturally healed overnight! God is good!
As I spent the first 25 years of my life living on the West Coast of America and now live in England, I often run across cultural points of interest. I know my American friends particularly enjoy my pictures of life here in the United Kingdom. It is such a romantic and beautiful nation. I used to tell my husband regularly that since I was not yet a citizen of the UK, I was allowed to take pictures of everything like an embarrassing tourist. Since my excuse expired upon becoming a dual-citizen, I've decided I don't need one. I simply love Britain and sharing it with those around me. 🙂
I've been working on an enjoyable and meaningful photography series for several years now called, 'Door Of The Day' which you can watch out for on my Instagram account. Doors really speak to me about opportunity. I've had requests to publish them into a book. What do you think? Should I? You can join me @RebekahRJones.
Prophetic Arts
One of the largest art 'projects' I run, which I founded in 2008 is Prophetic Arts for Jesus, a Facebook Group, (community really). It has thousands of members from across the globe, featuring thousands of photos of prophetic art and is the largest community of its kind online. What is prophetic art? Have a look at my post on prophecy and the creative community to learn more of my thoughts on this.
Bible Journaling
Another popular project of mine is the free Bible Art Journaling Challenge. Each year since 2015, I've created a year-long series as part of the project, where together, we encounter Jesus through creativity in the Word. Every lesson includes a video and blog post, combining a free devotional (aka Bible study) and creative tutorial, centered around a particular section of scripture, finishing with a challenge for you to join me creating on that same section of scripture and to then share the experience with our very lovely online community.
This blog hosts a lot of Bible journaling content and I welcome you to navigate around and search to find all that is here. Bible journaling is part of the growing, illustrated faith and Bible doodling movement in which many are creating on the pages of their Bible. The idea is to engage more freely with the Word of God in new ways and to record personally inspiring scriptures in creative and artistic ways, which serve to remind us of moments in our personal journey with God. I teach 100% transparent creativity so you can still read your Bible text through the creativity.
Creative Faith U School
Years ago, God put it on my heart that one day I would have a school where people would come to learn about stewarding their creative gifts and skills for advancing His Kingdom and spreading His love to the world around us. I pondered it in my heart and built on the vision over the years. I have founded the online school, Creative Faith U at: www.creativefaithu.com Check back often as there are always more courses being added to the school on a variety of faith based, creative topics.
How To Support This Ministry
Lastly, people sometimes ask how they might support this art ministry. By purchasing my favorite art supplies and resources which I recommend through my links, I get a small percentage of each purchase price. This adds up collectively and I so appreciate you trusting my honest recommendations, when they are suitable for you, by shopping with my links.
Others want to support me a bit more by donating financially. It is so generous and a much appreciated practical help as I full-time, pour myself in to growing a place where, you and others can encounter Jesus through creativity and in turn, help others encounter Him as well. There is certainly no obligation to give but if you would like to, thank you! It makes a real difference.
Should you wish to donate, you may become a Ministry Champion for a monthly amount and join the private online community with regular live streaming. Learn more about becoming a monthly Ministry Champion partner here: http://bit.ly/2tPGf1B
I hope you will find this ministry to be a place where you can be resourced, taught and encouraged in your journey of creativity with God. He is so in love with you and looks for opportunities to lavish you with His love as you position your heart toward Him. Creative experience or none, welcome to this exhilarating journey!
You are loved.  x

Save
Save
Save
Save
Save
Save
Save
Save
Save