The Beginning Bible Art Journaling Challenge Lesson 3
Hello Everyone! Welcome to lesson 3 of The Beginning! Throughout this series of the Bible Art Journaling Challenge, we're looking at key scriptures to understand the Bible story, while focusing on a select few supplies which any beginner can gain confidence with. If you feel less like a beginner, you'll enjoy all the refreshers and some new insights. In previous lessons we covered Bible art journaling colored pencil basics, while we talked about how God is the first and the last and the topic of covenants! In this lesson we're shifting gears a bit and looking at the birth of Jesus and what that means for us, while doing some simple Bible art journaling Inktense Blocks brush lettering for beginners.
If you're just finding The Beginning, I encourage you to start with Lesson 1, as this 6 lesson series is in a particular order for you to get the most out of our time together. By the time we finish with lesson 6, you'll be able to look back and see the Bible in a fresh way with some new understanding. You'll also be more confident in stepping out creatively, which means you'll then be ready to move on from The Beginning to even bigger Bible art journaling things! Let's buckle up for some creative fun as we study more of the Bible story together!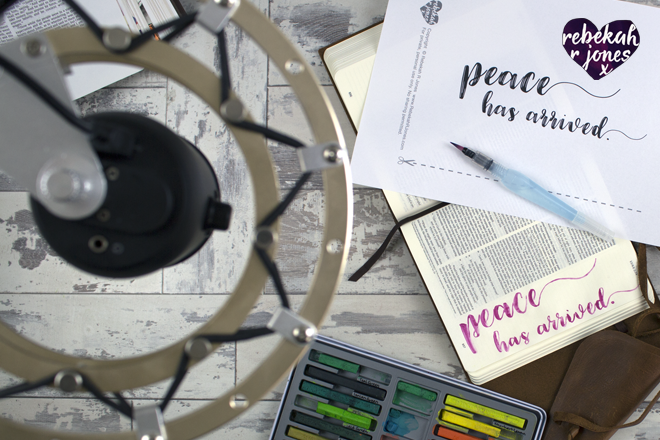 The Point of Bible Art Journaling
First, I want to remind you once again that the point of Bible art journaling is to grow in God, not to create something you'd be proud to put on your fridge. Our heavenly Father delights in watching us connect with His Word through creative pleasure. Enjoy the creative process and put away any lies that creating something "beautiful" is the goal. Record what He is doing in your life and delight in where you are today. Have fun!
Now, to get started with lesson 3, you'll want to get your free download below. I'll explain how to use it, but let me tell ya now… it is really simple!
Free downloads for Bible Art Journaling
If you'd like to use the free traceable download which I created for your Bible art journaling session of Lesson 3 in The Beginning, then you can click below to request yours now. What to know:
If you sign up here, I'll get you set up with The Beginning series and as a Rebekah R Jones subscriber. Yay!
If you're already signed up to The Beginning, your "The Beginning Lesson 3" email is in your inbox with this download already waiting for you.
Check out these help articles for getting a download, if you want help.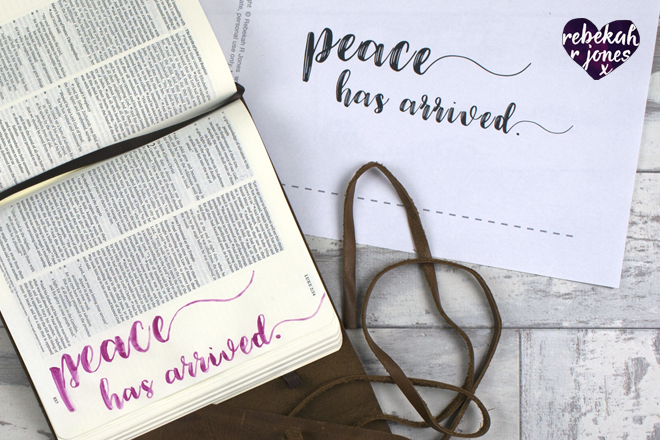 When you request your free download, you'll get signed up for The Beginning series (if you're not already) and will start receiving emails from me which you're welcome to unsubscribe from. Just know though, that you will miss out if you unsubscribe. I LOVE to love on my 'Jonesies' with extra surprise treats. 🙂
Once you've got your download, you just need to ensure you've got whatever Bible art journaling supplies you'll be using for the lesson, before we get started with the video and then dive into some extra context to learn even more below!
The Beginning Lesson 3 Supplies
You'll notice with each of our 6 lessons, that I'm sticking to a strict list of products across the series, so you can learn to use this small kit really well. You can refer to the series supplies list to see everything you'll want, on The Beginning series page. Although I highly recommend you use what I'm featuring to get the most out of our time together in this series, you are free to participate with whatever you have, using the devotional for this lesson.
This post may contain affiliate links. If you make a purchase after clicking an affiliate link, this ministry gets a small commission, with no extra cost to you. You may read my full disclosure, for details. Thank you, I appreciate you partnering to help impact lives!
The supplies from Lesson 1 and 2 were almost exactly the same and in this lesson, we'll shift gears slightly to set colored pencil aside and use Inktense instead. Don't worry, we'll come back in later lessons to tie this all together! As before, I've featured some Post-It Tape Roll and the Pocket Color Wheel, both of which are not necessary, but very useful. I've also set aside my ESV Double Column Black Journaling Bible, (which is a real winner for budget friendly Bible art journaling), to instead use my beautiful ESV Double Column Leather Bible. Check out my Journaling Bible guide to get one more specific to your own needs if you wish.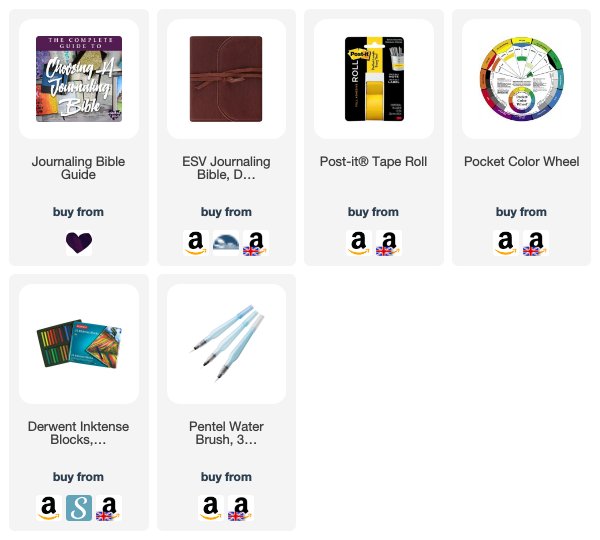 Lesson 3 of The Beginning Bible Art Journaling Challenge
I had so much fun doing Inktense Blocks brush lettering for this lesson and also diving into the scripture around this. I'm doing my best to keep each video short to consider your time but there is more below to enrich your experience. Let's get started!
Everyone who is signed up for The Beginning series, will automatically get this free guide to the Biblical meanings of colors, right in their Lesson 1 email. I created the guide myself. The Bible gives us many meanings for colors which I think adds a beautiful richness to our creative time in the Word. This little guide is a really useful tool to fold up in the back of your Journaling Bible for help in choosing colors meaningfully for your Bible art journaling sessions.
If you are not yet signed up for The Beginning and want this guide, just sign up on this post to get the download for this week and you'll receive this guide in your Lesson 1 email.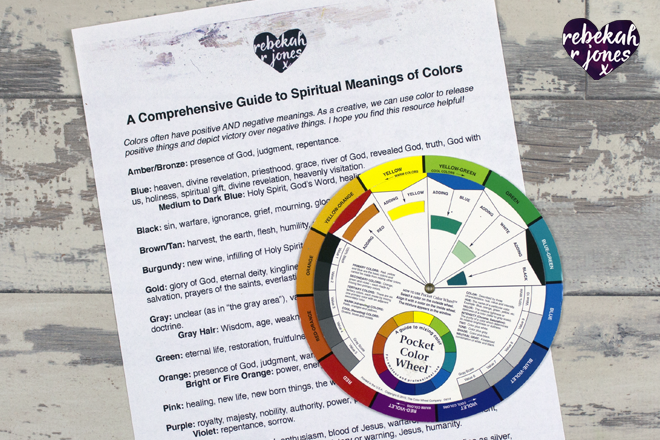 Inktense Blocks Brush Lettering Tips
I think a helpful way to doing well with the supplies we have, is to spend a little time putting some color swatches together. This enables you to understand the true color of your supplies, when you go to create with them in your Journaling Bible. This is particularly true with Inktense Blocks brush lettering. Inktense (Blocks and Pencils alike), are intense ink. Their vibrant color packed into a block or pencil, means they have a TON of color ready to activate with water. You'll find there is a more honest look at what to expect, when you create color swatches, then when you look at the block itself. If you've not see this video yet, take a moment to learn how to create your own color swatches and then get started, (with any color supplies you have!).
Inktense Blocks
Brush Lettering can feel intimidating. I think most people don't feel very fond of their own hand writing without some practice. The place to start is with tracing. It actually helps your muscles learn what to do. The key to remember, is to slow down, make intentional strokes and be forgiving. Practice away from your Bible a few times until you feel confident with the process and then go for it in your Bible once you've done so. I believe most hand lettering is simple if we get over the mental blocks of believing it is difficult or complicated. Take each stroke by itself as it's own shape, be free, be fluid, have fun, embrace the imperfections.
Make Time for Bible Art Journaling
I'm gonna say what I do in each lesson… If you've been holding back, you are officially out of excuses! This lesson is easy to do, time considerate and full of simple stuff to ponder while you do dishes and laundry. There is nothing to be scared of and everything to gain. There is grace if you need to be kind to yourself but I'm here to remind you to go after your friendship with God if you're in need of a friendly nudge. If I may be so bold… we owe it to the Guy upstairs who gives us oxygen, to make time to deepen our understanding of Him. Let's consider it a date.
Have you decided when you'll create for lesson 3 in your Bible? Okay, good… let's look at the topic for this lesson a bit more.

Jesus came to bring us peace!
Luke 2:1-20 is the scripture for this lesson. We'll look at ———– (in the NASB translation):
"1 Now in those days a decree went out from Caesar Augustus, that a census be taken of all the inhabited earth. 2 This was the first census taken while Quirinius was governor of Syria. 3 And everyone was on his way to register for the census, each to his own city. 4 Joseph also went up from Galilee, from the city of Nazareth, to Judea, to the city of David which is called Bethlehem, because he was of the house and family of David, 5 in order to register along with Mary, who was engaged to him, and was with child. 6 While they were there, the days were completed for her to give birth. 7 And she gave birth to her firstborn son; and she wrapped Him in cloths, and laid Him in a manger, because there was no room for them in the inn.

8 In the same region there were some shepherds staying out in the fields and keeping watch over their flock by night. 9 And an angel of the Lord suddenly stood before them, and the glory of the Lord shone around them; and they were terribly frightened. 10 But the angel said to them, "Do not be afraid; for behold, I bring you good news of great joy which will be for all the people; 11 for today in the city of David there has been born for you a Savior, who is Christ the Lord. 12 This will be a sign for you: you will find a baby wrapped in cloths and lying in a manger." 13 And suddenly there appeared with the angel a multitude of the heavenly host praising God and saying,

14 "Glory to God in the highest,
And on earth peace among men with whom He is pleased."

15 When the angels had gone away from them into heaven, the shepherds began saying to one another, "Let us go straight to Bethlehem then, and see this thing that has happened which the Lord has made known to us." 16 So they came in a hurry and found their way to Mary and Joseph, and the baby as He lay in the manger. 17 When they had seen this, they made known the statement which had been told them about this Child. 18 And all who heard it wondered at the things which were told them by the shepherds. 19 But Mary treasured all these things, pondering them in her heart. 20 The shepherds went back, glorifying and praising God for all that they had heard and seen, just as had been told them."
As we've been looking at in previous lessons, the theme of the Bible story is beautiful. God has been pursuing us with His love from the beginning and is SO fond of you as His creation. He knows we may make mistakes and He's chosen to pursue us anyway. (See my other post for context on this.) God knows you want more of Him and He is even hungrier than you are to have a deeper friendship with you. That doesn't make you bad, it makes Him amazing. His desire to partner with you is HUGE. He longs to be chosen and risks everything to give us that choice.
Isaiah 9:6 (NASB) says:
For a child will be born to us, a son will be given to us;
And the government will rest on His shoulders;
And His name will be called Wonderful Counselor, Mighty God,
Eternal Father, Prince of Peace.
Jesus came as the Prince of Peace. See the context video below to learn about this word, "Peace", which comes from the Hebrew word, "Shalom".
Jesus came to bring Shalom (peace) and rest on our lives and circumstances with His great calm. He brings completeness and soundness! He IS peace and He brought it with Him to earth. It's our duty and privilege as His followers, to partner with Him in not just selfishly embracing His peace for our own lives and circumstances, but also to SPREAD His peace… to spread HIM. He is with us and it would be a crying shame to keep Him to ourselves! Peace has arrived… let's spread Him around!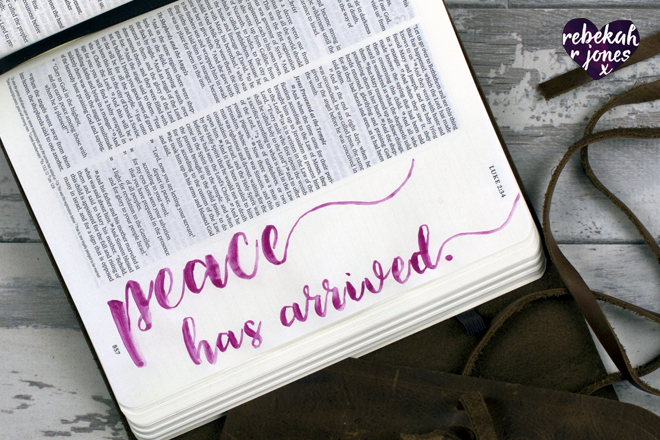 Gain Some Context
In this series, I'm sharing some helpful videos which can aid you in grasping the individual lessons. To better understand the full picture of this topic in the Bible and this scripture in the context of the book it's in, I want to share with you some wonderful videos from the guys over at The Bible Project. They are "helping people experience the Bible as a unified story that leads to Jesus". Good stuff!
They don't know who I am, (even though I grew up in the city they are based in). I believe that understanding the context of scripture we read is a huge part of how we don't misunderstand the Bible. If we want to grow in God, then we need to understand the broader story when we read something. These videos from The Bible Project really help you gain more understanding. I highly recommend you consider them part of the lesson. You can check The Bible Project out on their website: https://thebibleproject.com/
Let's firstly look at the birth of Jesus, according to Luke…
Next, I want you to look at the literary context of the book of Luke as a whole. In essence, look at how the book was written and pay attention to our chapter for this lesson, in Luke 2. You'll be able to understand better, how what we're looking at, fits into the bigger picture. It's a lot of information so this is broken into 2 shorter videos.
Lastly, watch this video which shares a word study on "Shalom", which we understand in English as, "Peace". Our understanding of the English word "Peace" is far too simple to fully grasp the impact of our Prince of Shalom coming to earth. Have a look for yourself.
Isn't all this context interesting?! So much to grasp. I'd love to hear your comments and thoughts below.
Make Room for Bible Art Journaling
This Bible art journaling stuff… it's an intentional place we make room for God to encounter us with His freedom. Isn't that what we're all hungry for? Let's be intentional and grow in God together.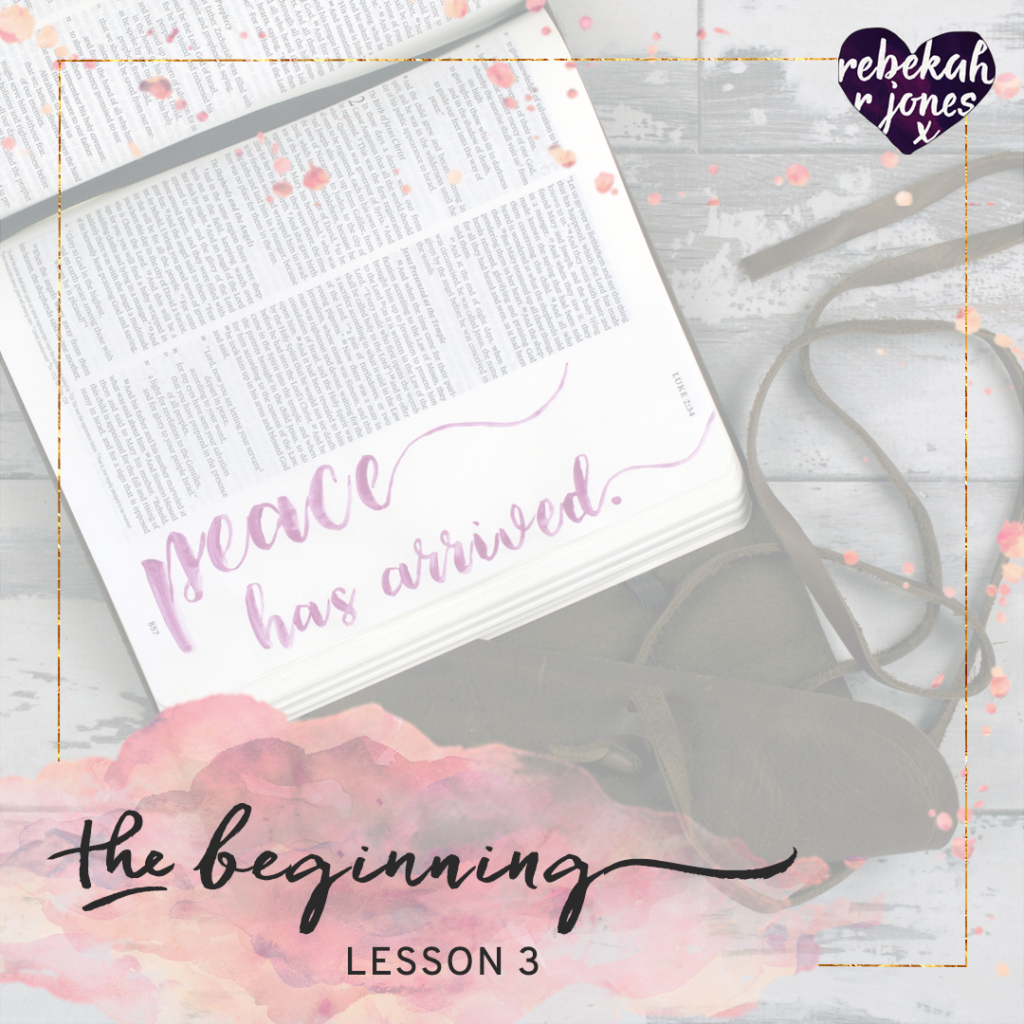 You can find answers to most any question you may have about participating in this challenge, on The Beginning page, which holds the lesson archive, series supplies list, how to join in and more!
Many ask if it is okay to share these posts with your friends. Please share! It is a simple way you can partner with me to impact lives. If you're discovering this when it's been a while since I published, that's okay! It's not too late to join in, (it never is!).
Join the discussion below!
As we wrap up the "consuming" part of lesson 3 in The Beginning Bible Art Journaling Challenge, it's time for us to connect in the comments! Please pop below and answer these 2 questions, then head to your email inbox to grab your download and get started with Inktense Blocks brush lettering!
What have you learned today and how can you apply it to your life?
What color(s) will you choose for this Bible art journaling entry?
You are loved. x