Encountering A Good God – Heaven is Calling Lesson 10

Hello Everyone! Welcome to lesson 10 in the Bible Art Journaling Challenge series, Heaven Is Calling! I thought it was long overdue, for me to talk with you about Bible journaling on a budget. I've got a simple idea for you, that is great for when you're squeezed for time and it's easy enough for anyone to make it their own.
I am ultra short on time currently, because I've got SUPER exciting news rolling out over the next week… my long awaited online course, Page Prep! It's making life full currently, but oh SO exciting.
If you've not entered your email over on www.PagePrep.com to learn about my coming course, you're about to miss some fun stuff, (including a subscriber giveaway for a couple of course scholarships). 🙂
With limited time, I figured that now is a great time, to show you through how to create in your Bible, when time is short. In this video, I also show you how to watercolor in your Bible, without needing to page prep first. I'm hoping it will be a real help to you. I get LOTS of questions about avoiding bleed through. And… LOTS of questions about Bible journaling on a budget.
If you want to learn more about
the page prep topic, you can sign up to learn about the Page Prep course. I am so excited to finally be about ready to share it with you, after working hard on this 40+ video lesson course, for the past 6 months.
Anyway, I'm telling no more for now and will be in touch with early-bird pricing, for those who sign up to hear about it. As an fyi, if you come across this post at a different time, you'll still be able to visit the course page, to see what the latest is.
Heaven Is Calling Lesson 10
So anyway, in this Heaven Is Calling series we're talking about connecting with a good God and today, I want to discuss encountering a good God.
To do this, I want to talk with you about an encounter that the apostle Paul had. He'd had a pretty horrific personal background. Before He encountered Jesus, he'd gained the legal right to terrorize the followers of Jesus. As it states in the scripture we'll focus on, Paul was "breathing threats and murder against the disciples of the Lord."
In just one moment though, Paul encountered Jesus and because of his open response to God, his life was dramatically transformed and eventually, he helped shape the course of Christian history, which we still feel in society today. It's God's job to encounter us and it's our job to respond.
Responding to God's encounters
How we respond can impact our own life, or go beyond and change the world. Let no one tell you that you are insignificant. If you have accepted Jesus into your life, you are a daughter (or son), of the greatest King of all time! As we embrace the encounters of God in our life, He gives us opportunity to share that encounter with the world.
As a former teacher of mine would say, "God encounters us, so we can become an encounter." His thought was that when we embrace the loving encounters of God in our own life, we can become a living vessel for others to encounter the love of Jesus through us. After all, we are meant to be a beacon of what lives in us.
I love the concept of positioning my heart to give away the goodness God pours in to my heart and life, so it can help others encounter Him, like I have. He's just been too good to keep it all to myself! That doesn't mean life has been all fun. It means I want to responsibly ensure, that I embrace the "God moments" in my life and do my best to share that goodness, so others can be drawn to Him as well.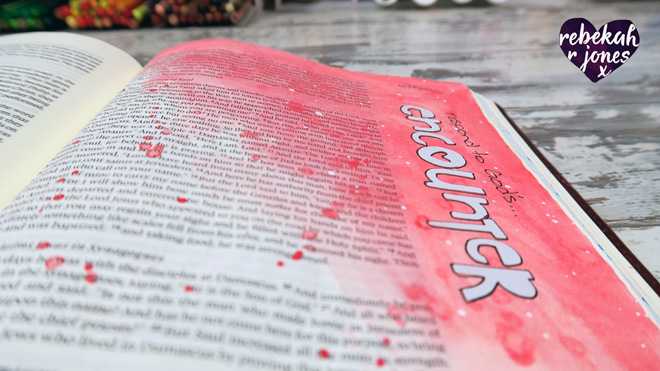 May our lives shine with the mark of us having been in His presence and may it spread across the world in a way that changes history.
Scripture
It sure happened that way for the apostle Paul. He was traveling to Damascus to round up men and women who followed Jesus, bind them up and cart them all back to Jerusalem as prisoners. Let's have a look at the story and then get started with the video. I used my Double Column ESV Journaling Bible, for this lesson and the scripture for this challenge is Acts 9:1-22.
The Conversion of Saul

9 But Saul, still breathing threats and murder against the disciples of the Lord, went to the high priest 2 and asked him for letters to the synagogues at Damascus, so that if he found any belonging to the Way, men or women, he might bring them bound to Jerusalem. 3 Now as he went on his way, he approached Damascus, and suddenly a light from heaven shone around him. 4 And falling to the ground, he heard a voice saying to him, "Saul, Saul, why are you persecuting me?" 5 And he said, "Who are you, Lord?" And he said, "I am Jesus, whom you are persecuting. 6 But rise and enter the city, and you will be told what you are to do." 7 The men who were traveling with him stood speechless, hearing the voice but seeing no one. 8 Saul rose from the ground, and although his eyes were opened, he saw nothing. So they led him by the hand and brought him into Damascus. 9 And for three days he was without sight, and neither ate nor drank.

10 Now there was a disciple at Damascus named Ananias. The Lord said to him in a vision, "Ananias." And he said, "Here I am, Lord." 11 And the Lord said to him, "Rise and go to the street called Straight, and at the house of Judas look for a man of Tarsus named Saul, for behold, he is praying, 12 and he has seen in a vision a man named Ananias come in and lay his hands on him so that he might regain his sight." 13 But Ananias answered, "Lord, I have heard from many about this man, how much evil he has done to your saints at Jerusalem. 14 And here he has authority from the chief priests to bind all who call on your name." 15 But the Lord said to him, "Go, for he is a chosen instrument of mine to carry my name before the Gentiles and kings and the children of Israel. 16 For I will show him how much he must suffer for the sake of my name." 17 So Ananias departed and entered the house. And laying his hands on him he said, "Brother Saul, the Lord Jesus who appeared to you on the road by which you came has sent me so that you may regain your sight and be filled with the Holy Spirit." 18 And immediately something like scales fell from his eyes, and he regained his sight. Then he rose and was baptized; 19 and taking food, he was strengthened.

Saul Proclaims Jesus in Synagogues

For some days he was with the disciples at Damascus. 20 And immediately he proclaimed Jesus in the synagogues, saying, "He is the Son of God." 21 And all who heard him were amazed and said, "Is not this the man who made havoc in Jerusalem of those who called upon this name? And has he not come here for this purpose, to bring them bound before the chief priests?" 22 But Saul increased all the more in strength, and confounded the Jews who lived in Damascus by proving that Jesus was the Christ.
Encountering a good God

Let's dive into this topic a bit more and get Bible journaling on a budget!
I'd love to hear from you in the comments below! If you're new here, we have lots of helpful people in our community who pop into the comments and share ideas and thoughts you may want to check out. If you've not seen lesson one yet, I encourage you to start at the beginning so we can go on a journey together in this free 12-part devotional series. It's not too late to join in, (it never is!) and I'd rather you start anywhere, than not at all.
Bible journaling supplies featured today

As promised, here are the supplies I featured, in this lesson. I hope they help you find anything you may want to try out. All links will lead to my affiliate partners, Dayspring (DS), Scrapbook.com (SB), Amazon (AZ), Simon Says Stamp (SSS), and United Kingdom Suppliers (UK), with the exception of other links provided freely to support your process. These supplies are purely optional and you are free to participate with whatever you have, using the scripture for this lesson. Thanks for your support!
Extra Bible journaling supplies
In the video for this lesson, I showed and mentioned a few supplies that I didn't use for the creative project. I've linked them below for your reference.


Page Prep Bible journaling course

Just a note about how the Page Prep course will work… I will be opening and closing enrollment, so I can focus on a group of students and everyone can go through the experience together. It means if you don't join this time, you'll be able to down the road, but truly, this first time is bound to be SUPER fun. Plus, students will get access to all future updates, regardless if I have to raise the price later for extra lessons, etc.
I'll be sure to let you know when early bird pricing is ready with more course details, if you've given me your details on www.PagePrep.com Exciting!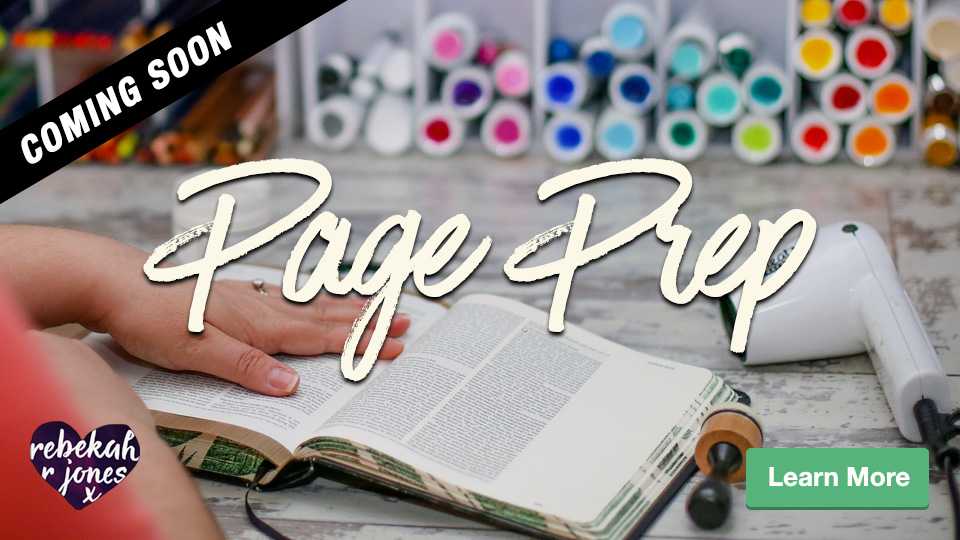 Join me in this Bible Art Journaling Challenge

You can find answers to most any question you may have about participating in this challenge, on the Bible Art Journaling Challenge page and learn more about this devotional series, on the Heaven Is Calling page which holds the lesson archive, supplies list and and how to join in!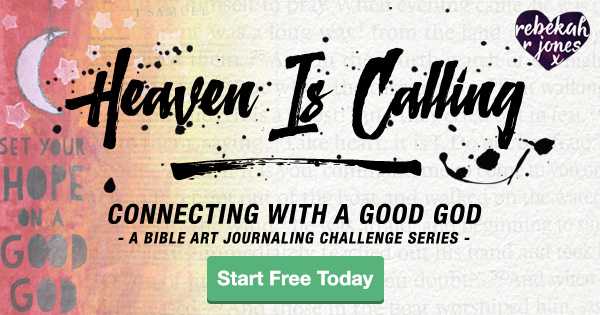 Be sure to head over to our Facebook group or Google+ Community, to chat about this Bible Art Journaling Challenge and get started on your own creativity!
Many of you ask if it is okay to share these posts with your friends. Please share! It is a simple way you can partner with me to impact lives. And remember, you can join this challenge any date you wish. The community is always growing and you are welcome to participate whenever you want!
Additional Resources

I regularly get requests for advice on choosing a Journaling Bible and this free complete guide, is my answer to all the questions. It even has a free checklist for choosing a Journaling Bible.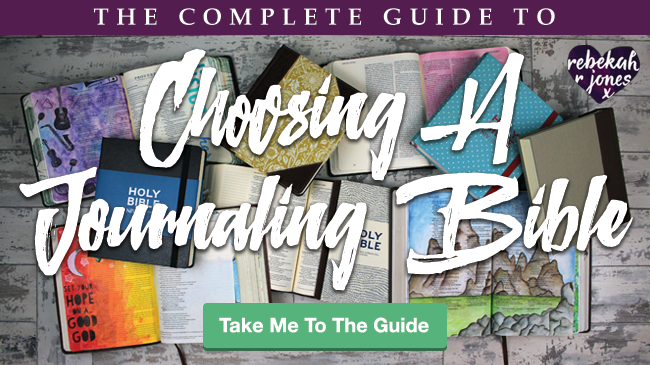 I also regularly get questions about supplies I recommend for Bible art journaling. I've created linked recommendations on my Bible Art Journaling Supplies page, to make your starter choices easier.
Lastly, you can find a general supply list for this Heaven Is Calling, Bible Art Journaling Challenge devotional series, here.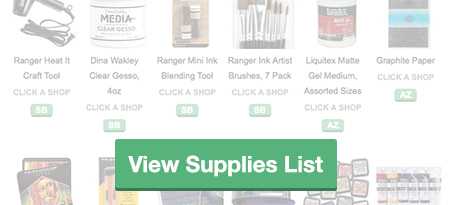 If you have not done so yet, be sure to subscribe to my emails, so you can be first to know when I release new content!
Thanks for joining me. Please take a moment and comment below! I'd love to hear from you!
You are loved. x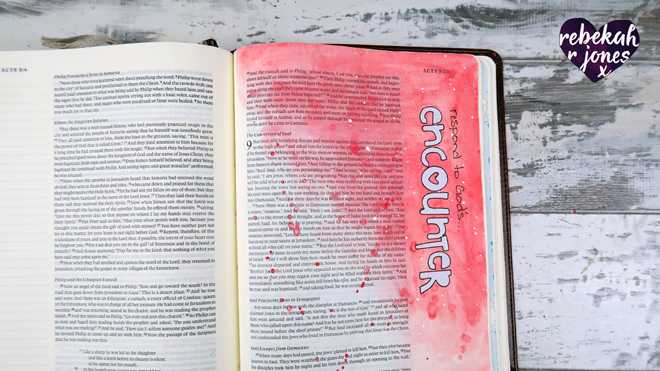 *When indicated Scripture is from the ESV® Bible (The Holy Bible, English Standard Version®), copyright © 2001 by Crossway Bibles, a publishing ministry of Good News Publishers. Used by permission. All rights reserved.
*Links take you to my affiliate partners, Dayspring (DS), Scrapbook.com (SB), Amazon (AZ), Simon Says Stamp (SSS), and United Kingdom Suppliers (UK). And, occasionally to other shops when I am not an affiliate of whomever sells/shares what I am linking to. When you find deals which I've recommended through my affiliate partners, I get supported. This has no effect on you and makes a real difference for me. You may view my affiliate and product disclosure for more info on how this works. Thank you, I so appreciate your support, which helps me support your creative journey with God!

Save
Save
Save
Save
Save
Save
Save
Save
Save
Save
Save
Save
Save
Save
Save
Save
Save
Save