Praise Him On The Margin – Bible Art Journaling Challenge Week 42

Hello Everyone! Welcome to week 42 of the Bible Art Journaling Challenge! The past several days, I've really been focusing in on praising God. Praising Him in ALL circumstances. Not FOR all things but rather, IN all things. God is not the author of bad things, so, I don't thank Him for bad. But I DO, praise Him no matter what is going on around me. He is the One who can fix all things, give grace for all things and breathe new life on all things.
Join me in cracking open the Word of God, as we step out of our personal circumstances and into His perfect presence which changes everything. It's time to praise Him on the margin!


Musical Instrument Stamps & Dies
So, I mentioned in my video, that I have some favorite stamps with musical instruments. You have seen me use several of them, if you've been with me very long. I like supplies which I can use for multiple things. There is SO much about praise and worship in the Bible, that these sets of stamps are going to keep giving me use for quite a while! 🙂
Click links to view or purchase

You'll notice that last one is not a stamp set. It's a die set. As I showed in the video, it is the matching dies for the stamps I used in this Bible art journaling entry. They're the perfect way to cut the stamped images out if you want to do a collage like I showed you recently, in week 39 of the Bible Art Journaling Challenge. I think using that tutorial with the Classic Kraft-Core by Tim Holtz, would be so beautiful here! You could stamp and cut out all the instruments. Then distress them and arrange the collage on the margin of your Bible page! Same idea as that week 39 one, but you could have some stamped images, peeking out from the distressed Kraft-Core edges and it would be an instrument collage on the edge, rather than leaves. Could be super beautiful. Can you imagine it? 🙂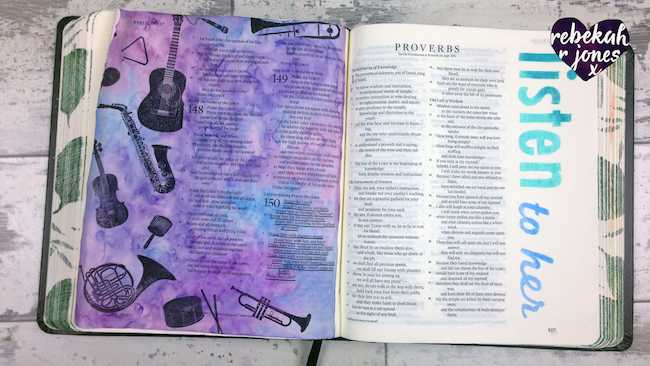 Scripture
I used the ESV Journaling Bible for this challenge today. In Psalm 150, it says this…
"Praise the Lord!
Praise God in his sanctuary;
    praise him in his mighty heavens!
2 Praise him for his mighty deeds;
    praise him according to his excellent greatness!

3 Praise him with trumpet sound;
    praise him with lute and harp!
4 Praise him with tambourine and dance;
    praise him with strings and pipe!
5 Praise him with sounding cymbals;
    praise him with loud clashing cymbals!
6 Let everything that has breath praise the Lord!
Praise the Lord!"
Praise Him On The Margin
Psalm 150 is so to the point. EVERYTHING that has breath… should praise the Lord! The Bible doesn't say we should praise Him when we feel like it. Or, when life is treating us well. It just says to praise Him. And honestly… let's keep this real here. Praising God is NOT a chore. As my mom used to put it… "Have some respect for the Guy who gave you oxygen." 😉
We owe our very life to Him, and yet, He gave His for US!! What a friend. What a Savior! It is my greatest pleasure to abandon myself in worship and praise to God. No matter how fully I praise Him, I will never be able to express how truly incredible and magnificent He is. I will spend my life trying with everything He's given me. All that we are, is His.
Today, I challenge you to get out your Bible and praise Him on the margin. Let your creative expressions be praise for who He is in your life. Let Him see the color of your praise and be adored by it. He is beautiful and we get to express our love story with Him, on the very pages of His love letter to us. Bible art journaling is such a blissful, blessed way to express praise and today, I hope you'll join me.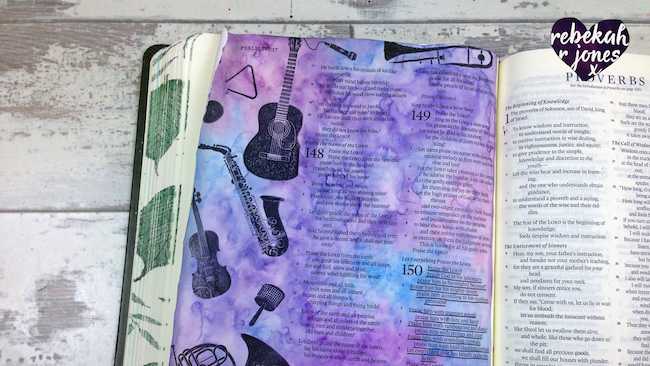 Join me
As I've mentioned, I would love you to try any of the techniques I've shared in my process with you today, if you're interested in them. I also want you to feel free to gather inspiration in other places for joining me in creating about/on this week's scripture. The goal is to get in to the Word and spend time with God. I'm looking forward to seeing what you create! You can find answers to most any question you may have about this challenge, on the Bible Art Journaling Challenge page. It also has a full archive! Be sure to head over to our Facebook group and/or Google+ Community, to chat about this weeks Bible Art Journaling Challenge and get started on your own creativity! Many of you ask if it is okay to share these posts with your friends. Please do! It is a simple way you can partner with me to impact lives.
Today's Bible art journaling supplies
As promised, here are the supplies I featured in this weeks video. I hope it helps you find anything you may want to try out. Where there is just one link, it'll lead to Amazon. Where there are two links, you'll see SB for Scrapbook.com, AZ for Amazon and CB for Christianbook.com
Click links to view or purchase

Bibles and supplies for Bible art journaling
There are always those who are new to me that find their way to various blog posts so, I'll again mention for those who are new and interested… There are several wide-margin Bibles and supplies which I recommend for this art form. I've created a linked recommendations collection on my Bible Art Supplies page, to make your starter choices easier. I hope they will help you.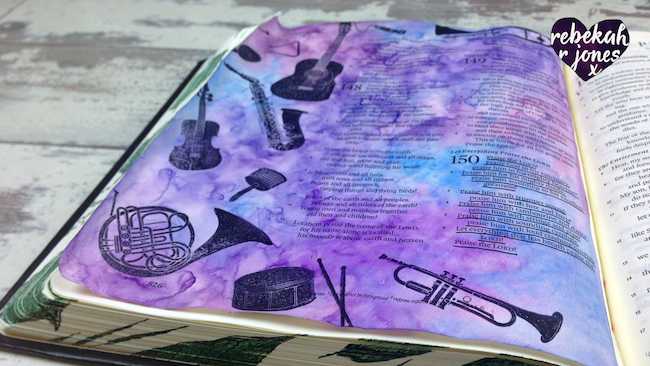 Thanks for joining me today. Please take a moment and say hi below!
You are loved. x
*Scripture is from the ESV® Bible (The Holy Bible, English Standard Version®), copyright © 2001 by Crossway Bibles, a publishing ministry of Good News Publishers. Used by permission. All rights reserved.
*When you find deals which I've searched for and recommended, I get supported. This has no effect on you and makes a real difference for me. Thank you, I so appreciate your support which helps me provide these free tutorials for you! You may view my affiliate and product disclosure.