Die Cut and Emboss Collage – Bible Art Journaling Challenge Week 39

Hello Everyone! Welcome to week 39 of the Bible Art Journaling Challenge! I haven't yet given a tutorial to die cut and emboss collage in your Bible. So, today is the day! 🙂 It's okay if you don't have the supplies I am using, I'll share some ideas with you in my video tutorial.
I've die cut some fall leaves, acorns and pine cones with a beautiful card stock, then embossed them before collaging it all onto the margin of my Bible page. I know a LOT of you are into collage and I hope you'll enjoy this fun tutorial! I REALLY love how the collage came together and really enjoyed the die cut and emboss process. Plus, the Kraft Core cardstock by Tim Holtz, looks stunning with this distressed technique in my opinion. What do you think?! 🙂
Before we get into the Bible Art Journaling Challenge though…
Periscope
As I was preparing to film and create this challenge, I decided to do a periscope which I'd like to share with you here! Periscope is a smart phone and tablet app, which you can download for free and then be notified when those you follow, start video streaming live, (aka, 'scoping') via their phone or tablet.
Anyway, during my Periscope from the other day, I shared about some of the techniques I was planning for this Bible Art Journaling Challenge. Because it is live, you'll noticed I was chatting with people. The chat won't show in the recording but you should enjoy it if you're interested… all 43 minutes of it!
I've not made this Periscope recording publicly available on my YouTube channel, because it seems better to have it attached to this challenge, since I talk about it. So, if you want to learn a bit extra and have some fun, you can watch my 'scope' below!
I hope you enjoyed that! Several people who were on the 'scope' have asked me to provide links to the products I used. So, I've provided them for you here. Where there is just one link, it'll lead to Amazon. Where there are two links, you'll see SB for Scrapbook.comand AZ for Amazon.
Click links to view or purchase
Die cut and emboss
Now… about that die cut and emboss technique! And of course, good ol' devotional! Here is the video for this weeks Bible Art Journaling Challenge!
Do you love how that turned out!?! It might be one of my favorite so far! To die cut and emboss such beautiful shapes with a quick wind of a die cutting machine, is a little bit of creative bliss! To arrange the collage pieces and see it come together, is just as pleasurable.
Kraft Core by Tim Holtz

I love how the Kraft Core cardstock works with this technique of die cutting and embossing, then distressing with the sanding grip. You could use the technique with any cardstock you have for collage. But, the Kraft Core has a top layer of color and bottom layer of kraft paper, giving it that ability to look amazing when you sand the embossed areas. I'm loving it!
I know I'll get questions about it, so I'll just let you know here quickly. I used the Nostalgic Collection. The colors I used from that collection were the No 4 (that deep red), No 6 (the mustardy yellow) No 7 (a rusty orange), No 13 (a forest green) and No 21 (the brown). I don't have any of the other collections yet but the product is the same with extra color options depending on the collection. Here are the Kraft Core collections I've found! They come in a few different shapes and sizes of cardstock paper pads (and card/envelope packs!) but I'll link to the 6″x6″ or, 12″x12″ which I would recommend for Bible art journaling purposes. I've got my eye on the newer Classic and Metallic collections. I think both would be amazing for collage in my journaling Bible. The Shattered collection looks like it would add amazing texture to a project too. 🙂
The act of creativity

I think everyone could agree, that there is something so healing and therapeutic about taking time for creativity. Yes, it is enjoyable. But I think the act of creativity goes further than just enjoyment. It helps us in a delightful way, to let our hearts be still in the presence of our Creator. We get to encounter His goodness and healing balm as we create.
If you haven't taken time to love yourself well lately, let me encourage you to take time to sit in His presence and be transformed by His goodness as you do something that brings a smile to your face. You are worth taking care of and you deserve to treat yourself with love. Jesus did when He died and rose again for you and I. We are to love ourselves as we love our neighbors. It is impossible to love our neighbors well, if we don't first know how to love ourselves.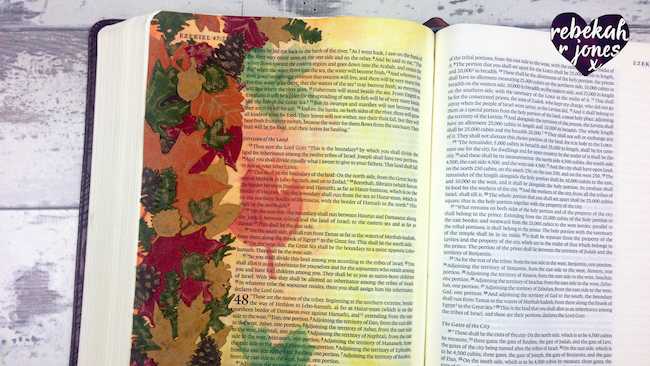 Scripture
In my ESV Journaling Bible, Ezekiel 47:12 says this…
12 And on the banks, on both sides of the river, there will grow all kinds of trees for food. Their leaves will not wither, nor their fruit fail, but they will bear fresh fruit every month, because the water for them flows from the sanctuary. Their fruit will be for food, and their leaves for healing."
Honestly? If you've been following my blog very long, you know I always add to my devotional in the video, here in my blog post. Today, I will deliberately not add anything to what I've said about the scripture of the week. Why? I want you to hear my heart, with my voice and not just in words you read. This can be a sensitive topic and I want to invite you to embrace going after the fullness of your calling, just like I talked about in my video.
Today matters for us all and we may be the only Jesus, some people see. May we shine brightly with Him, every moment, without distraction. May we love others well and may we love ourselves well in order to have something to offer the world around us. May we press in to encounter Jesus and then help others encounter Him too.
Collage
I want to show you a quick photo here, of my Bible while it is closed. I want you to see how much extra thickness this collage added to my Bible.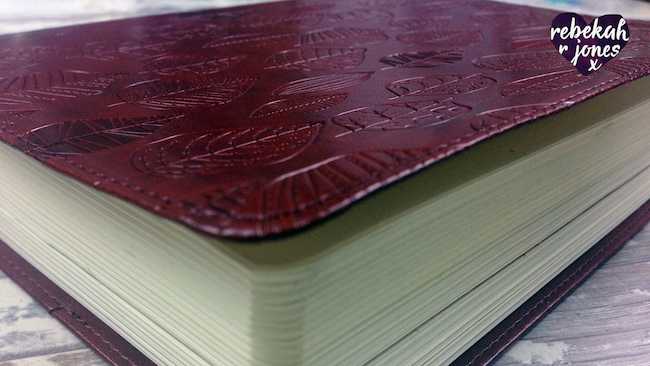 As I added layers of the die cut and embossed Kraft Core cardstock by Tim Holtz, I was careful to only ever add two or three layers high. Never four. You can see the thickness that added. It is fine with me but I wouldn't add more. Why? Because I have a whole Bible to create it and I don't want to add more bulk that is natural to hold. I personally want to have a Bible with a thickness in the binding AND outer edges, similar.
If you don't mind, then make things as thick as you like. But what if I did ten to fifteen different collages in this Bible. Imagine the bulk it would add to the pages. Imagine if I added more than two or three layers at a time. It would get pretty thick. I'd encourage you to just have a blast creating, but think about how thick you are making your collage. Just be mindful of what it would do to the Bible if you did that same process on lots of pages throughout the Bible. If you love it, add those layers! For me, I want my Bible to be full of creative surprises which people don't expect. That means lots of flat creativity. I'm sure a look at my challenge archive would reveal that mindset. 🙂
Join me
As I've mentioned, I would love you to try any of the techniques I've shared in my process with you today if you're interested in them. I also want you to feel free to gather inspiration in other places for joining me in creating about/on this week's scripture. The goal is to get in to the Word and spend time with God. I'm looking forward to seeing what you create!
You can find answers to most any question you may have about this challenge, on the Bible Art Journaling Challenge page. It also has a full archive! Be sure to head over to our Facebook group and/or Google+ Community, to chat about this weeks Bible Art Journaling Challenge and get started on your own creativity! Many of you ask if it is okay to share these posts with your friends. Please do! It is a simple way you can partner with me to impact lives.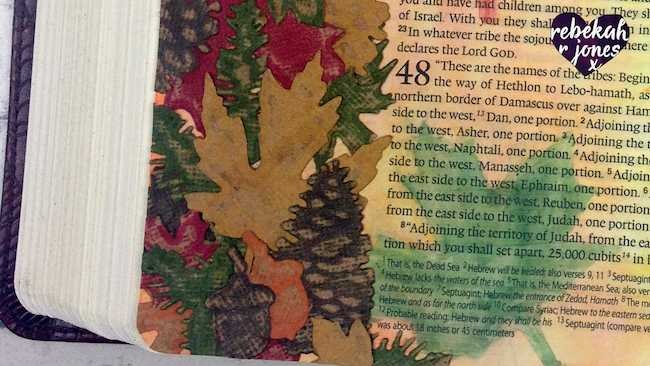 Today's Bible art journaling supplies
As promised, here are the supplies I featured in this weeks video. I hope it helps you find anything you may want to try out. When you find deals which I've searched for and recommended below, I get supported. This has no effect on you and makes a real difference for me. Thank you, I so appreciate your support which helps me provide these free tutorials for you! Where there is just one link, it'll lead to Amazon. Where there are two links, you'll see SB for Scrapbook.com, AZ for Amazon and CB for Christianbook.com
Click links to view or purchase

Bibles and supplies for Bible art journaling
There are always those who are new to me that find their way to various blog posts so, I'll again mention for those who are new and interested… There are several wide-margin Bibles and supplies which I recommend for this art form. I've created a linked recommendations collection on my Bible Art Supplies page, to make your starter choices easier. I hope they will help you.
Thanks for joining me today. Please do comment below. I'd love to hear from you!
You are loved. x
Scripture is from the ESV® Bible (The Holy Bible, English Standard Version®), copyright © 2001 by Crossway Bibles, a publishing ministry of Good News Publishers. Used by permission. All rights reserved.
UPDATE: I'm no longer active with Periscope. I simply have only so many hours in each day and Periscope isn't something I've got time for, while focusing on other great content for you. Enjoy the rare live moment here! 🙂