Creating On The Back Side Of A Bible Page – Bible Art Journaling Challenge Week 41

Hello Everyone! Welcome to week 41 of the Bible Art Journaling Challenge! One of the top questions I get asked regularly, is what to do about creating on the back side of a Bible page. Essentially, some art supplies can bleed to the back side of Bible pages without page prep applied first and then people can feel they are stuck with one beautiful side and one side that is basically "ruined". I often get asked what to do in such a situation and today I'm going to show you!
So, in week 7 of this Bible Art Journaling Challenge, I still hadn't found a clear gesso or other page prep that I was happy to recommend. At that time, I shared how to do this fun entry with tags in the margin of our Bibles.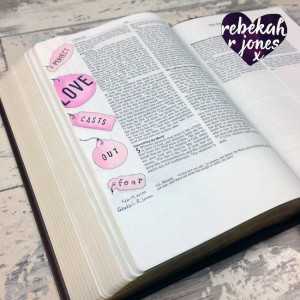 I still love having it in my Bible. However, the black stamping ink, did bleed to the back side of my Bible page. Honestly, it doesn't really bother me. But, I know SO many of you are bothered by this happening in your own Bibles. That is why I continually search out good page prep options, that will allow nothing to bleed through to the back of our pages when we create on them. Hold tight, I've got news on that front today! 🙂 So, a tiny but major detour…
New favorite page prep option!

I have been telling you all for months, that the Art Basics Clear Gesso is my favorite page prep product on the market. And it really is just wonderful. Except for one thing. Watercolor. Yes, I can watercolor and get away with it. But I cannot blend Distress Inks (water based inks), or other similar watercolor blending. It literally just wipes right off the surface of the Art Basics Clear Gesso, and other page prep options on the market. It is AMAZING for just about every other reason. But not really watercolor. It sits on top. And many of you have asked what to do in such situations. It's not really about how, it's about what. We need something different as a page prep.
Well, the sweet folks at Scrapbook.com sent me a new product on the market to try. The Dina Wakley Clear Gesso. I gotta say right now, I like it better than ANY other page prep option. This is for two reasons.
Firstly, the product is just thicker in the tub. It's a little thinner than the Liquitex Matte Gel Medium I tell people about. (I said Gel in that title just to clarify). 🙂 Having it so thick, means it results in less moisture on the surface of my Bible pages, thus, less wrinkling. Nice.
Secondly, the actual product itself sort of, "receives" watercolor products. It doesn't bleed through. It is that same barrier you'd expect a page prep to offer. Yet, it just happens to also play SUPER nice with watercolor and Distress Inks. Here is Dina Wakley showing a little bit about it.
Watercolor and especially Distress Inks, go on to this gesso a tiny bit lighter in color than direct to paper, but they sort of "absorb" into the top layer of Dina Wakley Clear Gesso and just stay where they were put. No swiping off with the fingers. I've shown it to you in my video today and encourage you to try it out. If you want more color, you can just add more layers of it.
I could hardly believe how awesome this stuff is, when I started putting it through its paces! I cannot express how happy I am with this new Dina Wakley Clear Gesso. It is SUPER smooth, repels nothing I've tried, plays nice with water based products AND when you stamp or use felt tipped pens or markers, the ink doesn't spread wide like other page prep can make happen. This stuff is basically a dream come true for my Bible art journaling life and I am feeling like hugging Dina Wakley for creating it.
The best part about this is that although it is new to the market, it is made by Ranger Ink who have their own factory in the USA! That means, if you order lots, they'll just make up more. No getting stuck without, for months at a time. This has been a real difficulty for people with the Art Basics Clear Gesso and although the stock issues are nearly sorted, I am grateful to have found a new product that will play SUPER nice with everything including watercolor and other water based products like Distress Inks, watercolor markers and more, while being easier to source.
Here it is in either the 4oz tub or the 2oz tube. If it goes out of stock, just come back soon. 🙂 And yes, I seriously hope you'll share in the comments, your own feedback on this Dina Wakley Clear Gesso! You'll see SB for Scrapbook.com or AZ for Amazon.
Click links to view or purchase
I imagine it sounds like I'm being paid to say how much I love this stuff, which is not true. I only share products I love and in my opinion, this new clear gesso is now the best on the market for Bible art journaling page prep. The key reason being, you could buy it and not different ones for different applications. Just this one would work for everything. That means you save money which is important to me.
Creating on the back side of a Bible page
Enough about that excitement though… Back to week 7. Back then, my stamping bled through to the back side of my Bible page. For this week's Bible Art Journaling Challenge, I wanted to show you about creating on the back side of a Bible page and this was a perfect time. Why? I love the scripture for this week and it was on the back side of my week 7 creativity. Perfect. Watch my video first and then let's talk about this for a few extra tips. 🙂
Similar techniques
In case you want to learn a bit more about this acrylic paint scraping technique, you can go back and check out my previous tutorials on it. You can do this technique without preparing a Bible page, with some sort of gesso or other protective barrier first. But, in this instance of trying to essentially "put a wall" between the two sides of the Bible page, a page prep product will make this work best. If you're not trying to do that, go ahead and forget the page prep and just scrap that acrylic paint to your hearts content, right on the Bible page!
I know that week 16 with that bird, has been a popular one and I love how it turned out too. Using just one or two colors that compliment each other, really help a page show a message simply and beautifully.
Scripture
I used the NASB Note-Taker's Bible for this challenge today. In 1 John 3:1, it says this…
"See how great a love the Father has bestowed on us, that we would be called children of God; and such we are. For this reason the world does not know us, because it did not know Him."
I particularly like how the NIV chooses to translate the first half of this verse.
"See what great love the Father has lavished on us…"
Lavished, means to "bestow something in generous or extravagant quantities". I love that. Our Father, the Father of ALL things, has bestowed His love on us in generous and extravagant quantities!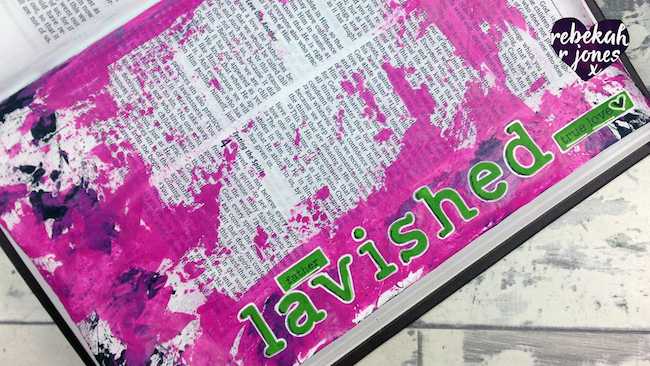 Looking at the Word with fresh eyes
Because I grew up in a house where my parents were elders in a church of 5,000 members, my life was surrounded by reading the Word and ministry life. They oversaw one the "districts" which included about 500 people in our area of the city, plus were the marriage pastors over the whole church. Yes, that is a lot of marriages and families. 🙂 I am thankful we had such good leaders who understood how to pastor vast amounts of people, without anyone getting lost in the crowd.
We had LOTS of people through our home doors and seeking God's wisdom and insight in life was a constant in our home. In such a life, it is easy to become "lazy" in "going deeper" when it is your whole life. Something I NEVER wanted to have happen. So, I always took action to avoid becoming cold or complacent.
One way I would do this, is of course by reading scripture in different translations, in order to force my brain to read the same scriptures with "fresh eyes". It was very beneficial for me and still is. I am always growing more in love with the Word, which is our beautiful love letter from the Creator of all.
While I usually choose to study scripture in the KJV, NKJV and NASB translations, I personally feel that reading in less familiar translations, can sometimes give us a refreshing new look at a verse we may have become too accustomed to. I enjoy reading the NLT very much for this reason. But wouldn't study from it as it is not always sound translation. It just allows me to read scripture and notice areas of it, I might otherwise mentally not give attention to, having read it so many times over the years. I read other translations to give fresh perspective and then head back to my trusted translations for study, once hungry to learn more about a passage of scripture. It's kind of like asking somebody else in the family to share an old story, to hear a different persons perspective on the same event. It makes it come alive with new interest. 🙂
I'd encourage you to pick up a translation you haven't looked at in a while, or ever, to see what it says about verses you have loved for years. It may just give you fresh eyes to good deeper in revelation you are hungry to devour.
Quick tips for creating on the back side of a Bible page
Now, let me lay out a few quick tips.
Not all products would work for covering up bleed through, while not making today's art supplies, bleed through to the previous page.
Be sure to start by covering your new page with some sort of clear page prep. You can see my Bible art journaling supplies page, for my suggestions.
Next use a white gesso or acrylic paint, to cover the margin areas where the bleed through is worst. It will be a different color to your paper but you can use it as additional interest on the page to balance the look like I did.
Lastly, add a fun color or two in order to both make a new creative piece and distract from any bleed through you couldn't quite cover up.
If things have bled through in the text area of your page, I'd say distract with other color on today's side of the page… like I did with the magenta paint.
Remember to use matte acrylic paint for this technique. No glossy finishes that can make your pages stick together.
Lastly, have fun splashing color around! 🙂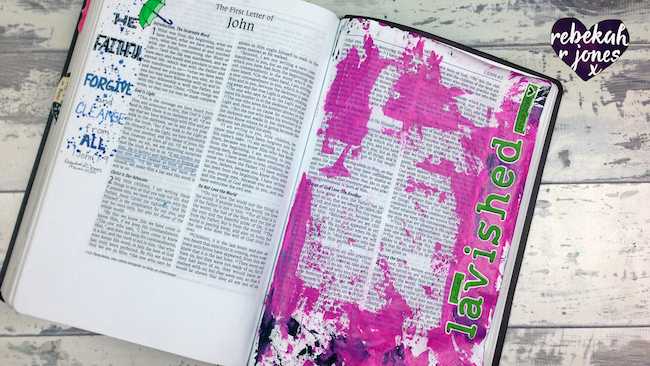 Join me
As I've mentioned, I would love you to try any of the techniques I've shared in my process with you today, if you're interested in them. I also want you to feel free to gather inspiration in other places for joining me in creating about/on this week's scripture. The goal is to get in to the Word and spend time with God. I'm looking forward to seeing what you create! You can find answers to most any question you may have about this challenge, on the Bible Art Journaling Challenge page. It also has a full archive! Be sure to head over to our Facebook group and/or Google+ Community, to chat about this weeks Bible Art Journaling Challenge and get started on your own creativity! Many of you ask if it is okay to share these posts with your friends. Please do! It is a simple way you can partner with me to impact lives.
Today's Bible art journaling supplies
As promised, here are the supplies I featured in this weeks video. I hope it helps you find anything you may want to try out. Where there is just one link, it'll lead to Amazon. Where there are two links, you'll see SB for Scrapbook.com, AZ for Amazon and CB for Christianbook.com
Click links to view or purchase

Bibles and supplies for Bible art journaling
There are always those who are new to me that find their way to various blog posts so, I'll again mention for those who are new and interested… There are several wide-margin Bibles and supplies which I recommend for this art form. I've created a linked recommendations collection on my Bible Art Supplies page, to make your starter choices easier. I hope they will help you.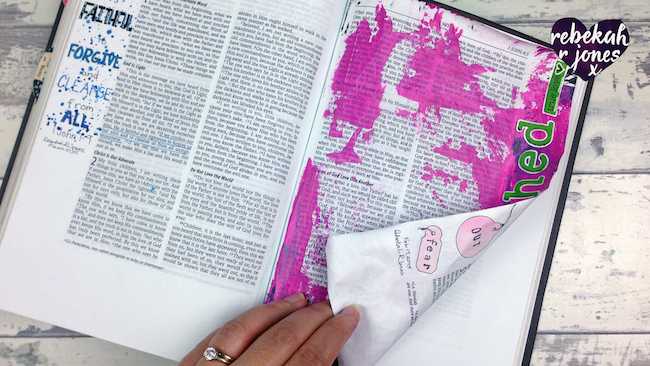 Thanks for joining me today. Please take a moment and say hi below!
You are loved. x
*Scripture quotations taken from the NASB unless otherwise specified.
*When you find deals which I've searched for and recommended, I get supported. This has no effect on you and makes a real difference for me. Thank you, I so appreciate your support which helps me provide these free tutorials for you! You may view my affiliate and product disclosure.