How To Paint and Color Autumn Leaves – Bible Art Journaling Challenge Week 43

Hello Everyone! Welcome to week 43 of the Bible Art Journaling Challenge! Are you one of those people, (like me), who sort of feels like the Fall/Autumn season is just another example of God showing off His majesty? 🙂 I just LOVE how beautiful the season can be and it always points me to how beautiful He is. All year I've been looking forward to capturing the majesty in my Bible. I want a constant reminder that every season has its time and every season has His beauty available to us.
So, I collected up a bunch of leaves and some sweet little mini fruit and got painting and coloring!
A little about this project

Let me start by saying that, this video is the loooooonngest one I have created for the Bible Art Journaling Challenge so far. It has ended up being 35 minutes long and I hope you'll enjoy every minute of it. I don't take lightly, how much of your time I take up and really appreciate you taking time to watch my videos and read my blog posts. Because it is long, I'm going to keep this post short.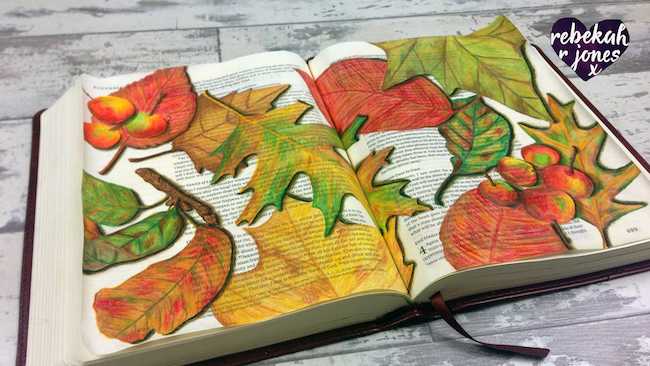 I took 12 and a half hours filming, another 12 editing the video and another 3 writing, editing photos… let's not mention the hours when my camera was uploading footage, when my computer was exporting files and all that fun stuff. This week's project took over 27 hours to complete. I'm telling you because I want you to know I put my heart into this and appreciate you joining me.
Let me point you at the first 12.5 I took doing artwork on camera. If you get starting on creating something and don't like how it is looking, just keep creating. It can only get better! 🙂 Layers of artwork help things just get better and better!
For this art piece, I used my Derwent watercolor pencils to lay down color and then added the detail and shadows with my Prismacolor colored pencils. You could do something similar using my free download (below), or just create your own thing with whatever supplies you have! As a quick reminder, I'll have a free download for you a bit further down. I traced my image when done (like this), so you could join me regardless if you have leaves falling where you are when you see this post.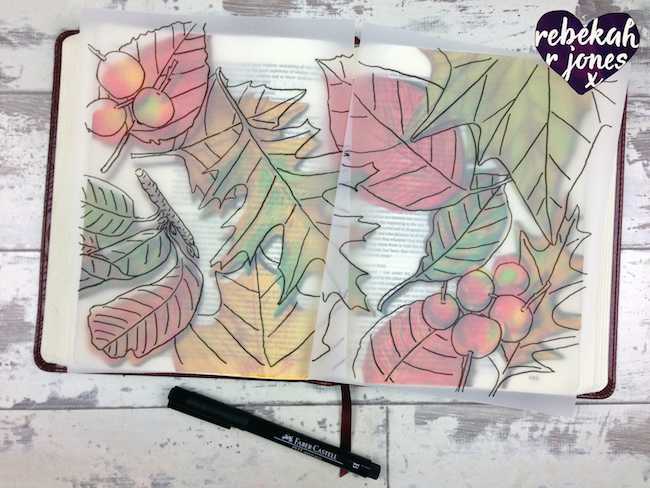 But first, let me share this week's scripture with you.
Scripture
I used the ESV Journaling Bible for this challenge today. In Ecclesiastes 3:1-13, it says this…
1 For everything there is a season, and a time for every matter under heaven:

2 a time to be born, and a time to die;
a time to plant, and a time to pluck up what is planted;
3 a time to kill, and a time to heal;
a time to break down, and a time to build up;
4 a time to weep, and a time to laugh;
a time to mourn, and a time to dance;
5 a time to cast away stones, and a time to gather stones together;
a time to embrace, and a time to refrain from embracing;
6 a time to seek, and a time to lose;
a time to keep, and a time to cast away;
7 a time to tear, and a time to sew;
a time to keep silence, and a time to speak;
8 a time to love, and a time to hate;
a time for war, and a time for peace.

9 What gain has the worker from his toil? 10 I have seen the business that God has given to the children of man to be busy with. 11 He has made everything beautiful in its time. Also, he has put eternity into man's heart, yet so that he cannot find out what God has done from the beginning to the end. 12 I perceived that there is nothing better for them than to be joyful and to do good as long as they live; 13 also that everyone should eat and drink and take pleasure in all his toil—this is God's gift to man.
This is a beautiful section of scripture which I've elaborated on in my video and will leave you with that today.
How To Paint and Color Autumn Leaves
As I mentioned, I'm going to leave most of my challenge in my video today but I have take a few photos along the way and wanted to point some things out. I don't usually do my posts this way but I felt it might be helpful to you.
Firstly, here is a photo that shows as I got started. I had my leaves out to reference along the way and just grabbed a super light color (Deep Cadmium, a yellow), to trace all the shaped and major leaf veins.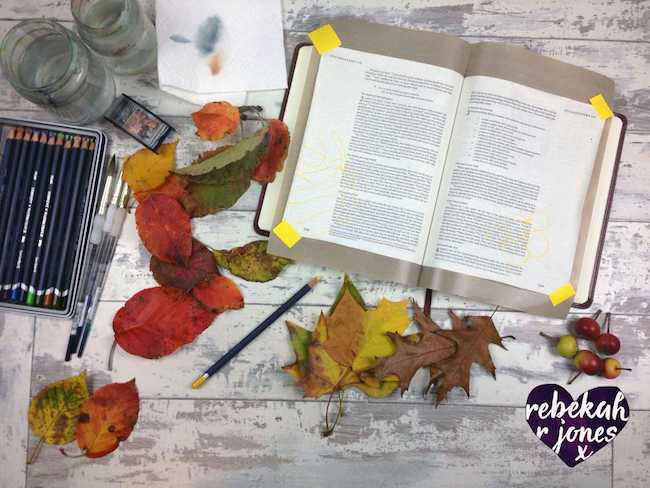 After add more watercolor pencil and adding water to paint the leaves, they really started to take shape. I could have started adding detail with a smaller brush at this point and not ever added colored pencil.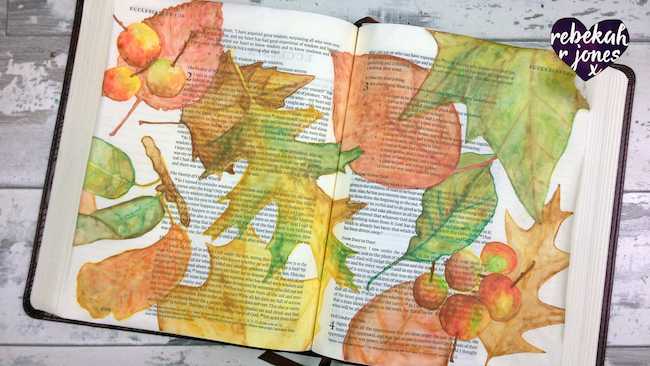 But, I wanted a real pop of color and texture which I feel colored pencil can offer. It's not quit as soft. If you look closely at this photo below, you'll noticed that the left side, has shadows and the right side does not yet have them. I wanted you to notice the difference. It can be tempting to leave "good enough alone", but trust me, be brave and add those shadows. You'll love how they make everything pop off the page. Just choose one corner for your light source to be coming from and then add all your shadows with that in mind. Look at photos online to understand how light and shadows work if you can't imagine them off the top of your head.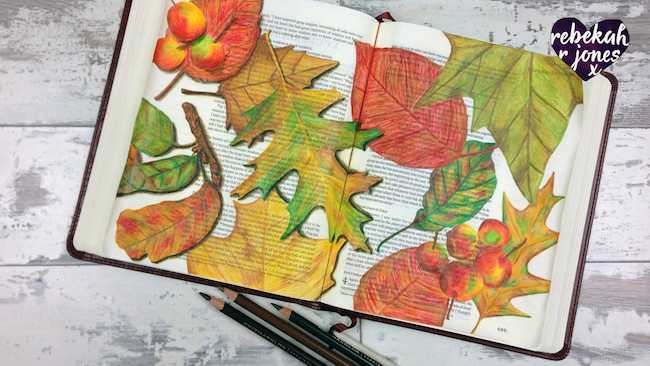 And this is what it looked like when I finished. Hope you feel inspired to try it out for yourself! I'm excited to see what you create for this Bible Art Journaling Challenge!
Join me
As I've mentioned, I would love you to try any of the techniques I've shared in my process with you today, if you're interested in them. I also want you to feel free to gather inspiration in other places for joining me in creating about/on this week's scripture. The goal is to get in to the Word and spend time with God. I'm looking forward to seeing what you create! You can find answers to most any question you may have about this challenge, on the Bible Art Journaling Challenge page. It also has a full archive! Be sure to head over to our Facebook group and/or Google+ Community, to chat about this weeks Bible Art Journaling Challenge and get started on your own creativity! Many of you ask if it is okay to share these posts with your friends. Please do! It is a simple way you can partner with me to impact lives.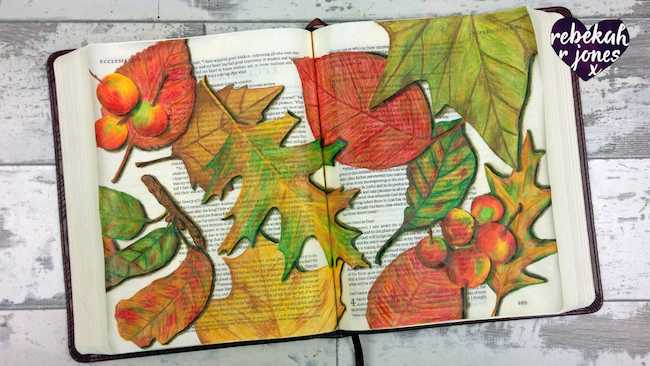 Free download

As promised, I did trace a free download for you which is here. It is two seperate sheets for each page which you can cut down and line up with each other. Print each on a 8 1/2 x 11 inch paper (or 100%) and they will perfectly fit any Single Column ESV Journaling Bible. You could make up what lands outside the area if you have a different surface. Have a look at my video in Week 20 of the Bible Art Journaling Challenge, where I show you how to simply and easily transfer a download I provided. You will then be able to print them as you would other images you've saved to your computer.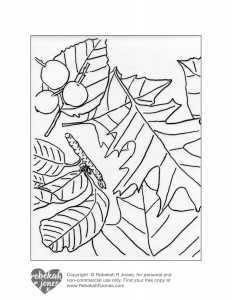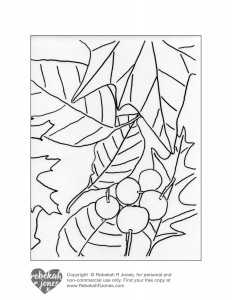 Today's Bible art journaling supplies
As promised, here are the supplies I featured in this weeks video. I hope it helps you find anything you may want to try out. Where there is just one link, it'll lead to Amazon. Where there are two links, you'll see SB for Scrapbook.com, AZ for Amazon and CB for Christianbook.com
Click links to view or purchase

Bibles and supplies for Bible art journaling
There are always those who are new to me that find their way to various blog posts so, I'll again mention for those who are new and interested… There are several wide-margin Bibles and supplies which I recommend for this art form. I've created a linked recommendations collection on my Bible Art Supplies page, to make your starter choices easier. I hope they will help you.
Thanks for joining me today. Please take a moment and say hi below! I'd love to hear from you!
You are loved. x
*Scripture is from the ESV® Bible (The Holy Bible, English Standard Version®), copyright © 2001 by Crossway Bibles, a publishing ministry of Good News Publishers. Used by permission. All rights reserved.
*When you find deals which I've searched for and recommended, I get supported. This has no effect on you and makes a real difference for me. Thank you, I so appreciate your support which helps me provide these free tutorials for you! You may view my affiliate and product disclosure for more info.