Neocolor II Watercolor Crayons On The Margin – Bible Art Journaling Challenge Week 33

Hello Everyone! It is week 33 of the Bible Art Journaling Challenge! This week I finally felt it was time to share about the topic of rest. It came at a great time personally but I know many of you have requested I share about rest, which was why I chose the topic for this week…. and will stay on the topic next week! If you're in need of refreshing, stick around.
I fell in love with watercolor through the use of watercolor pencils and when I discovered the Caran d'Ache Neocolor II watercolor crayons… well… let's just say, I had some months of personal artistic bliss. In my restraint, I've tried to make the rounds on some of my art supplies and techniques, so I could have a more well rounded selection of tutorials for everyone with various supplies. But, I'm excited today to share my Neocolor II watercolor crayons again! My camera hasn't seen them since my week 7 and week 4 challenges!
Today I want to share with you, the start of a mini-series sharing some ways to do art, 'On The Margin' in your Bible. Many people prefer to have creativity be only on the margins of their Bible pages, in order to not cover any of your Bible text. I hope you'll enjoy the coming weeks as I restrain myself to the margins of my Bibles and share my process with you. Either way, grab whatever supplies you have, enjoy my video and then spend some time creating with Jesus! Nothing more refreshing I am sure.
Come to me

This week I wanted to focus in on Matthew 11:28.
8 Come to me, all who labor and are heavy laden, and I will give you rest.
If you've already created on this verse or page, you could do a tip-in, overlay or insert! I know there are a ton of different images that come to mind when reading the verses that follow. I just wanted to picture myself in the garden of heaven, breathing deeply in His rest. I hope you'll join me in the challenge and create something that really helps you remember the rest available to us.
Time Stands Still
I wanted to share about a friend of mine who has come out with a wonderful new album called Time Stands Still. It really seems to be perfect for this week's challenge. He doesn't know I'm telling you about his album. I just have to share with you!
When I first attended Bethel School of Supernatural Ministry in 2006, Tanner Hotchkiss ended up being one of the guys, who was living on the back side of the same four-plex building I was in with my housemate. All of us were attending the same ministry school and had ended up renting from the same people, so we were neighbors.
Tanner has an incredible gift for worship on his life and I was blessed to hear it through our walls while we were neighbors. He recently released his first album which has been an incredible labor of love and is amazing.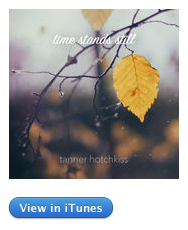 I wanted to share his album with you today as I talk with you about rest. I've been listening to it all week. Tanner just possesses the ability to help people sit in God's presence and be refreshed by Him. This album seems to help time stand still with God for a moment of rest with Him.
I know many of you are wanting to learn more secrets of resting in God. One of mine is to put on some amazing music like this (or the instrumental music on soaking.net ), and just focusing quietly on Jesus. It's so good to just meditate on His goodness, on His love and all He has done for us. What we focus on, grows. If we feel overwhelmed by life, it might be time to sit and ponder on God's goodness, until our problems or busy-ness of life fade into insignificance. When we've labored for Him and feel heavy laden, we can come to Him and find rest. It's a promise of scripture.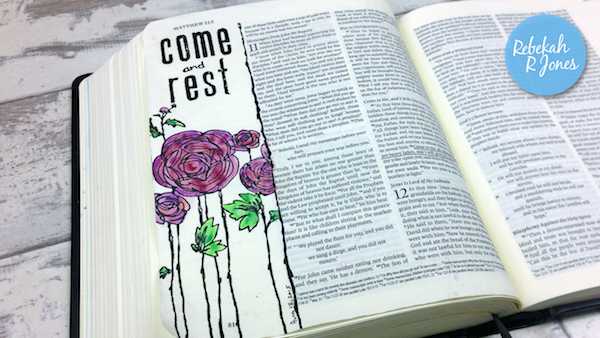 I'd encourage you today to find some time to let the "crazy of life" to lose its significance as you bask in the presence of God. And, if that feels hard or frustrating, remember, it is a practice. The more time we spend with a friend, the easier it is to sit quietly in their presence without it feeling awkward and simply sense their pleasure of being in the same space with you. Jesus is a friend far worth learning to enjoy the simplicity of life with.
Neocolor II watercolor crayons

Anyway, I cannot say enough good about the Neocolor II watercolor crayons. Caran d'Ache have amazing quality products. When I first bought a set of neocolor II watercolor crayons, I could only afford the 15 set on sale so that is what I got.
Over time, I've bought 1 color here and there individually and now have over 50 colors. My extra colors mainly consist of colors which go well when blending with my original colors, and lots of skin tones etc. I love painting girls and having lots of skin colors has been nice. They work really well over acrylic paint and colored pencil. Perfect with my mixed media projects. There are several sets as you can see here.
Click images to view details or to purchase.
If you have money to splash out, I'd encourage you to still try a small set and and if you fall in love with them like I have, then get a larger set or individual colors. The original set would then be perfect to fill in as you run out, or passed on to help someone get started like you have. It is no good feeling inspired by someone's art, buying those supplies and then not using them yourself. Far better to try things out and not be out of cash for supplies you'd actually enjoy more. It seems pointless to me, to own all the colors in a particular art supply, unless it will get used. Neocolor II watercolor crayons, are ones I plan to get every color in over time. They are a well loved item in my studio. 🙂
Resting in Him with family
I've made this a short post today as I don't want to get too deep into what belongs in next weeks post. You can be assured, I will pick from another page of the Bible then so, create away and enjoy resting in God's presence this week! If you've got family life circumstances which make the idea of resting, seem impossible, here is an idea for you… Put some music in your car that helps you focus on God while you drive (safely of course!). If applicable, tell the kids it's time to love on Jesus or have quiet time. Then just verberally invite God to come and be with you in the car. Tell Him that He is welcome and ask Him to wrap you up with His rest and all that you need. Then just be quiet for a bit. Give Him the chance to chat. If you want to involve your kids, ask them to listen for what He might say. You might think I have no idea how impossible that is, but I've done it. I helped raise my sister after my mom passed away. I've been a nanny. I've also been a children's pastor and worked with inner city youth. I promise you that if you take the time to model Jesus having space in daily life, kids will follow the example in time.
Join me
I would love you to try any of the techniques I've shared in my process with you today if you're interested in them. I also want you to feel free to gather inspiration in other places for joining me in this weekly challenge. The goal is to get in to the Word and spend time with God. I'm looking forward to seeing what you art journal in your Bible for this weeks challenge! You can find answers to most any question you may have about the Bible Art Journaling Challenge over on my Bible Art page found in the top navigation. It also has a full archive! Be sure to head over to our Facebook group and/or Google+ Community, to chat about this weeks Bible Art Journaling Challenge and get started on your own page! Many of you ask if it is okay to share these posts with your friends. Please do! It is a simple way you can partner with me to impact lives.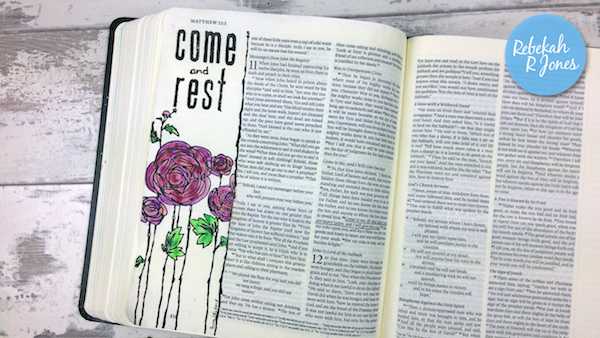 Today's Bible art journaling supplies
As promised, here are the supplies I featured in this weeks video which you can click on to view or purchase. I hope it helps you find anything you may want to try out. When you find deals which I've searched for and recommended below, I get supported. This has no effect on you and makes a real difference for me. Thank you, I so appreciate your support which helps me provide these free tutorials for you! Where there is just one shop, it'll lead to Amazon. Where there are two links, you'll see SB for Scrapbook.com, AZ for Amazon and CB for Christianbook.com Click images to view art supply details or to purchase.
Bibles and supplies for Bible art journaling
There are always those who are new to me that find their way to various blog posts so, I'll again mention for those who are new and interested… There are several wide-margin Bibles and supplies which I recommend for this art form. I've created a linked recommendations collection on my Bible Art Supplies page, to make your starter choices easier. I hope they will help you.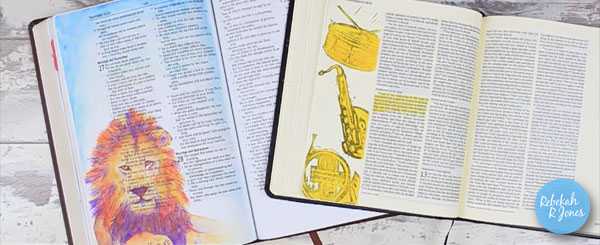 Thanks for joining me today. Please take a moment to share a comment below for us all, about your thoughts, tips, questions, ideas on anything we talked about today. Hope to hear from you soon!
You are loved. x
Scripture is from the ESV® Bible (The Holy Bible, English Standard Version®), copyright © 2001 by Crossway Bibles, a publishing ministry of Good News Publishers. Used by permission. All rights reserved.