Bible Art Journaling Challenge Lesson 4 – Shout Joyfully

UPDATED: December 5, 2017
Hello Everyone! Welcome to week 4 of the Original Bible Art Journaling Challenge! The popularity of this challenge has taken me quite by surprise, with over 700 members in our Facebook group as we finished lesson 3! Thank you to those of you who have paid an interest or joined in. I am thankful to do what I love for a living and am grateful to those of you who support me so I am able to continue. If you're new, don't worry about doing previous weeks unless you want. Jump right in where we are!
Enjoy my video below and then head over to our Facebook group, to chat about this lesson in the Bible Art Journaling Challenge and get started on your own page!
Bible journaling supplies in this lesson

As promised, here are the supplies I featured, in this lesson. I hope they help you find anything you may want to try out. These supplies are purely optional and you are free to participate with whatever you have, using the devotional for this lesson. This post may contain affiliate links, to support you. If you make a purchase after clicking an affiliate link, this ministry gets a small commission, with no extra cost to you. You may read my full disclosure, for details. Thank you, I appreciate you partnering to help impact lives!


You can find answers to most any question you may have about the challenge over on my Challenge page.
Scripture
The scripture for this lesson is Psalm 98:4-6, which says…
"4 Shout joyfully to the Lord, all the earth; Break forth and sing for joy and sing praises. 5 Sing praises to the Lord with the lyre, With the lyre and the sound of melody. 6 With trumpets and the sound of the horn Shout joyfully before the King, the Lord."
As I mentioned in my video today, this scripture reminded me of the season I was bedridden. In 2013, I was dramatically healed. You can read more about that story on my blog post about it. I am so grateful for the gift of life I've been given. During the difficult season before being healed, I had to daily tell myself to praise Jesus even when my physical surroundings were saying I had nothing to be thankful for. I may have been told by the doctors that they feared I would never be healthy again and die early, but I still had fresh drinking water. I still had a husband who loves me and food to eat. I had a list I kept of things to be thankful for so when the going got tough, I could pull it out and remind myself as I praised God in ALL my circumstances.
This passage stood out to me as a command. Not really as a good idea for only when I feel like it. I loved using the stamp set I found with the piano keys to show a rainbow of color, reflecting all seasons of life with its joys and hardships. I want to always remember to praise God no matter what season I am in.
How does this passage of scripture speak to you?
I want to again mention what I did in the video to be sure you all hear it from me… Last week's challenge was particularly popular and it has been fun to see everyone's creative response. It also did present some people with feelings of intimidation, with the idea of illustrating a lion for the first time. I am so honored that so many of you have taken a leap and tried something new with me. It is more important to me though, that you enjoy the process and get involved. Rather than feel unqualified and quit. Please do take on any new creative techniques I teach and try them out! But please also feel free to take the scripture I challenge you to create with, and use your own techniques to express what that verse means to you.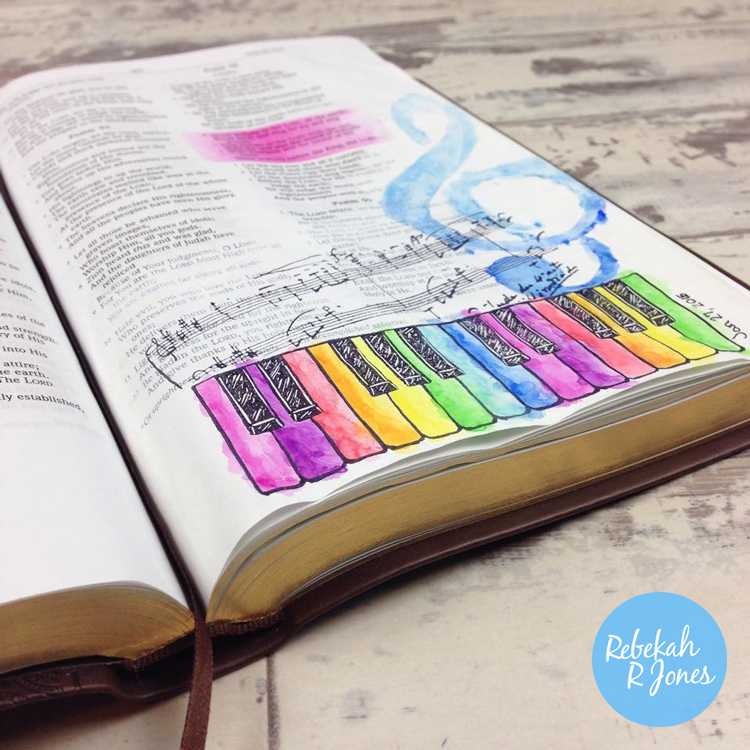 Don't forget to share this with any friends you think might want to know about it. I will see you right here next week, for another Bible Art Journaling Challenge!
You are loved. x