The Good Portion – Heaven Is Calling Lesson 6

Hello Everyone! Welcome to lesson 6 in the Bible Art Journaling Challenge series, Heaven Is Calling! We're talking about page prep and Inktense Pencils, (a real favorite of mine)! I've got a free traceable download for you, and cheats for how to develop your own hand lettering style.
If you've not seen lesson one yet, I encourage you to start at the beginning so we can go on a journey together in this free 12-part devotional series.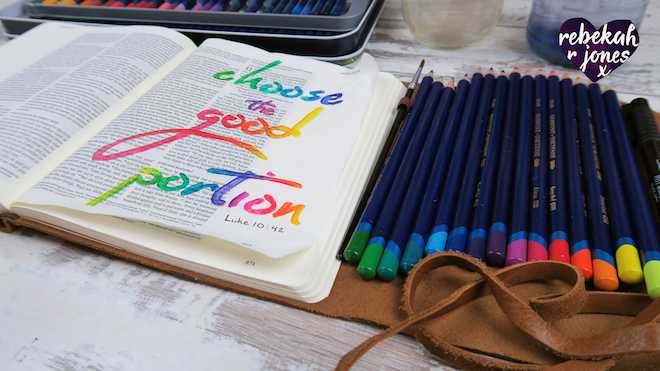 Carrying on from Lesson 5 on inviting God to dwell, we're going deeper on this topic of connecting with a good God. We're focusing on the good portion. You'll see what I mean in the video but first, let's look at the scripture for this challenge…
Scripture
I used my Double Column ESV Journaling Bible, for this lesson. The scripture for this challenge is Luke 10:38-42.
38 Now as they went on their way, Jesus entered a village. And a woman named Martha welcomed him into her house. 39 And she had a sister called Mary, who sat at the Lord's feet and listened to his teaching. 40 But Martha was distracted with much serving. And she went up to him and said, "Lord, do you not care that my sister has left me to serve alone? Tell her then to help me." 41 But the Lord answered her, "Martha, Martha, you are anxious and troubled about many things, 42 but one thing is necessary. Mary has chosen the good portion, which will not be taken away from her."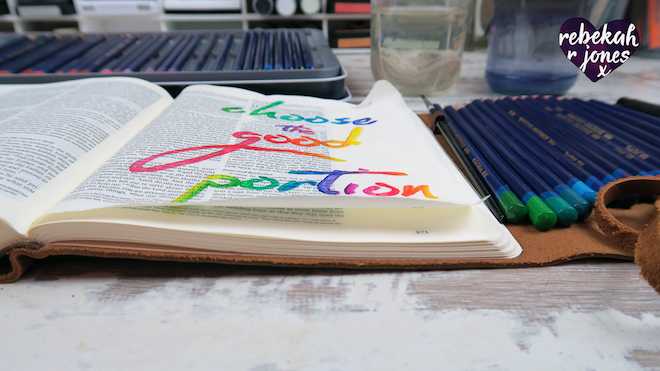 I normally share more devotional on my blog post, but today, I'm going to let my video do the talking. Enjoy and grab your free download and any supplies below!
Today's Bible journaling supplies
As promised, here are the supplies I featured in this lesson. I hope they help you find anything you may want to try out. All links will lead to my affiliate partners, Dayspring (DS), Scrapbook.com (SB), Amazon (AZ), Simon Says Stamp (SSS), and United Kingdom Suppliers (UK). These are purely optional and you are free to participate with whatever you have using the scripture for this lesson. Thanks for your support!

Inktense Pencils
If you're not familiar with Inktense Pencils, search on my blog and you'll find several fun tutorials. Inktense pencils are not watercolor despite acting very much like them. Instead, they are an acrylic ink pigment that has been dried into a pencil core shape, to apply easily. Have you used Inktense? What do you think of it?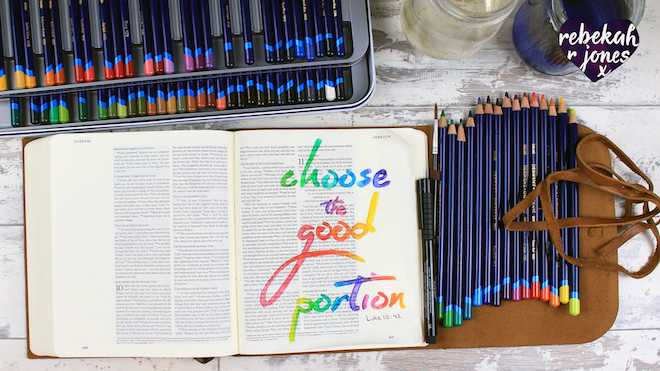 Join me in this Bible Art Journaling Challenge

You can find answers to most any question you may have about participating in this challenge, on the Bible Art Journaling Challenge page and learn more about this devotional series, on the Heaven Is Calling page which holds the lesson archive, supplies list and and how to join in! Be sure to head over to our Facebook group or Google+ Community, to chat about this Bible Art Journaling Challenge and get started on your own creativity!
Many of you ask if it is okay to share these posts with your friends. Please share! It is a simple way you can partner with me to impact lives. And remember, you can join this challenge any date you wish. The community is always growing and you are welcome to participate whenever you want!
Additional Resources

I regularly get requests for advice on choosing a Journaling Bible and this free complete guide, is my answer to all the questions. It even has a free checklist for choosing a Journaling Bible.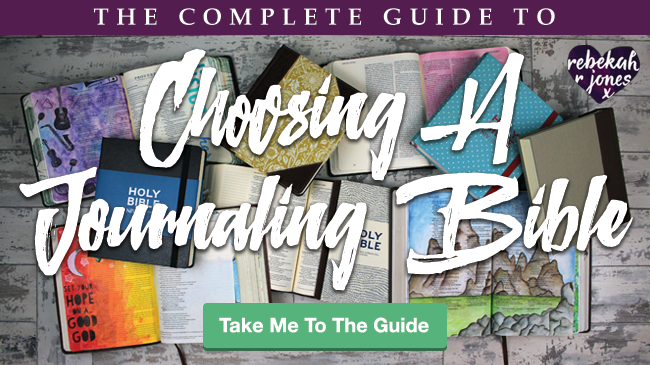 I also regularly get questions about supplies I recommend for Bible art journaling. I've created linked recommendations on my Bible Art Journaling Supplies page, to make your starter choices easier.
Lastly, you can find a general supply list for this Heaven Is Calling, Bible Art Journaling Challenge devotional series, here.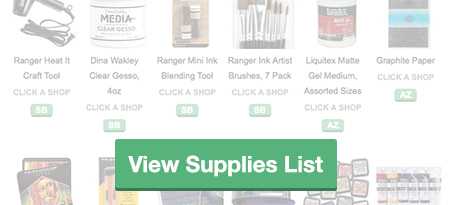 If you have not done so yet, be sure to join my email list, so you can be first to know when I release new content!
Thanks for joining me. Please take a moment and comment below! I'd love to hear from you!
You are loved. x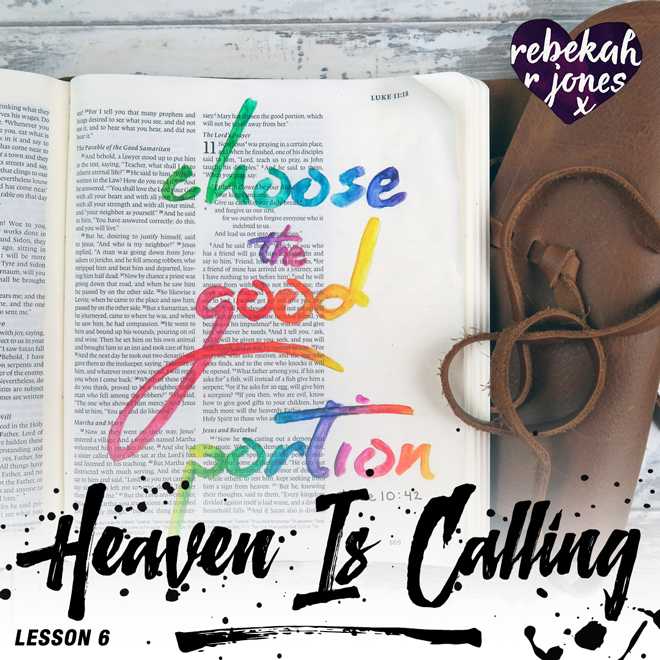 *When indicated Scripture is from the ESV® Bible (The Holy Bible, English Standard Version®), copyright © 2001 by Crossway Bibles, a publishing ministry of Good News Publishers. Used by permission. All rights reserved.
*Links take you to my affiliate partners, Dayspring (DS), Scrapbook.com (SB), Amazon (AZ), Simon Says Stamp (SSS), and United Kingdom Suppliers (UK). And, occasionally to other shops when I am not an affiliate of whomever sells the product I am linking to. When you find deals which I've recommended through my affiliate partners, I get supported. This has no effect on you and makes a real difference for me. You may view my affiliate and product disclosure for more info on how this works. Thank you, I so appreciate your support, which helps me support your creative journey with God!