Archival Ink – Bible Art Journaling Challenge Week 14

Hello Everyone! Welcome to week 14 of my Bible Art Journaling Challenge! This week is an interesting one! Have you ever had a creative process just go, all wrong? I'm letting you in to my process this week and showing you how I fixed a page that wasn't turning out like I wanted.
Very fitting when I wanted to talk to you about disappointment! Enjoy the video and my post below. 🙂

Here is this week's scripture. Jeremiah 29:11-13 says,
"11 For I know the plans that I have for you,' declares the Lord, 'plans for welfare and not for calamity to give you a future and a hope. 12 Then you will call upon Me and come and pray to Me, and I will listen to you. 13 You will seek Me and find Me when you search for Me with all your heart."
Today's Bible art journaling techniques
I could have used my Art Basics Clear Gesso this week but as many who watch my videos, believe I have abandoned all other supplies to prep my Bible pages to prepare them for my creative art journaling… I decided to reach for another one of my favorites today, Liquitex Matte Gel Medium. If you're unfamiliar about preparing your page and which choice could be right for you, be sure to check out my blog post from last week, (if you haven't already), where I went in to more depth about it.
I did try to demonstrate in my video above about just how I apply that Liquitex Matte Gel Medium. And, I apply the Art Basics Clear Gesso in the exact same way. Either way, I pull the page taut. I don't stretch it out of shape with strong pulling. But I do pull enough to dry across a not wrinkly surface. A wrinkly surface during drying will equal the same once dry.
For some reason, on the video I called that blending tool for spreading the ink, a "blending brush". It is actually a blending tool which you can see in the supplies below. I've just ordered the mini ones which are round instead of rectangle. I am told they are even easier to spread ink with because of their shape. 🙂
I would also like to point out that I do really like Perfect Pearls. I just found that my Distress Inks were still ever so slightly moist despite my obviously too short heating time. This caused the Perfect Pearls to stick to more than my Versamark ink.
In the end, I stuck with the Archival Inks which happen to be oil based. As oil and water do not mix, they are waterproof. They are permanent. I do love a distressed look and even though it wasn't what I was going for this time, it ended up that way! haha I even stamped the darker brown Archival Ink directly on to my text making it rather hard to read, which is a first in this Bible. I love that even when we find things difficult, God can help us make beauty of it all.
Die cutting tip
Die cutting my tabs on my magnetic platform is a personal choice. You can certainly use the regular platform which the Big Shot comes with. I love my magnetic platform for those wafer thin type dies because if I have a small piece of paper or a stamped image I'm trying to die cut just perfectly, the die will magnetize to the platform just where I put it and stay there. Otherwise, I'd just use some micro-pore surgical tape to hold everything in place while cutting.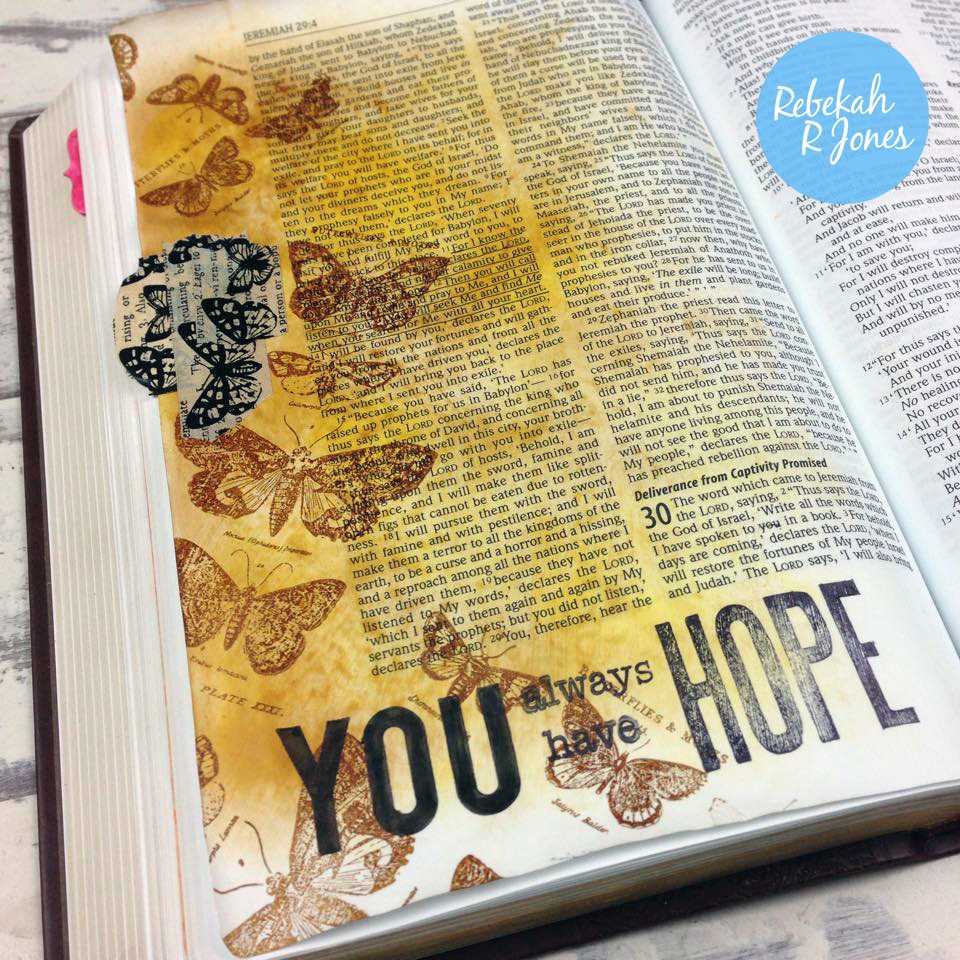 The archival nature of our work
You might be a little worried that I was able to wipe a whole body of work right off the surface of my page with a few swipes. This is the nature of Distress Inks if used on a non-porous surface. I don't intend to drop my bible in a puddle of water. I also know that any of my watercolor artwork fairly equal in their non-permanent qualities.
This is a special Bible and we keep it out of reach of harmful things happening to it. And then, we just make it a process that helps us engage with God. Don't be worried about the archival nature of what you put in your Bible. Just do what brings you joy in your time with God and helps you hide His Word in your heart. If it really is a concern to you, try to use waterproof inks, matte finish acrylic paints and things like Inktense pencils and blocks to keep everything permanent.
Washi tape
I am certain Tim Holz used to have a beautiful black and white tissue tape (like washi tape) which has butterflies on it. I cannot find a trace of it anywhere online which I was counting on in demonstrating how to do this cute little tab. I'd encourage you to use what you have. You could always use a blank color of washi tape and stamp it with butterflies if you like the look at cannot access the one I got here in the UK! It is below for those who want to get it here. if you want to tint a washi tape like I did, be sure to pick one that feels like tissue and doesn't have a slick surface that would be unwilling to take color.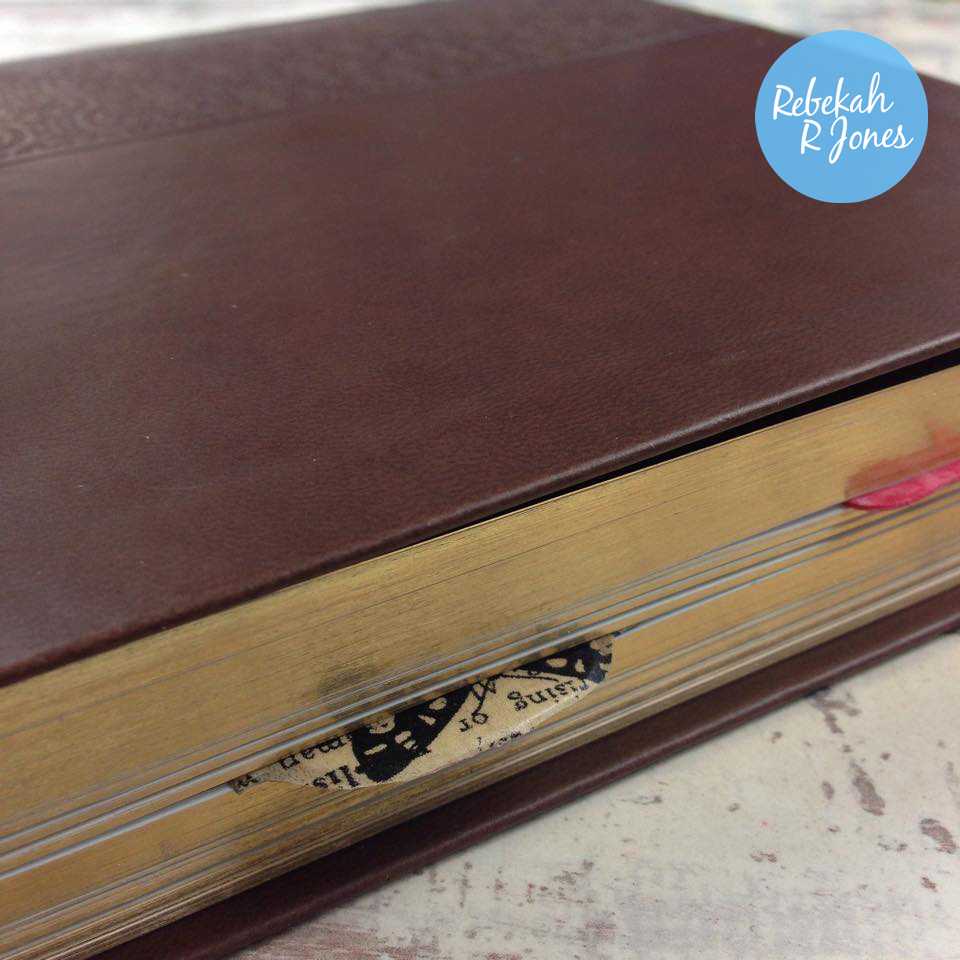 Spiritual thoughts
You might be in the best season of your life. That is wonderful if you are! We can all relate to having gone through difficult seasons and some of you may be at this very time of life. I can assure you that whatever you are going through, God is going to look after you through it all.
If you have asked Jesus to be the Lord of your life and entered into personal relationship with Him, you are under His care! You are His kid! That means it is going to be okay. That means you can have hope and that means, you have a good future full of welfare and no calamity. God gives good gifts to His kids and sustains us in difficulty when life gives us storms. We need only to focus on Him, to find our way to the other side of it.
If we seek God with all our heart, He will be found by us. Whatever is going on in your life today, I want to encourage you to take a moment to invite God in to your situation. To fix your eyes on Him. To remind yourself of God's promises over your life and to remember and thank Him for all the good He has done in your life so far.
I want to lastly point in this section of my post, to a short video I found. Joanna Gaines, co-host of HGTV's "Fixer Upper," shares how following God's direction — even while questioning it — has led to experiences beyond her wildest dreams. I have not watched the show, but her story is moving. She seems a living example of what happens when we trust God in the process of our lives and surrender all into His care.
What can feel like the death of dreams in a difficult season, is something He loves to make beauty out of in another time. Have patience friends. Today may be your day of breakthrough. Or, maybe it is tomorrow. But rest assured. Breakthrough will come.

Your turn to create
I would love you to try any of the techniques I've shared in my process with you today if you're interested in them. Just because some of them were not going like I planned, doesn't mean I won't try to do them again in new concepts. 🙂 I also want you to feel free to gather inspiration for this well loved scripture, in other places if you should choose. I'm looking forward to seeing what you all Bible art journal for this weeks challenge!
You can find answers to most any question you may have about the Bible Art Journaling Challenge over on my Challenge page. Be sure to head over to our Facebook group and/or  Google+ Community, to chat about this weeks Bible Art Journaling Challenge and get started on your own page!
Bible Art Journaling Supplies
As promised, here are the supplies I featured in this weeks video which you can click on to view or purchase. I hope it helps you find anything you may want to try out. I receive a small percentage of each purchase when anyone clicks on my art supply links, to go get supplies I use like you see below, or on my YouTube videos. This has no effect on you and makes a real difference for me! I am excited for you to get great deals on supplies anywhere, so you can join in on your budget. When you find deals which I've searched for and recommended below, I get supported. Thank you, I so appreciate your support which helps me provide these free tutorials for you!
Turns out that stamp set I used for "always have" in the middle of my sentiment, is currently discontinued! It has some beautiful stamps in that little set. I've seen them online at HobbyLobby which you can check out. I'm not an affiliate of them. Just want you to find the set if you want it before its gone forever. 🙂
Click images to view art supply details or to purchase.

Bibles Ideal For Bible Art Journaling

There are several wide-margin Bibles I've seen recommended for art journaling, including large print versions. I've created a linked collection here to make your choice easier when looking for a Bible to art journal in. If you click on any of the Bibles, you will often be able to look inside to see the pages for yourself before purchasing!
I really like the ESV Journaling Bible with faint lines in the 2 inch wide margin and cream paper color.
I love my imitation leather, NASB Note-Taker's Bible (top left Bible below), which is free of lines in the wide and bottom margin with white paper.
All give extra room for creativity.
You can also join in with a Bible you already have, or even an art journal like the art journals I recommend.
Click images to view Bibles or to purchase.
If you have not done so yet, be sure to join my newsletter on the right-hand side of this page, so you can be notified when I release new Challenges and other exciting creative things.
Don't forget to share this with any friends you think might want to know about it. I will see you right here next week, for another Bible Art Journaling Challenge!
You are loved. x