Clear Gesso & Matte Gel Medium in Bible Art Journaling
Bible art journaling is something so many of us are enjoying these days. Yet, often people don't join in because they don't know how their art supplies will act on their Bible page. The BIG question seems to be, "Will it bleed through?!?" What is supposed to be all about the process of being in God's presence and spending time in His Word, can start out as a scary feeling of trying to understand our art supplies in new ways. It all feels very technical to some. It doesn't have to be this way! I want to try to take some of the mystery out of it all for you today. Just pay attention to the names of the products and you should be able to keep everything straight and hopefully learn a few things.
I personally have chosen to dedicate a Bible to art journal in and just let the process be what it is. We are all learning together. But, I know many want to see all the text under their artwork and don't want any creativity to bleed through onto the back of their pages. So, I try to teach in my videos, using supplies and techniques which will help you achieve that transparent feel that does not bleed through. I love the results myself! Many of my own favorite ways to use art supplies in my Bible, include introducing liquid to the surface of the Bible pages. This can lead to bleed through without a couple of my other favorite products which I reach for nearly every time I create in my Bible. Today I want to try to answer some questions I'm getting a lot, about the Art Basics Clear Gesso & Liquitex Matte Gel Medium. This may feel like a technical post but my hope is that being educated on how your art supplies work in your Bible, will free you up to create in them without holding back. The goal is to enjoy creating with God and let our art supplies be tools instead of hindrances. Today, it's a discussion about the products that help our pages be safe to create on without the potential for bleed through.
Firstly, lets talk about the Art Basics Clear Gesso. Wait, lets back up to discuss gesso first. What IS gesso anyway? And why even use it at all? Gesso is a primer. If you paint a canvas or art journal page directly with paint and don't use gesso first, you'll find that your surface just "drinks" up your paint. This is bad for two reasons. Firstly, it causes you to waste a lot of paint that could have happily sat on the surface of your artwork instead of absorbing into your piece. And secondly, in the world of Bible art journaling, that means your paints/inks/etc will be absorbing into your page and working their way toward bleeding through to show up on the back side of your Bible page. If you put gesso onto your Bible page as a first step, all your creativity will happily sit on top of your chosen Bible page, because the gesso will be blocking it from absorbing into your Bible page.
So, can we just grab any gesso and start applying it? No! You may, or may not not be aware that gesso actually comes in white (most popular), grey, black, clear and other options. Gesso also comes in various thicknesses depending on the brand. Some are thick enough to help build texture on your surface and others are runny enough to pour. For the purpose of Bible art journaling, you want to use "clear" or "transparent" gesso, which is thin for easy application. The clear gesso will serve as a primer so that your Bible text will show through while being protected from all your art supplies you create. It just needs to sit there as an invisible layer of protection. Every brand has it's individual features in their clear gesso. I've tried both the Liquitex and the Winsor & Newton brands of clear gesso, which leave your surface with a rather gritty texture. This may be fine for an art journal but in our Bibles on such thin pages, any friction could lead to our brushes accidentally "grabbing" our page surface and tearing the page! Ask me how I know. 😉 Thankfully I was being gentle.
If you are gentle with your Bible pages and also determined to use one of these brands with gritty clear gesso, (perhaps for lack of access to other options), have a look at my Week 5 Bible Art Journaling Challenge where I used the Liquitex Clear Gesso and see how I managed it.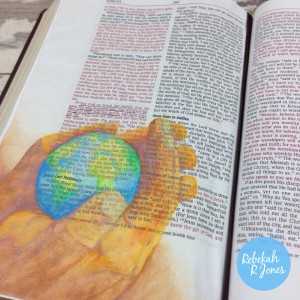 Even after sanding my surface to begin, the gritty texture prevented me from painting a very crisp image. You can watch the video and see how the bristles of my brush didn't smoothly glide over my page. I suppose it is educational at the least. To date, that creative experience was my least favorite process of all the Bible Art Journaling Challenges I've shared with you. It just wasn't enjoyable to fight with bits of gritty texture on my Bible page surface.
In my search for a better solution, I was introduced to another brand of clear gesso since that week 5 post, which I LOVE. Prima Marketing have a line of Finnabair products called Art Basics and in that line, is their Art Basics Clear Gesso. Anna Dabrowska worked with Prima Marketing to create it. This particular brand of clear gesso, is super smooth and I cannot recommend it enough.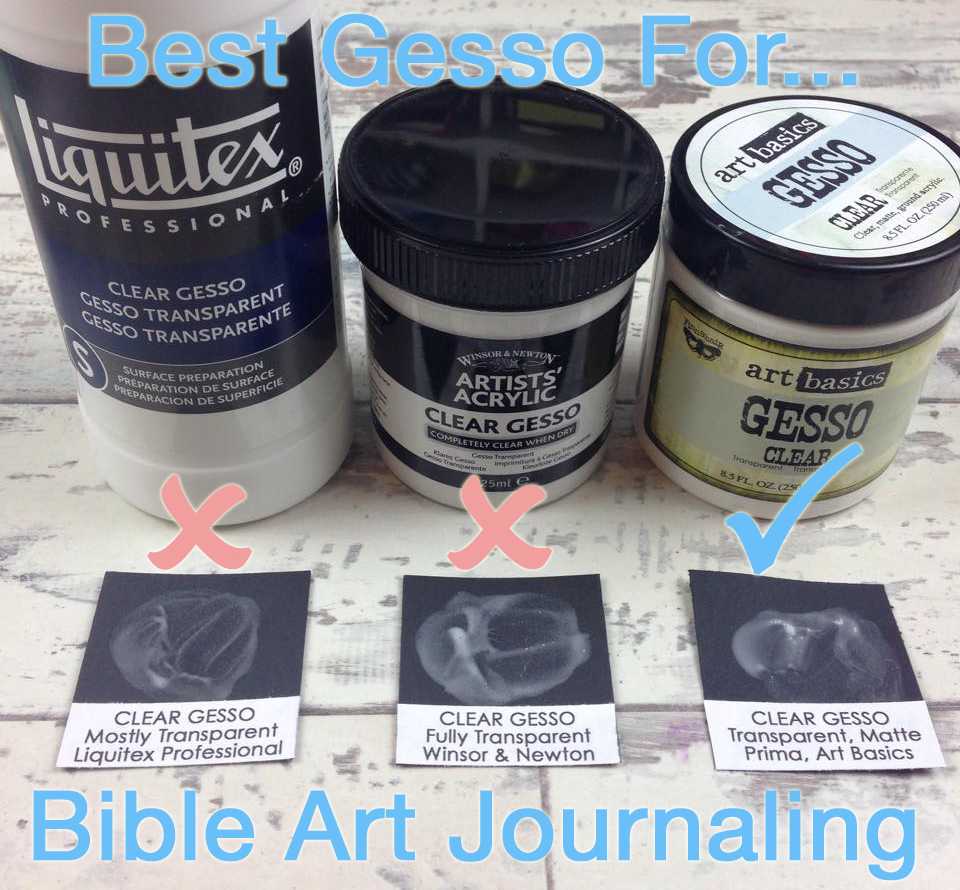 Anna Dabrowska says on her own site the following about the Art Basics Clear Gesso:
"Transparent, matte, ground acrylic. Quick-drying primer – it has light texture similar to Soft Gel but provides a light tooth. Works well for a variety of color products providing a permanent, smooth, background while creating a clear workable surface for color products. Water-based. Archival safe." As she mentions about it, "it protects background layer" which is Bible page text in our case.
Scrapbook.com says this about the product:
"Use the Clear Gesso by Prima as a sealer for beautiful texture and as a glue for adding art ingredients to a gorgeous canvas. This clear, matte, ground acrylic works well as a primer for most surfaces including wood, paper, metal, fabric, plastic and more. Gesso is water-based, but permanent after drying and will mix well with pigments, or acrylic paints to create a range of customized colored grounds. Included is one 8.5 fl. oz. jar of Clear Gesso that dries quickly, is non-toxic and is archival-safe."
I should say about this clear gesso that while some may use it as a glue, I have no experience doing so and would not be able to advise about that. Lastly, I have I have heard a lot of complaints that this gesso being very hard to source recently. The good news is that should not be a forever problem. In speaking with Prima Marketing for you today, I I understand that there have been strikes going on at the LA boat docks which have held up a lot of orders. This issue has been going on since January reportedly. Prima Marketing clarified that they do have containers of product stuck on the dock until the strikes end. They currently are out of stock of this item and this is a key reason why Amazon is likely not being very predictable in is offering of this product right now. Once the strikes end, Prima Marketing will get their stock and get more to Amazon in due time. There are a couple places online with very limited stock left but this will change. We'll just have to be patient and pray a happy resolve to the strike is had.
I hope that helps you understand the Art Basics Clear Gesso a bit better. But what if you don't have Art Basics Clear Gesso or another one you're happy with? Let's talk about Liquitex Matte Gel Medium! You can see how I used it to prepare my Bible page in my Week 3 Bible Art Journaling Challenge before painting this lion. This was before I found the Art Basics Clear Gesso. Both are great options. I happen to love the gesso a bit more, but get what you have access to.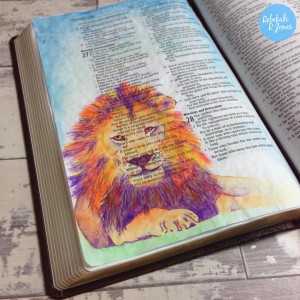 So what is Matte Gel Medium? Lets break down the whole title quickly to see what it tells us about this particular product. Reading art supply labels give us lots of answers.
Matte. It dries with a matte finish instead of gloss. This is important for art journaling in a Bible (or other journal) as a glossy finish may stick to adjacent pages in time. Choose matte finish. Grabbing the matte version instead of gloss will not only avoid potential sticking, it will also be easier to photograph your Bible pages without a shiny glare to deal with. 😉 And, we all know we want to see each others beautiful work over in my Facebook Group or Google+ Community for the Bible Art Journaling Challenge!
Medium. It acts as a great extender to your acrylic paints helping them stay open (aka, wet), for longer. It will also cause them to be more transparent depending on amounts added. Artists often use it for this purpose. I did this week with my Liquitex Matte Medium. And, that is all I use that matte medium for actually. For the purpose of art journaling on your Bible pages, I recommend you stick with the least amount of liquid being introduced to the surface of your page. So, the gel version of medium would be a better option for protecting your page in my opinion, because it is the same as medium, just thicker.

Gel. This is different than plain old "medium" such as Liquitex Matte Medium. If the Gel Medium is used to extend your acrylic paints, the paint would remain more thick because of the gel consistency. I feel this gel consistency, is particularly useful aspect to pay attention to, as less liquid on your page means less buckling overall. It can offer many useful options to a Bible art journaler. Medium in a gel consistency is also often also used as a glue or adhesive with great results. You saw me use it to do this yesterday in my Week 13 Bible Art Journaling Challenge. If you like paper crafting in your Bible, I think you'll love Gel Medium as an adhesive.
So, Matte Gel Medium is a clear adhesive and/or acrylic paint extender. It can also be used to prepare your Bible page before you create on it. The results are silky smooth.
Liquitex says on their site about their Matte Gel Medium, that it:
Dries translucent with a satin/matte finish; Viscosity and body similar to Liquitex Heavy Body Paint
Lightweight, non-toxic; Translucent when wet, transparent when dry
There are lots of brands and I am most familiar with Liquitex Matte Gel Medium, so that is what I choose to recommend. The age old trick to remember about using this as an adhesive is that you should add it to both surfaces intended to stick together. I go on and add it on the top to seal everything in place, sometimes. The key is to only seal things which are permanent. You can test these things on the back of a Bible page to be sure if you want more confidence before starting. Look at the labels of your products. If they are watercolor or will lift if you add a liquid to them, they are not permanent and will smear if you seal your page with Matte Gel Medium. If you must seal your non-permanent page creation, use a spray fixative.
This post obviously isn't really about applying either of these products to your Bible pages. It's more about what they do and how they work. However, I want to lastly point out that I find it most useful to apply either of them in a VERY thin layer to my Bible pages. I tend to use either my finger flat on the paper surface, or a foam brush. I use a heat tool to dry mine and blow air against the direction of any page wrinkles I'm seeing, so it sort of "pushes" the wrinkles away. The page will always have some buckling after introducing any liquid, but this does minimize its appearance for me.
After it dries completely, I add another VERY thin second layer of whichever product I am preparing my page with, and dry it again in the same manner. By doing this, I end up with the most transparent option and my page is sure to be entirely covered with the preparation. I find one layer always leaves me little spots I missed in my first layer and I want my whole page protected so I can create freely.
So, in summary, I recommend either the Art Basics Clear Gesso or the Liquitex Matte Gel Medium. Both seem to last a long time and do best having their lid on when not in use. Either will work great in providing a transparent layer on your Bible pages, that block your art supplies from absorbing in to your pages as you create. When you prepare your page with them before beginning to create, you'll actually be creating on the clear gesso or matte gel medium, despite it looking like your creating directly on your Bible page. If you're not sure how certain art supplies will work, you can spread these products on anything and give it a try. You may think you're doing something different but the results will be similar since you'll be practicing on the same surface you made with that protective layer.
I like how very smooth the Art Basics Clear Gesso is so prefer it. However, the Liquitex Matte Gel Medium can actually do all the jobs great as one product – protects the page, acts as an adhesive and seals your page if a consistent finish is desired over permanent art supplies you've used. As you see me make various choices to use either or none of these products in my creative process with Bible art journaling, I hope you will now feel empowered to make your own decisions about what you'd like to have happen in your Bible. I hope this all makes sense and these tips have helped!
Again, here are my two favorite art supplies for preparing my Bible pages for art journaling.

I receive a small percentage of each purchase when anyone clicks on my art supply links, to go get supplies I use like you see below. This has no effect on you and makes a real difference for me! I am excited for you to get great deals on supplies anywhere, so you can join me on your budget. When you find deals which I've searched for and recommended below, I get supported. Thank you, I so appreciate your support!

If you are reading this and have used other clear gesso brands that are smooth. Please do leave a comment and perhaps we can discover other options! I'd love to hear from you guys in the comments. Let me know what your thoughts about all this is. 🙂
You are loved. x