Watercolor Salt Technique on Thin Paper – Bible Art Journaling Challenge Week 31

Hello Everyone! It is week 31 of the Bible Art Journaling Challenge! I'll be honest, I wasn't one who excelled in my science and chemistry type classes in school. Art and English were more my cup of tea. I'm sure that is no surprise to you. But today, let's get a little scientific and have some fun.
So, I love the technique of laying down a wash of watercolor and then sprinkling it with salt crystals while it is still wet. If you leave it to dry like that, the salt crystals actually soak up some of the watercolor pigment in the area where they sit. Something rather stunning and scientific happens right under your nose as it dries. When it is totally dry, you can simply brush off the salt and you'll be left with a really amazing texture. See that white texture in the top area of that page where the red is? That is an example of what the watercolor salt technique can do. Very fun, very beautiful.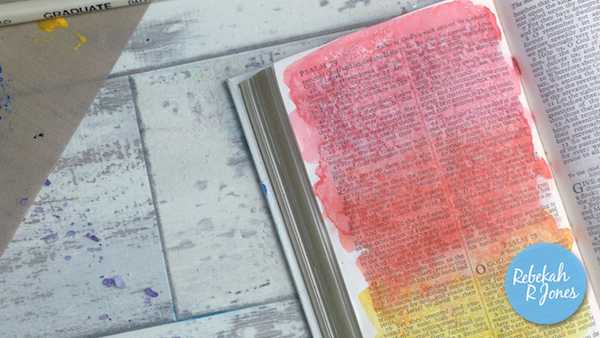 The watercolor salt technique is definitely not new, but when I went to try out this age old technique on my Bible pages, I felt like I was learning to re-invent the wheel again. It seems to be the case with SO many art techniques that have been around for decades and centuries. As soon as we apply them to Bible pages, its a total game changer and we need to start from the ground up. I'm not saying this is bad. I love a good challenge. I just discovered some coolness I wanna share with you today. 🙂
I'll be honest, a couple of months ago, I tried the watercolor salt technique in my Bible and It just wasn't inspiring at all. So I decided I'd go back at testing out how to make it work at a later date. Last week I did what I NEVER do. I told you I'd show you how to do something I hadn't figured out how to do yet! I told you all that I'd be doing a particular technique this week and FORGOT I'd failed to yet crack how to DO the watercolor salt technique! Yikes. haha
After spending a few hours of trial and error, I finally figured out how to do my own version of the watercolor salt technique on thin Bible pages. I decided the answer was to do this technique on a page that has been prepared with gesso and then to let that entirely different look, be its own fun thing.
Some serious Bible paper chat
So, before we get in to all this. Let me talk to you about our Bible paper. It becomes an important discussion today. And, many of you have asked me about this before.
You CAN watercolor on your Bible pages without first preparing them and have it not bleed through to the back side of your page. I'll show you in more detail how to do this soon. It simply requires you to use as little liquid as possible and let your layers of color dry in between, so you never get your paper wet enough to draw the color on top, to the back of your paper fibers. I often find people struggle with this and it hinders their ability to just enjoy the creative process. They become focused on trying to avoid having the colors bleed to the back of their Bible pages. So, I've taught how to gesso which just takes all the work out of it and makes your page easier to work with. Soon, I will also do a video singled in on page prep. So much to do, so little time. ha Thank you for your patience as I answer questions.
Anyway, you know how toilet paper and napkins have "2 ply" or "3 ply", meaning there are layers of paper which you can (with a tiny bit of effort), pull apart? Many papers also have more than one layer, but the fibers are all mixed up together and bound tightly so you cannot peel them apart like you would with the toilet paper or napkins. Most Bibles have similar paper today and the journaling Bibles we have are no different. The paper is super thin BUT it does have some fibers that are all pressed together. What that means for us, is that we get to use things like Micron pens and watercolor on the surface of the paper without it bleeding all the way through, provided we don't get the paper too wet.
The trick is to always be mindful how damp or wet you're letting your paper get. Think of your Bible paper as being super thirsty. The more liquid you add to your paper, the more fibers get close enough to that liquid to try to drink some of it. That means fibers of your Bible paper are trying to draw your liquid to other parts of your paper. If you keep the liquid to a minimum, less fibers of paper have a chance to drink up the liquid. And we know what is in that liquid – COLOR!
This is something that watercolor paper is famous for and what we love about it. But, MANY of you share how you struggle with that on Bible paper because of wanting that back side of the paper to still be useable for more creativity. It can be avoided by adding gesso to your surface first, which acts as a protective barrier. Then, no paper fibers actually get to drink your liquid. They just stay dry under the gesso. When we add gesso, we no longer create on the paper. We create on the gesso which causes our art supplies to act a little different than they would otherwise. And, each gesso or page prep product you might use, will act a little different. Just consider it all part of the fun. Explore your art supplies and how they work in this new art form we are all learning together.
Watercolor salt technique
So how did I do this Bible art watercolor salt technique? Let me show you…
I love that I now have little salt shapes built in to the glow of my light on my page. It is a great reminder that as I light up the world, I offer it the flavor of heaven too.
I'm going to let my video and above text be enough to help you understand what I've done with this watercolor salt technique today. But feel free to ask questions in the comments below or add your own ideas and tips once you've tried things out too. Most of all, I'd encourage you to try this technique out on any piece of paper which you first prepare with whatever gesso or other medium you plan to use on your Bible page surface. Then, you'll know how to make it work when you get to your Bible page. After all, you'll be creating on that medium or gesso, not on your Bible page fibers. 😉
If you'd like to go back and have a look at last week's challenge which I shared a Bible page with today, you can find the Week 30 Challenge here.
You are the salt of the earth
As always, feel free to step away from the technique I've shared and just enjoy creating whatever speaks to you about the verse I chose for this week. Whatever you do, crack open your Bible and create with God. Spend time with our Creator who is madly in love with you.
If you want to share over on the Facebook Group or Google+ Community, you simply need to use the verse for this week which is Matthew 5:13.
13 "You are the salt of the earth, but if salt has lost its taste, how shall its saltiness be restored? It is no longer good for anything except to be thrown out and trampled under people's feet.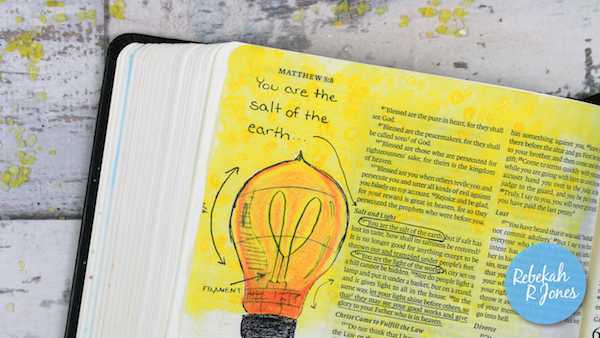 I am always encouraging you to read things in context. Let's do that together today. Let's read this week's and last week's scriptures all together. Matthew 5:13-16. I'll just underline some things I want to draw your attention to.
13 "You are the salt of the earth, but if salt has lost its taste, how shall its saltiness be restored? It is no longer good for anything except to be thrown out and trampled under people's feet. 14 "You are the light of the world. A city set on a hill cannot be hidden. 15 Nor do people light a lamp and put it under a basket, but on a stand, and it gives light to all in the house. 16 In the same way, let your light shine before others, so that they may see your good works and give glory to your Father who is in heaven.
I think it is interesting that Jesus gave both the salt and light example at this point of scripture. We find them together. As I mentioned last week, we can apply this to our own life if we consider ourselves to be followers of Jesus and have personal relationship with Him. If you're not sure what I mean, do have a look at my Week 30 Challenge here, where I've helped make sense of that.
So let's apply this to our own lives as if Jesus was speaking to us. There is a lot to say on this topic as there could be ANY week I do this. But that is the beauty of the Bible and it's unending layers of revelation to glean from. Let's keep it simple.
We are the salt of the earth and we must not lose our taste. We are also the light of the world and rather than hide the light in us, we must let our light shine. Why? So others may see our good works and give glory to God.
I looked up some scientific things about salt which we season our food with. Read this keeping in mind that we are the salt of the earth. 🙂
Salt enhances foods by essentially turning up the volume of their salty flavors.
Salt can dial down the taste of bitter foods by suppressing our perception of bitterness.
Salt can balance other tastes like sweet and sour.
Salt unravels (or denatures) the tight spiral structure of proteins, making their flavors tastier and more aromatic.
The texture of salt enhances the taste of food. Flake salts sprinkled over salad transmit crunchy bursts of saltiness.
Salt brings out aromas by helping release aroma molecules from food into the air. These stimulate our olfactory receptors, helping us to smell things.
Our life should be bursting with the goodness of life with God. Whether in time of difficulty or sheer bliss, we must have something in our core relationship with God that bursts with the salt of heaven to sprinkle all over our lives. This makes our life an example that draws all men to Him. Let's break this down and call ourselves salt. When we have God in us, this is what happens…
We help enhance the flavor of life to the world, as our life exemplifies God's goodness.
We can help dial down the taste of bitter things to the world, or help bitterness become ineffective.
We bring balance to the world.
We help unravel things which the world can find hard to chew in life, without God.
We offer the world a life with God which has bursts of flavorful goodness.
We help the world smell the beautiful aroma of heaven.
God living inside of us, allows and helps us to flavor the earth and light up the world, in ways that cause people to look at our life example of heaven's goodness and turn to our Father. How beautiful is that?!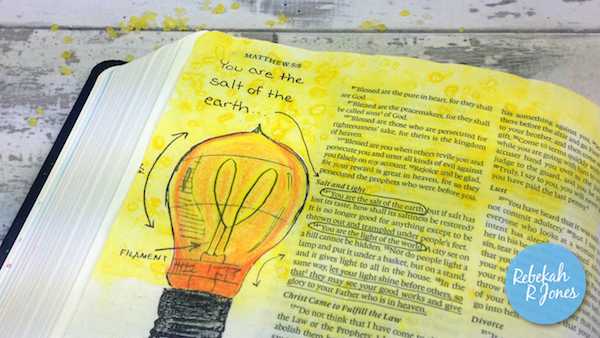 Flavoring salt
Jesus was speaking to people who were near the Dead Sea where salt is different to the seasoning salt we use. The Dead Sea salt could leave a bad taste in your mouth under certain conditions. Because of the amount of impurities like boron, magnesium, and bromides in the water, if the sodium chloride in the compound were to dissolve, its saltiness would give way to the flavors of those impurities which you would NOT want to sprinkle on your food. THAT salt could lose it's saltiness and be worthless. It is a parable which makes sense in that context.
I believe Jesus was saying that we need to be careful so that impurities don't crowd out the saltiness of His presence in our lives. We have a responsibility to stay hungry for God's presence which is where we are transformed and impurities have to flee.
And if you've lost your flavor? Don't worry! You're not worthless or unable to be fixed. You are not Dead Sea salt. When you come to Jesus and ask Him to forgive you of sins in your life, you are made a new creation and become alive in Him! A miracle takes place and where Jesus lives, impurities have to bow. They simply cannot stand up to the power of God's beautiful saltiness in our lives.
I'd like to encourage you to take a moment and ask Holy Spirit if you need more of His saltiness in your life, so that you can shine His presence and flavor the earth. He is more than capable of breathing life on you, so you can start fresh or go deeper with Him today.
This may sound funny, but let's consider ourselves a salad which God sprinkles with His salty presence for the earth to taste and see that the Lord is good!
Join me

I would love you to try any of the techniques I've shared in my process with you today if you're interested in them. I also want you to feel free to gather inspiration in other places for joining me in this weekly challenge. The goal is to get in to the Word and spend time with God. I'm looking forward to seeing what you art journal in your Bible for this weeks challenge!
You can find answers to most any question you may have about the Bible Art Journaling Challenge over on my Bible Art page found in the top navigation. It also has a full archive! Be sure to head over to our Facebook group and/or Google+ Community, to chat about this weeks Bible Art Journaling Challenge and get started on your own page!
Many of you ask if it is okay to share these posts with your friends. Please do! It is a simple way you can partner with me to impact lives.
Today's Bible art journaling supplies
As promised, here are the supplies I featured in this weeks video which you can click on to view or purchase. I hope it helps you find anything you may want to try out.
When you find deals which I've searched for and recommended below, I get supported. This has no effect on you and makes a real difference for me. Thank you, I so appreciate your support which helps me provide these free tutorials for you!
Click images to view art supply details or to purchase.
Bibles and supplies for Bible art journaling
There are always those who are new to me that find their way to various blog posts so, I'll again mention for those who are new and interested… There are several wide-margin Bibles and supplies which I recommend for this art form. I've created a linked recommendations collection on my Bible Art Supplies page, to make your starter choices easier. I hope they will help you.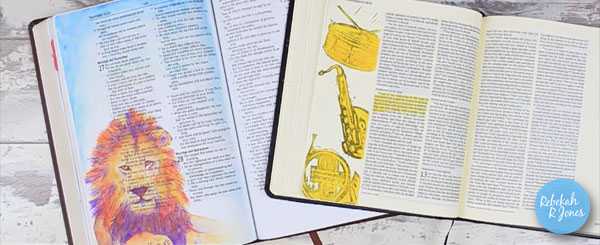 Thanks for joining me today. Please take a moment to share a comment below for us all, about your thoughts, tips, questions, ideas on anything we talked about today. Hope to hear from you soon!
You are loved. x
Scripture is from the ESV® Bible (The Holy Bible, English Standard Version®), copyright © 2001 by Crossway Bibles, a publishing ministry of Good News Publishers. Used by permission. All rights reserved.