Colored Pencil over Stamping – Bible Art Journaling Challenge Week 30

Hello Everyone! It is week 30 of the Bible Art Journaling Challenge! I was overwhelmed by the response to my week 28 Bible Art Journaling Challenge which covered simple colored pencil blending. I shouldn't have been surprised, given the countless times I've been asked about them. But, I guess I had no idea how wide-spread the desire is, to learn about them.  In that tutorial I shared about how to blend two colors of colored pencil together. Simple stuff.
Today, I am keeping it simple still. I want to share about blending colored pencil using either a colorless pencil blender or white colored pencil, as well as how to do that over a stamped image.
My goal has always been to do a bit of a mini-series on colored pencil and today is my second post. I hope you find it helpful if you're just learning about all this and want some basic techniques. I'll show you about colored pencil blending and also about a simple stamping technique for getting a great impression in your Bible. So, let's get started!

Join me

I would love you to try any of the techniques I've shared in my process with you today if you're interested in them. I also want you to feel free to gather inspiration in other places for joining me in this weekly challenge. The goal is to get in to the Word and spend time with God. I'm looking forward to seeing what you art journal in your Bible for this weeks challenge!
You can find answers to most any question you may have about the Bible Art Journaling Challenge over on my Bible Art page found in the top navigation. It also has a full archive! Be sure to head over to our Facebook group and/or Google+ Community, to chat about this weeks Bible Art Journaling Challenge and get started on your own page!
Many of you ask if it is okay to share these posts with your friends. Please do! It is a simple way you can partner with me to impact lives.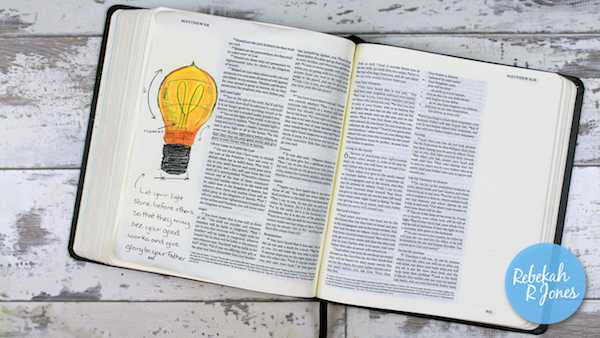 Today's Bible art journaling supplies
As promised, here are the supplies I featured in this weeks video which you can click on to view or purchase. I hope it helps you find anything you may want to try out.
When you find deals which I've searched for and recommended below, I get supported. This has no effect on you and makes a real difference for me. Thank you, I so appreciate your support which helps me provide these free tutorials for you!
You'll notice I've added all of the gesso and matte gel mediums I recommend for Bible art page prep. Art Basics clear gesso, my favorite, will be back in stock by September everywhere again! Yay!
Click images to view art supply details or to purchase.
Bibles and supplies for Bible art journaling
There are several wide-margin Bibles and supplies which I recommend for this art form. I've created a linked recommendations collection on my Bible Art Supplies page, to make your starter choices easier. I hope they will help you.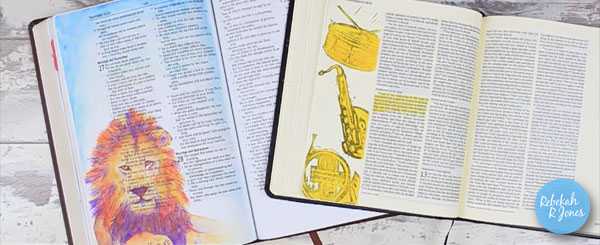 Scripture
This week the scripture I've chosen for the Bible Art Journaling Challenge is Matthew 5:14-16.
14 "You are the light of the world. A city set on a hill cannot be hidden. 15 Nor do people light a lamp and put it under a basket, but on a stand, and it gives light to all in the house. 16 In the same way, let your light shine before others, so that they may see your good works and give glory to your Father who is in heaven.
Just before that in verse 13, it says, "You are the salt of the earth…". As I mentioned in the video, I will be saving that verse for next weeks challenge. If you'd like to join me for this week and next, try creating just in the margin of your page or adding a tip-in like I did in week 15 and shared with you in today's video briefly. I'm looking forward to sharing with you how I would go about creating for more than one verse, on the same page in a way that makes everything tie together somehow. 🙂
Colored pencil

I always get asked which colors I use. Today I used a few yellow-ish/orange-ish colors from my set of 48 Prismacolor Premier colored pencils. For the light bulb, I used Canary Yellow, Yellowed Orange and Pale Vermillion, as well as the White and the Colorless blender pencils for blending my colors.
I'm not sure I can add anything to my tips for today in terms of colored pencil over stamping. I think the video helps explain those things well and I'll leave art supply discussion at that for today. Feel free to pop a question below if you have any.
You are the light of the world

Let's talk about what Jesus said in Matthew 5:14-16. It is undecided among many theologians, if Jesus was speaking to His disciples or the crowds with them at the same time. One thing seems clear. He was speaking to people who were followers of Himself.
Jesus told His followers (like you and I), that they were the light of the world. As followers of Christ, we are the light of the world. We are a city set on a hill that cannot be hidden. People cannot cover up our light or render its power useless in the dark. It simply gives light. The purpose is so we give light to everyone around. This helps them follow our light to its Source, (our Father). We are to let our light shine before others. Why? So that they may see our good works. When they see our good works, they will give glory to our Father who is in heaven. This is so good!
I could have easily enjoyed a lighthouse theme for this same verse and I hope some will do so. I put a light bulb in my lamps, which of course this verse talks about, so I thought it would be a great reminder for me to see one lit up on this page.
Beaming power
I have SO MANY things I could say about this verse but I want to leave you with one simple and powerful thing today.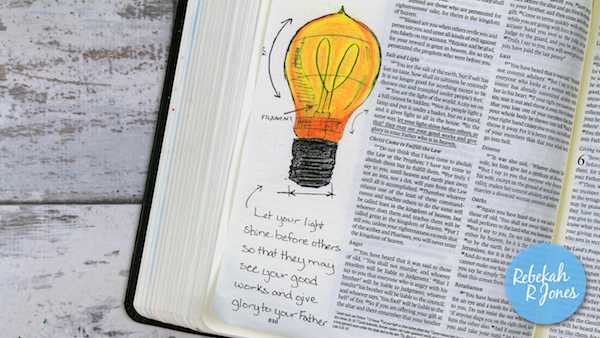 The way we beam light is by having Jesus living inside us. If you feel that you've tried to be a good person but not yet accepted Jesus into your life as a personal friend and savior, you are lacking the electricity to your beaming power! Jesus came, died on a cross and raised from the dead, so you and I could be forgiven from our mistakes and live a redeemed life. He is the power that fills us to live the good live we are called to. When we ask Him to come live inside us, He sends His Holy Spirit to be in us. Then we cannot help but be a light that shines. Shining God's light is a byproduct of Him living inside of us.
I have asked this before on my blog and I feel it is important again today. What would stop you from fully saying yes to Jesus? Is there really anything worthwhile to lose in giving Him a chance? Would you let me lead you into the beginning of a life filled with God's grace and joy?
It is simple. You can just repeat this prayer to God, after me and believe it in your heart. There is no magic in the words, it is about starting a relationship with your Creator who loves you more than you can ever comprehend.
God, I acknowledge that you are real and sent your Son Jesus to die on the cross for me. I admit that I have not always done the right things and have made mistakes. Despite trying to be a good person, I have sinned. So, I need your help. Will you come and wash me clean? Will you come be the Lord of my life and my best friend? I accept you into my heart and welcome you to show me how to live my life in the most beautiful way possible. I give you my life and ask you to make it new so I can shine your light from inside. I want to trade my best efforts at this life, for your amazing destiny for my life.
If you just repeated that after me, let me be the first to welcome you into God's family! The Bible says that when you do what you just did, that all the angels of heaven rejoice. That means heaven is having a party right now to celebrate your decision! What a great start to joining God's family!
Please let me know in the comments below if you have made a decision to invite Jesus into your life today or renew your relationship with Him. I would love to celebrate with you! I want to also encourage you to please find some local Christians and let them know about your new decision, so they can be a friend to you in this new season of your wonderful life.
Thanks for joining me today. Please take a moment to share a comment below for us all, about your thoughts, tips, questions, ideas on anything we talked about today. Hope to hear from you soon!
You are loved. x
Scripture is from the ESV® Bible (The Holy Bible, English Standard Version®), copyright © 2001 by Crossway Bibles, a publishing ministry of Good News Publishers. Used by permission. All rights reserved.