Neocolor II Coloring – Bible Art Journaling Challenge Week 38

Hello Everyone! Welcome to week 38 of the Bible Art Journaling Challenge! I've got a super fun Neocolor II coloring challenge for you, with some Illustrated Faith and Lawn Fawn stamps! You might remember, I am trying to catch up with my regular weekly posts for the Bible Art Journaling Challenge. Earlier this week, I posted what should have been last week and now, I am posting what would have been on Tuesday this week. I am mostly back on track to feeling 100%, but I am pacing myself. I am hoping to have enough time to have this coming Tuesday's challenge, back on schedule.
Many of you have told me not to bother catching up. But, I said I would do a weekly challenge and I always want to be a person of my word. I don't want to finish the year, one week short of what I set out to start. It's just how I roll. And no, this isn't me spilling the beans, about if this Bible Art Journaling Challenge will be happening next year. You'll just have to stick around to find out what fun is in the making! 😉
Neocolor II Watercolor Crayons
I have shared Neocolor II watercolor crayons with you before. Search my Neocolor II blog posts, to see those posts with video tutorials! As was pointed out to me recently, watercolor can sometimes look quite, well, watered down. When I look at artwork like that, I just want to cry out, "Where is the color!?!" Only kidding. But seriously… this need not be the situation!
Firstly, watercolor can be layered much like other paints. It just needs a different approach which I've come to love in all its vibrant beauty. Secondly, the quality of all watercolor is not created equal. If you get cheap watercolor, you might have it coming off on your page with a chalky feel and it will be way lighter than you bargained for. On the other hand, if you use higher quality watercolor, it will be more light-fast (fade less in time), and will be much more highly pigmented, (vibrant). That means you could use less watercolor and still have a good amount of beautiful color on your surface. I don't recommend spending money on everything, but watercolor is one of those things, you just get what you pay for.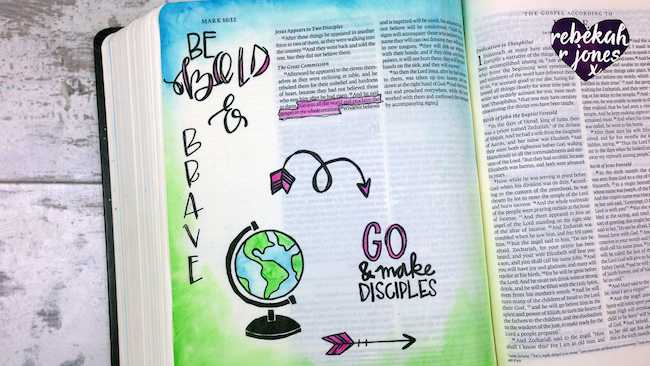 Neocolor II watercolor crayons were a delight to discover on my watercolor journey and the price is pretty good compared to other quality watercolor.
People ask me the difference between Neocolor II and Faber-Castell Gelatos, quite regularly. Make no mistake, Neocolor II may be shaped like a crayon/stick, sort of like Gelatos, but they are actually just watercolor in a crayon shape. Just like watercolor pencils are watercolor, shaped like a colored pencil. When you add water, they come to life. Check out my Gelatos blog posts to see what sort of things they can do. Gelatos are fun and able to copycat watercolor in some ways, but Neocolor II is proper quality watercolor, in a very unintimidating shape. 🙂
You can buy Neocolor II watercolor crayons in open stock (individually), or in sets. I recommend buying a small set to try and if you like them, get the largest set you can afford and bless someone with your smaller set.
Children (and adults), LOVE these things and they last for years. It is a perfect set to take out with a journal. As you may know by now, I'm a big fan of giving kids the opportunity to experience quality art supplies, so they can fall in love with art mediums at a young age. You can read about my colored pencil disaster, if you want to learn more. 😉
Enough about that though. I want to share the different Neocolor II watercolor crayon sets with you here. Notice, these are not Neocolor I, which is an oil pastel. These Neocolor II are a watercolor crayon, which is called a watersoluble pastel, by Caran d'Ache. You can watch my video to see how little is needed to get amazing color vibrancy.
Click links to view or purchase
Before I give anything else away… let's get this video going!
Neocolor II coloring
Doing Neocolor II coloring is really pretty simple. Anyone can color in. Simply stamp whatever stamps you want to use. Once the stamped image is dry, (use a heat gun if you don't want to wait), you can start adding colors you like! The trick to adding lots of layers of color, is to let it dry between layers. If you go in with new colors while it is still drying, everything will just get more wet and your first and second color will mix a bit as you add it to the surface and spread it around.
So, you understand why a heat gun is my secret to creative play. 😉 I get to create for longer bursts of time, without having to wait between layers.
Because the scriptural theme is a bit bold and brave today, I chose colors which would be naturally vibrant and bright, to reflect that. Often in creativity, it looks best to choose an odd number of things. I chose 3 colors for this challenge… blue, green and pink. And, to darken the edges of the blue, I added a deeper blue to the lighter blue. That meant I still had 3 colors. This is a great way to make things simple and beautiful to look at. Choose 3 or 5 colors of something and just back those colors up with more shades of the same.
Neocolor II coloring alternative
I think one of the great things about watercolor, which so many people don't realize, is that you can layer watercolor. I often hear people tell me that they prefer acrylic or oil paint, because it is more vibrant and easy to layer. Yes, it might be easier. But, you can't use oil paint in your Bible and acrylic paint only works, if you water it down enough to be very transparent. This concerns me because acrylics break down as they get watered down that far. So, I don't recommend it generally.
If you want to water down acrylic paint for your Journaling Bibles, I would recommend you use Inktense Pencils or Inktense Blocks instead. They are permanent like acrylic paint, but will not break down, the same way acrylics do, because Inktense is an ink. I just don't want to recommend creative options to you, which could be something you'd regret later.
Please remember, you do not need to use the supplies or techniques I've shown you today, to join in to the Bible Art Journaling Challenge. Simply grab what you have and get spending time in the Word!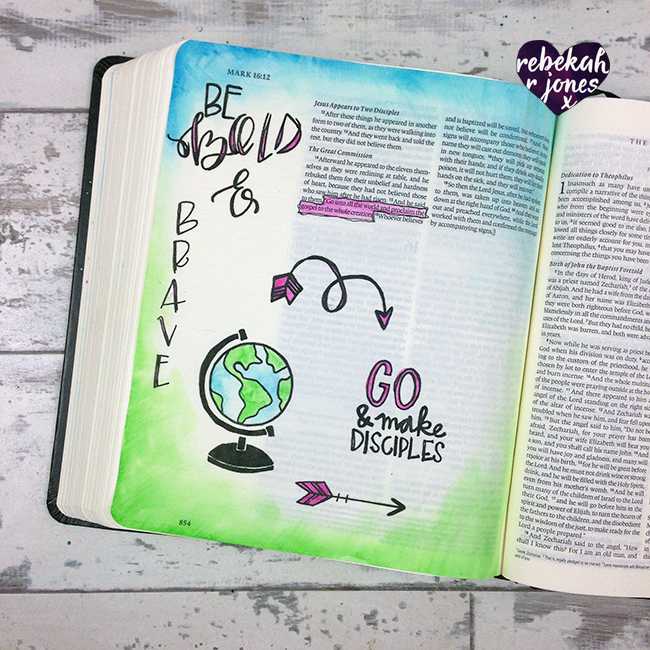 Getting a good stamping impression
You might have noticed in the video, that I put the two black things behind my Bible page to get a good impression with my stamping… and then got a fairly poor impression. haha I want to point out that what I put behind, REALLY helps and it could have been even worse.
The reason it wasn't that great, is because I prepped my page… which of course would lead to some minor texture to the surface of the page. I got a great impression considering the texture of the page, and then cleaned it up with my Faber-Castell Pitt Pens. I hope that clears up any confusing my video might have caused.
Those two black things are Sizzix Texturz Accessories for the Big Shot die cutting machine. It's the Plastic Impressions Pad and Silicone Rubber. If you stack the Silicone Rubber on top of the Plastic Impressions Pad, they work pretty good for getting good stamping impressions in a Bible. Until I come up with a different solution, this is the best I can recommend.
Tip for pens and markers
As a quick reminder, if you choose to stamp and then use your pens or markers to clean things up, be SURE that your page prep is TOTALLY dry, or you'll end up with your pens or markers being clogged by the page prep.
Scripture
In my ESV Journaling Bible, Mark 16:15 says…
15 And he said to them, "Go into all the world and proclaim the gospel to the whole creation.
Now, I recognize that you cannot see anywhere in that scripture, that we are to go and make disciples. But, as I always say, let's do this in context. Mark 16:14-20 is where we find The Great Commission. Matthew also recorded it, in Matthew 28:16-20. And here is what Matthew said in verses 19 and 20…
19 Go therefore and make disciples of all nations, baptizing them in the name of the Father and of the Son and of the Holy Spirit, 20 teaching them to observe all that I have commanded you. And behold, I am with you always, to the end of the age."
So, we can see that from the same message, Matthew more fully communicated what Jesus had commanded them to do. We are not just to proclaim the gospel to all creation. We are to proclaim it to all creation, make disciples of them, baptize them and teach them to observe all that God commanded His disciples. Best part? God is with us always. 🙂
The best deal!
I want to keep this simple. As a follower of Jesus, we are all commanded to do this. But this is not scary. If you think it is, I am happy to inform you, that you've believed a lie and can today enjoy the freedom of walking in this command. This is not a law of heaviness over us. This a law of freedom! All of creation cries out for God and we have the answer! Jesus gave EVERYTHING so we might be free! All we have to do, is come to Him and surrender.
The truth is, all of creation cries out for God! AND… yes… we have the answer! You know that feeling when you find a great deal at a shop and shortly after it is finished, you find out a friend would have appreciated knowing? It's sort of like that here. We know about a GREAT deal. It's called salvation. Everyone gets in for free. Our ticket has already been paid in full! All we have to do, is come… and bring as many as we can with us… for free!
Yes we give everything up for God. But what sort of loss is it really? We gain true life with God! That is truly living and worth it all. As I said, let's keep things simple. Go! Tell all your friends about the great deal going! Heaven has free spots for everyone! The world is crying out for a savior. It is not our job to save everyone. That is God's job. It is not our job to tell everyone! That is our job collectively. Your job and my job… it's simply to help the one in front of us, encounter Jesus.
The more of Him shines through our life, the more people will encounter Him when they are in our presence. We simply need to be the hands and feet of Jesus. His presence in tangible form. The love that others need. In doing so, we reach out and disciple nations with a better way… which is free for all who come!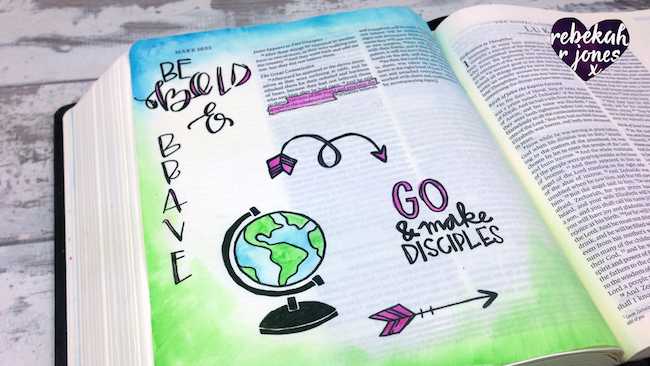 Join me
As I've mentioned, I would love you to try any of the techniques I've shared in my process with you today if you're interested in them. I also want you to feel free to gather inspiration in other places for joining me in this weekly challenge. The goal is to get in to the Word and spend time with God. I'm looking forward to seeing what you art journal in your Bible for this weeks challenge!
You can find answers to most any question you may have about this challenge, on the Bible Art Journaling Challenge page. It also has a full archive! Be sure to head over to our Facebook group and/or Google+ Community, to chat about this weeks Bible Art Journaling Challenge and get started on your own creativity! Many of you ask if it is okay to share these posts with your friends. Please do! It is a simple way you can partner with me to impact lives.
Today's Bible art journaling supplies
As promised, here are the supplies I featured in this weeks video. I hope it helps you find anything you may want to try out. When you find deals which I've searched for and recommended below, I get supported. This has no effect on you and makes a real difference for me. Thank you, I so appreciate your support which helps me provide these free tutorials for you! Where there is just one link, it'll lead to Amazon. Where there are two links, you'll see SB for Scrapbook.com, AZ for Amazon and CB for Christianbook.com
Click links to view or purchase
Bibles and supplies for Bible art journaling
There are always those who are new to me that find their way to various blog posts so, I'll again mention for those who are new and interested… There are several wide-margin Bibles and supplies which I recommend for this art form. I've created a linked recommendations collection on my Bible Art Supplies page, to make your starter choices easier. I hope they will help you.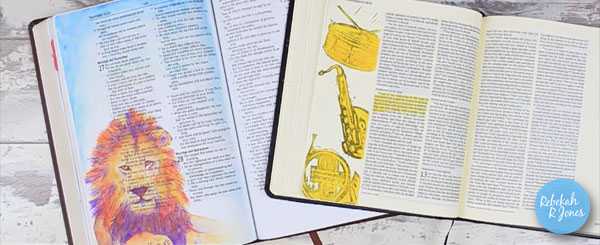 Thanks for joining me today. Please take a moment to share a comment below for us all, about your thoughts, tips, questions or ideas. I look forward to hearing from you!
You are loved. x
Scripture is from the ESV® Bible (The Holy Bible, English Standard Version®), copyright © 2001 by Crossway Bibles, a publishing ministry of Good News Publishers. Used by permission. All rights reserved.