My Giant Art and Craft Supply Haul

Hello everyone! As you may remember, I returned from a trip to America in December. I went to film an exciting new online class I have developed with Scrapbook.com, which will become available on their website early 2016. They were so generous in supplies with me, as we worked hard to develop a beautiful and excellent class. Some of the supplies you'll see here, will be in the class and some are ones I bought while away on my trip… on amazing Black Friday sales, I'll add!! 🙂
I've been desperate to show you all the fun stuff I got and finally am able to share this! Come with me as I show you through this giant haul of 217 art and craft supplies, yes, 217! I'll warn you, it's a long video. But I thought you might enjoy it, if I just talked you through these new supplies and hope you enjoy the video! Below are visual links to every supply I show in the video!
I know you are going to love some of these supplies and I'm excited to share them with you!
I want to hear from you in the comments below!
What would you love to have me do tutorials with?
What are your favorite supplies which I've shown here?
Or, perhaps you just have questions or comments! 🙂
And of course, enjoy the links below, of all these fun new supplies!
Below are links to this giant art and craft supply haul. I hope it helps you find anything you may want to try out. All links are to Scrapbook.com and Amazon.com.
Click images or links in the collections below, to view or purchase.
Books
Of all these books, I'd have to say, I am enjoying the Passion translation books of the Bible, The Artist's Journal Workshop and the Dylusions Creative Journal. Of course the out of print books will not be linked here due to their lack of availability.
Art & Craft Tools
I think the Label Maker, Envelope Punch Board and 12 inch paper trimmer will be my most useful tools here, but I'm excited to use them all for various reasons.

Embellishments & Stickers
Who doesn't love embellishments?! My mom would be loving the stickers. She had a huge sticker collection that my sister inherited. Stickers are such a great way to get started creating when you're short on time or unsure of what to do. But those paper clips… one word… adorable. Those feather paper clips from Pink Paislee are a favorite!
Page Prep Supplies
It was nice to get a few page prep supplies restocked and I am already finding it handy to have little Ranger Ink Craft Sheets, which I cut down to a great size for each of the wide-margin Bibles that I art journal in. I'm guessing some of you will ask what my favorite gesso is. Have a look at my Supplies page to see my thoughts on page prep products.
Decorative Tapes
Washi tape, decorative tape, tissue tape… However and whatever you call it… it's the pretty tape. 🙂
Pens & Pencils
I was particularly thrilled to get a better selection of grey and skin tone colors of Prismacolor colored pencils, though all of these are useful in various ways.
Inks & Inking Tools
I am slowly but surely getting all the Distress Inks. I'm a big fan of supplies which have multiple uses, so Distress Inks get a big thumbs up for me. And the color selection is beautiful too! I'm not convinced they are colorfast, but if you're just enjoying a personal devotional process or making cards or similar to give away, they are fantastic.
Paints, Sprays & Mediums
I am especially happy to have a better collection of Liquitex Heavy Body Acrylic Paints and a few Dina Wakley Heavy Body Acrylic Paints. Both are fantastic for art journaling or Bible art journaling, where a matte finish is key to ensuring no pages stick together during the paint curing time.
Stencils
I really love using stencils in my artwork. Until now, most of my stencils, have been British ones which are not really available internationally. I'm pretty excited to have a better range of stencils which will allow me to more freely share with you, some of my favorite ways to use them in simple and beautiful ways.
Paper, Vellum & Acetate
I honestly don't have a very big collection of papers and don't really need that much for what I do. It was good to get a few things, to have some options when the need arises.
Creating In Faith Collection
I love the Esther stamp and Royal stamp set. Though the Bible book stamps are little and easy to lose track of if you're not careful, they are such a fantastic way to draw attention back to a section of scripture created with. It's not always perfectly obvious what scripture is highlighted when creating in a Journaling Bible and I think this little set helps bring things back to the point.
Dies, Die Cutting Supplies & Embossing Folders
I love products which can be used in multiple ways. The Inkadinkado Stamping Mask Paper will be super practical and wonderful to have in my studio. The Lawn Fawn Circle Die Set will also be very practical. The Sizzix Tim Holtz Thinlits Globe Die might be less versatile, but it is incredibly beautiful with its details.
Stamp & Die Sets
These stamp and coordinating die sets are so fun. I'm looking forward to sharing how I've been already using them and hope you'll share with me too! 🙂
Stamps & Stamping Tools
I'm most excited about the acrylic blocks and variety of alphabet stamp sets. It is always fun to get beautiful supplies, but its the practical ones which help us make beautiful creations.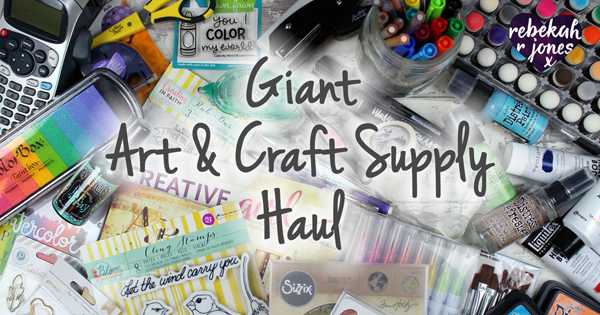 My Friend Valerie Sjodin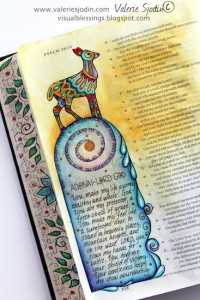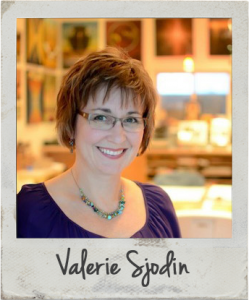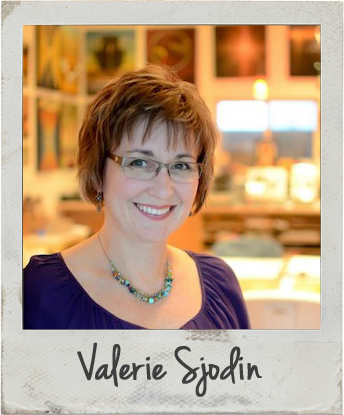 I mentioned my friend Valerie Sjodin in the video and said I'd share links to how to find her and her work. I'd highly recommend you connect with what she's doing. She is SUCH a delight and her creative work is stunning. She also has online workshops! You can check her out at these links…
Valerie's Website: valeriesjodin.com
Valerie's Blog: visualblessings.blogspot.com
I've shared her artwork example with permission. You can also see my Bible Art Journaling Artists Roundup Interview where I featured Valerie, among other artists who create in their Bible.
I hope you've enjoyed this giant art and craft supply haul video and post.
PLEASE… comment below! What art or craft supply are you excited about, that I've shared?
You are loved. x
*When you find deals which I've searched for and recommended, I get supported. This has no effect on you and makes a real difference for me. Thank you, I so appreciate your support which helps me provide these free tutorials for you! You may view my affiliate and product disclosure for more info.