Illustrated Faith Partner With Dayspring – A Fun Review

Hello everyone! So, I often get requests for my recommendations and reviews on products and supplies I've had experience with. Today I've got a fun review for you of some Illustrated Faith products which I am certain you are going to LOVE to see as I show you through them! It has been unusual for me to create such posts because of time constraints, but I know you ask for them and here I am offering a review shortly after my giant haul post!
Allow me to share my review of some new Illustrated Faith supplies I got on Dayspring.com and how I've started to use them in my own Bible!
If you follow me on social media, you may have noticed that I recently became an affiliate of Dayspring. You can learn about what that means and how this art ministry is supported, on my affiliate disclosure page. I became an affiliate when Illustrated Faith launched a new partnership with Dayspring that I know you'll just LOVE. I don't want to miss out sharing products I love, that are designed particularly for Bible art journaling, because I get SO many questions about this topic and know it is key for helping you enjoy the process of connecting with the Word creatively. I want the supplies you use, to make it easy for you to forget about the supplies and just enjoy encountering Jesus through creativity. I feel like the founder of Illustrated Faith, (Shanna Noel), has found that sweet spot, where the supplies she sells seem designed for frustration free creative time in the Word. So let me back up momentarily here…
Illustrated Faith and Dayspring
I bought some Illustrated Faith supplies on Dayspring.com, to enjoy and show you a glimpse of, in case you've heard about them but haven't seen them up close for yourself. Dayspring, nor Illustrated Faith have any idea I'm writing this. As I mentioned, I just want to share things with you which might help you in your journey of encountering Jesus through creativity. So, lets dive in!
Until recently, Illustrated Faith had an etsy shop which became incredibly popular with good reason. Last year, Illustrated Faith partnered with Bella Blvd to bring us an even wider selection of products to help in this devotional process. They are fantastic for building confidence and getting started with Bible art journaling, or… Bible journaling as some call it. When Illustrated Faith then recently broadened their partnership to Dayspring, it created opportunities to touch even more lives with this process. The Illustrated Faith etsy shop closed and up came a new monthly Illustrated Faith kit exclusively available on Dayspring.com
I grew up seeing Dayspring products at local Christian shops and could not be more thrilled that this faith based company (preferring to be called a ministry), who is now extending it's product base with the beautiful products Shanna Noel of Illustrated Faith brings to the table… er… the art table. 😉 I think you're going to love this if you've not yet seen it and yes, this is a great post to share with your friends if you want to give them a great product close up of what Illustrated Faith is offering now!
Later in this post, I'll show you how I'm putting these fun products to use which may give you ideas if you've already bought some things. But first, Dayspring have put a short video together about these products that they are carrying, which you might enjoy.
Illustrated Faith product lines
As you can see, there are tons of super fun Illustrated Faith products that are easy to use and I'll share them ALL below. But first, let me show you what I got when I ordered on Dayspring.com. There is a beautiful range of stickers, washi tape and die-cut prompts to get you started. All super adorable and easy to use. They now have a set of Illustrated Faith acrylic paints and sweet plastic paint cards for scraping color onto the pages of your Bible. I'm sure you're going to love the Bible tabs too. When you buy the two Bible book tab sets, you end up with a super cute tab to mark the start of each book of the Bible. I've got a special use in mind for my new set.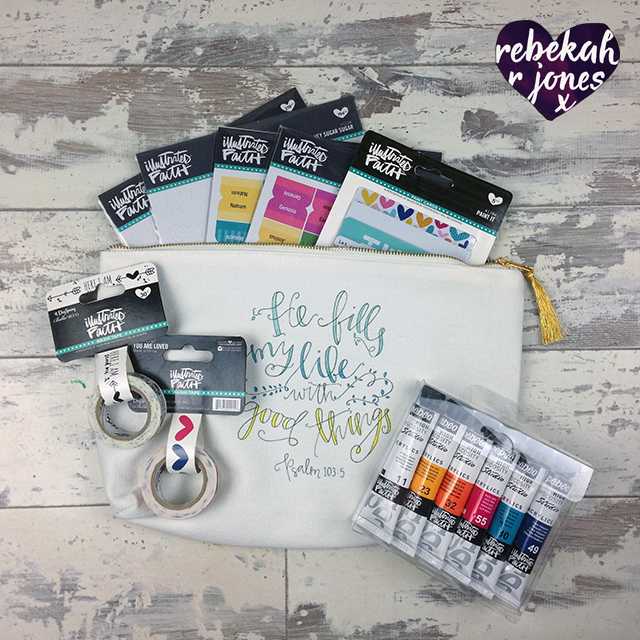 I grabbed this cute Good Things cosmetic pouch which has beautiful hand lettering by Aliza Latta. While it is not an Illustrated Faith product, Dayspring are selling it on the Illustrated Faith section of their shop, with a few other similar items I'll share below. It has a nice wide opening and will be a perfect way to store a little travel collection of Bible journaling supplies. I love how beautiful it is and am glad I got it! It says, "He fills my life with good things. Psalm 103:5". I'm storing my Illustrated Faith products in it right now.
The Illustrated Faith Created To Create kit
And now let's talk about what will likely be a favorite for many… an Illustrated Faith monthly kit! Each month, Illustrated Faith is bringing out a new kit exclusively with Dayspring, which will be available from the middle of each month. At the time of publishing this post, it's February 25th and this Illustrated Faith kit will be available until the middle of March, or until product supply lasts. They get in a limited supply of these and when they are gone, they are gone. I have confidence that each month will be a super special kit and I am especially fond of this one for the theme… Created To Create! I'll show you what I've done with the kit so far, in a bit.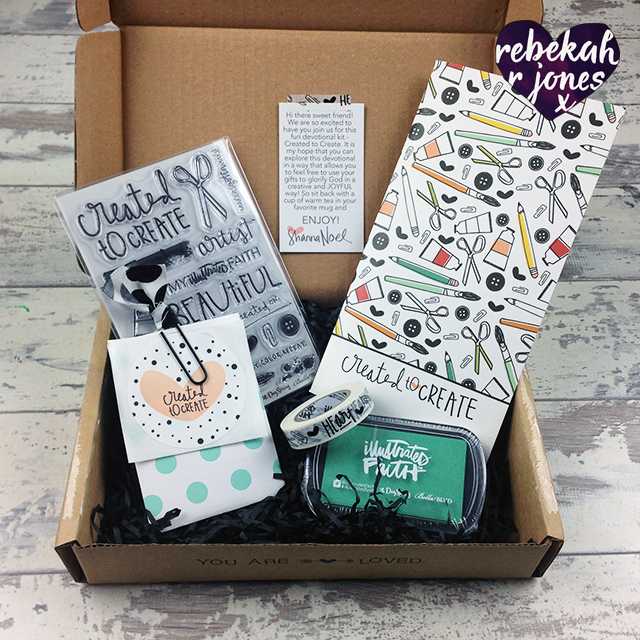 The Illustrated Faith Created To Create kit comes in an adorable box with a message from this kit designer (and Illustrated Faith owner), Shanna Noel. This 12-day devotional really helps you dig into the Word on the topic of being created to create. The beautiful clear acrylic stamp set, adorable washi tape and fun pigment ink pad give you a ton of options for creating your way through the Word as you go through the devotional. The best part is, Illustrated Faith will be selling a new kit each month. If you're interested in this limited edition monthly kit, I'd recommend you get it soon, because it's got free domestic shipping until Sunday February 28th! Plus, this is the first time they've introduced a monthly kit so I am guessing it will sell out while they seek to understand supply and demand. 🙂
Remember, all you really need to illustrate your faith is to grab some paper and a pen or pencil and illustrate what God is putting on your heart. It's that simple! If you want some fun supplies that will help you add creative flair in a super easy way, then I think this blog post should help you find supplies that will help you get started.
I bought the Illustrated Faith monthly kit, plus a few extras, like the acrylic paint set and plastic paint cards, for scraping color onto the pages of your Bible. I have been using an old room key for this purpose, but love how beautiful these paint card designs are. Definitely a fun item rather than necessary, but I have to say, surrounding yourself with pretty things is definitely inspiring while creating. 🙂 And let's talk about that Created To Create Stamp Set!! So fun. Shanna is a fabulous designer.
Here is a specific look at the supplies I purchased on Dayspring.com.
Click images to view details or to purchase.
What I've done with the Illustrated Faith Created To Create kit 
So, I read the first devotional entry and after soaking on it's insights and questions throughout my day, I later pulled out the monthly kit and extras to get started with illustrating my faith. I won't get into the spiritual topics discussed in the devotional, since we should support Illustrated Faith in buying it. I hope you grab a copy if you want one and can. I have a feeling the devotional topic will really speak to a lot of us in important ways as we grow in our faith. It really hits home.
And I imagine all the monthly kits to come will be equally amazing, which means you'll have more opportunities to grab one if you can't right now. I know I'll look forward to moving some items off my wishlist and into my studio as I can. 😉 It's good to be mindful of what we can afford and enjoy this process along the way with what we have, while adding things here and there to further enhance the creative process in time.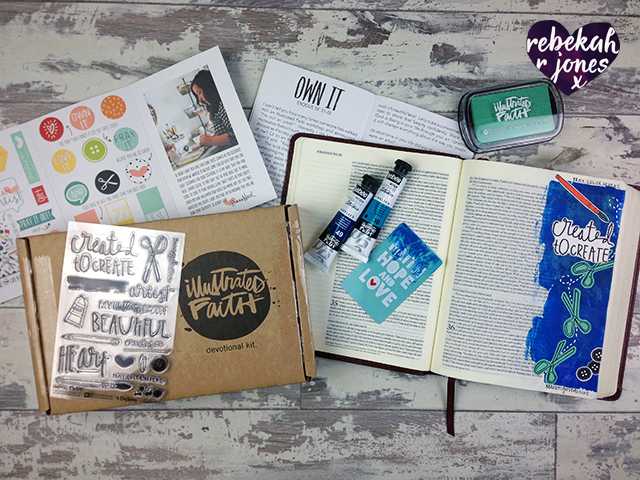 After meditating on the scripture and devotional, I started by tracing the area of my Bible page margin, onto some basic white printer paper and then sketched out the idea I thought up during my time of reflection. Sometimes I set my paper over the actual stamp set, to loosely trace various shapes onto my sketch.
With the sort of comments and questions I get sometimes, I think some people believe I miraculously have talent that enables me to create directly onto my Bible pages, without any prior practice or ideas of what I want things to end up like. I often spend hours developing an idea. Rarely does it just come without any preparation. And honestly, the more practice sketches and idea developing I do ahead of starting on my actual Bible page or art journal, the better liked the end result is. We don't play the piano in a concert without practice. We don't paint a masterpiece after holding a paintbrush for the first time and we don't create our favorite stuff by giving it a few minutes of our time. The best things in life sometimes just benefit from care and longer attention.
As we gain experience, it supports us getting creative results we love, in a quicker period of time. We have to give ourselves permission to be growing and not to have to be perfect along the way. Sometimes all I have time for is a quick wash of color over my Bible page and some stickers or cut-outs. And that is wonderful too. There is room for both.
If a few minutes is all we have, then it is totally wonderful to chip away at developing one design, while soaking and meditating on the scripture for several days. Equally, we can make simple designs that are meaningful. I just don't like to hear people comparing personal artwork they aren't excited about, with that of those who are investing time in one creation at a time until they are totally satisfied with it.
My mom always taught me that nothing is finished until you say it is. Had a hurtful conversation? Just go say, "I realize it's been a while but I think we need to talk about what happened…" or, maybe it's a piece of creativity which you're not totally excited about yet. That's okay too! Simply grab your supplies and add more until you love what you see. Be a problem solver with the things you wish to see improved in your own life. You have the authority and permission to create a life you want to live in.
I always tell you that everything has an "ugly" phase. Just create and create until you've worked your creation out of it's awkward teenage years. 😉
Anyway, when I was happy with the concept I had sketched out and was going to try to create, I then rubbed my pigment ink pad from this kit, directly onto some basic smooth white cardstock, until the white paper wasn't really showing through. After I'd dried it with my heat gun to speed things up, I stamped the scissors onto my inked up paper, with ranger ink jet black archival ink.
This stuff is SO easy. Anyone can do this and grow in God through the process. So beautiful what this process unfolds in our life.
That acrylic block that my scissors stamp is on, is great for providing a flat hard surface to hang onto when pressing the stamp into the paper, to get the scissor design on it. If that scares you, the devotional has a bunch of ready-to-go paper designs, you can cut out and use.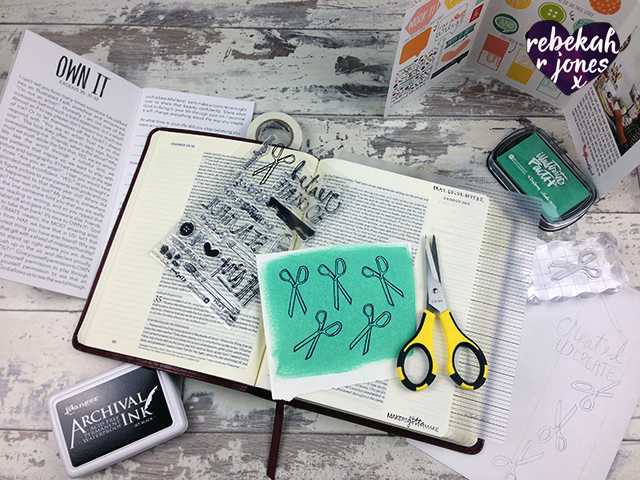 After fussy cutting all my inky scissor shapes out, I stamped some fun sentiments on the top and bottom of my margin and used the paint cards to scrap on some acrylic paint. I should have scrapped a little closer to the paper (gently!), to remove more of the color and would have then been able to see all the Bible text. I have another Bible I study from and this Bible is dedicated to my creative journey with God, so I don't totally mind that some of the words were covered. I could have avoided it better and usually try to, but I'm not allowing myself to get hung up on these things. What matters here is connecting with God in His Word. If this bothers you, check out the new Praise Book which gives you "somewhere else" to create.
You can see that brown craft sheet I've cut to size and slipped behind my Bible page. It is heat proof and non-stick. Perfect for creating with and a rather must-have if you like to add anything moist or wet to your Bible pages. I cannot understand how I got on without it in my life.  It's the simple things that make life easier sometimes. 🙂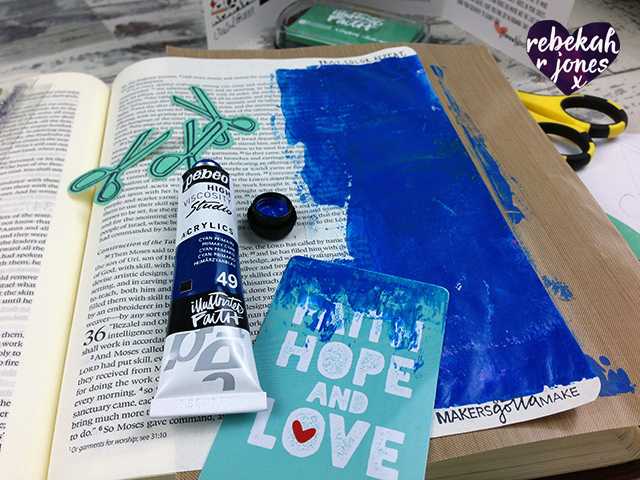 Once my acrylic paint was dry, I used a little paint to color in a paint brush illustration, I had stamped from the monthly kit stamp set, along with a few cute buttons and my main sentiment. I finished by cutting everything else out, adhering it all with some permanent runner tape and adding some dashed lines with my signo uni-ball white gel pen, to make them look like cut lines for the scissors I'd added in.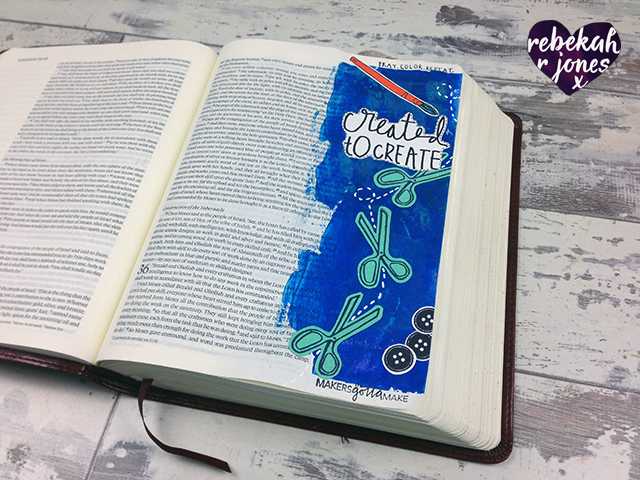 I love how simple and fun this turned out. Above all, I enjoyed spending time letting loose in the Word and focusing in on something that I can burn on my heart through creative process. I think it must make God giddy with joy to watch us create with such feelings of bliss… all in His Word. A clever move He's made causing people to fall in love with His Word afresh in this season of history. I am honored to be part of it in any small way.
So I'm curious to know, are you thinking of getting an Illustrated Faith monthly kit? What do you think about this theme? Are you excited about anything specific?
Here is a look at the supplies I used for this project. I personally LOVE my new Cutter Bee scissors and my long-time loved Signo Uni-Ball White gel pen is so good with any surface, that I threw out all other white gel pens and use it exclusively.
Click images to view details or to purchase.
Shanna Noel
I am happy to recommend the Illustrated Faith supplies because I trust Shanna's and Dayspring's commitment to quality and excellence. More importantly, I have come to know Shanna personally and can say that she has a heart of gold and seems to always be looking for ways to help make Christ the center of all that she is doing and sharing with others. And honestly, I have never had a product from Shanna that wasn't great quality with an obvious attention to detail. I also grew up buying Dayspring products that I still own and which remain in good shape all these years later. With the risk of sounding tacky and embarrassing myself… I'm pleased as punch to be an affiliate of Dayspring and to share Illustrated Faith products with you. 🙂
But enough of what I say about Shanna Noel. Here is a super fun new video where you can hear from Shanna for yourself.

Illustrated Faith supplies on Dayspring
It's good to remember that most supplies (like stickers, washi tape, etc) in the arts and crafts industry, tend to be on the market for 2-6 months, or sometimes up to about 12 months. In time, these designed and stylized items tend to retire to make way for fresh designs. "Evergreen" supplies tend to have a longer "shelf life", (like colored pencils, pens and ink pads). This simply means they are available on the market for longer. It's just the way things work. So, I'm guessing those Illustrated Faith paints will potentially grow in range of color over time, while the stickers, die cut prompts and other designed elements, may go when new designs become available in time. Personally, I hope they do bring out more paint colors in these travel friendly tubes.
At the time of writing this, most everything in the links below are fairly new to the market so you've got a bit of time to buy, aside from the monthly kit which will end middle of March 2016, to make way for a new one!
Now, I promised to share ALL THE THINGS… and, here they are!!
I'll link to everything in the shop right now and recommend you just browse around once you click on any of these links to see the promised new products they are bringing in the shop soon after publishing this post!
Click images to view details or to purchase.
So, what's the verdict, do you want more reviews from me now and then? 🙂 
In summary, I'd say that I am LOVING what this new partnership is making possible for Illustrated Faith, as a growing Christian business and am super pleased with the quality of every item I purchased on Dayspring.com.
Are you thinking about getting any Illustrated Faith supplies? What have you got your eye on?
I want to hear from you in the comments below!

You are loved. x
P.S. At the time of writing this post, you can get free USA shipping on any item from the Illustrated Faith line by using the code IFSHIPSFREE at checkout. You're welcome. 😉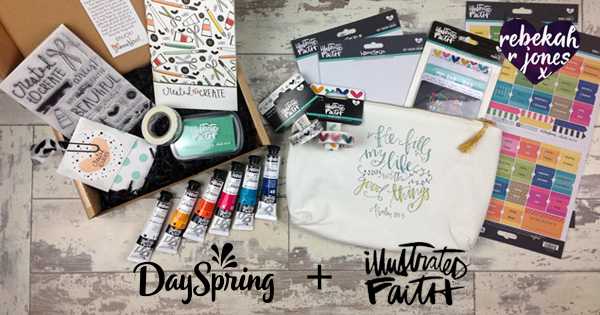 *Bible pictured is the ESV® Bible (The Holy Bible, English Standard Version®), copyright © 2001 by Crossway Bibles, a publishing ministry of Good News Publishers. Used by permission. All rights reserved.
*When you find deals which I've searched for and recommended, I get supported. This has no effect on you and makes a real difference for me. Thank you, I so appreciate your support which helps me provide these free tutorials for you! You may view my affiliate and product disclosure for more info.