Masking Fluid and Stamping – Bible Art Journaling Challenge Week 49

Hello Everyone! Welcome to week 49 of the Bible Art Journaling Challenge! We are super close to the end of the year now! While the Bible Art Journaling Challenge will look different next year, it won't be going away. Yet, I am close to finishing up this first year and can hardly believe how quickly the time has passed. I always find that time passes quickest, when we are living out our greatest passions. We are simply too busy having fun!
While I am calling this Week 49, I am publishing it behind schedule and hope to bring you yet another before Christmas is upon us, and another two before the year is finished. We'll see how it goes juggling them and family time. I've got a special project in mind for my last week of the year and can hardly keep myself from skipping ahead! But, about this week…
I pulled out my Neocolor II watercolor crayons for this challenge. They were very responsible for my deep love of watercolor and really helped me feel more in control of the water part of watercoloring, as I was learning how to watercolor. I think that is why I often recommend watercolor pencils and watercolor crayons to beginners or those curious about watercolor. They allow people to feel more in control of the color and where it moves, as they build confidence in splashing color around and letting the water be "in control". In reality, as you gain understanding of how watercolor works, you can essentially harness the water and make it do what you want, which is the fun part.
You'll notice I prepped my Bible page with Matte Gel Medium to get started. I am experimenting with different supplies to see what gives the very best stamping impression on Bible paper. So far, what I did today is the best I've had. If you have tricks up your sleeve for getting great stamping impressions on prepped Bible paper specifically, share with us in the comments below! We all want to grow and improve. Now… enjoy the video!
Today's Bible art journaling supplies
Before I head into the devotional part of this post below, here are the supplies I featured in this weeks video. I hope they help you find anything you may want to try out. All links will lead to Scrapbook.com and Amazon.
Bibles and supplies for Bible art journaling
There are always those who are new to me that find their way to various blog posts so, I'll again mention for those who are new and interested… There are several wide-margin Bibles and supplies which I recommend for this art form. I've created a linked recommendations collection on my Bible Art Journaling Supplies page, to make your starter choices easier. I hope they will help you.
So let's talk about this Bible Art Journaling Challenge.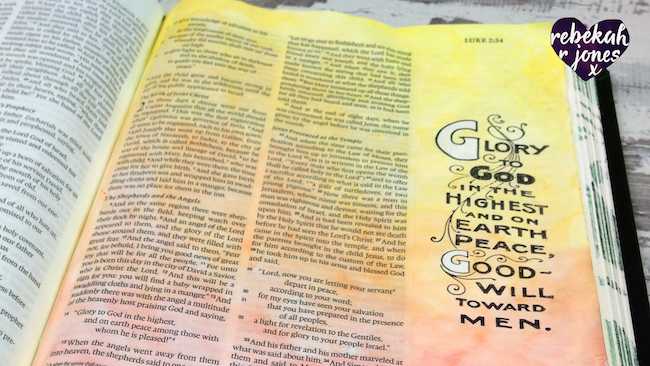 Scripture
I used my ESV Journaling Bible for this Bible Art Journaling Challenge. The scripture for this week is Luke 2:8-15…
8 And in the same region there were shepherds out in the field, keeping watch over their flock by night. 9 And an angel of the Lord appeared to them, and the glory of the Lord shone around them, and they were filled with great fear. 10 And the angel said to them, "Fear not, for behold, I bring you good news of great joy that will be for all the people. 11 For unto you is born this day in the city of David a Savior, who is Christ the Lord. 12 And this will be a sign for you: you will find a baby wrapped in swaddling cloths and lying in a manger." 13 And suddenly there was with the angel a multitude of the heavenly host praising God and saying,

14 "Glory to God in the highest, and on earth peace among those with whom he is pleased!"

15 When the angels went away from them into heaven, the shepherds said to one another, "Let us go over to Bethlehem and see this thing that has happened, which the Lord has made known to us."
And on earth, peace

I feel like I could add about four or five tip-in's to this area of my Bible. There are so many amazing things going on in this section of scripture that I'd like to illustrate. Perhaps that is a good reason to have more than one Bible dedicated to art journaling in. 🙂 We should never stop creating, just because there are more ideas than space. Today I created something incredibly simple in an area I could have illustrated in for hours. The key is to do it, not feel worried about messing something up, or perhaps worried about choosing "the wrong idea". There is nothing wrong to be done here. This is a creative journey and we can always get another art journal or Bible when we have finished with one. Bibles will continue to be printed and paper will continue to be made. And, we will always improve our creative skill, so are bound to find older work less skilled than newer work. It is beautiful to watch our creative journey with God unfold, as we flip through the pages of His love letter to us.
And, that is what this section of scripture feels like to me. A love letter of extravagant measure. A multitude of angels are sent to announce the birth of Jesus to the shepherds. They do so by praising Him saying, "Glory to God in the highest, and on earth peace among those with whom he is pleased!" Can you imagine what that must have been like? Do you think those in nearby areas could hear the multitude of angels as they praised Him? I believe if something so extraordinary happened to me, I too would turn to those who had shared the encounter with me, and exclaim we should investigate!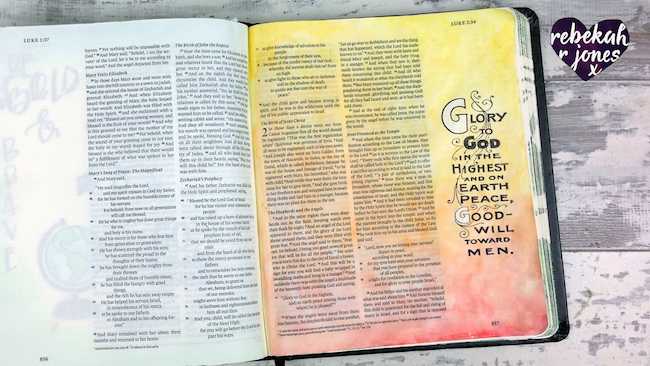 And how is it a love letter? It's an announcement of the birth of the One who would save us all and bring peace. Glory to God!
Mary pondered it

On an interesting side note, I'd encourage you to read the full chapter of Luke 2. When all these things happened, the shepherds went to see Jesus for themselves and told Mary and Joseph what had happened. In verse 18 and 19 it goes on and says…
18 And all who heard it wondered at what the shepherds told them. 19 But Mary treasured up all these things, pondering them in her heart.
I have pondered on that scripture since I was young, when my mom would read the Bible to me sometimes before bed. Let's remember that this book is the book of Luke. Evidence suggests it was written by Luke himself, who was one of Jesus' disciples. It is a fairly personal statement to make about Mary, without being Mary herself.
As a child, I remember wondering how Luke would have known that Mary had treasured up all these things and pondered them in her heart. The reality is that the disciples knew her and would have spent time around her. I can only imagine that Mary must have time Luke (and possibly others), of her response to what had happened. Studying her life as a mom specifically, is very interesting. I love focusing in on how she chose to raise Jesus and what sort of decisions she made. Let's be honest, mom's find it challenging enough to do the very best at raising their children. Raising the Savior of the world?! That would have been a challenge. She must have pondered all these things in her heart and let them grow there as Jesus grew up and went into ministry. I find that the more time I spend reading the same stories in the Bible, the more interesting and fascinating the stories become. There is truly an eternity of details to learn and understand in scripture. And it was all written to share the story of God's unending love for us as mankind. We are so loved.
Masking fluid and stamping

You'll notice in my video that I used the 2mm Molotow Grafx Art Masking Liquid Pump Marker – also known as the Molotow mask pen. Especially for those who are new to masking, this pen is quite easy to use in comparison to other masking fluid on the market. As you can see from the photo below, I was able to protect the "G" in my stamped image, while using my Neocolor II watercolor crayons. I could have just carefully painted around the letters. However, with watercolor, it tends to show an edge when your brush concentrates on an area. By masking off the "G" and just swiping color over it, you can create what looks more like a background without any variation in color near the masked off shape.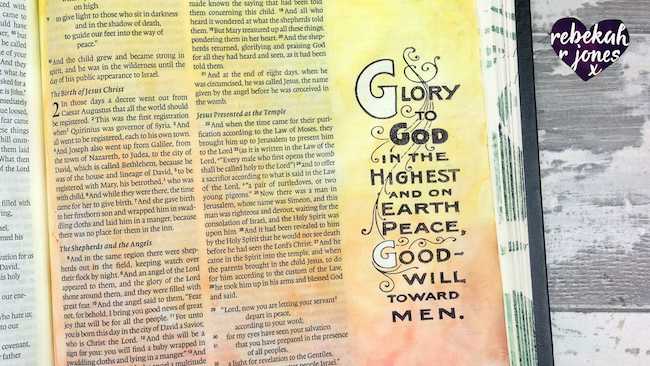 In my video, I sort of went around the masked shapes at times. That was mainly because I was still letting the masking fluid dry and wanted to get going. Once it is dry, you can color right over top without any bleed through. 🙂
What has been your experience with masking fluid? Anything you like or don't like? Any tips or tricks you have and want to share with us?
Join me
As for the creative techniques I have shared with you today, I would love you to try any if you're interested in them. I also want you to feel free to gather inspiration in other places for joining me in creating about/on this week's scripture. The goal is to get in to the Word and spend time with God. I'm looking forward to seeing what you create!
You can find answers to most any question you may have about this challenge, on the Bible Art Journaling Challenge page. It also has a full archive! Be sure to head over to our Facebook group and/or Google+ Community, to chat about this weeks Bible Art Journaling Challenge and get started on your own creativity! Many of you ask if it is okay to share these posts with your friends. Please do! It is a simple way you can partner with me to impact lives.
Thanks for joining me today. Please take a moment and say hi below! I'd love to hear from you!
You are loved. x
***Scripture is from the ESV® Bible (The Holy Bible, English Standard Version®), copyright © 2001 by Crossway Bibles, a publishing ministry of Good News Publishers. Used by permission. All rights reserved.
*When you find deals which I've searched for and recommended, I get supported. This has no effect on you and makes a real difference for me. Thank you, I so appreciate your support which helps me provide these free tutorials for you! You may view my affiliate and product disclosure for more info.