How To Dry Emboss Bible Pages – Bible Art Journaling Challenge Week 48

Hello Everyone! Welcome to week 48 of the Bible Art Journaling Challenge! For several months now, I've been wanting the time to test out an idea to share with you. I thought for sure there must be a way to emboss Bible pages. Not using embossing powder. I'm talking about actually adding dimension to the Bible paper itself. Though both are beautiful.
My time investment since August in this upcoming class I've been developing with Scrapbook.com, has prevented me from having the time to test out new ideas and instead, rely on sharing what I already know. I've only had my YouTube channel and this blog, really properly going since January 2015. So, I've had a lot of ideas and a short amount of time to share them with you. That means I'm not concerned about running out of ideas to share. I've been storing them up for quite some time. 🙂
While on my trip in America recently, I had hangouts in Phoenix, Arizona and Portland, Oregon. At the hangout in Phoenix, everyone enjoyed looking through each others creative work. In my time of doing so, I noticed that one of the ladies had embossed a Bible page just like I'd been wanting time to try out. Deborah, (think that spelling is off?), was super sweet and shared with me what she'd learned. I only wish I'd grabbed a photo to share with you and a way for you to learn from her. At this time, I cannot seem to locate her at all. I'll update the post if any way to learn from her becomes possible.
Without further delay, I'll leave you with my video tutorial devotional here and below you can find the scripture of this Bible Art Journaling Challenge, links to the products I use and more.
Today's Bible art journaling supplies
Before I head into the devotional part of this post below, here are the supplies I featured in this weeks video. I hope they help you find anything you may want to try out. All links will lead to Scrapbook.com and Amazon.
Click images or links to view or purchase

Bibles and supplies for Bible art journaling
There are always those who are new to me that find their way to various blog posts so, I'll again mention for those who are new and interested… There are several wide-margin Bibles and supplies which I recommend for this art form. I've created a linked recommendations collection on my Bible Art Journaling Supplies page, to make your starter choices easier. I hope they will help you.
So let's talk about this Bible Art Journaling Challenge.
Emboss Bible pages
Deborah used different products than I've used and I know there are others who will have different fun ideas too. The idea is to emboss Bible pages and then start adding color in a way which will make your embossed area pick up a deeper, more intense color. This will make the embossed area obvious to the eye and really make it stand out beautifully. My mind is full of ideas of different art and craft supplies I could use for this and I hope you'll join me in our Facebook group and/or Google+ Community, to share your ideas and creations. All you need to do is create something having to do with the scripture of this week.
Distress Ink Blending
I've chosen to use Distress Inks to make the embossed Bible pages really appear to pop off the page. I am excited to see what you might use to accomplish this. I want to show you these up-close photos, so you can see for yourself, how things look in my Bible.
This first photo shows you the texture I got on my Bible paper, with the Distress Inks blended on the surface. Remember to keep a light hand when applying it and to "tap off" the ink before starting on your Bible pages. This will ensure you don't have the ink bleed through to the back of the paper, like I have achieved for the most part. I personally prefer and recommend Distress Inks directly on the Bible paper, as opposed to a prepped Bible page.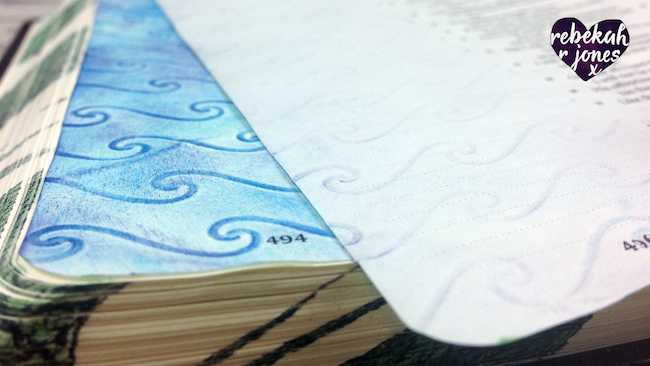 This next photo is here mainly so you can see a more pulled back example of how this turned out. I really love it and because it is so subtle, I have a feeling the majority of the embossing, will settle back down to nearly flat in time. What will remain is a mystery of how I got the waves on the page. 🙂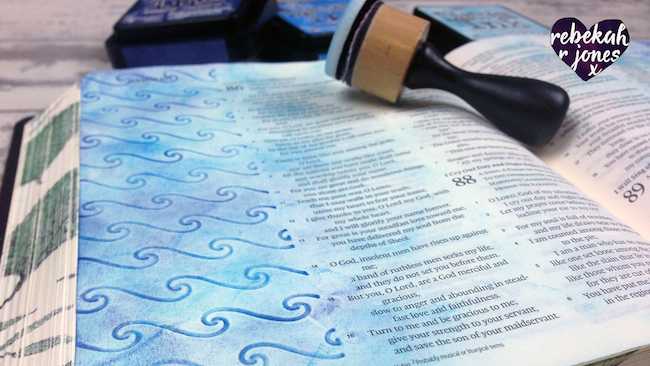 Remember, if you are not a fan of this concept or are a bit worried about trying it out, you can do this on a piece of paper and then add it on to your margin after your happy with it! Let this process of creativity work with you and what you love. My art tutorials are here to support you, but the main thing is that you spend more time encountering Jesus in the Word. This is not a task, this is about creative bliss in the best possible way.
Whatever helps you fall more in love with God's Word and enjoying every minute of it, do it. Grab this verse for today and do something entirely different if it speaks to you differently. Let any of my tutorials support you in this challenge of creating on/about the scripture for this week. You can even do it in an art journal! Just get encountering Jesus through creativity.
Scripture
I used my ESV Journaling Bible for this Bible Art Journaling Challenge. The scripture for this week is Psalm 89:9…
You rule the raging of the sea; when its waves rise, you still them.
There are so many things I could add to this devotional but today I want to leave it with what I said in my video and look forward to seeing how this scripture speaks to you!
In case you want to know for your own reference, I read from another scripture during the video, about when Jesus calmed a storm. This story is found in Mark 4:35-41 and is an excellent reference to add to any studying you do for this devotional.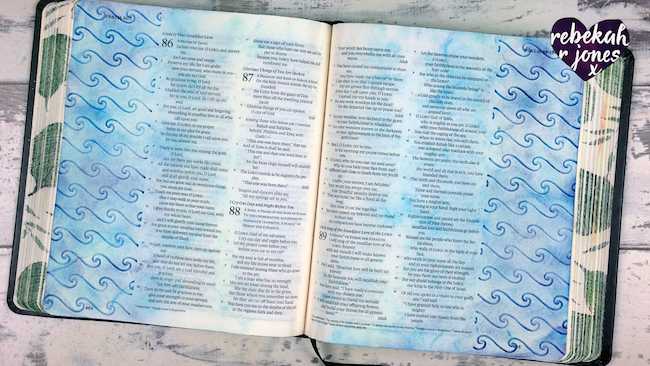 Join me
As for the creative techniques I have shared with you today, I would love you to try any if you're interested in them. I also want you to feel free to gather inspiration in other places for joining me in creating about/on this week's scripture. The goal is to get in to the Word and spend time with God. I'm looking forward to seeing what you create!
You can find answers to most any question you may have about this challenge, on the Bible Art Journaling Challenge page. It also has a full archive! Be sure to head over to our Facebook group and/or Google+ Community, to chat about this weeks Bible Art Journaling Challenge and get started on your own creativity! Many of you ask if it is okay to share these posts with your friends. Please do! It is a simple way you can partner with me to impact lives.
Thanks for joining me today. Please take a moment and say hi below! I'd love to hear from you!
You are loved. x
***Scripture is from the ESV® Bible (The Holy Bible, English Standard Version®), copyright © 2001 by Crossway Bibles, a publishing ministry of Good News Publishers. Used by permission. All rights reserved.
*When you find deals which I've searched for and recommended, I get supported. This has no effect on you and makes a real difference for me. Thank you, I so appreciate your support which helps me provide these free tutorials for you! You may view my affiliate and product disclosure for more info.