Creating Gratefulness – Bible Art Journaling Challenge Week 47

Hello Everyone! Welcome to week 47 of the Bible Art Journaling Challenge! I have found myself thinking about how gratefulness is a key to breakthrough in our lives. There are some tough things going on in the lives of many I know. Yet, remaining grateful in the midst of difficulty, is key. Not for those terrible things. Nobody needs to be thankful for tragedy or hardship. But we need to be grateful everyday, in all seasons and through all things.
When a loved one is lost, or financial difficulty is had, or a relationship has a rough time, it is never something to be grateful for. But we MUST remain grateful during those things. It is a key to our remaining soft toward God.
Let me leave you with my video here and let's talk a bit about it below, when you're done! 🙂
Today's Bible art journaling supplies
Before I head into the devotional part of this post below, here are the supplies I featured in this weeks video. I hope it helps you find anything you may want to try out. Where there is just one link, it'll lead to Amazon. Where there are two links, you can click on, SB for Scrapbook.com and AZ for Amazon.
You'll noticed I've linked to a Tim Holtz ChitChat sticker set which is a great alternative to the Teresa Collins one I used but could not find available anywhere. Use whatever stickers you have. There are lots on the market in shops near you!
Click images or links to view or purchase

Bibles and supplies for Bible art journaling
There are always those who are new to me that find their way to various blog posts so, I'll again mention for those who are new and interested… There are several wide-margin Bibles and supplies which I recommend for this art form. I've created a linked recommendations collection on my Bible Art Journaling Supplies page, to make your starter choices easier. I hope they will help you.
So let's talk about this Bible Art Journaling Challenge.
Scripture
I used my ESV Journaling Bible for this Bible Art Journaling Challenge. The scripture for this week is Colossians 3:12-17…
12 Put on then, as God's chosen ones, holy and beloved, compassionate hearts, kindness, humility, meekness, and patience, 13 bearing with one another and, if one has a complaint against another, forgiving each other; as the Lord has forgiven you, so you also must forgive. 14 And above all these put on love, which binds everything together in perfect harmony. 15 And let the peace of Christ rule in your hearts, to which indeed you were called in one body. And be thankful. 16 Let the word of Christ dwell in you richly, teaching and admonishing one another in all wisdom, singing psalms and hymns and spiritual songs, with thankfulness in your hearts to God. 17 And whatever you do, in word or deed, do everything in the name of the Lord Jesus, giving thanks to God the Father through him.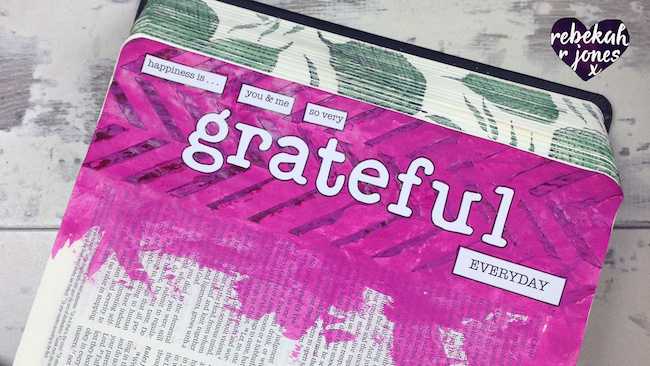 Creating gratefulness
Sometimes we actually have to choose gratefulness when our heart wants to settle into feelings of ungratefulness. The best thing we can do is get with God, tell Him our honest feelings about the difficulties we face and then fill an even longer space of time, telling Him anything we can be grateful for. Just put gratefulness on our lips and do it until our heart softens.
There is a sense of peace and grace that comes over us in a rather supernatural way, when we choose to thank God in the midst of difficulty. He is our deliverer and He gives us grace to press on in all things. He gives us grace to forgive those who hurt us and to bear with one another.
We are called to "let the word of Christ dwell in us richly". I believe a huge key to this is gratefulness. So, as we create in our Bibles and choose gratefulness as a lifestyle through all seasons, we find a place of peace and find God's Word dwells richly in us. May we each grow in gratefulness as a lifestyle choice.
You may find that you are one who has found much heartache and difficulty, thus gratefulness is not a easy thing in this season. The wonderful thing is that there is hope! We can all turn around and get that grace to move forward. I encourage you to find ways to "force" this habit in your life, until it becomes common practice.
Do what I mentioned in my video, and find space in an art journal to add what you are grateful for, as it becomes needed. When you struggle to find it in your heart, you'll have a place to remember. Perhaps put a board together in your house, which you can regularly add to, as you think of things to be grateful for. Just fill your life with it until it comes out as a natural response. I promise it will change your life in a beautiful way. I know we all can grow and this week, I'm taking time to ponder what more I can be thankful for, as an action toward God's Word dwelling richly in me. I want more of Him, at any cost.
Join me
As for the creative techniques I have shared with you today, I would love you to try any if you're interested in them. I also want you to feel free to gather inspiration in other places for joining me in creating about/on this week's scripture. The goal is to get in to the Word and spend time with God. I'm looking forward to seeing what you create!
You can find answers to most any question you may have about this challenge, on the Bible Art Journaling Challenge page. It also has a full archive! Be sure to head over to our Facebook group and/or Google+ Community, to chat about this weeks Bible Art Journaling Challenge and get started on your own creativity! Many of you ask if it is okay to share these posts with your friends. Please do! It is a simple way you can partner with me to impact lives.
Thanks for joining me today. Please take a moment and say hi below! I'd love to hear from you!
You are loved. x
***Scripture is from the ESV® Bible (The Holy Bible, English Standard Version®), copyright © 2001 by Crossway Bibles, a publishing ministry of Good News Publishers. Used by permission. All rights reserved.
*When you find deals which I've searched for and recommended, I get supported. This has no effect on you and makes a real difference for me. Thank you, I so appreciate your support which helps me provide these free tutorials for you! You may view my affiliate and product disclosure for more info.