How I Do Full Time Art Ministry… Successfully.

Updated: July 2, 2019
I want to share a story with you. My story with this full time art ministry. Maybe you'll be able to relate to it. And, maybe you can learn something from it. It's about to get super transparent and open here.
Just over three years ago, I had finished putting a filming studio together, (which I had to research at every step), built a website, (took positively ages), taught myself how to edit video, (not for the faint at heart) and bought a few extra art supplies, (super fun and daunting all at once).
In the months leading up to that, I'd felt a strong pull to write and to film. The problem was, I had no idea WHAT to write about and what to film about. I just knew "in my knower", that God was leading me to be a blogger. Funny thing was, I wasn't even sure blogs were still a "thing" in internet land. But, I just followed where my heart was taking me, because it trusts God and He always sees beyond, to lead the way.
I had experience writing curriculum. I had experience with a bit of website building too, actually. Now days, the faculty of my decidedly posh high school would be mortified if they knew that "back then", myself and 4 other students learned html by building the schools first website when the internet became a, "thing". We were the only students who found it interesting in those days. I still have the website on a floppy disk. Maybe it'll be worth something some day. haha
I had grown up around art and even run my own business making and selling custom swarovski bead jewelry. In fact, I had even had my own blog once. It was a recipe blog and despite most home visitors declaring my cooking was some of the best they'd had, (thanks, mom!), I couldn't figure out how to draw visitors to that blog, to save my life. And then it got hacked and was no more. Ugh. At least I have a hard copy of the recipes and understand that food is my hobby, not my calling.
But just over three years ago, I was convinced that I was supposed to stop simply hosting my Prophetic Arts For Jesus facebook community in my spare time and "go full time" in "art ministry".
What even IS "art ministry"? I had no clue but felt compelled to find out and make it happen.
And then there was my mish-mash, (is that a real word?), of skills and inexperience which amounted to me being brave about the unknown. Some may call it foolish abandon. Let's call it trust in hearing God's voice and following direction.
I did promise to tell you stuff I don't normally talk about.
So, I found myself months down the road, ready with a new website, an awkwardly low skill level of filming and editing, with a side of giddy nerves about "what would happen". I was unshaken though.
I just knew to take each step in front of me. So I did.
A close friend messaged me one day, two weeks after I had finished "preparing myself" to start, whatever full time art ministry was supposed to be. I was as ready as I could ever be, without an idea of what I should do. She told me she'd seen Bible journaling and knew I needed to look it up. That it was what I was "supposed to do". And, she was right. I had all the necessary art skills and Biblical training, to teach Bible journaling well. It was a perfect match for my two joys in life – art and Jesus.
I told God I would teach Bible journaling and asked Him what to do. After all, I didn't have the ability to reach people with a blog. Remember how that turned out last time?!
He told me clear as day, to start something which He wanted me to name, the "Bible Art Journaling Challenge".
I said yes.
He then told me to run it for 52 weeks straight and explained what a "challenge" was. I didn't know then, but do now, that challenges are a marketing thing businesses do to grow traffic to their site. Amazing… God is good at marketing!
About those 52 weeks though… I reminded Him I am a pioneer who ploughs at the beginning and casts vision. He said, "I know, this'll be so good for you, won't it?!"
I didn't know whether to laugh, or cry at His response, but I said yes.
I reminded God that I have a prophetic arts community which He helped grow and needed my support. He told me to trust and that it would all come together in His timing, (and it is).
In January 2015, I launched my first Bible Art Journaling Challenge lesson and simply shared it in a couple of places. Remember, I didn't know anything about how to "make all this work".
From the beginning, it was God's project. Within weeks there were thousands and then tens of thousands, joining into the challenges and visiting my blog. I was, quite simply, overwhelmed. Literally.
Some would say the ministry had "arrived" and be excited. I was grateful for the opportunity to pour into everyone, for sure! But, then reality hit in a way which was different to the story of any other blogger I've ever heard. Other bloggers talk about how they get started slowly and try to find a space for their voice among the crowd. I simply said yes to God in quietness and when ready, he thrust me out of the gate at top speed without a brake petal.
I've stopped intuitively reaching for the break petal, but I have bought myself a more secure buckle. haha
And for the sake of clarity, what even IS a blogger? Is it someone who writes blog posts? Well, yes… they do write blog posts. But actually, bloggers are people who use blog posts as just one way to spread their message. In my case, I also had a YouTube channel growing, Instagram, Facebook groups and page, Pinterest and more. Now I also have an online school! And yes, I am a blogger. Being one is part of what makes all of my voice have grounding and a home base.
So, don't let me lose you here, I hope you're finding this interesting to get a glimpse into the back-end of my story with this art ministry. Let's continue.
I had started a blog with a challenge and boy, was it challenging me! My first challenge lesson was called, Be Brave. I felt a message in it for others and shared for that reason, but it served as a message to myself as well.
"Be brave, Rebekah. God put this on your heart. He'll put wind to your steps. Just walk."
So I did, and I do.
I just put one foot in front of the other.
In this journey, I could only get so far on obedience and willingness, though. There were some practical cracks that showed up at the same lightning speed that everyone had showed up on my blog home page.
On a practical level, I needed a website and logo which better reflected the season I was in and so it had a little face-lift. But, I was still trying to bring a cohesive "singleness" to the message my ministry was bringing and I couldn't figure out how to do it. I needed help refining my message. I needed help organizing content on my blog more simply.
I was grateful for the impact I was having, but felt it was important to give my best to what God was asking me to steward. I was giving my best already, but I felt it wasn't good enough, if I was truly going to reach all that God wanted to take place through this ministry. I needed practical advice on how to effectively share on social media, without algorithms hiding my posts from people who wanted to be blessed by the ministry.
Very practically, it costs money to use softwares for emailing people, hosting website, stable internet, live streaming, video editing and more. I also was overwhelmed with new time commitments and needed to hire help.
But, the ministry in its early days really paid me nothing. In the first year and a half, I didn't actually "earn" anything. 100% of the money that came in through people buying products after clicking on links at my blog, was going straight back into paying these important bills without thoughts of putting bread on my family table. We knew that God would bring the ministry to a point where that would be possible, to make it sustainable for me to continue, but were grateful for the opportunity for me to spend so many months being a full time volunteer to the ministry.
When Scrapbook.com paid me to go film the Inspired Faith course for their online community, some of their 1 million + members started finding me and coming to hang out. I thankfully had some volunteer help for the increase in community size and all the support questions that come with it.
I wanted to look after everyone well but was being stretched beyond what I could do alone. It was exciting, but incredibly stretching and a true sacrifice for myself and loved ones. I didn't know anything about how to run an efficient schedule with everything coming at me from all sides.
It was exciting and I was honored, but I was overwhelmed.
When Fox Chapel Publishing asked me to be a contributing artist in the Complete Guide To Bible Journaling book, I was honored. But, this time, the increase in community, didn't feel overwhelming like it had been in the past.
Why?
By then I had made a key decision that I needed help if I was going to properly steward the call of God on my life.
I figured I could spend the next 10 years putting myself through the school of hard knocks and possibly miss opportunities to impact lives along the way, or I could take some of the money that had begun to show up, and put myself through school to learn the fast way.
I made a list of all the areas I was struggling with and knew I needed help with. To name a few…
How to launch online courses
How to be a professional blogger
How to YouTube successfully
How to take care of email subscribers
I then went on a hunt, to find who the best were to learn from, for each topic and decided to only learn from one person on each topic, to avoid confusion.
So, about the time I may have started paying myself, I started throwing it at training myself instead. And… it felt so good. I finally felt like I was learning what I needed, to value what God had asked of me. I wasn't drowning in decisions I didn't feel qualified to make.
In case the penny hasn't dropped… yes. I was putting myself through full time school, AND running this art ministry full time, for over a year. It was long, hard hours of learning and implementing. I launched a school in the middle of it too.
At some point, I got to start actioning what I was learning and now just regularly reference what I learned, as needed.
I believe 100% in the heart of this ministry. I'm excited that I'm seeing more of my family in this season and being able to take well earned breaks and to be clear, I did work very hard, but never to an inappropriate amount. Because, I know how important living in balance is.
Work hard, play hard.
Some were upset that I opened my online school, Creative Faith U, and started charging for courses there.
I have learned two things….
People finish what they feel invested in and if they don't pay for something, they are statistically less likely to succeed in what I'm investing myself in teaching them. I'd love to give everything away, but I guess it's like how we teach character to kids. If we give kids whatever they want, we don't teach them the value of going after something for themselves. I want my students to succeed.
If I want to sustain this ministry long-term, I need to hire some more help, (to stop doing things that drain me like video editing and website tech) and I need to pay myself a regular amount to contribute to family life. It doesn't need to be a lot, but it does need to happen. I am finally drawing a small salary, but I also continue to pour back into this ministry and it's growth. I realize there will always be some who wish for things without paying, or feel offended if I don't volunteer fully, but I continue to value offering lots of great content for free, to bless everyone and I think everyone can understand that it is not sustainable to volunteer the rest of my life. It's about trusting my heart and I hope this post shares enough to give you more trust in my decisions for this ministry.
I had a dream in the night some years ago (before I was full time in this ministry). In the dream, God showed me the art school I would one day have and which now exists. I am committed to understanding how to sustain what God has put on my heart and love knowing that I am able to support my family, impacting lives as my full time job.
The years of volunteering have been well worth it and the supporters of this ministry, are so appreciated for the impact they bring to the ever increasing needs as we grow together.
Why am I tell you all of this?
I regularly get questions about my story, about what tools I use and if I can share what I've learned about running a full time ministry.
The reality is, I've learned a lot through long hours of hard work, but the fruit of it is that I am making a difference in my corner of the world and I am grateful for you being part of that story! The reality is, I needed help and input to grow and sustain what God wanted to do through me and perhaps, you may need the same. I hope my story can inspire you and encourage you to get the help you need.
Of all that I have learned, there are a couple of courses I have taken, which had the largest impact on how I do things in this ministry, to a professional standard of excellence wherever possible. One course is about launching courses and if you'd like to learn about that, feel free to let me know in the comments. Also, let me know if you'd like to learn about the tools I use to run this ministry.
The course I took which has had the biggest impact on how this ministry operates day-to-day, is a course which is all about professional blogging.
Remember how I said that being a blogger isn't just about running a blog, or writing blog posts?
I needed help with "all the things".
In my research, I found Ruth Soukup to be the best there is at teaching how to be a successful blogger. Her own frugal living blog gets over 1 million visits per month. Yes, over 1 million. Just like people ask me how I do what I do, people were asking her, so she created the Elite Blog Academy. She has helped me a TON and is as sweet as can be.
I would be open to sharing my experience with courses I've taken and tools I use, so let me know in the comments if this is something which could serve you. I know it won't be for everyone, but for those who it can help, I want this ministry to help you get thriving on your own creative path. For today, I want to put a spotlight on the help I have received by taking the Elite Blog Academy course.
After successfully completing her course, I was invited to become an affiliate for Elite Blog Academy, which means, if anyone signs up through my links, she will give a percentage of the course fee, back to this art ministry. I would tell you about this course regardless, but her course is open for enrollment currently (only opens a few days a year!) and it got me thinking, that now is as good a time as any, to share this story with you. I want to give you a chance to join me as a student.
If you have a blog of any success level, or run your own business, or dream of having a blog to support a message on your heart, (or want to take a stab at food blogging!), I seriously cannot recommend this course enough. I think I could take Ruth's advice in the course and actually make a food blog successful. But, I'm too busy doing this thing I love. It's been amazing watching other students do the traditional journey of blogging and thriving at it! I have recommended the course to plenty of people without any affiliation and continue now to say great things about it. The Elite Blog Academy has given me key tools to steward this art ministry to the capacity God wants from me in this season.
Where I felt ill-equipped, I now am confident. When I run into questions, I hop into our student facebook group and interact with others doing a similar journey, to learn from them. I've made valuable connections with other students there. We have live stream calls, a ton of partner bonuses and more, on TOP of the actual course which is packed with valuable content.
I would LOVE to have you join me as one of the students and see you thrive in your calling, like Elite Blog Academy has help me to.
Ruth runs a free live training webinar helping people with questions about blogging. Her free content like this, is a great taste of what to expect inside the course. Here is a link to register free: https://ig203.infusionsoft.com/go/bloggingmadesimple/rebekah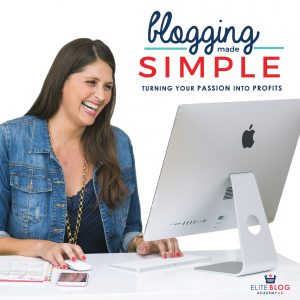 ​Regardless if you use my link, I encourage you to check out Elite Blog Academy if you have any interest in growing a ministry of your own.
I have learned in the past few years, that having a blog is still a "thing" in internet land and is a critical part of how I succeed at spreading the message, which God has put on my heart for this art ministry. Elite Blog Academy has been critical in helping me move beyond overwhelm and lack of skill, to making decisions I know can have the greatest impact on lives this ministry is meant to touch.
If you want to do anything which might require a blog, I highly recommend that you don't miss out on enrolling in this course, or learning more, as it opens for enrollment only once per year. At the very least, you can enjoy some very high quality, teaching for free this week!
I don't pretend to "have it all together". None of us fully do. We're a work in progress. But, I do know that I've worked out some key things to making this art ministry thrive and I owe a lot of that to the Elite Blog Academy. Enrollment closes for 2018, on March 9th.
So, how do I, do full time art ministry successfully?
I get the right people around me, to pour into me, whatever I need to learn and then do the hard work of setting up those systems and procedures so the ministry can thrive. The ministry hasn't "arrived". I'm putting one foot in front of the other. But, each day it gets easier because I have put people and tools in my life, to help me take this ministry where I feel God is wanting it to go.
I want to wrap up this post by reminding you that YOU, are the reason I am here and making the sacrifices I do. You are the reason I show up and pour myself into this ministry. You are the reason I do this. Why? Because I believe you are loved eternally by a good God who is excited about the life He gave you. I believe He has great hopes for your future and I want to support your journey with Him, by continuing to steward this art ministry as it adapts and grows and changes. I promise to keep doing my best to better myself for the cause of Christ and to keep on learning to be the best version of myself, as we journey together. I feel grateful that you've showed up and are here hanging out in my space.
Please let me know in the comments, if "behind-the-scenes" stuff like this, is of use, or interest to you.
Please come back again soon and remember… you are loved. x