Distress Ink Blending & Prismacolor Colored Pencil On The Margin – Bible Art Journaling Challenge Week 34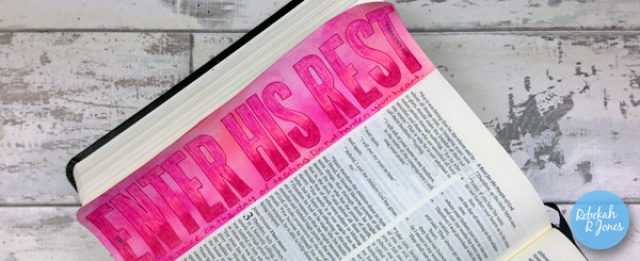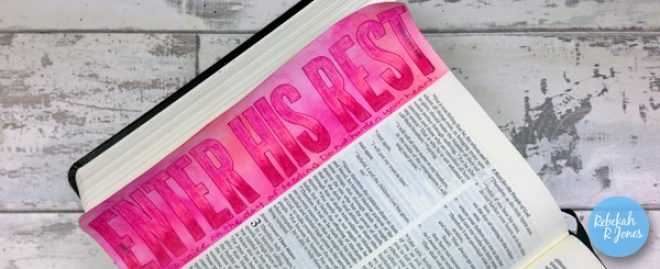 (2 votes, average: 4.50 out of 5)


Loading...

Hello Everyone! Welcome to week 34 of the Bible Art Journaling Challenge! This week I am staying On The Margin of my Bible, while we continue to talk about rest. I feel like so many people get confused about this topic. The Bible encourages us to make our life count for the Kingdom of God and yet it tells us to rest. People often wear themselves out trying to ensure they've made their life count for Him. God is not a slave driver. In fact, He considers it an act of obedience, to rest. Being lazy is not something we should do, nor is working ourselves to a point of worthlessness. Balance is key.
Rest is an important enough topic, that we see God resting after six days of creation and we see Jesus modeling rest to His disciples. God knows that we are at our best for Him, when we come refreshed and prepared to give 100% of ourselves to what is in front of us. We cannot give 100% if we wear ourselves out by constant doing. Let's be in His presence today and let it refresh us, so we can be ready to give our all to the tasks before us.
I hopped over to the book of Hebrews for this challenge and had some discussion with my Ministry Champions, about what sort of supplies would be fun for illustrating my thoughts on the verse I chose. So, out came some mixed media techniques! Join me in my video and then I'll expand afterward!
Please remember, you do not need to use the supplies or techniques I've shown you today, to join in to the Bible Art Journaling Challenge. Simply grab what you have and get spending time in the Word! Of course, if you have a die cutting machine, Distress Inks and/or Prismacolor Colored Pencils… feel free to follow along, or go wild with your own ideas! 🙂
Hebrews 4:10-11 is our scripture for this week. It says…
10 for whoever has entered God's rest has also rested from his works as God did from his. 11 Let us therefore strive to enter that rest, so that no one may fall by the same sort of disobedience.
Missing out on rest
I'd recommend you read Hebrews 3:7 – 4:13, in order to understand the context of our story today. It's not long. Here is a bit of it in Hebrews 3:7-19.
I want to ask you to focus in here for a moment. Ask yourself as you read this, what caused the people to not enter rest. This is not a trick question. You'll find it plainly as you read.
7 Therefore, as the Holy Spirit says, "Today, if you hear his voice, 8 do not harden your hearts as in the rebellion, on the day of testing in the wilderness, 9 where your fathers put me to the test and saw my works for forty years. 10 Therefore I was provoked with that generation, and said, 'They always go astray in their heart; they have not known my ways.' 11 As I swore in my wrath, 'They shall not enter my rest.'"

12 Take care, brothers, lest there be in any of you an evil, unbelieving heart, leading you to fall away from the living God. 13 But exhort one another every day, as long as it is called "today," that none of you may be hardened by the deceitfulness of sin. 14 For we have come to share in Christ, if indeed we hold our original confidence firm to the end. 15 As it is said, "Today, if you hear his voice, do not harden your hearts as in the rebellion."

16 For who were those who heard and yet rebelled? Was it not all those who left Egypt led by Moses? 17 And with whom was he provoked for forty years? Was it not with those who sinned, whose bodies fell in the wilderness? 18 And to whom did he swear that they would not enter his rest, but to those who were disobedient? 19 So we see that they were unable to enter because of unbelief.
Did you catch that? We can see, that unbelief is what caused them to not enter rest. A few verses later we see in Hebrews 4:2, what clearly happened as the author refers back to "the rebellion" (see Exodus 17), which I've recently talked with you about.
2 For good news came to us just as to them, but the message they heard did not benefit them, because they were not united by faith with those who listened.
Had they chosen to have ears to hear what God was showing them through His works, they would have not entered into unbelief. While the act of resting is a commandment, there is a bigger picture here. We get to enter a deeper kind of rest which God offers, if we choose to stay in a place of faith, and not unbelief. I'd love to hear from you in the comments below, about how God speaks to you about this topic. It is vast and beautiful. We could enjoy some discussion below!
Rest according to Mark
Mark 6:30-56 is a chunk of scripture I've been creating on in my NASB Note-Taker's Bible. I was in Bath City, England the other day while Heidi Baker of Iris Ministries was sharing. A while back I asked her husband Rolland for permission to use some of his amazing photography in my artwork, which he generously agreed to. It worked out great that I got to listen to his wife Heidi, while I put the first main layers of color into this sunset he captured in Mozambique.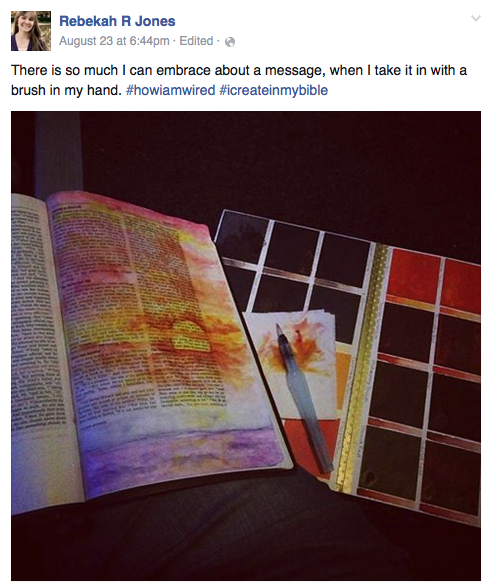 As a side note, some of you have asked (over on facebook), what that booklet is in the photo. It's my Peerless watercolor palette and you can watch my free tutorial on how to make one! I LOVE throwing it in my purse/bag with a Bible, water brush and bit of paper towel. Super light, on the go creativity. 🙂
Anyway, Mark 6:30-56 talks about this topic of rest and I want to share it with you. I'll underline some interesting things I want to draw your attention to.
Jesus Feeds the Five Thousand

30 The apostles returned to Jesus and told him all that they had done and taught. 31 And he said to them, "Come away by yourselves to a desolate place and rest a while." For many were coming and going, and they had no leisure even to eat. 32 And they went away in the boat to a desolate place by themselves. 33 Now many saw them going and recognized them, and they ran there on foot from all the towns and got there ahead of them. 34 When he went ashore he saw a great crowd, and he had compassion on them, because they were like sheep without a shepherd. And he began to teach them many things. 35 And when it grew late, his disciples came to him and said, "This is a desolate place, and the hour is now late. 36 Send them away to go into the surrounding countryside and villages and buy themselves something to eat." 37 But he answered them, "You give them something to eat." And they said to him, "Shall we go and buy two hundred denarii worth of bread and give it to them to eat?" 38 And he said to them, "How many loaves do you have? Go and see." And when they had found out, they said, "Five, and two fish." 39 Then he commanded them all to sit down in groups on the green grass. 40 So they sat down in groups, by hundreds and by fifties. 41 And taking the five loaves and the two fish he looked up to heaven and said a blessing and broke the loaves and gave them to the disciples to set before the people. And he divided the two fish among them all. 42 And they all ate and were satisfied. 43 And they took up twelve baskets full of broken pieces and of the fish. 44 And those who ate the loaves were five thousand men.

Jesus Walks on the Water

45 Immediately he made his disciples get into the boat and go before him to the other side, to Bethsaida, while he dismissed the crowd. 46 And after he had taken leave of them, he went up on the mountain to pray. 47 And when evening came, the boat was out on the sea, and he was alone on the land. 48 And he saw that they were making headway painfully, for the wind was against them. And about the fourth watch of the night he came to them, walking on the sea. He meant to pass by them, 49 but when they saw him walking on the sea they thought it was a ghost, and cried out, 50 for they all saw him and were terrified. But immediately he spoke to them and said, "Take heart; it is I. Do not be afraid." 51 And he got into the boat with them, and the wind ceased. And they were utterly astounded, 52 for they did not understand about the loaves, but their hearts were hardened.

Jesus Heals the Sick in Gennesaret

53 When they had crossed over, they came to land at Gennesaret and moored to the shore. 54 And when they got out of the boat, the people immediately recognized him 55 and ran about the whole region and began to bring the sick people on their beds to wherever they heard he was. 56 And wherever he came, in villages, cities, or countryside, they laid the sick in the marketplaces and implored him that they might touch even the fringe of his garment. And as many as touched it were made well.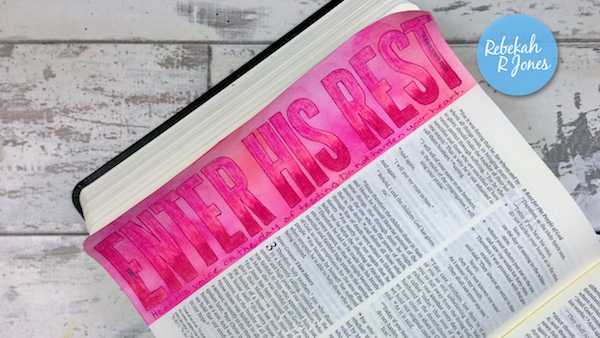 What a deep passage of scripture! I don't have the capacity to unpack this properly but please ponder it for yourself. Here are a few interesting points about it to me.
When Jesus noticed that he and the disciples had need of rest, He told them to rest and modeled it to them. They then obeyed with that physical act of choosing to rest.
Upon seeing the 5,000 in need of food, Jesus told the disciples to feed them. This was their chance to soften their hearts toward God's miraculous power and trust in His provision. Instead their hearts were hardened (Mark 6:51-52). I believe this is why they were "utterly astounded" when the wind ceased and Jesus got in the boat with them. That whole experience felt literally "unbelievable" to them, because their hearts were not soft enough toward the works of God.
I personally think that one of the reasons Jesus had the capacity for healing everyone who touched his clothes, was because He had rested properly in between times of ministering to others. We can learn a lot from reading what His model of this looked like.
Keeping soft
One key to not hardening our hearts, is to keep a sense of child-like wonder in our perception of God's works. When we see God do something miraculous, we need to take a moment to breathe in the wonder and majesty of it. And we need to ensure we take the time to document and record what He has done.
Why? So when tough times come, we can pull out that recording and let it be a remembrance stone to us, of God's goodness. Of His ability to do it again for us. We must embrace what He has done and let it fashion our hearts for seasons to come. Otherwise, we can fall prey of unbelief which comes through forgetting what God is capable of. And that my friends, is the trap which leads to not being able to enter His true rest.
Rest according to Matthew
Matthew 14:26-33 unpacks the same story we find in Mark, with a different perspective. It is beautiful to me that none of the four Gospels, (Matthew, Mark, Luke and John), share conflicting information at any time. They may share a different perspective, but never do they conflict. So this is how Matthew recorded things. This is just as the disciples saw Jesus walking on water…
26 But when the disciples saw him walking on the sea, they were terrified, and said, "It is a ghost!" and they cried out in fear. 27 But immediately Jesus spoke to them, saying, "Take heart; it is I. Do not be afraid." 28 And Peter answered him, "Lord, if it is you, command me to come to you on the water." 29 He said, "Come." So Peter got out of the boat and walked on the water and came to Jesus. 30 But when he saw the wind, he was afraid, and beginning to sink he cried out, "Lord, save me." 31 Jesus immediately reached out his hand and took hold of him, saying to him, "O you of little faith, why did you doubt?" 32 And when they got into the boat, the wind ceased. 33 And those in the boat worshiped him, saying, "Truly you are the Son of God."
Again, I'd love to fully unpack this section of scripture. Instead, I'll highlight some points that stand out to me. I'd love to hear in the comments, what stood out to you!
Because the disciples had allowed their hearts to be hardened, and were not soft toward God's miraculous ability, they were terrified when they saw Him walking on water. I suppose those who keep their heart familiar with God's goodness, would instead recognize the situation and believe it to be Jesus, instead of be terrified it might be a ghost. It seems to me they were too focused on the enemy and his works and not focused on God and His ability. I know many who sadly fall into this trap and it can be a huge distraction from entering God's rest.
Jesus in His goodness, immediately spoke to break the power of fear over them.
We can see in verse 28, that Peter said, "Lord, if it is you…". That is a sign he had unbelief. Yet, he would have looked like the same guy they'd been basically living with! I'm not sure about you, but I would remember what my own house mates look like. Peter was shaken by the circumstances in which He saw Jesus. We can learn from this, that we need to be familiar enough with God and His goodness, that we recognize His presence no matter where and how He shows up in our lives.
Peter did exercise faith and got out of the boat to walk on water toward Jesus. This may be more than some of us would have been willing to do. I applaud Peter's example of choosing to trust God despite his fear of the circumstances. Sadly, Peter then focused on the problem, (the storm), instead of the God there to reach out His hand.
When Jesus got into the boat with the disciples, the wind ceased. Powerful stuff here. When we invite God into our circumstances, He brings His rest, His peace… into our situation. Calm is inevitable when we are in His presence. That is where I want to stay. After all, His name is Prince of Peace.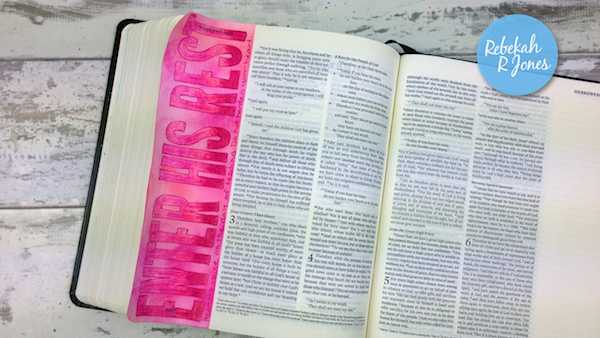 Obedience
It might feel like I'm skipping between the topic of rest and the topic of unbelief. Not really. The Bible has clearly laid out for us here, that there are two types of rest.
The first type is one we choose as a physical act of obedience and personal refreshment. The second is a rest which supernaturally comes to us, by living in a place of faith, instead of unbelief, about His ways in our life. God's rest is something we get to enter, when we choose to keep our hearts soft toward His presence and its impact in our lives. Unbelief is something which causes us to miss that supernatural rest God offers!
I'm not sure about you, but I want to always keep a soft heart toward the things He is doing in and around me, so I cannot somehow be deceived into thinking that something or someone else, is responsible for the goodness God alone gets credit for. I want to embrace His presence in every area of my life and let it keep shaping my heart softly toward Him, so I recognize Him when He moves in and around me.
I want to obediently rest physically and also stay soft toward Him, so I can be refreshed physically AND spiritually. What a gift to serve a God who requires us to rest as an act of obedience. He is the only God, that has such a requirement. He is so in love with His people.
Revival Rest
A slightly different but important point on this that I'd like to make, really speaks to those of you who perhaps have been, or are currently, part of churches who have experienced an outpouring of God's presence – a move of God, in your midst corporately.
My husband and I own The Revival Study Bible, which we enjoy studying the Word together in. There is an interesting footnote associated to our verse today, which I want to share with you here.
Revival that is not based on the principle of rest is a revival that will end in adrenaline default. One of the greatest temptations ministers and participants of revival meetings fall into is the perception that revival must maintain a high, frenzied momentum to continue. Sleep, being the lowest form of physical revival, should clue us into the principle that rest, and not drivenness, is fundamental for lasting revival. Throughout the centuries, revivalists who maintained a high intensity for the sake of maintaining revival meetings experienced premature death, moral failure, physical illness, and teachings gone awry. Revival fires must be maintained through gentle rest.
Whether in personal life or in church life, I think it is key that we embrace God's presence in a way which allows us to enter His rest. It is too beautiful a thing to skip out on.
Join me
On a more creative note, I would love you to try any of the techniques I've shared in my process with you today if you're interested in them. I also want you to feel free to gather inspiration in other places for joining me in this weekly challenge. The goal is to get in to the Word and spend time with God. I'm looking forward to seeing what you art journal in your Bible for this weeks challenge!
You can find answers to most any question you may have about the Bible Art Journaling Challenge over on my Bible Art page found in the top navigation. It also has a full archive! Be sure to head over to our Facebook group and/or Google+ Community, to chat about this weeks Bible Art Journaling Challenge and get started on your own page! Many of you ask if it is okay to share these posts with your friends. Please do! It is a simple way you can partner with me to impact lives.
Today's Bible art journaling supplies
As promised, here are the supplies I featured in this weeks video which you can click on to view or purchase. I hope it helps you find anything you may want to try out. When you find deals which I've searched for and recommended below, I get supported. This has no effect on you and makes a real difference for me. Thank you, I so appreciate your support which helps me provide these free tutorials for you! Where there is just one shop, it'll lead to Amazon. Where there are two links, you'll see SB for Scrapbook.com, AZ for Amazon and CB for Christianbook.com
Click images to view art supply details or to purchase.

Bibles and supplies for Bible art journaling
There are always those who are new to me that find their way to various blog posts so, I'll again mention for those who are new and interested… There are several wide-margin Bibles and supplies which I recommend for this art form. I've created a linked recommendations collection on my Bible Art Supplies page, to make your starter choices easier. I hope they will help you.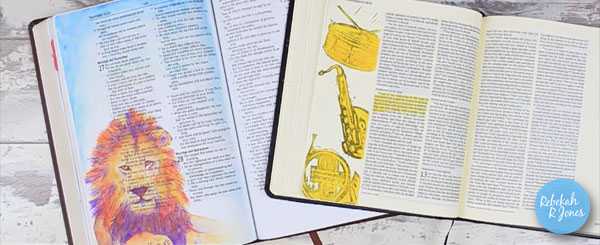 Thanks for joining me today. Please take a moment to share a comment below for us all, about your thoughts, tips, questions, ideas on anything we talked about today. I look forward to hearing from you!
You are loved. x
Scripture is from the ESV® Bible (The Holy Bible, English Standard Version®), copyright © 2001 by Crossway Bibles, a publishing ministry of Good News Publishers. Used by permission. All rights reserved.