Bible Art On The Edge – Bible Art Journaling Challenge Week 40

Hello Everyone! Welcome to week 40 of the Bible Art Journaling Challenge! I know, I often say my latest piece of Bible art journaling is my favorite. Today… yes, yes, YES!!! This is SO much fun. Bible art on the edge, here we come! We can live AND create on the edge today! 😉 Literally.
Seriously though, you're going to want to stick around for this. I'm about to show you how to create Bible art on the edge of your pages, times 2! In my tutorial video today, I'm showing how to create on the edges of BOTH a Journaling Bible with plain edges, AND a Bible with gold edging. I'm right aren't I? You're as excited, as I am to share! 😉 Haha
There is a whole Bible FULL of pages waiting for creative expression… and then there is the Bible page edges. I wanted to make my Bible art on the edge, express the pages inside. For me, that meant expressing the True Vine, our precious Jesus who is closer than a friend.
In a way, I suppose this might be the most special, of all the Bible art journaling we do. Why? It's the only creative work we get to see without even cracking open the Book. It can tell a story about what's inside, before anyone lifts it off the table. I hope mine has. I love that no matter what page I open, I can see this piece of creativity on every page. Don't let that intimidate you, let it inspire you to tell a story on the edges of your Bible or art journal.
Bible art on the edge
So let's not drag this out. I know, you just wanna watch the video! Go ahead… 🙂 (but who am I kidding here… you probably all watch the video before reading my post, right?!)

Are you still as excited as I am?!? I seriously want to just start painting the edges of every book I own. Kidding… but seriously. 🙂 I have been dreaming up this particular technique and post, for at least 8 months now. It is fair to say that my excitement has built as I've thought it through. You have to try it to understand. Trust me.
Bible art on the edge tips
I've come up with a few tips for all of this Bible art on the edge excitement.
If you stamp, use Archival Ink (in any color!), or some other permanent ink to stamp with. This is so it won't smear or lift as you add color.
If you stamp, be sure to pick stamps with lots of open spaces and heavy lines which you can fix with a pen, if gaps in the stamped images occur.
If you use pens to fix any gaps in stamped images or to free-hand draw; choose waterproof pens, hold your pages super tight together and then draw s-l-o-w-l-y, to let the ink saturate the page edges as you move across them. I used Uni Pin pens, sizes 0.05 and 0.2. Faber-Castell Pitt Pens would also be an excellent choice, in XS and S sizes. Move them gently and slowly, to get ink flowing across all the surfaces of page edges and to avoid damaging your pen tips, (nibs). My pen nibs are still in great condition after this Bible Art Journaling Challenge.
If you choose to add color to the edge of any book or Bible, NEVER use a page prep first. NEVER. Why? It will act like glue and make your pages stick together. Gesso, matte gel medium… anything similar is off limits for this technique. Also NEVER use acrylic paint for the same reason. The idea is to get you into the Word, not shut you out of it. 😉
I would recommend that you

only

use watercolor, Inktense Blocks, Inktense Pencils, or watered down Gelatos, to do Bible art on the edge of your pages. You could also color with Faber-Castell Pitt Pens, or other similar waterproof pens. You will find most any other type of coloring, to cause your pages to seal together which would be a disaster. These options though will leave you with a whole world of fun for creative expression!
Lastly, do yourself a favor and don't go for perfection in your creativity. Our relationship with Jesus and expression of His Word in our own lives, is ever growing richer and more insightful. May we not try to express perfection. Instead, may we express our passion and love for Him and His Word.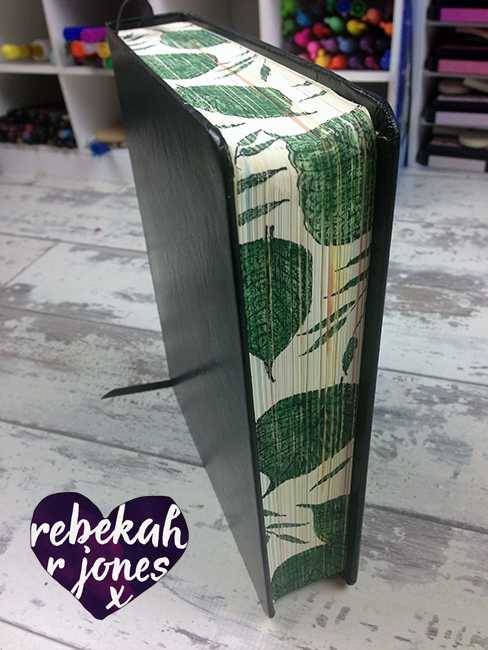 Scripture
In my ESV Journaling Bible, in John 15:1-17, we see Jesus saying this…
"I am the true vine, and my Father is the vinedresser. 2 Every branch in me that does not bear fruit he takes away, and every branch that does bear fruit he prunes, that it may bear more fruit. 3 Already you are clean because of the word that I have spoken to you. 4 Abide in me, and I in you. As the branch cannot bear fruit by itself, unless it abides in the vine, neither can you, unless you abide in me. 5 I am the vine; you are the branches. Whoever abides in me and I in him, he it is that bears much fruit, for apart from me you can do nothing. 6 If anyone does not abide in me he is thrown away like a branch and withers; and the branches are gathered, thrown into the fire, and burned. 7 If you abide in me, and my words abide in you, ask whatever you wish, and it will be done for you. 8 By this my Father is glorified, that you bear much fruit and so prove to be my disciples. 9 As the Father has loved me, so have I loved you. Abide in my love. 10 If you keep my commandments, you will abide in my love, just as I have kept my Father's commandments and abide in his love. 11 These things I have spoken to you, that my joy may be in you, and that your joy may be full.

12 "This is my commandment, that you love one another as I have loved you. 13 Greater love has no one than this, that someone lay down his life for his friends. 14 You are my friends if you do what I command you. 15 No longer do I call you servants, for the servant does not know what his master is doing; but I have called you friends, for all that I have heard from my Father I have made known to you. 16 You did not choose me, but I chose you and appointed you that you should go and bear fruit and that your fruit should abide, so that whatever you ask the Father in my name, he may give it to you. 17 These things I command you, so that you will love one another.
Going deeper
There is a LIFETIME of deep things to grasp in this bit of scripture. Years ago, as a teenager, I really struggled to understand all the bits to this story Jesus was telling. So, I decided to make a play in my head. I read what Jesus said, very slowly. Each time He mentioned somebody new, (like the Father, or "you" (aka myself) ), I tried to give that "character" a visual image in my head and would picture them/myself, doing what Jesus was talking about in the story. Then, I took a step away once I understood what job everyone in the story had. I began to research vineyard tending, etc. This was to understand the vine, branches and vinedresser a bit more clearly – their jobs and roles.
In my head, Jesus looked like a beautiful vine in a vineyard. I looked like a branch and the Father was tending. I took time to visualize where I would be in the vineyard and what my job was. I couldn't really get the setup of everything and how it works, until I understood vineyards better. It pays off to be curious and seek out learning.
I'd encourage you to go on the adventure with me and see what deeper meaning you can discover, about what Jesus was saying in this passage of scripture. It certainly deepened my understanding. It might seem silly to mentally set up a cast of characters in your visual imagination, to "play out the story" and then research the missing context to be a better director… but it works – really well. Try it anywhere in scripture that will help you embrace the story, like the best novel you've ever come across.
I decided to leave a lot of uncolored space when doing Bible art on the edge of my pages. Jesus said He is the True Vine and we are the branches. Over time, I want to see the art I create on various Bible pages, begin to peek through the uncolored areas on the edge. It seemed to me, that it would show a bit of Jesus and a bit of my expressing His Word creatively. Both will be beautiful in time. 🙂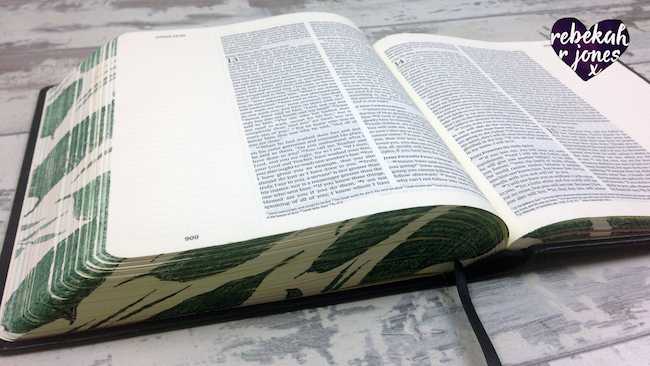 Participation options

If you don't want to create Bible art on the edge for this Bible Art Journaling Challenge, that is okay! Just create using the margin or full page of your John 15 Bible page instead.
Normally, in order to consider yourself participating in any particular Bible Art Journaling Challenge, I would say you need to create in a Bible or art journal, on/with the scripture of that challenge. In this weeks case, that would be John 15:1-17.
If you love the idea of Bible art on the edge but don't want to create Bible art on the edge with a theme of Jesus being the true vine, I'll make an exception. Anyone feeling inspired by this challenge and interested in creating Bible art on the edge, can consider yourself participating in this challenge, if you create with a theme of any scripture on the edge of your Bible or art journal pages. This is the artwork you'll see even when your book or Bible is closed. I want you to be IN LOVE with it and drawn to pick it up each time you pass it. So, create what moves you and share with us in our Facebook group and/or Google+ Community!
Join me
As I've mentioned, I would love you to try any of the techniques I've shared in my process with you today, if you're interested in them. I also want you to feel free to gather inspiration in other places for joining me in creating about/on this week's scripture. The goal is to get in to the Word and spend time with God. I'm looking forward to seeing what you create!
You can find answers to most any question you may have about this challenge, on the Bible Art Journaling Challenge page. It also has a full archive! Be sure to head over to our Facebook group and/or Google+ Community, to chat about this weeks Bible Art Journaling Challenge and get started on your own creativity! Many of you ask if it is okay to share these posts with your friends. Please do! It is a simple way you can partner with me to impact lives.
Today's Bible art journaling supplies
As promised, here are the supplies I featured in this weeks video. I hope it helps you find anything you may want to try out. When you find deals which I've searched for and recommended below, I get supported. This has no effect on you and makes a real difference for me. Thank you, I so appreciate your support which helps me provide these free tutorials for you! Where there is just one link, it'll lead to Amazon. Where there are two links, you'll see SB for Scrapbook.com and AZ for Amazon.
Click links to view or purchase

Bibles and supplies for Bible art journaling
There are always those who are new to me that find their way to various blog posts so, I'll again mention for those who are new and interested… There are several wide-margin Bibles and supplies which I recommend for this art form. I've created a linked recommendations collection on my Bible Art Supplies page, to make your starter choices easier. I hope they will help you.
Inspiration from Jann Gray

As I mentioned in my video, Jann Gray has created on the edge of her Bible pages too.
Jann is super sweet and also loves to art journal in her Bible. She calls it Illuminated Journaling. Jann has a few online workshops and even an Illuminated Journaling book, all on this topic. You can have a look at her Illuminated Journaling website for more info. If you buy Jann's book with that link there, it will support her directly, which I'm very pleased about. She is wonderful and deserves our support, for all she is adding to our community of those diving into the Word through creativity. Don't you agree? 🙂
Before I finish off my post today, I want to share with you, the Bible art on the edge which Jann did. Enjoy!

Thanks for joining me today. Please take a moment and say hi below!
You are loved. x
Scripture is from the ESV® Bible (The Holy Bible, English Standard Version®), copyright © 2001 by Crossway Bibles, a publishing ministry of Good News Publishers. Used by permission. All rights reserved.