Bible Art Journaling Challenge Week 13 – Mixed Media Tutorial

Hello Everyone! Welcome to week 13 of my Bible Art Journaling Challenge! I've ventured in to adding acrylics to my Bible page and want to share how to do that, with you. It's a mixed media week! Perhaps the cold weather here in Southwest England is leaving me wishing for summer because I've gone neon! I love how my page turned out this week and the topic is one that should be important to us all in our spiritual journey of going deeper with God. I hope you find it useful that I've covered this topic and that you enjoy the Bible art journaling tutorial.
This week I'd like my video to speak for itself and not do too much talking here on the blog. Enjoy!
Here is this week's scripture. Romans 12:2 says,
"And do not be conformed to this world, but be transformed by the renewing of your mind, so that you may prove what the will of God is, that which is good and acceptable and perfect."
I recognize you may find my theme odd for this week, leading in to celebrating the death and resurrection of Jesus this coming Sunday. This topic weighed so heavy on my heart that I could not do anything else in its place. I found myself crying a few times as I sat to work on this, during the past week. I could really feel the tangible presence of God on what I was doing in a unique and more deep way. I pray it really speaks to you and encourages your creative and spiritual journey.
I hope it goes without saying, but, please do always feel free to copy any of what I teach you if that is what you would like to do, or simply grab the verse and go create your own masterpiece. I want to support you in any way I can and however that looks for you, go for it. And, if you have questions or ideas, drop them in the comments below and I'll be happy to respond! Others may have the same thoughts and by sharing them here on my blog, everyone can read through and learn from them together. 🙂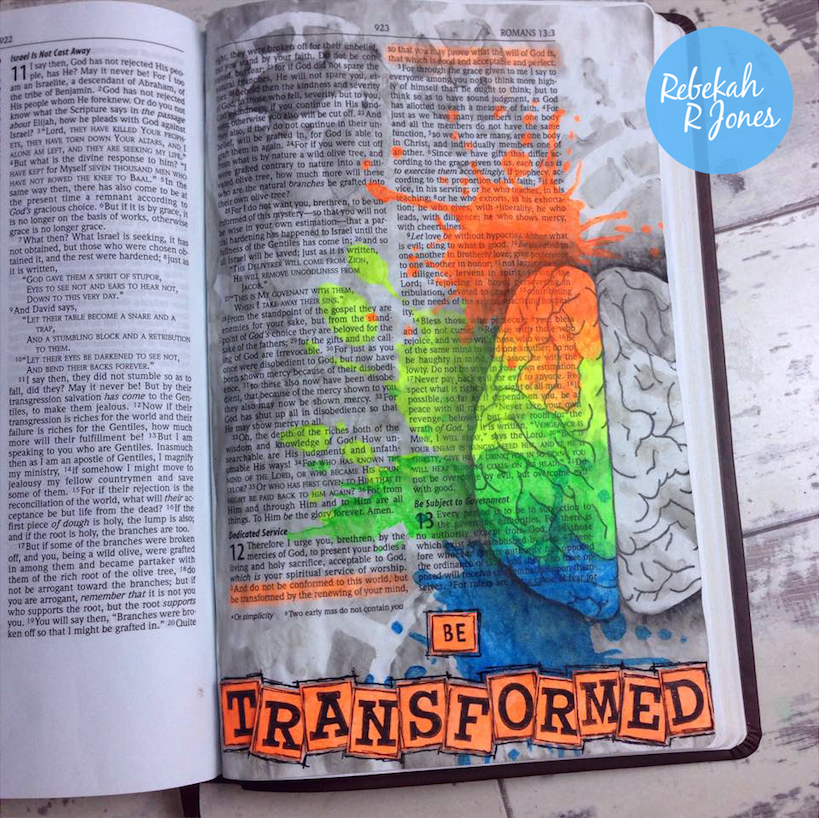 I didn't mention it on my video, but the reason I chose to use that clock/watch stencil for my background, was because I thought it would be good to make reference to how our journey of transformation is one that is a process and takes time. It is important to be gracious with ourselves on our journey to transformation. We must find that balance between always embracing changes and God's working in our heart and life, and not being unkind to ourselves when we need a break to refresh and try again. It is okay to fail. In fact, if you do not fail, it means you are not trying to succeed. Fail away! Remember, faith is spelled, R-I-S-K. Failure is a sure sign you are working toward being the best version of yourself possible. 🙂 When you do fail, smile inwardly that you are learning, dust yourself off and move on to greater things. You deserve to be pushed to greatness and you are worth being kind to on that journey.
I mentioned in the video that I would have recommendations of books that I believe would be great if you'd like to study this topic further. Bill Johnson is an author and pastor who I have been privileged to know in some capacity and who is a real spiritual dad to me. I trust his spiritual insight and he is a man of incredible integrity and depth. He has written two particular books (among others), which give wonderful insights into the topic of a renewed mind and really help people begin and/or continue their journey toward having a renewed mind. I highly recommend them both.
When Heaven Invades Earth, was a book my husband was radically touched by many years ago. The Supernatural Power Of A Transformed Mind, happens to be one of the last two books, which my mom read before she passed away. She turned the top corner of nearly every page consuming its content. She then couldn't find what she was so touched by, so she read it again and started doing the same to the bottom corners while highlighting sections. She finally gave up and said while she shook the book at me, "Rebekah, this has got to be the most transformational book I have ever read! This is incredible! You have to read it! I want to buy one for everyone I know!" Both books come highly recommended in my family to say the least. 🙂
As promised in the video, there is a free download over on the Graphic Fairy's blog, for the vintage brain illustration (pictured below) which I traced for my Bible Art Journal page today. She is a great resource for images that can be used for your own projects.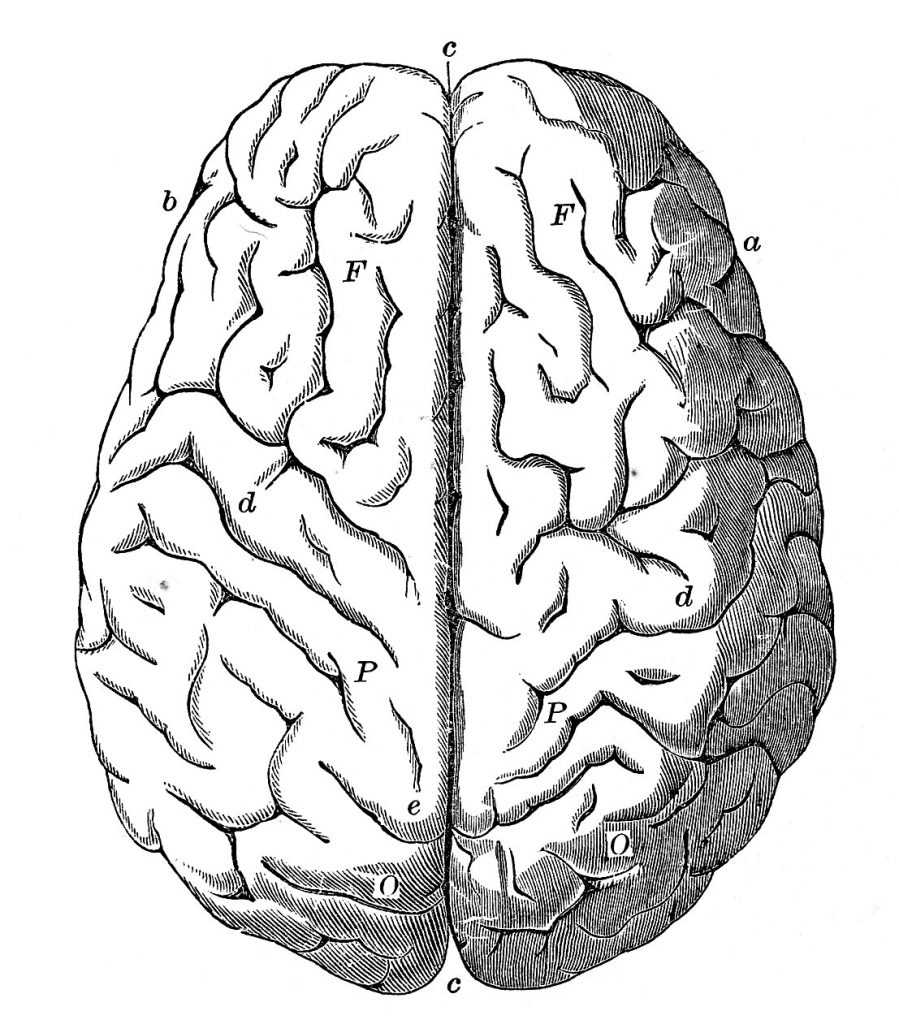 On a practical note, I used parchment/baking paper under my acrylic paints in the video, so I would have no clean up afterwards. And, I cleaned my splatters stencil with a fresh baby wipe between each color so it wouldn't muck up my Bible page. You can find answers to most any question you may have about the Bible Art Journaling Challenge over on my Challenge page. Be sure to head over to our Facebook group and/or  Google+ Community, to chat about this weeks Bible Art Journaling Challenge and get started on your own page!
Bible Art Journaling Supplies
As promised, here are the supplies I featured in this weeks video which you can click on to view or purchase. I hope it helps you find anything you may want to try out. I receive a small percentage of each purchase when anyone clicks on my art supply links, to go get supplies I use like you see below, or on my YouTube videos. This has no effect on you and makes a real difference for me! I am excited for you to get great deals on supplies anywhere, so you can join in on your budget. When you find deals which I've searched for and recommended below, I get supported. Thank you, I so appreciate your support which helps me provide these free tutorials for you!
I mentioned on the video that I would link to a more cost effective brand of neon paints you could find in America. Turns out they have gone up in price but you could look in the Amazon marketplace or your local craft store for better deals so I've linked them below for you to know what to look for. It also appears the splatter stencil I used has been discontinued! I cannot find a trace of it anywhere online. I'm very sorry about that! I've added a couple of good looking alternatives below as promised.
Click images to view art supply details or to purchase.

Bibles Ideal For Bible Art Journaling

There are several wide-margin Bibles I've seen recommended for art journaling, including large print versions. I've created a linked collection here to make your choice easier when looking for a Bible to art journal in. If you click on any of the Bibles, you will often be able to look inside to see the pages for yourself before purchasing!
I really like the ESV Journaling Bible with faint lines in the 2 inch wide margin and cream paper color.
I love my imitation leather, NASB Note-Taker's Bible (top left Bible below), which is free of lines in the wide and bottom margin with white paper.
All give extra room for creativity.
You can also join in with a Bible you already have, or even an art journal like the art journals I recommend.
Click images to view Bibles or to purchase.
If you have not done so yet, be sure to join my newsletter on the right-hand side of this page, so you can be notified when I release new Challenges and other exciting creative things.
Don't forget to share this with any friends you think might want to know about it. I will see you right here next week, for another Bible Art Journaling Challenge!
You are loved. x
Scripture quotations taken from the NASB.
Save