Bible Art Journaling Challenge Week 2 – Laugh Without Fear

Hello Everyone!
Welcome to week 2 of the 2015 Bible Art Journaling Challenge!
The year has started fantastically together and I am loving interacting with all 300+ in our Facebook group! It's great to have you with me! Don't forget to share this with any friends you think might want to know about it!
Enjoy my video below and then head over to our Facebook group, or new Google+ Community, to chat about this weeks Bible Art Journaling Challenge and get started on your own page!
You can find answers to most any question you may have about the challenge over on my Challenge page.
If you wanted to see this week's scripture again, here it is for you.
In the New Living Translation of Proverbs 31:25, it says, "She is clothed in strength and dignity, and she laughs without fear of the future."
How are you doing at laughing without fear of the future? Have difficulties got you worried? I've got honest yet loving news for you. Worrying is a sin! If we dwell on problems instead of solutions, we will surely fear instead of laugh. Let's laugh while we pursue God's solutions and know He is with us!
How has this weeks verse challenged your spiritual walk? I look forward to seeing whatever you create, over in our Facebook group or on Instagram! Remember our hashtag so we can all see your creativity!  #bibleartjournalingchallenge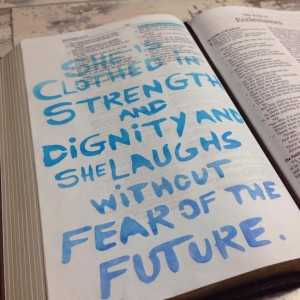 Remember, you can join in at any time and do any challenge you'd like. If you follow me, we'll have 52 pages splashed with creative moments by the end of the year! Either way, join when you want and how you want!
If you enjoyed seeing the Gelatos and don't really know much about their versatility, have a look at this playlist on YouTube which I've created. They are amazing!
Art Supplies

As promised, here are the supplies I featured in this weeks video which you can click on to view or purchase. I hope it helps you find anything you may want to try out.
I receive a small percentage of each purchase when anyone clicks on my art supply links, to go get supplies I use like you see below, or on my YouTube videos. This has no effect on you and makes a real difference for me! I am excited for you to get great deals on supplies anywhere, so you can join in on your budget. When you find deals which I've searched for and recommended below, I get supported. Thank you, I so appreciate your support which helps me provide these free tutorials for you!
Click images to view art supply details or to purchase.
Bibles
There are several wide-margin Bibles I've seen recommended for art journaling, including large print versions. I've created a linked collection here to make your choice easier when looking for a Bible to art journal in. If you click on any of the Bibles, you will often be able to look inside to see the pages for yourself before purchasing!
I really like the ESV Journaling Bible with faint lines in the 2 inch wide margin and cream paper color.
I love my imitation leather, NASB Note-Taker's Bible (top left Bible below), which is free of lines in the wide and bottom margin with white paper.
All give extra room for creativity.
You can also join in with a Bible you already have, or even an art journal like the art journals I recommend.
  Click images to view Bibles or to purchase.
If you have not done so yet, be sure to join my newsletter on the right-hand side of this page, so you can be first to know when I release new Challenges.
I will see you right here, next week for another Bible Art Journaling Challenge!
You are loved. x