Twinkling H2O's and Pearlescent Watercolor – Bible Art Journaling Challenge Week 25

Hello Everyone! Welcome to week 25 of my Bible Art Journaling Challenge! This week I pulled out a beautiful old Bible I found at a charity shop here in England. It says it was published in M.DCCC.LV. That's the roman numeral for the year 1855!
This Bible was appointed to be read in churches. It was a real treasure to find and I really enjoy using it for creative purposes to give it use again and enjoy it rather than allowing it to sit and collect dust somewhere.
For this challenge, I used Twinkling H2O's and Yasutomo Pearlescent Watercolor. Both are stunning in person and hard to catch on camera. I admittedly thought I'd find the shimmery effect to look tacky when I first used them. Quite the opposite occurred. I got left with an elegance I keep wanting to touch and move to catch the light.
This weeks video
The Yasutomo Pearlescent watercolor is very cost effective so if you're interested in shimmery watercolor, I'd recommend them! I won't waste any time here. Enjoy my video and be sure to read below afterward. I have shared some insights I found in the scriptures which I didn't share in the video which I hope you'll appreciate!
Psalm 91 is one of the most loved passages of scripture and I have a small insight to share with you tucked in to verse 4.
This weeks scripture
Each version, each translation… of the Bible, has a different perspective to offer. The New King James Version (NKJV) and the New American Standard Bible (NASB), are the two English translations which ring truest to the original languages.
Yet, all translations are a different and worthwhile perspective to consider when seeking to understand the depth of scripture in fullness.
Psalm 91:4 in the NASB says…
He will cover you with His pinions, And under His wings you may seek refuge; His faithfulness is a shield and bulwark.
You may be wondering what a "pinion" is! We could pull out study books or a dictionary. We could also look at our verse in another translation to help us discover the answer. It's feathers! 🙂
Lets see what it said in Psalm 91:4, in the KJV Bible I created in for today…
He shall cover thee with his feathers, and under his wings shalt thou trust: his truth shall be thy shield and buckler.
I think it is interesting that this KJV translation almost implies that you WILL trust Him, while the previous NASB translation implies it is an option for  you to seek refuge under His wings. But in reality, we must look at the surrounding verses to understand who this verse applies to!
Psalm 91:1 (NASB) starts this chapter out by explaining who our verse 4 applies to. It says…
He who dwells in the shelter of the Most High will abide in the shadow of the Almighty.
There was our answer. Those who dwell in the shelter of the Most High… those are the ones who will trust God and seek refuge under His wings.
So how does this work? Well, when we get to know somebody, anybody, we need time together with them before we trust them deeply. Trust is earned. We need shared experience and weathering storms with others before a deep trust is built.
If trust has been broken, we can be fearful of trying again but God will never let us down. That doesn't mean He'll do everything our way. It means His Word is perfect. He will not lie. He will always be there for us even if we don't understand.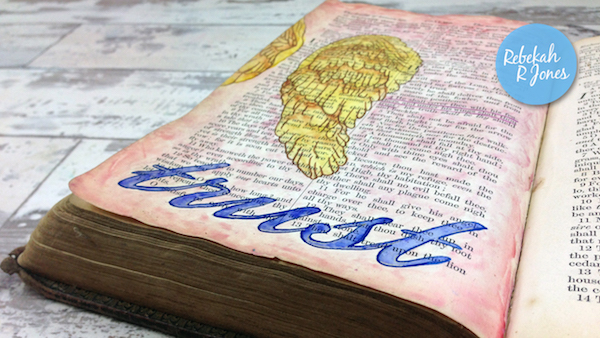 Dwelling
When we make a deliberate choice to dwell in God's shelter, we get to experience His protection in storms and thus trust is naturally built. It means we then move from hanging out in His shelter, to being wrapped under His wings. A more intimate place. A more safe place. A place we wouldn't go unless we first trusted.
God is a gentleman to first invite us to His shelter where we learn to trust Him. From that place, we naturally want to and WILL trust Him because He never lets us down.
I imagine an image of a shelter/shack in the middle of a night forest that is covered in torrential rain. From the doorway He calls, He beckons us to come into the safety of His shelter. To get out of the storm and be warmed by His presence. When we come and learn how safe it is, we naturally find ourselves dwelling there. Staying there all the time. Then we naturally trust Him enough to sit under the protection of His wings in that shelter, safe.
We can go on to the rest of the verse and learn that once we have learned to dwell in His midst, then trust being under His wings of protection, we then learn His truth which becomes our shield and buckler. What promises. But also… what a process and journey we get to go on with God.
I encourage you to step over the shelter doorway if you haven't yet. To step under His wings if you haven't yet. To be immersed by His truth if you haven't yet. Each part of this journey matters and each brings us closer to Him and His fullness for our lives.
Downloads
Switching gears here, you'll notice I put the two promised free downloads, right in with the art supplies linked below. I hope you'll enjoy those downloads!
I don't get (or need) any credit for you using the angel wings download and I'm not associated with the website I've linked to the clip art for. I just want to help you find what you may be interested in.
Also, the font that I used for the "trust" lettering download, is called Bickham Script Pro. This font is publicly free for all use and you can search for it online if you want it for any reason and don't already have it.
This creative journey
As I mentioned in the video today, I want to reiterate to you that I do NOT want you to feel you need to do the same thing I have created each week. But you are welcome to. 🙂
The only thing you need to do in order to consider yourself participating in a Bible Art Journaling Challenge, is to create something about the scripture of the week. That may be on that Bible page, or an art journal… It is up to you!
Further to that, you are also free to come and go as you please. Finish all the challenges or just a few! I just want to support your time in the Word.
If you want to create what I have in a challenge, I always include a list of supplies used so you can find what you saw. You can create what I have shown you, or do something entirely different.
There are many following my challenge who really are quite new to art supplies and techniques. I do my best to help the process of creativity not be hindered by newness, but rather be a joyful discovery. Feel free to follow me, or do your own thing on the same verse I've used.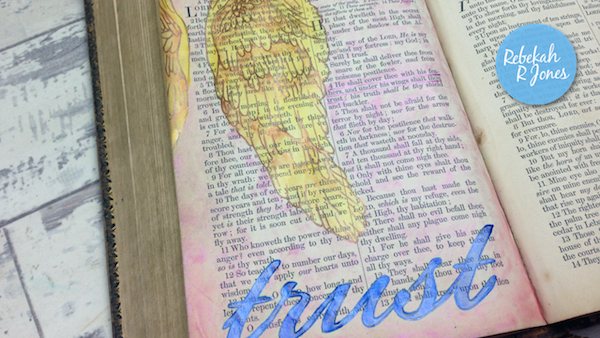 Today's Bible art journaling supplies
As promised, here are the supplies I featured in this weeks video which you can click on to view or purchase. I hope it helps you find anything you may want to try out. I receive a small percentage of each purchase when anyone clicks on my art supply links, to go get supplies I use like you see below, or on my YouTube videos. This has no effect on you and makes a real difference for me!
I am excited for you to get great deals on supplies anywhere, so you can join in on your budget. When you find deals which I've searched for and recommended below, I get supported. Thank you, I so appreciate your support which helps me provide these free tutorials for you!
Be sure to also view my Bible Art Supplies page for Bibles, art journals and other art supplies I recommend for Bible art journaling.
Click images to view art supply details or to purchase.
Bibles ideal for Bible art journaling
There are several wide-margin Bibles I've seen recommended for art journaling, including large print versions. I've created a linked collection here to make your choice easier when looking for a Bible to art journal in. If you click on any of the Bibles, you will often be able to look inside to see the pages for yourself before purchasing!
I really like my ESV Journaling Bible with faint lines in the 2 inch wide margin and cream paper color. I love my imitation leather, NASB Note-Taker's Bible, which is free of lines in the wide and bottom margin with white paper. All give extra room for creativity.
You can also join in with a Bible you already have, or even an art journal like the art journals I recommend.
Click images to view art supply details or to purchase.
Your turn to create!
I would love you to try any of the techniques I've shared in my process with you today if you're interested in them. I also want you to feel free to gather inspiration for this scripture in other places and create right on your page if you want. I'm looking forward to seeing what you Bible art journal for this weeks challenge!
You can find answers to most any question you may have about the Bible Art Journaling Challenge over on my Challenge page found in the top navigation. It also has a full archive! Be sure to head over to our Facebook group and/or Google+ Community, to chat about this weeks Bible Art Journaling Challenge and get started on your own page!
If you have not done so yet, be sure to join my newsletter on the right-hand side of this page, so you can be notified when I release new Challenges and other exciting creative things. And, don't forget to share this with any friends you think might want to know about it.
I want to hear from you!
How do you feel about this topic of trust? What do you think about the Twinkling H2O's and Yasutomo Pearlescent Watercolors? Let's talk about it in the comments below! 🙂
You are loved. x
Scripture quotations taken from the NASB and the New King James Version.