Simple Watercolor Pencil Tutorial – Bible Art Journaling Challenge Week 51

Hello Everyone! Welcome to week 51 of the Bible Art Journaling Challenge! As we get close to finishing this year together, I want to talk to about surrender and redemption, the story of Ruth in the Bible and add a little watercolor pencil tutorial.
Plus, I recently got some beautiful new products from the Creating In Faith product line by Jamie Dougherty, and want to share them with you today. Prima produced the product line and while they did give me these products, I am excited to share my very honest opinion of how lovely they are! Join me as we get started with this weeks video!
Today's Bible art journaling supplies
Before I head into the devotional part of this post below, here are the supplies I featured in this weeks video. I hope they help you find anything you may want to try out. All links will lead to Scrapbook.com and Amazon.
Creating In Faith product line from Jamie Dougherty

As I showed you in the video today, here is the Creating In Faith product line, designed by Jamie Dougherty, and produced by Prima Marketing. The last two items, are journaling cards I've not seen, but are also part of the product line. I'd imagine they may work great when making tip-ins!
Bibles and supplies for Bible art journaling
There are always those who are new to me that find their way to various blog posts so, I'll again mention for those who are new and interested… There are several wide-margin Bibles and supplies which I recommend for this art form. I've created a linked recommendations collection on my Bible Art Journaling Supplies page, to make your starter choices easier. I hope they will help you.
So let's talk about this Bible Art Journaling Challenge.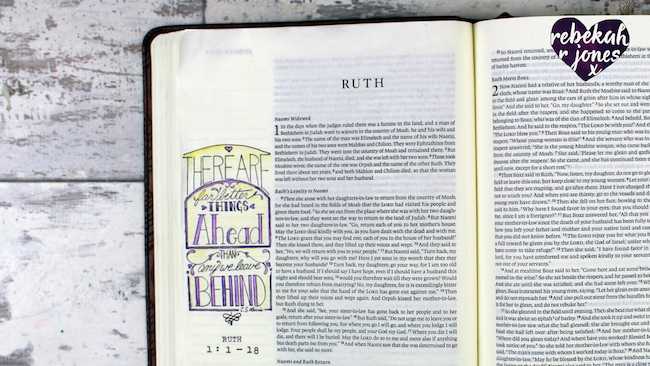 Scripture
I used my Single Column ESV Journaling Bible, for this Bible Art Journaling Challenge. The scripture for this week is Ruth 1:1-18…
1 In the days when the judges ruled there was a famine in the land, and a man of Bethlehem in Judah went to sojourn in the country of Moab, he and his wife and his two sons. 2 The name of the man was Elimelech and the name of his wife Naomi, and the names of his two sons were Mahlon and Chilion. They were Ephrathites from Bethlehem in Judah. They went into the country of Moab and remained there. 3 But Elimelech, the husband of Naomi, died, and she was left with her two sons. 4 These took Moabite wives; the name of the one was Orpah and the name of the other Ruth. They lived there about ten years, 5 and both Mahlon and Chilion died, so that the woman was left without her two sons and her husband.

6 Then she arose with her daughters-in-law to return from the country of Moab, for she had heard in the fields of Moab that the Lord had visited his people and given them food. 7 So she set out from the place where she was with her two daughters-in-law, and they went on the way to return to the land of Judah. 8 But Naomi said to her two daughters-in-law, "Go, return each of you to her mother's house. May the Lord deal kindly with you, as you have dealt with the dead and with me. 9 The Lord grant that you may find rest, each of you in the house of her husband!" Then she kissed them, and they lifted up their voices and wept. 10 And they said to her, "No, we will return with you to your people." 11 But Naomi said, "Turn back, my daughters; why will you go with me? Have I yet sons in my womb that they may become your husbands? 12 Turn back, my daughters; go your way, for I am too old to have a husband. If I should say I have hope, even if I should have a husband this night and should bear sons, 13 would you therefore wait till they were grown? Would you therefore refrain from marrying? No, my daughters, for it is exceedingly bitter to me for your sake that the hand of the Lord has gone out against me." 14 Then they lifted up their voices and wept again. And Orpah kissed her mother-in-law, but Ruth clung to her.

15 And she said, "See, your sister-in-law has gone back to her people and to her gods; return after your sister-in-law." 16 But Ruth said, "Do not urge me to leave you or to return from following you. For where you go I will go, and where you lodge I will lodge. Your people shall be my people, and your God my God. 17 Where you die I will die, and there will I be buried. May the Lord do so to me and more also if anything but death parts me from you." 18 And when Naomi saw that she was determined to go with her, she said no more.
Where I underlined above, in Ruth 1:15-16, we see a choice which Ruth made, to leave behind what she had known, and fully embrace Naomi and her God.
Surrender and redemption

Ruth and her later husband Boaz, had a son named Obed, who went on to have a son named Jesse, who was the father of King David. Our Savior of the world, Jesus, came from King David's line. Ruth was not born into the Israelite family. Instead, she chose to adopt God as her own and in doing so, she amazingly became part of the lineage of Jesus! I love the redemption of God's story. He offers full redemption no matter our history!
I think this part of Ruth's story is an amazing place in scripture, where we can see that our own life story is so much bigger of a picture, than anything we can see in our day to day life. We see in part, but God sees the full picture. I believe He loves to orchestrate ways, to make our life count significantly, through time beyond our lifespan. All we need do is surrender to the God, who loves us beyond measure. And when we do, there really are far better things ahead, than any we choose to leave behind. We can blaze an even greater trail for the generations after us, than any we leave behind, when we partner with God's dreams for our life.
We needn't worry, saying to ourselves… "What is God's will for my life?!?" It is simple. God gives us desires and even helps us fulfill them when we surrender to Him. It is not okay for people to believe that "full time ministry", as a missionary, pastor, teacher, etc. etc. is the only way to fulfill God's purposes for our life. He needs people in every area of society, sharing His love, being His hands and feet, and being an example of His excellence and beauty, without agenda.
If you want to create, do it with excellence for Him! If you want to write, do it with excellence for Him! If you want to raise your kids at home, do it with excellence for Him! If you want to help run government, do it with excellence for Him! If you want to have any particular career, do it with excellence for Him! Proverbs 22:29 says this…
Do you see a man skillful in his work? He will stand before kings; he will not stand before obscure men.
As we live the dreams of our heart with excellence, God will give us favor to influence and impact others. Let's be the sort of people, who create a great name for God. That we leave behind what is not the most excellent plan for our lives, and move ahead to the better things God dreams for us. And, in doing so, create a better world around us. Let's be the hands and feet of Jesus, with a marked excellence, which causes those around us to be amazed at how good our God is and how much He has blessed our life, as we've partnered with His dreams for our life. When we surrender, God offers redemption at a level which is hardly able to be dreamed up. He leaves nothing out. All is redeemed as we embrace Him.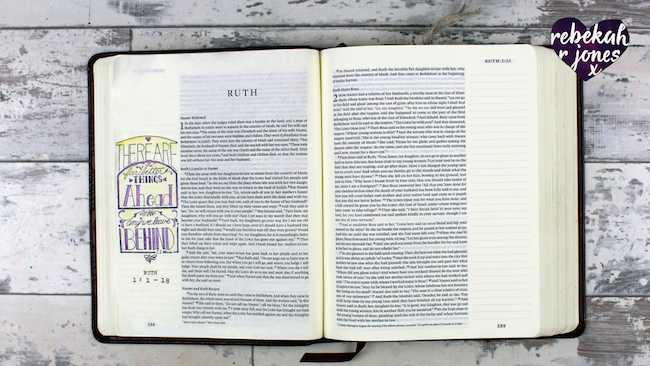 Watercolor pencil

I recognize the simplicity of this watercolor pencil tutorial. I've covered more complex watercolor pencil tutorials in week 3 painting a lion, in week 5 painting God's hands holding the world and in week 43 with a two page spread of leaves, where they were used to create a background of color for colored pencil detail. I wanted this week to really showcase the simplicity of watercolor pencil use. Watercolor pencils are incredibly versatile, allowing very simple coloring, all the way to more detailed illustrations. They were one of the art supplies I loved to put on my lap with a little art journal, when I was bedridden. They are so light and yet offer so much fun in a small package. 🙂 Additionally, I love that they feel less intimidating than watercolor itself. While I would have struggled to ever imagine myself enjoying watercolor, watercolor pencils and watercolor crayons, both allowed me to gain confidence before trying out more traditional watercolors.
I wanted to show you today, that you need no skill at all, to enjoy watercolor pencils. And, that you can do so coloring in fun stamps, like the ones which Jamie Dougherty designed with Bible margins in mind! Please remember to use whatever you have and enjoy her products if you can and want to!
Join me
As for the creative techniques I have shared with you today, I would love you to try any if you're interested in them. I also want you to feel free to gather inspiration in other places for joining me in creating about/on this week's scripture. The goal is to get in to the Word and spend time with God. I'm looking forward to seeing what you create!
You can find answers to most any question you may have about this challenge, on the Bible Art Journaling Challenge page. It also has a full archive! Be sure to head over to our Facebook group and/or Google+ Community, to chat about this weeks Bible Art Journaling Challenge and get started on your own creativity! Many of you ask if it is okay to share these posts with your friends. Please do! It is a simple way you can partner with me to impact lives.
Thanks for joining me today. Please take a moment and say hi below! I'd love to hear from you!
You are loved. x
***Scripture is from the ESV® Bible (The Holy Bible, English Standard Version®), copyright © 2001 by Crossway Bibles, a publishing ministry of Good News Publishers. Used by permission. All rights reserved.
*When you find deals which I've searched for and recommended, I get supported. This has no effect on you and makes a real difference for me. Thank you, I so appreciate your support which helps me provide these free tutorials for you! You may view my affiliate and product disclosure for more info.