Guest Post with Angela Fehr on Color Mixing With Watercolour

Hey Everyone! I've got a special guest for you today… Angela Fehr! I have started reaching out to some really special people who I want to have share their amazing heart and talent with you here on my blog from time to time and Angela is such a special guest to have! In fact, she's my first on this blog and I'm honored to have her.
Angela Fehr discovered watercolor twenty years ago and fell in love with it. As a Canadian artist living in rural northern British Columbia, she loves painting the landscape and flowers of the region and believes that beauty can be sought and enjoyed everywhere! She's taught students around the world in her online courses and her gorgeous paintings hang in collections across the globe. At home, Angela is wife to a hot rod building carpenter, and is a home schooling mom to three amazing children.
My goal with guest posts on this blog is to bring you a range of helpful and insightful information from amazing people, which can further support your creative journey with God. Angela is a wonderful Christian woman who loves the Lord and has worked hard creating inspiring and informative online courses. I'm enjoying getting to know her!
Angela is going to share with you about color mixing with watercolor and it is beautiful! You're going to love this! Be sure to give Angela some love in the comments below and stick around to the end where she's generously offered a special discount on one of her online courses just for my readers in case you want to learn more from her. I'm pretty sure you will! She is wonderful!
With that, I'll leave this post in Angela's creative hands…
---
I'm so thankful that God created colour! As a watercolour artist, I'm endlessly captivated by the range of hues in the world around me, and I'm always asking myself, "How would I capture that in paint?" It's an infinite challenge to try to replicate the iridescence of a butterfly's wing, or the contrasts between cloud and light in a sunrise.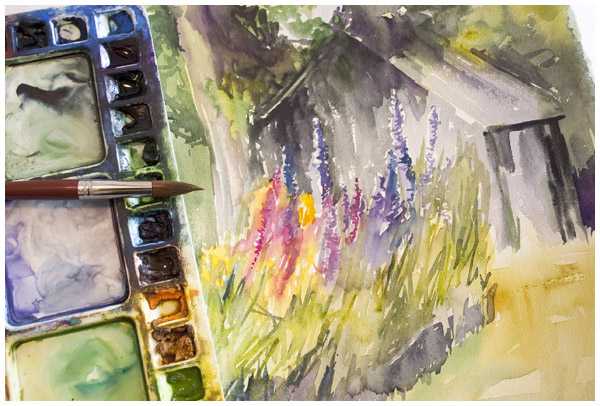 I love filling my art with colour, and my palettes contain well over 50 hues to choose from. But I don't use all of these colours in a single painting! Having too many colours to choose from can be a larger obstacle to creating good art than having just a few. I like to work with about six colours chosen from this colour library, and I'm always experimenting with combinations to see which colours play well together.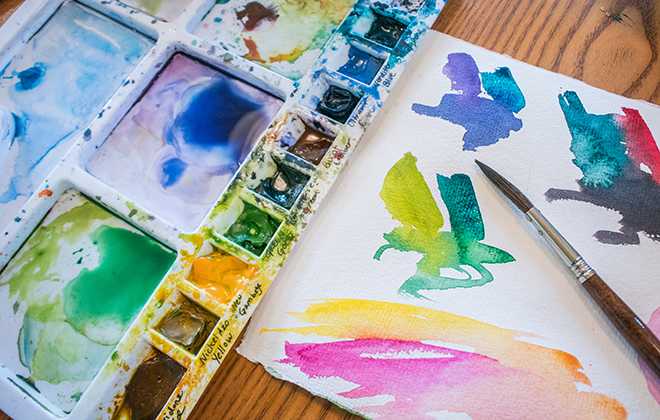 Here are some of my favourite colour combinations – the colour names might not match your own palette, but similar hues in your art box will create similar effects. While with paint it's easy to mix two colours to create a new colour, you can similarly "mix" with coloured pencil, pen or other media by layering colours over each other, or using a "pointillist" technique of dotting similar colours side by side: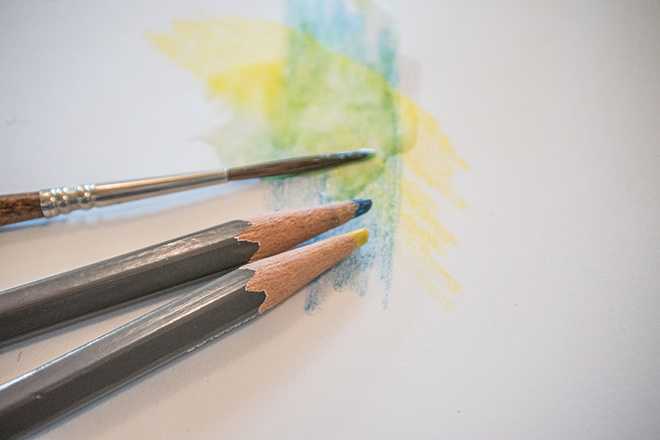 Violet (Dioxazine) and Phthalo Turquoise – this combination of royal purple and electric blue creates a lovely stormy blue that I love to use for painting rain heavy skies.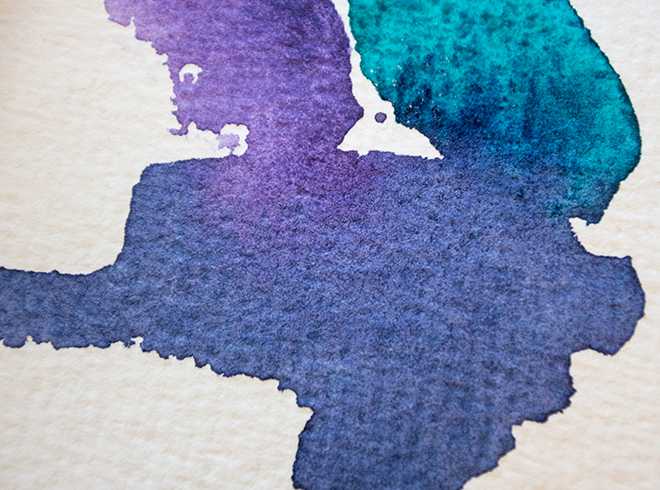 Green Gold and Phthalo Turquoise – want a bright green? This yellow green and turquoise combination will give you a vibrant green that has no hint of muddiness.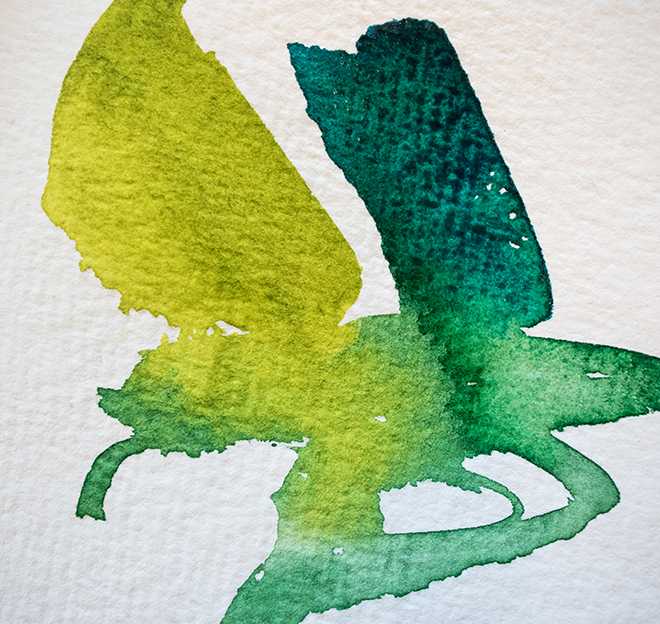 Prussian Green and Perylene Red – watercolour artists don't as a rule use black since black absorbs light and appears dead in transparent watercolour. I love this complementary combination of deep dark green and vibrant red for a strong warm black substitute in my paintings.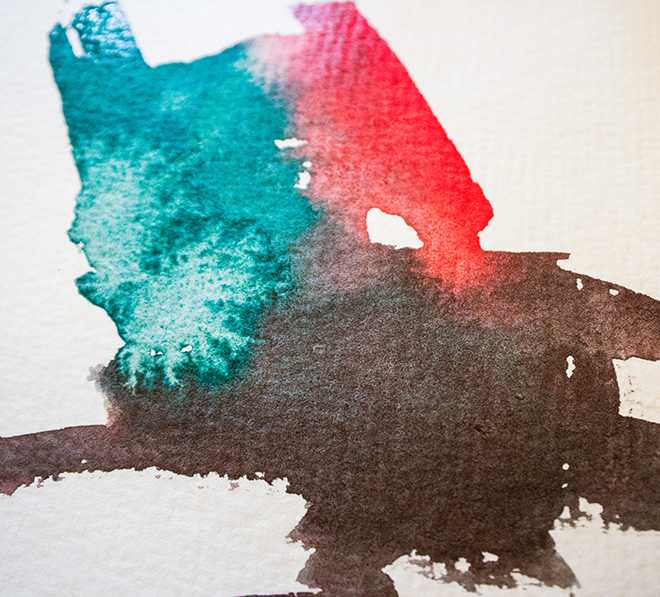 Quinacridone Magenta and Cadmium Yellow – combining a gorgeous pink-toned red and pure yellow gives beautiful rose to apricot tones that I love to use for painting flowers.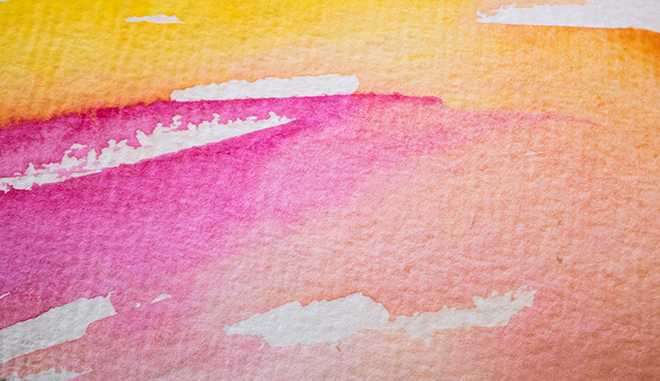 Cobalt Blue and Burnt Umber – this is one of the first colours I learned to mix as a painter and is still my very favourite combination for creating greys from grey-blue to warm grey-brown.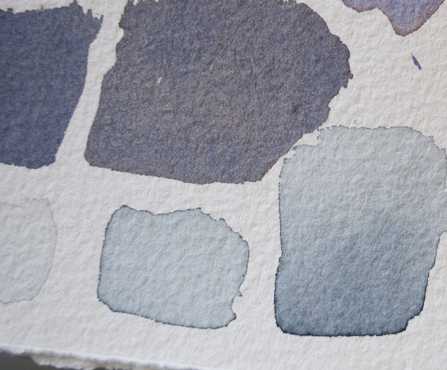 Many artists prefer to use a very limited palette, choosing three primary colours (a red, a yellow & a blue), mixing in different proportions to create a rainbow of colours for their paintings. For any artist looking to create colour harmony, a limited palette creates a unification of the colours as each colour is mixed by using a combination of three original primaries. A limited palette doesn't have to be limiting! When you are working with just a few colours you know you will get a result where all the colours work together. You also get to increase your colour knowledge, and once you start to get bored with your limited palette, you can add a new colour, or create an entirely new limited palette to play with and get to know!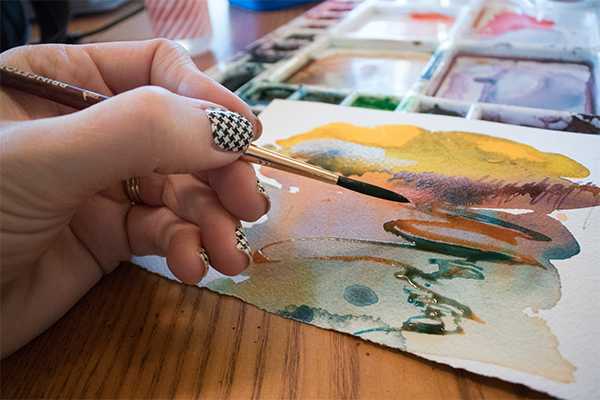 Colour theory shouldn't be your slave driver. Use colours you love, be playful, and experiment! In my watercolour classes, I spend more time encouraging my students to loosen up than actually teaching technique, because when we are genuine and intuitive, that's where breakthroughs happen.
---
Rebekah here again… Isn't Angela amazing? And her art?! It is never too late to learn.
What Angela teaches is totally achievable for beginners and she is very approachable. If fact, she has an online course specifically for beginners and has generously provided a 50% off coupon just for you as my readers!
Purchase Basic Techniques in Watercolour at 50% by clicking here:
http://learn.angelafehr.com/courses/basics?product_id=20061&coupon_code=RJONES50

I'd encourage you not to allow inexperience to hinder you if learning more from Angela interests you. I took one of her classes last year and found her to be a great instructor. You can also follow that link and check out the array of other classes in her online school.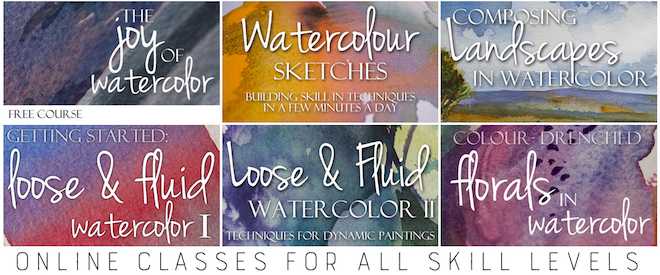 Comment below and let us know if you've enjoyed this colorful post! Give Angela some love for me!
What have you learned? What are you going to go try out now? What are YOUR favorite color combinations?!
If you take nothing else from this wonderful post, take Angela's advice today… "Use colours you love, be playful, and experiment!"

You are loved. x
P.S. Don't forget to share this with friends who might want to know about it!
*To support your journey, I have affiliated with DaySpring, Scrapbook.com and Amazon. I receive a small percentage per order, when you click on their links found on my blog and then purchase. This is NO extra cost to you. You may see my full disclosure. Thanks for your support!