Chipboard Stickers On The Margin – Bible Art Journaling Challenge Week 45
Hello Everyone! Welcome to week 45 of the Bible Art Journaling Challenge! I've got a simple and fun little tutorial and devotional today. Anyone can put a little paint on an old plastic card and scrape it across the margin of their Bible page, before putting some stickers on it. I sometimes share artwork that is more advanced to inspire and encourage you to dig deeper, but I also love these simple tutorials which everyone feels excited to join in on with ease.
If you've been a crafter for long, you're likely to have some chipboard stickers around. No worries if you don't though. This could be lots of fun to just grab any acrylic paint, scrape it on the margin and then use gel pens to go wild with your ideas! The possibilities are as big as your imagination. Let's get started!

Today's Bible art journaling supplies
Before I head into the devotional part of this post below, here are the supplies I featured in this weeks video. I hope it helps you find anything you may want to try out. Where there is just one link, it'll lead to Amazon. Where there are two links, you'll see SB for Scrapbook.com and AZ for Amazon.
Click images or links to view or purchase

Bibles and supplies for Bible art journaling
There are always those who are new to me that find their way to various blog posts so, I'll again mention for those who are new and interested… There are several wide-margin Bibles and supplies which I recommend for this art form. I've created a linked recommendations collection on my Bible Art Supplies page, to make your starter choices easier. I hope they will help you.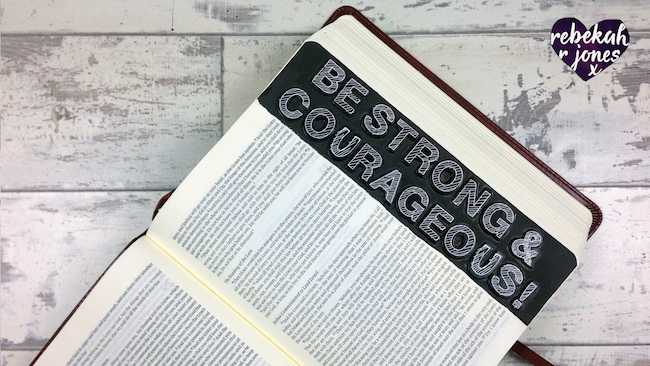 Leading and bravery

On to my devotional. I was honestly so moved when I was reading the section of scripture for this week. I've read it so many times. I really enjoyed studying the life of Moses when I was in high school. He was a man who, once he truly encountered God personally after fleeing Egypt, he clung to righteous living regardless of its popularity or not. He overcame so much and trusted God deeply.
Moses led a rather unruly crew (the Israelite's), through a season when they were learning to trust God. His own shaping season, proved useful in leading the Israelite's through settling into freedom as a nation. What a huge task to teach a whole nation, that it is safe to trust a God they'd barely come to know as a deliverer. God had done so much in them, yet so much was still to be done. More bravery would be required as they would possess the promised land.
Scripture
I used my Single Column ESV Journaling Bible for this Bible Art Journaling Challenge. The scripture for this week is Deuteronomy 31:1-8…
1 So Moses continued to speak these words to all Israel. 2 And he said to them, "I am 120 years old today. I am no longer able to go out and come in. The Lord has said to me, 'You shall not go over this Jordan.' 3 The Lord your God himself will go over before you. He will destroy these nations before you, so that you shall dispossess them, and Joshua will go over at your head, as the Lord has spoken. 4 And the Lord will do to them as he did to Sihon and Og, the kings of the Amorites, and to their land, when he destroyed them. 5 And the Lord will give them over to you, and you shall do to them according to the whole commandment that I have commanded you. 6 Be strong and courageous. Do not fear or be in dread of them, for it is the Lord your God who goes with you. He will not leave you or forsake you."

7 Then Moses summoned Joshua and said to him in the sight of all Israel, "Be strong and courageous, for you shall go with this people into the land that the Lord has sworn to their fathers to give them, and you shall put them in possession of it. 8 It is the Lord who goes before you. He will be with you; he will not leave you or forsake you. Do not fear or be dismayed."
Be strong and courageous

Does the Bible really need any extra words or thoughts from me? This is simple stuff for us all. We can put ourselves in the shoes of Joshua, or of the people of Israel in that moment. Let's listen to the words from a wise and finishing leader.
"Be strong and courageous. Do not fear… for it is the Lord your God who goes with you. He will not leave you or forsake you."
It is time for us to look into the face of God and encounter His love in a deeper way. In that place, we find strength and courage to face any giants in our life, with total victory. Our God goes with us. We are not alone. He will not leave us.
We have ALL we need and are capable of more than we can imagine today. If we face this moment with bravery, we gain momentum over the past and as we look into the eyes of Jesus, all things become possible.
Open doors
In this paragraph, I am actually coming back to this post, after completing it last night and scheduling it to go live today. After writing what I did in this blog post, I headed to bed and noticed a prophetic word which was released by someone I've only recently begun to observe. Her name is Lana Vawser. I couldn't speak to her as a person or minister, but have found this particular word she shared, incredibly in tune with this devotional today. You can read the word here. I hope it encourages you.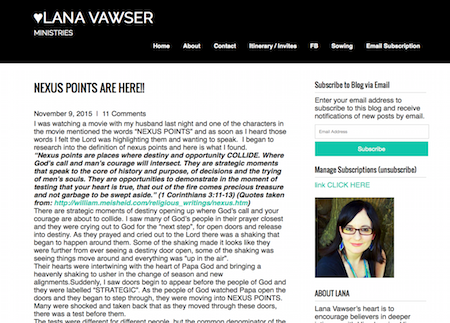 If you are part of my Prophetic Arts for Jesus group on Facebook, you'll know that I shared our theme for this month a few days ago. It is, "Open Doors". I shared this word above, with the group last night as it really ties in with what has been on my heart. I went to bed and got up this morning, to find a prophetic word by Doug Addison, for today, November 10th, 2015…
"Breakthrough is here! Ask for the things you need and watch God open the doors of opportunity quickly." – Doug
If you've followed me long, you know that I like to dig deep in the Word of God and am not swayed by every prophetic word released. They need tested. Yet, I wanted to open this post back up and share these with you before pushing this post live today, to encourage you in your faith. I picked this devotional scripture for this week because I felt it on God's heart for us and these prophetic words seem to be of the same nature.
I personally feel God is doing some exciting things over each of our lives right now. I encourage you to dig deeper into God's heart for you as breakthrough and doors of opportunity open before you.
Chipboard stickers

I think chipboard stickers are probably the thickest of anything I'd put on a Bible page. Otherwise, I'd end up with a VERY thick Bible after not very long creating. 🙂 However, I'm not concern about using them, because it is a very fun surprise to find now and then, scattered through my Bible.
I'm a little addicted to texture when it comes to creativity and these chipboard letters a admittedly fun to run my hands over. 🙂 Though, my favorite is to add texture without dimension, this makes a fun change. I sure hope to see you creating with both chipboard, AND other things like gel pens and more.
Throw your creative ideas onto your page and demonstrate your feelings about being courageous, strong and brave!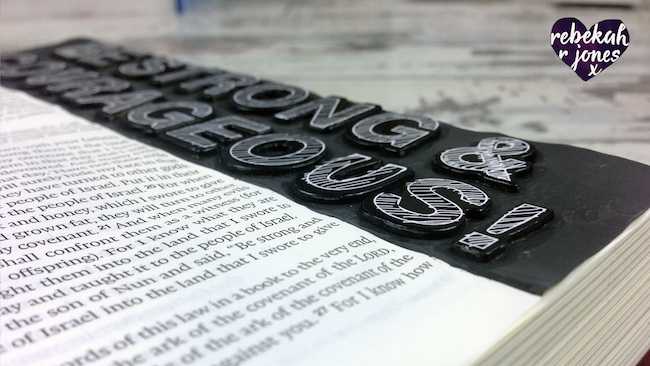 Join me
As for the creative techniques I have shared with you today, I would love you to try any if you're interested in them. I also want you to feel free to gather inspiration in other places for joining me in creating about/on this week's scripture. The goal is to get in to the Word and spend time with God. I'm looking forward to seeing what you create!
You can find answers to most any question you may have about this challenge, on the Bible Art Journaling Challenge page. It also has a full archive! Be sure to head over to our Facebook group and/or Google+ Community, to chat about this weeks Bible Art Journaling Challenge and get started on your own creativity! Many of you ask if it is okay to share these posts with your friends. Please do! It is a simple way you can partner with me to impact lives.
Thanks for joining me today. Please take a moment and say hi below! I'd love to hear from you!
You are loved. x
*Scripture is from the ESV® Bible (The Holy Bible, English Standard Version®), copyright © 2001 by Crossway Bibles, a publishing ministry of Good News Publishers. Used by permission. All rights reserved.
*When you find deals which I've searched for and recommended, I get supported. This has no effect on you and makes a real difference for me. Thank you, I so appreciate your support which helps me provide these free tutorials for you! You may view my affiliate and product disclosure for more info.