Bible Journaling Travel Supplies

UPDATED: June 7, 2019
Hello Everyone! I recently got back from a week in Cornwall, England. It was SO wonderful to take a break, reset and refresh. I have a second camera now, so I can film a second angle in my online courses and I decided to take it along with me and film a bit of my trip and also show you through the Bible journaling travel supplies I took with me! You don't have to take everything you own, to have a great selection of options on the go.
I tend to rotate which Bible journaling travel supplies I take on any trip. You need a way to add color, a way to sketch out and pen your ideas and then random things you're in the mood for on that trip. My rule is that it must fit inside my travel bag. Anything heavy and I'm likely to not actually use it because of the effort to lug it around.
On your next trip, pre-page prep a few pages to give yourself some "options" on the road and then grab a way to add color, basics like brushes, pens, pencils and erasers, and then whatever you're in the mood for at the time! I took extra pens and brushes to practice hand-lettering. You could take stickers, washi tape, or anything… that fits in your small travel bag. 🙂 And, of course… your Bible! I didn't film mine in this video but clearly you need it, or an art journal to create in.
I've linked my Bible journaling travel supplies below and with that, I'll leave you with the video, so I can get back to filming this upcoming course I'm working on! 🙂
So, 2 questions to chat about in the comments…
What Bible journaling travel supplies are a MUST when you go away? I don't wanna hear that you pack everything you own. haha
What place would be your favorite place to go on vacation? I've been blessed to see some amazing places, but Italy and France are on my bucket list.
Let's connect in the comments below!
Bible journaling travel supplies featured today

As promised, here are the supplies I showed in this video. I hope they help you find anything you may want to try out. This post may contain affiliate links. If you make a purchase after clicking an affiliate link, this art ministry gets a small commission, with no extra cost to you. You may read my full disclosure, for details. Thank you, I appreciate you partnering to help impact lives!


Find A Journaling Bible

I regularly get requests for advice on choosing a Journaling Bible and this free complete guide, is my answer to all the questions. It even has a free checklist for choosing a Journaling Bible.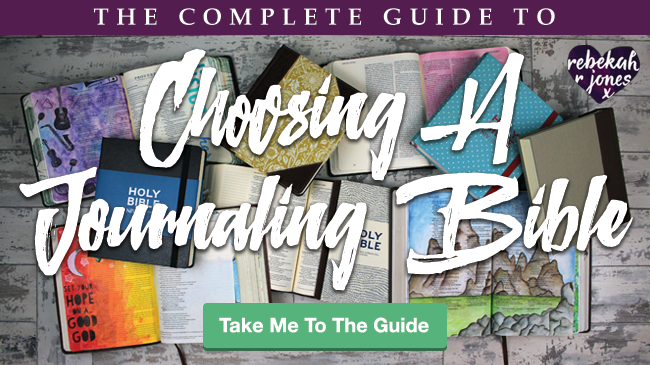 If you have not done so yet, be sure to join my email list, so you can be first to know when I release new content!
Thanks for joining me. Please take a moment and comment below! I'd love to hear from you!
You are loved. x
Save
Save
Save
Save
Save
Save
Save