10 Bible Art Journaling Gift Ideas Under $30

UPDATED (and added to!): Nov 22, 2019
As a Bible Art Journaling instructor and artist, I often get asked what supplies I love most and would recommend. You can check out my Bible Art Journaling Supplies Guide for "all the things", but here, I want to showcase a just a few quality favorite Bible art journaling gift ideas which are each under $30! These aren't your budget basics. These are your affordable, giftable and dreamy Bible art journaling supplies!
You can treat yourself, or hit the share button to let a loved one know what's on your wish list! Click any link or image to open a new shopping tab, learn more and start shopping.
This post may contain affiliate links. If you make a purchase after clicking an affiliate link, this art ministry gets a small commission, with no extra cost to you. You may read my full disclosure, for details. Thank you, I appreciate you partnering to help impact lives! Pricing is correct at time of publishing and some are even on sale, or usually cheaper! Of course prices fluctuate and I'll do my best to update this guide from time to time. Let's get started…
Bible Art Journaling Gift Idea #1
A Journaling Bible (with space for creativity) is THE place for Bible art journaling. Here are 4 very different and great quality Journaling Bibles which are each under $30. I have all of them, (because I am a Bible art journaling instructor) and they are each lovely! If I had to guess, I think most people would want the KJV Journal the Word Bible, Blue & Gold Foiling. It's just got "all the things" going on from functional to beautiful, right down to the KJV translation and red letter feature which so many want.
As they appear below from left to right…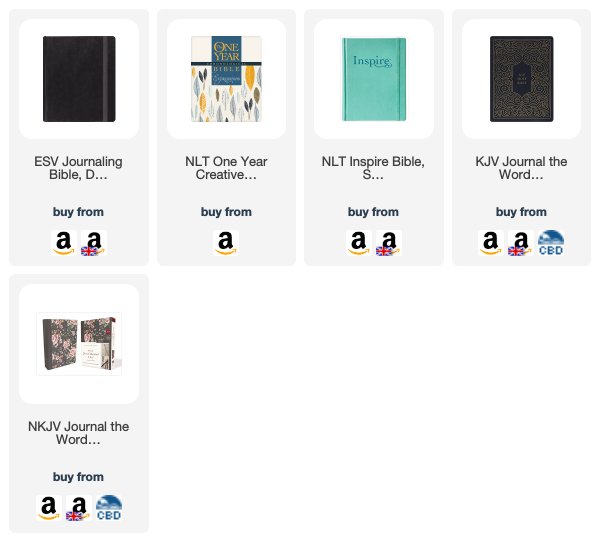 There are even more to choose from in my Complete Guide To Choosing A Journaling Bible, even video reviews of some of these Bibles. Every Journaling Bible on the market can be found in that guide, fully categorized with recommendations and advice. This should take the overwhelm away with some of the best for a great deal!
---
Bible Art Journaling Gift Idea #2
Shop here: https://amzn.to/34o2bmQ
Make no mistake… I am baised (with great reason!) as a contributing artist to this fantastic book. The Complete Guide to Bible Journaling is full of tutorial and inspiration and rightfully an Amazon best seller. It's easily loved by all who get a copy being packed with guidance from so many with experience to share.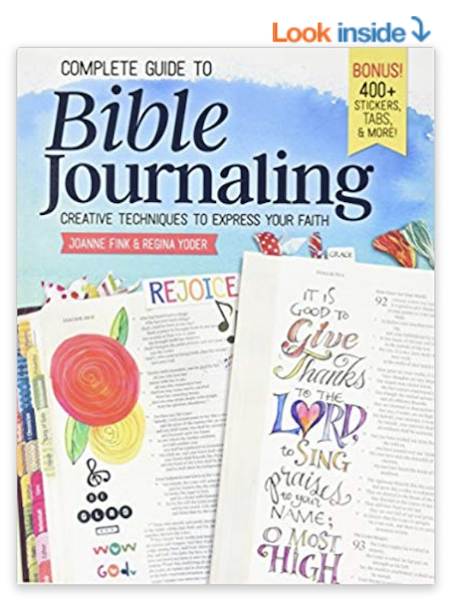 It's wonderful having supplies, but if you're not sure where to begin, this book can guide you into creative time with Jesus.
---
Bible Art Journaling Gift Idea #3
Shop here: https://amzn.to/2Q5fZPp
When Bible art journaling started to become popular, I stumbled across Inktense Pencils and Inktense Blocks which I promptly introduced to the community. Unlike watercolor which can "lift" after drying if it gets wet, Inktense (a vibrant ink) is permanent once it has gotten wet and then fully dries. No need to worry that an accidental splash of water months down the road, will ruin a special time in the Word.
Inktense has been a favorite from day one. For a long time, you could only buy Inktense in pencil or block form and now they come in this handy little Inktense Pan Travel Set. These are to be used JUST like Intense Blocks, with the exception that you cannot pick them up individually. This set is an ideal size and color selection for a Bible art journaling gift and great value for money. Not only do you get the 12 colors which are a good range, you also get palette space for mixing color and a little brush which fits inside. Just fill the brush handle with water for creating on the go!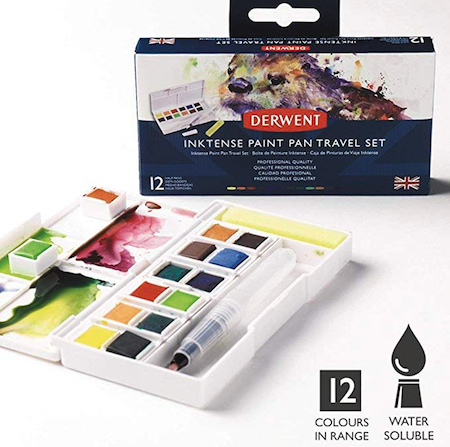 Although I would expect the colors to last a very long time for Bible art journaling, Derwent have said that replacement colors may be purchased on their website. I'm quite impressed and think this format of Inktense is an ideal solution for Bible art journaling with its travel friendly setup.
Here is a video explaining Intense Pencils versus Intense Blocks. Keep in mind that everything I say in this video about blocks, is applicable to these pan travel set colors.
---
Bible Art Journaling Gift Idea #4
Shop here: https://amzn.to/2Drfzw2
Even professional artists trace. It's a great way to learn drawing! This USB light pad is Journaling Bible sized, while being super thin for slipping behind your Bible page. It makes tracing super easy. It's a game changer for anyone who isn't confident drawing freehand and wants to create in their Bible.
To use this light pad, I plug the USB into my power bank (so I can be away from a wall plug) and the other end into the light pad. When I'm ready, I flip out of the way, the Bible page I want to trace an image onto. I then set the light pad down (facing up), where the Bible page was. I place my tracing image on top of the light pad and finally flip my Bible page over both, before pressing the power button to get started.
If I think I'll be moving around, I use some washi tape (or re-positionable tape) to hold everything still while I trace. The light illuminates everything just right! I've got quite a few free downloads across my site which are perfect for this.
Here is a quick tutorial video which shows you how I use this Tracing Light Pad to do Bible art journaling tracing.
---
Bible Art Journaling Gift Idea #5
Shop here: https://amzn.to/2PY1ixJ
There are a lot of colored pencil options out there, but I refuse to recommend anything else for Bible art journaling. These are positively dreamy on Bible pages for a few reasons. Prismacolor Premier Colored Pencils are wax based which means they are safe in your Journaling Bible. Because of their famously soft and creamy pigment, the colored pencil tips are less prone to dent the delicate pages of your Bible as you color.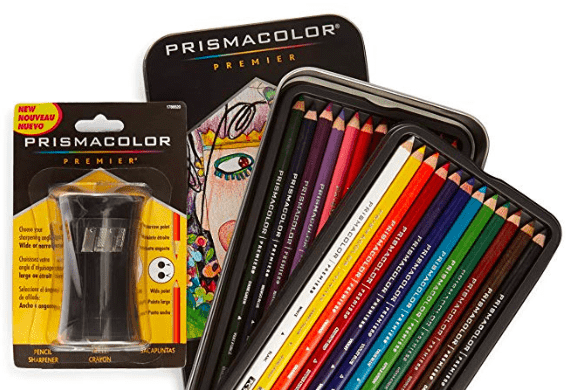 Don't expect sharp tips with these. Expect creamy goodness! Having this sharpener is key to looking after the soft color in the pencils. Winding the sharpener around the pencil, instead of winding the pencil, will help you avoid broken lead which other sharpeners often create.
Additionally grab the Prismacolor Verithin Colored Pencils to outline Prismacolor Premier coloring for that sharp edge.
Cheaper brands of colored pencil have more filler, meaning you have to color, and color, and color, and color to get the same amount of pigment on the page. By the time you've colored so much, you've laid down so much wax that the paper cannot physically take on anything extra and you're left with less vibrant coloring with more effort. With Prismacolor Premier Colored Pencils the rich pigment comes onto the paper effortlessly and vibrantly. For even nicer results, grab a Prismacolor Colorless Blender to make coloring have a nice smooth finish at the end.
Here is a helpful video diving into the world of colored pencil which includes a review of these Prismacolor Premier Colored Pencils.
---
Bible Art Journaling Gift Idea #6
Shop here: https://amzn.to/2DJB2Bu
This 36 color full set of Japanese watercolors are dreamy to create with not to mention the extremely large pans full of enough pigment to last many years as a Bible art journalist.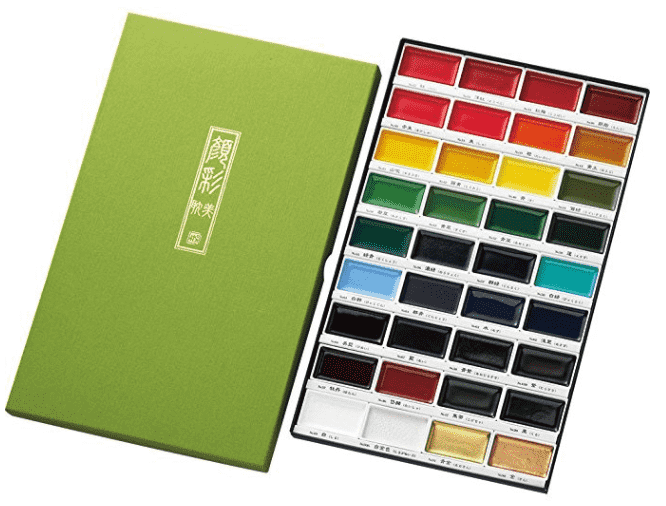 Here is a Kuretake Gansai Tambi watercolor review video I created, to help you learn a bit more about these amazing watercolors.
---
Bible Art Journaling Gift Idea #7
Shop here: Complete Guide to Bible Journaling
This 18 color set of watercolor pencils is my favorite on the market (and boy have I tried many brands!). Watercolor pencils are perfect for watercolor beginners who want to draw color right where they want it, then add water with a brush to see it "come to life". The soft color in this particular Caran D'Ache Supracolor Watercolor Pencils set means they don't indent Bible paper as roughly as other brands do and the creaminess is a bit dreamy to create with.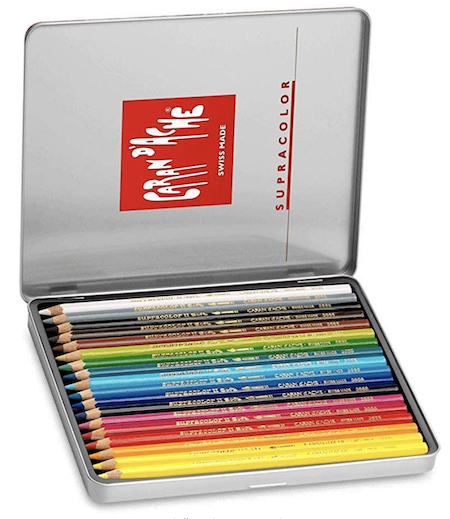 If you want to treat yourself or someone you love to a set of watercolor pencils to help get started with Bible art journaling watercolor the beginner way in total luxury, this set will be perfect.
---
Bible Art Journaling Gift Idea #8
Shop here: https://amzn.to/2Q0cVnK
People ask me what my favorite Bible art journaling supply of all time is… this right here. Caran d'Ache Neocolor II (not to be confused with the oil based Neocolor I), is an amazing water soluble crayon (aka, watercolor), which is super vibrant, creamy and fun to create with! They're from the same brand as the watercolor color pencils above, both of which are amazing products!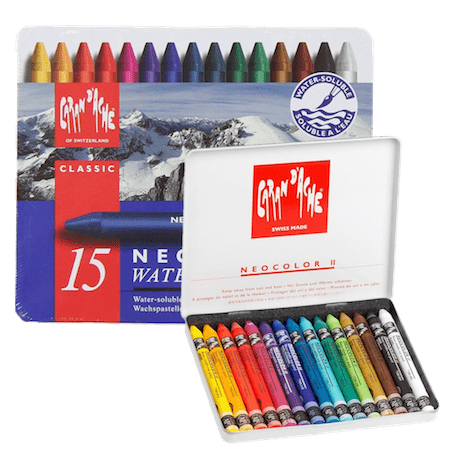 My favorite thing to do is flip the Neocolor II lid open, scribble a bit of crayon into the inside of the lid and apply a wet brush to pick up the color for applying to a Bible art journaling entry! It's so compact and durable that I often toss it in my purse with my Bible and create on the go!
---
Bible Art Journaling Gift Idea #9
Shop here: http://shrsl.com/1ys9y
Stamping platforms are originally designed to help people get clear and crisp stamping results. The way it works, is that your paper gets held into place on the surface with magnets, the stamp of choice gets laid into position free of ink and then the "door" gets laid down to pick up the stamps and fling wide open. Once ink has been applied on the stamp which is clinging to the inside of the door, it's ready to be stamped onto the paper by closing the door onto it.
Not only do you get to decide exactly where your stamp goes before applying ink, but you also get to keep swinging the door open and applying more ink for additional applications without the stamp or paper ever moving.
I've tested a lot of these for Bible art journaling and this Tim Holtz Travel Stamping Platform is best there is for stamping in your Bible. It works with cling rubber stamps and clear stamps. It's size sits on the Bible, while not harming other pages during application.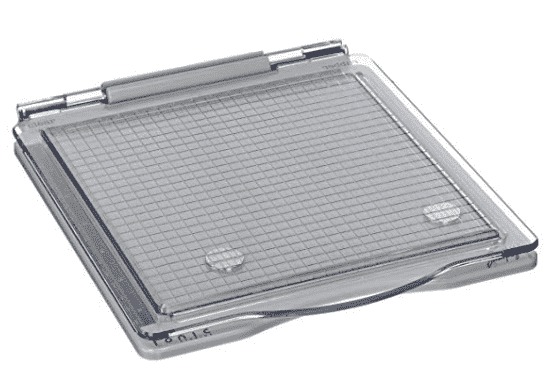 I believe it is a MUST to page prep in your Bible if you intend to stamp with no concern of bleed through. That protects your Bible. However, the current industry products available, mean page prep leaves Bible paper with a surface which is hard for stamping to be smooth and crisp. Not any more! This Tim Holtz Travel Stamping Platform, is a game changer, making stamping something that works simply and as it should, over page prep so your Bible is protected while stamping clear and crisp images is a reality!
Don't be tempted by the full sized one, it's too big to work right in a Bible. Do consider getting the platform sleeve (which you may have to search for), if the idea of storing nicely matters.
---
Bible Art Journaling Gift Idea #10
Shop here: http://shrsl.com/19y9m
Gelatos (no, it's not Italian ice cream). These might just be one of the most popular Bible art journaling supplies out there. Possibly because they come in a chapstick like case (which feels unintimidating for crafters) AND they color in a variety of ways both wet OR dry! Kind of a dreamy thing. They come in a vast amount of colors. I have been doing my research to break down all the sets and create some helpful content on these. This Gelatos Brights set of 15 colors has some lovely options and is a great start to collecting such a versatile coloring product.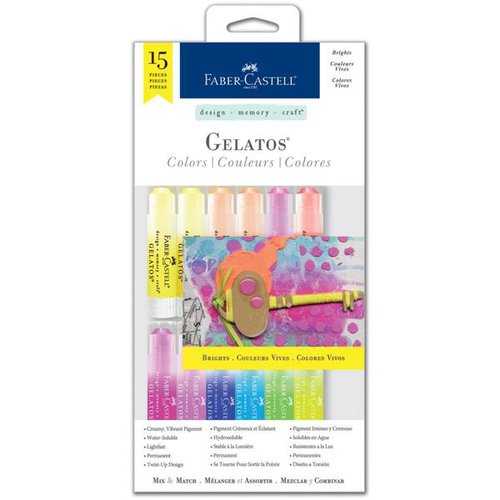 The one thing to remember about Gelatos… they do not play well if felt tipped pens glide over a surface they've been applied to. The result is another pen meeting its maker. There are a lot of fun things to do with Gelatos. Avoid going over them with a favorite pen to keep enjoying that time, encountering Jesus in the Word!
---
As you can see, there are several wonderful products which can aid creative time in the Word of God. I hope you've found this helpful and inspiring. You don't need "all the things" to create in the Word, but if you have a little extra cash, or want to gift someone, these are solid products which will keep giving back to your creative time in the Word. I own, use and love them all!
You are loved,
Rebekah x