Bible Art Journaling Challenge Week 10 – Hand Lettering

Hello Everyone!
Welcome to week 10 of the 2015 Bible Art Journaling Challenge!
This week I wanted to do a bit of basic hand lettering in my Bible and also demonstrate that you really don't need lots of skills or experience to give it a try. Additionally, this Note-Taker's Bible I create in, has a page margin that is 1.5 inch (3.5 cm) in width. This is plenty wide but I think many have believed, you simply cannot do hand lettering in this particular Bible, because the space may limit fitting words in to the margin width available. I hope I have proved here that with a little planning, you can fit your words in that space. I hope you'll enjoy today!
Before you dive in to this weeks challenge, I want to quickly remind you that if you ever want to find the archive of any of my previous challenges, you just need to remember two simple things and you can find your way to it easily! Firstly, remember my name. Rebekah Ruth Jones. I spell Rebekah like it is spelled in the Bible. Just go to your internet browser and type in my name (plus .com) using my middle initial… www.RebekahRJones.com Secondly, just have at look at the top navigation on my site and you'll find the word "Challenge" right there. Click on that and you'll find everything you need to know about the challenge including a full archive and recommended Bibles and starter supplies. 🙂
I want to mention one more thing. I have improved the Search Blog By Category functionality in the right sidebar of my website so you can now more easily find previous tutorials, by type of creative process, as well as other categories of interest. I hope you'll find this helpful in finding your way around my website.
Without further delay… enjoy my video below and then head over to our Facebook group and/or  Google+ Community, to chat about this weeks Bible Art Journaling Challenge and get started on your own page!
You can find answers to most any question you may have about the challenge over on my Challenge page.
Here is this week's scripture again. 1 John 1:9 says,
"If we confess our sins, He is faithful and righteous to forgive us our sins and to cleanse us from all unrighteousness."
Everyone gains insight in to scripture differently. This is because the Word of God is alive! God speaks to each of us in ways that will mean the most to us personally at any given season of our life. Have you ever read a scripture you've read many times before and suddenly, you understand it in a new way you'd never noticed before? This is because the Word of God is alive! What speaks to me in any given week, may not speak to you and that is not only okay, but totally normal. We each have a personal relationship with God and He wants us to find Him in His Words in uniquely personal ways. I'd encourage you to sit quietly with God and ask Him, "Lord, what do you want to say to me about this Bible verse today?" He LOVES to be invited to hang out and when we quiet ourselves, we'll hear His voice.
If you listen and hear nothing, don't be discouraged. It's not because God isn't talking. He is always talking. If you don't feel accustomed or perhaps just rusty, in hearing God's voice… just remember, He often likes to speak to us as if in our own voice. Why? Because He lives IN us if we've invited Him to. He also knows that, we know our own voice best and speaking in it will make Him most recognizable to us while we learn His voice. He also loves to change up how He speaks, to keep some mystery and chase in our great romance with Him.
This topic of hearing God's voice is huge but lets make it simple today. If you ask Him what He wants to say to you and then you hear a thought pop in to your head which feels like your own thinking, ask yourself if it lines up with scripture. If it does, perhaps God is speaking to you. 🙂 The more scripture you read and learn, the easier it becomes to discern when God speaks to you and what He is saying. This Bible Art Journaling Challenge is a brilliant way to hide more of God's Word in your heart which ultimately helps us encounter God more deeply. That is a huge part of why I do these. I want you to have a deeper personal relationship with God that is sweeter than you imagined possible.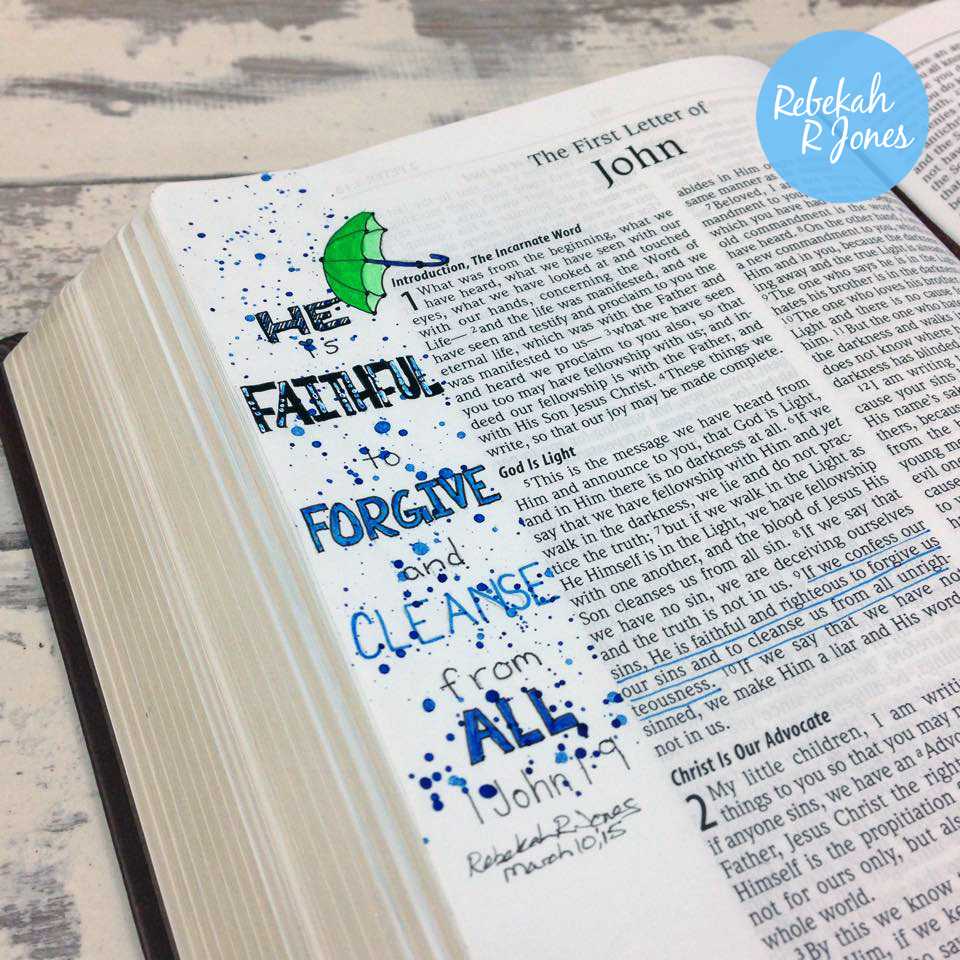 When I read this 1 John 1:9 verse, I had this picture pop into my head, of an umbrella being tipped over and us getting a full monsoon of heavenly rain, cleansing us all as it poured over us. I wanted to do some hand lettering and hoped to simply illustrate that picture to remind me of His cleansing forgiveness. Micah 7 says that God comes as our God of salvation and in verse 19, He casts ALL our sins into the depths of the sea. Perhaps He dunks us in the sea and leaves it all behind while drying us off and sending us in to a new life. 😉 He is so faithful a friend.
How does this weeks verse speak to you? What image comes to your mind? Feel free to be inspired by me and enjoy learning some creative skills if they can be of use to you. Then, ask God what this scripture can mean to YOU and create boldly what comes to mind. This is your creative journey with God and I am cheering you on into new depths with Him!
Art Supplies
As promised, here are the supplies I featured in this weeks video which you can click on to view or purchase. I hope it helps you find anything you may want to try out.
I receive a small percentage of each purchase when anyone clicks on my art supply links, to go get supplies I use like you see below, or on my YouTube videos. This has no effect on you and makes a real difference for me! I am excited for you to get great deals on supplies anywhere, so you can join in on your budget. When you find deals which I've searched for and recommended below, I get supported. Thank you, I so appreciate your support which helps me provide these free tutorials for you!
Click images to view art supply details or to purchase.

Bibles
There are several wide-margin Bibles I've seen recommended for art journaling, including large print versions. I've created a linked collection here to make your choice easier when looking for a Bible to art journal in. If you click on any of the Bibles, you will often be able to look inside to see the pages for yourself before purchasing!
I really like the ESV Journaling Bible with faint lines in the 2 inch wide margin and cream paper color.
I love my imitation leather, NASB Note-Taker's Bible (top left Bible below), which is free of lines in the wide and bottom margin with white paper.
All give extra room for creativity.
You can also join in with a Bible you already have, or even an art journal like the art journals I recommend.
Click images to view Bibles or to purchase.
If you have not done so yet, be sure to join my newsletter on the right-hand side of this page, so you can be notified when I release new Challenges and other exciting creative things.
Don't forget to share this with any friends you think might want to know about it. I will see you right here next week, for another Bible Art Journaling Challenge!
You are loved. x