Bible Art Journaling Membership That Will Change Your Life

Have you heard that I've got a Bible art journaling membership program on the way? It's literally almost here and this post is a rather important one from me. (I'm not selling here… if you want the "inside scoop" on me and this Bible art journaling membership, then read on…)
Allow me to explain as I pull the curtain back and introduce you to 15 months of hard work, designed to help you step into spiritual freedom through engaging your heart with creative fun.
I mean… what's not to love about this?!
>> Spiritual growth and freedom which is achievable and sustainable.
>> Confidence and skill to pull on in your creative time with God.
>> At last, a practical and fun way to put your spiritual and creative longings into action and see them become a reality!
Literally. I'm not pulling your leg here. You can
have this. All of it.
I'll show you below how to let me know if you are curious or interested to learn more about what I've built. But I'm guessing you just want me to first explain why and what I've been creating for you. But…
(If you're just "all over it" and cannot wait to tell me you're super keen to possibly become a founding member, then you can head here to declare your excitement.)
So, I'd like to tell you a bit about why I've created a Bible art journaling membership program. It starts with a bit of my history.
Something you may not know about me is that I wrote my first published curriculum at age 16. The State of Oregon, USA commissioned me to write it amazingly. I've been writing for the sheer love of it since I was 12 years old. I'd literally sit in the field with my notebook and pencil while my horse kept me company, writing novels and anything I could dream up. I knew from the time I was 4 years old that I was, "born for this" and hungered to walk out what it could become.
Standing in the lobby of my church at 11 years old, I remember declaring to my childhood bestie that I was "going to change the world!". I have always just loved making a difference in peoples lives and loved teaching.
I shared my first sermon when I was 12 after a week of studying and writing it up. By the time I was 16, I began honing my skills in order to impact younger kids to make good choices for their future. That's when I was asked to write a curriculum to help middle school students… and then I was commissioned for another Statewide curriculum… and then I moved to California where I then continued to be a prolific creator of a variety of curriculums designed to empower people to choose well and live their best life. When I moved abroad to England, I continued to write even more curriculums until I began developing them for this art ministry.
With a lifetime of being immersed in creativity by my mom and grandma, plus years of Bible college, leadership school and ministry school behind me, I found myself developing this art ministry into something which is designed to empower people to grow spiritually, while having SO much fun creating the journey.
For whatever reason, God put a passion in me to dedicate my life to impacting others through instruction and He gave me favor to impact more lives than I could in my own strength. Doing it with creativity has just made the whole experience super fun for everyone involved.
By my early 20's I was astonished to realize that countless thousands had been able to change their future because of my instruction, which God had helped me design.
I've dedicated much of the last 20+ years to creating and teaching written and visual curriculums. In that time I've authored so many curriculums that I've lost count how many.
For me, it has always been about impacting lives. My tiny 11 year old self was right. I will "change the world!", one person at time. I'm determined to.

But, something about the ending of all my curriculums has always bothered me. I'm an, "all in" sort of gal. I didn't like dropping people on the side of the road, cheering their progress and then wishing them well as I waved them on their way.
I fully recognize that God puts us in some peoples lives for a season and that is okay! Some curriculum just has a focus. Some things have an end, to make room for new beginnings. But I felt unsettled with the limited approach, as if I wasn't giving people ALL they needed from me. I just asked God to carry people on from where I left them. But I think God was stirring something in my heart to do life with a community of people in an intentional and world changing way.
And then last year, God asked me to create a Bible art journaling membership program.
Whoa there! Let's do some real talk…
I had a specific moment 16 months ago where I had it laid SO firmly on my heart to do this and my response was to actually argue with God about it. We had some heated chats like close friends sometimes have when they both think they are right. I was actually 1000% opposed to having a membership program.
I'll be honest. I argued Him on it for a while. I told God that people may misunderstand me and think I'm in it for the money. (Yes I will have to charge for the membership so I can properly steward what God is doing in our midst and actually, money isn't a motivation for me in the slightest.)
I literally eat, sleep and breathe the dream of impacting lives. The thought of people possibly believing I would want to take their hard-earned income just to line my pockets, was upsetting just to consider. So, I just argued with God and told Him there needed to be another way.
When God didn't drop the subject weeks in, I asked Him to show me why I should have a membership program. Suddenly it all came full circle. I realized God was commissioning me to write my finest and most life-changing curriculum ever. It was to be my life's work.
There. I said it. This Bible art journaling membership program is my life's work… and I'm beyond caring if someone misunderstands my obedience to God.
If you have benefitted from any of my Bible Art Journaling Challenges, courses, workshops or classes… you ain't seen nothing yet girlfriend.
So, perhaps I'm making this into something too big for me to bite off? I don't really think so. It's been 15 months in the making and I've poured my all into it.
Now… without any further delay…
I'd like to introduce you to what is about to become Heart To Freedom!
I feel it is honest and realistic to say this Bible art journaling membership program could literally change your life in the most beautiful way.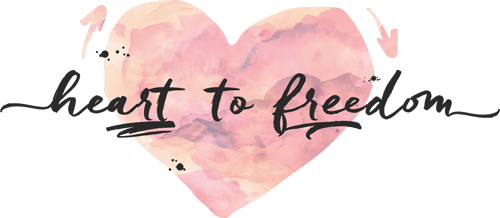 Create your foundations with Core Content to set your heart and life up for sustainable and lasting success on your creative journey to spiritual freedom.
Create constant growth as you engage your heart with simple month-long Freedom Journeys focused on your spiritual and creative freedom.
Enrich your journey to freedom with access to the Bonus Library of traceables, tools, resources and videos.

Connect and share the journey with others in a private forum!
The awesome thing is that all of this is designed to fit into your life and impact it from the inside out in simple and creative ways. No trying to make your life fit into someones system. This is about you and your journey.

Why "Heart To Freedom"?
After I finally got on board with God's idea for this Bible art journaling membership program, I needed to name it… and months later I STILL didn't have a name. I really labored with God on what to call it. One night recently, I asked God to speak to me in the night because I "really needed a name". Not that I hadn't asked before but think He knew how desperate I was to have Him weigh in on the matter. This was His membership and I wanted Him to name it.
I'd originally gotten to a place where Freedom was a word I KNEW God laid on my heart to include in the name of the membership but I'd struggled with other words to pair with it. I'd been looking at words that revolved around the topic of creativity but nothing was settling in my heart.
Well, sure enough, the next morning after crying out in a bit of desperation for Him to weigh in, I was woken by God speaking loudly to my heart from a dead sleep. (He does this to me sometimes.) He woke me saying one simple phrase… "Heart over head". I asked for a further clue of what He was after and he told me to, "focus on the heart matters" when naming it.
It was all the clues I needed. I immediately knew what to name it… "Heart To Freedom". It speaks to a core part of the membership program I'd been building for months and you'll have to wait to find out about. It also has a nice nod to the reminder of how LOVED you are and… I think it is just like God to think of the fun details too… the word "heart" has the word "art" in it. 🙂
The Heart To Freedom Bible art journaling membership community is gonna be so good! I'm so excited to build a community engaging our hearts to step into freedom.
At last… I've created a curriculum which will impact lives in an ongoing way. If you've got a rich friendship with Jesus, or simply crave one, are a skilled creative, or are drawing stick figures where nobody can find you… you're gonna find Heart to Freedom has just the spot for you to join in and grow from your unique starting place.
This isn't like any other membership available and it's not like any curriculum I've ever seen or created. It's pushed me to go deeper and think outside the box for you.
I've finally created a curriculum which never has to end. It keeps going on a journey… just like our spiritual lives.
Of course members will be able to come and go as they feel need, but I will be there come rain or shine, to do life with you. To pour my life's work into you each and every month. To help you step into all God has for you.
I've been blessed for God to help me take complex matters and make them simple to understand and step into. 15 months into all this and I've come up with a unique system for creative and spiritual growth, which will help you (wherever you're starting), to build personal momentum in your relationship with Jesus that is beautifully unstoppable…. not to mention having buckets of fun creating along the way!
My goal is to help you change your life.
To pour into you on an ongoing monthly basis in a way which will allow you to get the spiritual depth and freedom you crave. To help you not be scared or intimidated by the process, making it fun and simple.
I mean… you may already have things "figured out". That is great if you do!
But… if you feel like I could help you step into what you dream of, then I'd like to ask you to consider allowing me to take you on a monthly journey which is carefully crafted to make it simple for you to achieve your spiritual and creative goals.
No more wishing…
Just doing the stuff and watching God show up in your life deeply. You'll have to put in the work but I'll be there to help you make it a reality.
I've walked this out in my own life and I'd be honored to help you do so too. Even though it takes determination, it's simpler than you may think.
I'd like the opportunity to help you change your life.
To help you read and understand your Bible better, to study easily, to create in the Word confidently and simply, to learn how to live out deeply important keys to spiritual freedom.
Interested, (or ready!) to jump on board as a founding member of this Bible art journaling membership program, so I can help you step into the fullness of your calling (with so much fun!)? 
I'm on track to launch Heart to Freedom in August for $15 USD per month, (less than a weekly Starbucks trip). It's worth at least $25 per month, but I want to give you a chance to get in as a founding member at $15 per month because I want to focus on building a passionate and fun community of founders who get real results.
This program won't be for everyone at this time, but if you're determined to grow and believe I can help you with this, I'll be honored to help you step into the fullness of what God has for you.

You don't need to commit to anything financial right now. I'm not ready to sell. But I want to give you this chance to have a look at your finances if you need to, so when I privately open doors in August (to those on the Founders Wait List), you'll be ready to claim one of the first founding member spots if you're keen to join me on this journey.
I'll still keep offering free content, but Heart to Freedom will be where you'll get everything you need to help you step into the things you crave in your spiritual and creative life.
Wanna get on the Founders Wait List?
If you're interested in this Bible art journaling membership program and want to learn more as I prepare to launch Heart to Freedom, please pop over and submit your email address, (if you're subscribed, submit the SAME address where you already receive emails): hearttofreedom.com

Submitting this form will tell me you're keen to learn more.

Well… I've got a 15 month story off my chest. But if I'm being real, it's far more than 15 months. This is truly my life's work coming into place. I finally have a way to not drop you on the side of the road and cheer you on your way. At last, we can grow together as we do life meaningfully together.
How exciting if we all build a movement together of those who engage their heart to freedom. We'll change the world together… one person at a time.
You in? Let me know if you want on the Founders Wait List at: hearttofreedom.com