2015 Bible Art Journaling Challenge

I have some exciting news about an upcoming creativity challenge I'll be launching which we are going to have so much fun with! First, have you heard of bible art journaling? People are buying wide-margin bibles and dedicating them as a place to creatively engage with the Word of God. Those who feel they have little creative experience, (or plenty) and a hunger to know God more, are finding deeper places in their time with Him. We are not talking about disrespecting a bible here. We are talking about finding scriptures which speak most to us on a page, and then creating something which makes the point beautifully. We're talking about God revealing His Word to us, and us taking a bit of time to create a sort of remembrance stone… something in which we can remember how He spoke to us with His Word that will be there to even pass on to other generations. Interested? It's so easy, so fun and very inspiring! You can look at my pinterest board to see some examples which are inspiring me currently.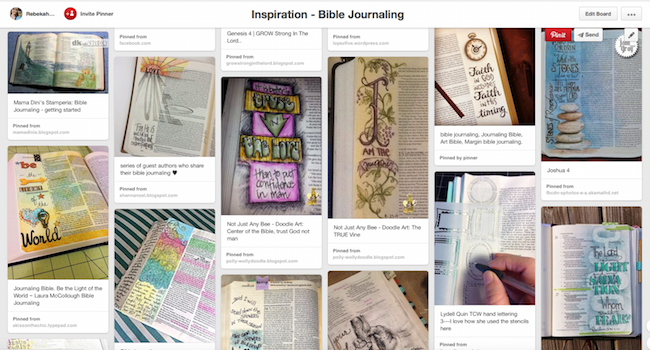 This year I know what I am getting for Christmas from my husband. I took my time looking for the bible I want to use for bible art journaling, (it comes in several versions). When I finally found just what I wanted, I ordered it. It's a New American Standard Bible in imitation leather which is beautiful and cost affective. Not too thick and has wide margins on the outer edges of the pages as well as a bit of extra space at the bottom of the pages. Love it. When it arrived, I peaked to ensure the pages are thick with no lines in the wide margin, (personal preference). Satisfied and totally thrilled, I handed the beauty over to Dan and haven't seen it since! Oh the fun of Christmas! 🙂
I am excited to announce that in just a few short weeks, I will be launching a year long, 2015 Bible Art Journaling Challenge. It will be great for those who don't have lots of time on their hands but would love a way to join their creative interest to their devotional time to grow deeper with God in 2015. I will be filming each page I complete in my bible which I'll then speed up, (timelapse) and voice over to talk you through what I did so you can follow along, gain inspiration and go on to complete your own pages with me! The challenge will be so easy creatively and so fun! This is going to be really good and I believe God is going to do some very special things in our lives as we journey this meaningful and engaging bible art journaling challenge together next year. I'll always let you know what supplies I've used, you'll learn some really fun and easy techniques I'm looking forward to sharing with you and we'll all grow together in the Word. If you're new to all this, don't worry about it, get yourself a bible. Next week I'll share a post about what supplies could be good to have around and in the new year, I'll take you through how to get started! If you're experienced at this, I look forward to what you'll add to what we do together!
Ask for a bible for Christmas if you don't already have one and get ready to dive right in with me! You can look for a bible with sturdy pages. If yours has lines for notes, that is okay, just not as ideal I guess. Just try for a wide-margin, journaling or note-takers bible. I chose NASB because it and NKJV are the most accurate bible translations to the original languages in our modern, Western culture. I'm not starting a debate here. I've done enough years of bible school to know what I'm saying about translations. In the end, what matters is that you feel you can engage with your own bible and enjoy it. As I grew up around NKJV, I wanted something to make the Word fresh to me while still remaining accurate. Get whatever version suits you. I'd just encourage you to ensure you like reading whatever translation you choose and has a bit of space for creativity for times when you want things to be less transparent and not covering your scriptures.
Will you join me in my 2015 Bible Art Journaling Challenge? Let me know! Be sure to pop your name and email in to the newsletter signup on my blog sidebar so you won't miss the launch. It is going to be so much fun together!
UPDATE!
You can now go to the Bible Art Journaling Challenge page, to find out all the details on the challenge including a supplies lists and how to participate!