Watercolor Bible Journaling – Deeper Still Lesson 10

Hello Everyone! Welcome to lesson 10 in Deeper Still! In this Bible Art Journaling Challenge series, we're taking an adventure into the depths of God! In this lesson, I want to share watercolor Bible journaling with you, using one of my favorite watercolor products… Neocolor II watercolor crayons! And… let's not forget the super fun little touch at the end which requires fire. You'll have to watch the video to see what I mean.
Watercolor Bible Journaling
Watercolor Bible journaling is a favorite of mine. Years ago I ran across some watercolor pencils and loved how simple it was to draw with color and then add water for a more controlled watercolor experience. Water has a way of making color come alive on paper and I was hooked! Some time later, I found a lovely little tin of 15 Neocolor II watercolor crayons. You can flip the lid open, scribble the crayons right on the inside of the open lid and then you've got a fabulous little travel watercolor palette that'll fit right inside the smallest purse!
I think choosing to start with watercolor in such a "controlled" way, really helped the watercolor be something I was in charge of, instead of feeling like it was going to run everywhere. I "learned the ropes" in this simple way and when I picked up a brush to use more traditional watercolors in the coming months, I was familiar enough, for watercolor to feel natural. I grow more in love with Neocolor II with each project. In time, I invested in the largest set of Neocolor II watercolor crayons, which at the time was 126 colors! It's now shrunk to a huge and manageable range of 84 colors, which fit in a lovely larger tin and are amazing.
When I started watercolor Bible journaling, my very obvious love of watercolor began to take on fresh meaning. There is something beautiful about taking something which is meant for pure pleasure and mixing it with something which helps you grow spiritually.
In this lesson I will demonstrate with Neocolor II watercolor crayons, but do remember that watercolor comes in so many shapes, sizes, qualities and even with specialties. Use what you have, or check out my recommendations for watercolor Bible journaling supplies in my Bible Journaling Supplies Guide. Anyway, let's do some watercolor Bible journaling!
If you haven't yet signed up for this series, please do. When you sign up today, you'll immediately get your welcome email. Then, you'll get the latest lesson right to your email inbox, every 4 weeks! It's a year-long, free, creative devotional!
Don't forget to grab the resources below, to join into the challenge!
Bible Journaling Supplies

As promised, here are the supplies for this lesson. I hope they help you find anything you may want to try out. These supplies are purely optional and you are free to participate with whatever you have, using the scripture and devotional for this lesson. This post may contain affiliate links, to support you. If you make a purchase after clicking an affiliate link, this ministry gets a small commission, with no extra cost to you. You may read my full disclosure, for details. Thanks for allowing me to support your journey!


I used the following Neocolor II watercolor crayons for this Bible journaling entry.

A Smart Way To Invest In Supplies
If you're interested in buying a better quality watercolor like the Caran D'Ache Neocolor II watercolor crayons, allow me to offer some advice. I don't want you wasting money, or over spending. I recommend this for any investment where there is a product that comes in a variety of colors with various sets. Don't worry, I find Neocolor II to be very reasonably priced for the quality and they seem to last forever!
Sets tend to be cheaper per item, than buying individual colors in nearly every product instance. But, you don't want to buy a full set of something in every color possible, just to find that you don't really like how they work. This is especially true if you are brand new to trying something out.
I recommend you grab a small enough range of color to lessen the investment, but a big enough set to feel like you have a nice range of color. In the case of Neocolor II, (not to be confused with Neocolor I oil pastels!), I'd pass up the smallest 10 color set, which feels limited if you don't know how to mix colors and go for the 15 set, which could keep you happily watercoloring for years without want! In the case of Inktense, for example, I'd skip the 6 and 12 sets and go for the 24 set. You don't need all 78 colors (unless you want them later!) and can enjoy lovely color choice options with 24 colors. I think you understand the concept here.
Just think, "How many colors do I need if I don't know how to color mix?" and then watch how you do with those. If you buy a small set and find you're longing for more colors, or have gone on to buy 6-8 additional individual colors, it might be time to consider buying the largest set you can, to save money in the long run.
If it would help you out, check out my free Bible Journaling Supplies Guide for my recommendations in further detail. I update it and add to it regularly. There is a dedicated watercolor section.
As a side note… let me know in the comments if you'd find it helpful if I did a mini course on an introduction to color mixing. I'd love your feedback.
I've saved myself a lot of money buying small sets and then deciding how much I love a product, before investing big. Then, I have a small set to travel with, share, or give away! Watercolor Bible journaling should not break the bank. Just know that good quality watercolor will be more vibrant and will not leave your surface with a chalky finish that cheap ones offer. You do get what you pay for with watercolor. The more you pay, the less fillers you get. Perhaps somebody should tell Caran D'Ache how much I love them. 🙂
Scripture
I used my Single Column ESV Journaling Bible, for this lesson and the scripture for this challenge is Revelation 19:10b…
"…for the testimony of Jesus is the spirit of prophecy."
The Power Of Sharing Testimonies
I hope you've heard me in the deepest part of your heart while watching the video for this lesson. This is huge. Will you take time in this challenge to ponder a testimony of God's goodness in your life? Perhaps even create an illustration for this challenge, which directly reflects that thing. Take it a step further than just anything God has done in your life and do the following.
STEP 1: Identify what you need breakthrough for, right now.
STEP 2: Identify a testimony of God providing breakthrough in the same way you need.
STEP 3: Find a place of genuine thankfulness in your heart for that miracle and thank God openly for what He did.
STEP 4: Find anyone who will listen and share the testimony you identified. (Psst! The comment section below is the best place to start!)
STEP 5: Invite God to do what He did in the past, for you in this season.
STEP 6: Repeat, repeat, repeat. Oh, did I say that enough? Repeat!
God just wants to release life over our circumstances and wants us to partner with Him in doing the same. Complaining about our current life will not fix things but we can partner to speak life into our situation and this really is a huge key how, yet so simple!
I find it useful to take time reading stories and watching video of testimonies of how God has impacted others. When I need breakthrough in my life in a particular area, I search out testimonies to begin creating an atmosphere of attention on how God has brought breakthrough in this area before. 
It could be a previous testimony that was for you, a loved one, someone you don't know, or even a story you read/heard! The idea here is to fill your life with a pattern of identifying a need for breakthrough, finding testimonies of what God has done for this need in the past, sharing the testimony as an act of prophecy to release God's presence into the need and to openly invite Him to do again what He has done in the past.
In the Bible, we see so much evidence that the Israelites did amazingly well when they chose to remember and ponder what God had done in the past for them. Yet, whenever, (and I do mean whenever), they strayed from remembering to talk about what God had done for them, things truly fell apart for them.
There is an act of obedience in our relationship with God, to not forget what He has done and to speak it out as to prophetically release His power to do it again. It's a simple principle of His Word with life changing impact when we grasp it.
My husband and I believe it so fully that we created a Revival History Timeline, to graph the last 500 years of every major move of God worldwide. We want to be people who study God's goodness and are ready to share testimony of it wherever needs are among us. When life throws us lemons, our response is to share testimonies of breakthrough. It's become a life habit that if someone shares a difficulty, our brain scans through a growing library of God's faithful answer to prayer, to prophetically infuse hope and life.
If you want to know more about how I step into breakthrough, I actually have a course called Thanks Giving Breakthrough which may really impact you. I'd love to have you join me and your fellow students, in stepping into freedom.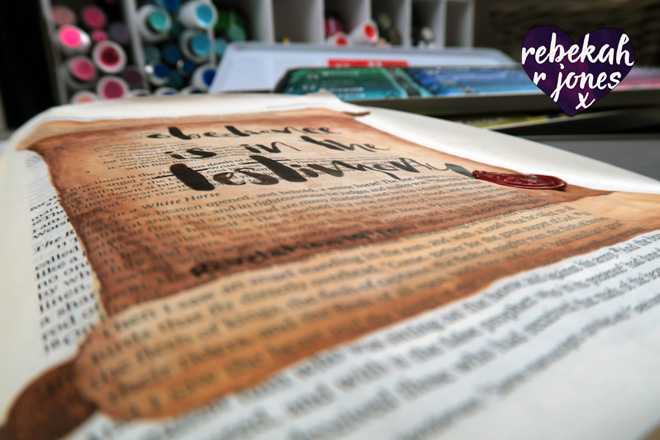 Please do share a testimony in the comments below! If you're new here, we have lots of helpful people in our community who pop into the comments and share ideas and thoughts you may want to check out too. If you've not seen lesson one yet, I encourage you to start at the beginning so we can go on a journey together in this free 12-part devotional series. It's not too late to join in, (it never is!) and I'd rather you start anywhere, than not at all.
Join me in this Bible Art Journaling Challenge
You can find answers to most any question you may have about participating in this challenge, on the Bible Art Journaling Challenge page and learn more about this devotional series, on the Deeper Still page which holds the lesson archive, supplies list and and how to join in!
Be sure to head over to our Facebook group, to chat about this Bible Art Journaling Challenge and get started on your own creativity!
Many of you ask if it is okay to share these posts with your friends. Please share! It is a simple way you can partner with me to impact lives. And remember, you can join this challenge any date you wish. The community is always growing and you are welcome to participate whenever you want!
Thanks for joining me. Please take a moment and comment below! I'd love to hear from you!
You are loved. x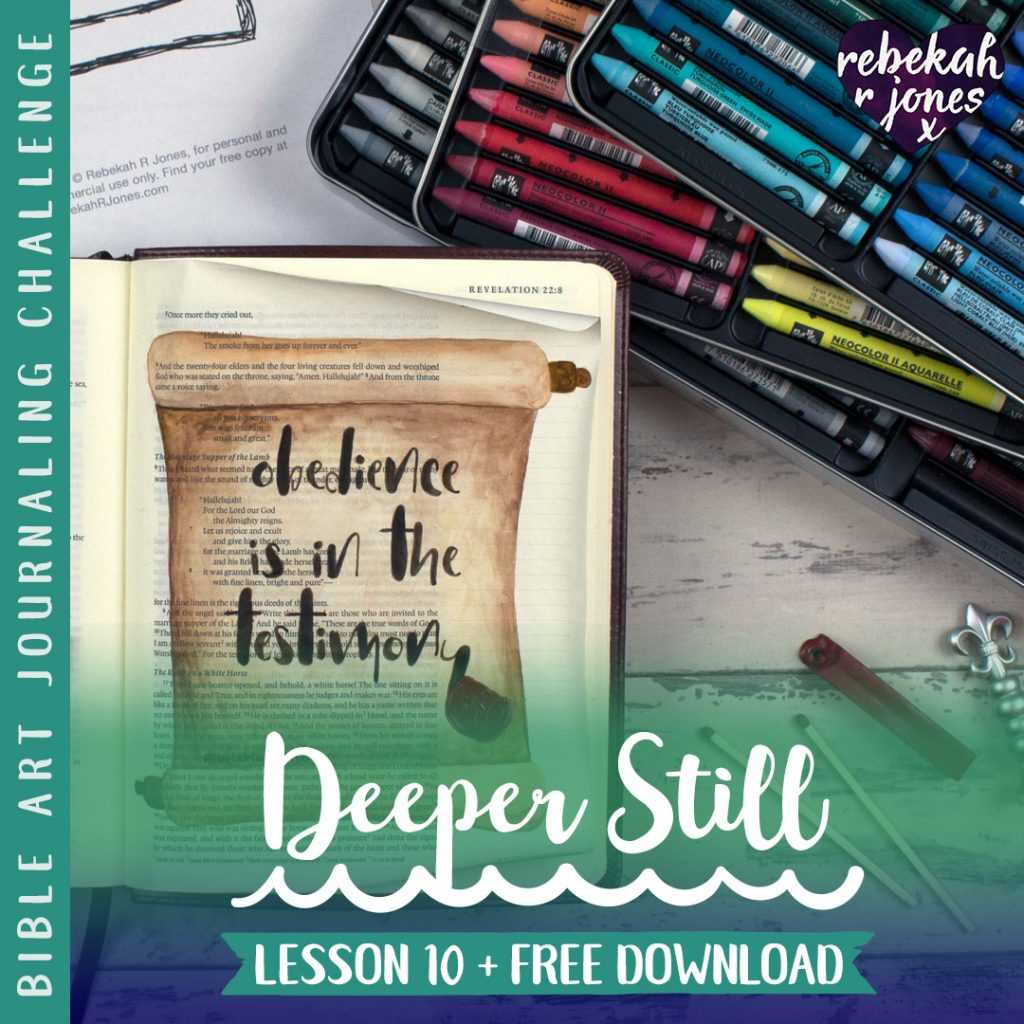 *Scripture quoted and artwork completed in the ESV® Bible (The Holy Bible, English Standard Version®), copyright © 2001 by Crossway Bibles, a publishing ministry of Good News Publishers. Used by permission. All rights reserved.