Bible Journal In 9 Minutes With 1 Micron Pen Drawing And Zero Skill – Deeper Still Lesson 8

Hello Everyone! Welcome to lesson 8 in Deeper Still! In this Bible Art Journaling Challenge series, we're taking an adventure into the depths of God! If you've wanted to start Bible journaling and lack time, money or skill, this Micron pen drawing challenge is for you! Grab your free Bible journaling printable below, a pen (or colored pencil!) and let's dive into the topic of peace!
If you haven't yet signed up for this series, please do. When you sign up today, you'll immediately get your welcome email. Then, you'll get the latest lesson right to your email inbox on the 2nd Friday of each month!
That is it, enjoy the lesson and grab the resources and free download below, to join in the challenge!
Micron pen drawing

I get asked about Micron pen drawing ALL. THE. TIME. (Is that exaggerative enough for you?!) Truly though, Micron seems to be the brand everyone is SUPER excited about using in their Bible. Personally, I love me a good set of Faber-Castell Pitt Pens. But Micron pens are very good quality too.
Lots of people ask me if Micron pen drawing will cause bleed-through. Honestly, without showing you inside one of my Page Prep course lessons, where I explain pens and another where I explain Bible paper itself, it's hard to explain. In simplicity, Bible paper is thin and the less moisture you add to the surface of your paper, the less chance of bleed through.
You'll notice in my video that the amount of ink added to the top section is thin and I don't go over the area more than once. There is a bit of shadowing on the back of it.
Where I was more "heavy handed" and went over the same area multiple times without letting the paper fully dry between drawing strokes, I ended up with a bit of mild bleed through. I expected it and I'm not worried. I have a lesson in my Page Prep course explaining how to fix bleed through.
If bleed through concerns you, try using colored pencil! No moisture, no bleed through.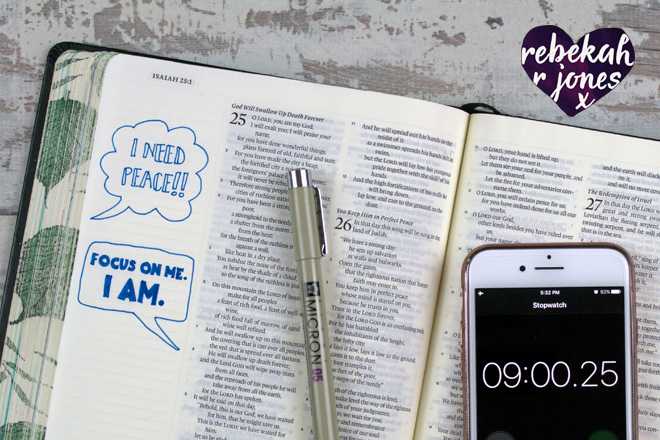 The fun part here, is that we really can create in our Bible with NO skill and just 1 pen, doing a little Micron pen drawing! I am certain that you have a pen (or colored pencil) somewhere in your house and you can get my free download to trace. And, we're talking, 9 minutes of your time, to spend with Jesus in the Word. No excuse to not get in the Word with me if you're hungry for it.
Let's get going with this Micron pen drawing! It couldn't be simpler, faster, or require less of you. I'm excited to see you put your own twist on it and to hear from you on the topic we're studying together! Watch this lesson and then scroll down to get what you need to join in!
Scripture
I used my Double Column ESV Journaling Bible, for this lesson and the scripture for this challenge is Isaiah 26:3…
"You keep him in perfect peace whose mind is stayed on you, because he trusts in you."
Peace

Do you crave peace? Wish for it to wrap itself around you and hold you through the storms of life? It can be a reality. Truly!
It was said well in Isaiah. God, actually keeps us in perfect peace, when our mind is focused on Him. Our mind being focused on God, is a result of trusting Him.
If you have some peace but need more, you can have perfect peace.
God is our peace. That sounds so, "Christianese". Like a true gospel preach that will get a round of applause and be forgotten by sun-down. Gross. But, only if we don't take it to heart and own it's truth. God IS our peace.
We need to take a true reality check if we are living in anything but perfect peace, during the storms of life. Jesus slept in a boat during a storm and woke up to calm it. The only time He discussed the storm, was when He was releasing the peace of God over it.
It's easy to think we've got this peace thing nailed, when we're in a good season. But when life is tough, we see the true depth of our roots and trust in God. It's in that place, that we get the joy of putting our hope in Him and watching Him deliver on His Word with faithfulness.
Or, it can be the season where we say that life has been hard, we've taken some blows in the area of trust with others and cannot find it in ourselves to reach out to Him and lay ourselves vulnerably at His feet when we need Him most.
It's our choice if we access the fullness of what Jesus died on the cross to give us. We can have eternity with Him by simply accepting Him into our life and turning from wickedness. But we can also step into the fullness of His breakthrough right now, and point people to the peace He gives us in the storms we only experience this side of heaven. Now truly is our only season to get that type of connection in relationship with Him, that is sweet to have fought for.
But what would we be fighting for if it's a gift?! Simply letting go of lies that keep us from trusting Him, where the key to perfect peace is unlocked.
Will you step into a greater depth of trust in Him with me today? We can all god deeper. What can you do this week to trust God more deeply?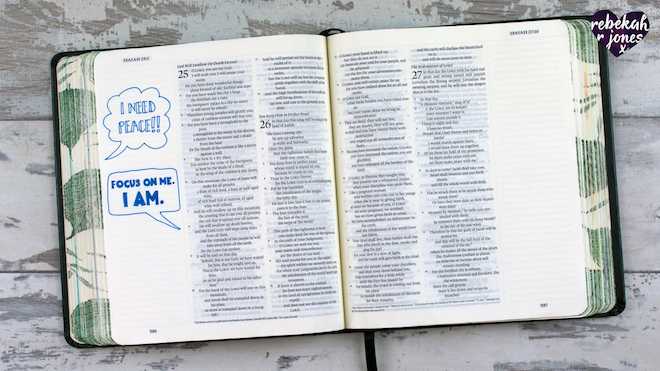 Bible journaling supplies featured today

As promised, here are the supplies I featured, in this lesson. I hope they help you find anything you may want to try out. These supplies are purely optional and you are free to participate with whatever you have, using the devotional for this lesson.
This post may contain affiliate links, to support you. If you make a purchase after clicking an affiliate link, this ministry gets a small commission, with no extra cost to you. You may read my full disclosure, for details. Thank you, I appreciate you partnering to help impact lives!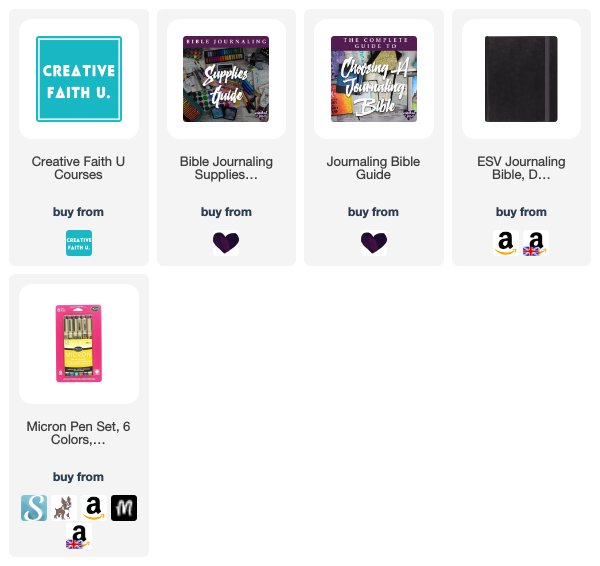 I'd love to hear from you in the comments below! If you're new here, we have lots of helpful people in our community who pop into the comments and share ideas and thoughts you may want to check out. If you've not seen lesson one yet, I encourage you to start at the beginning so we can go on a journey together in this free 12-part devotional series. It's not too late to join in, (it never is!) and I'd rather you start anywhere, than not at all.
Join me in this Bible Art Journaling Challenge
You can find answers to most any question you may have about participating in this challenge, on the Bible Art Journaling Challenge page and learn more about this devotional series, on the Deeper Still page which holds the lesson archive, supplies list and and how to join in!
Be sure to head over to our Facebook group, to chat about this Bible Art Journaling Challenge and get started on your own creativity!
Many of you ask if it is okay to share these posts with your friends. Please share! It is a simple way you can partner with me to impact lives. And remember, you can join this challenge any date you wish. The community is always growing and you are welcome to participate whenever you want!
Thanks for joining me. Please take a moment and comment below! I'd love to hear from you!
You are loved. x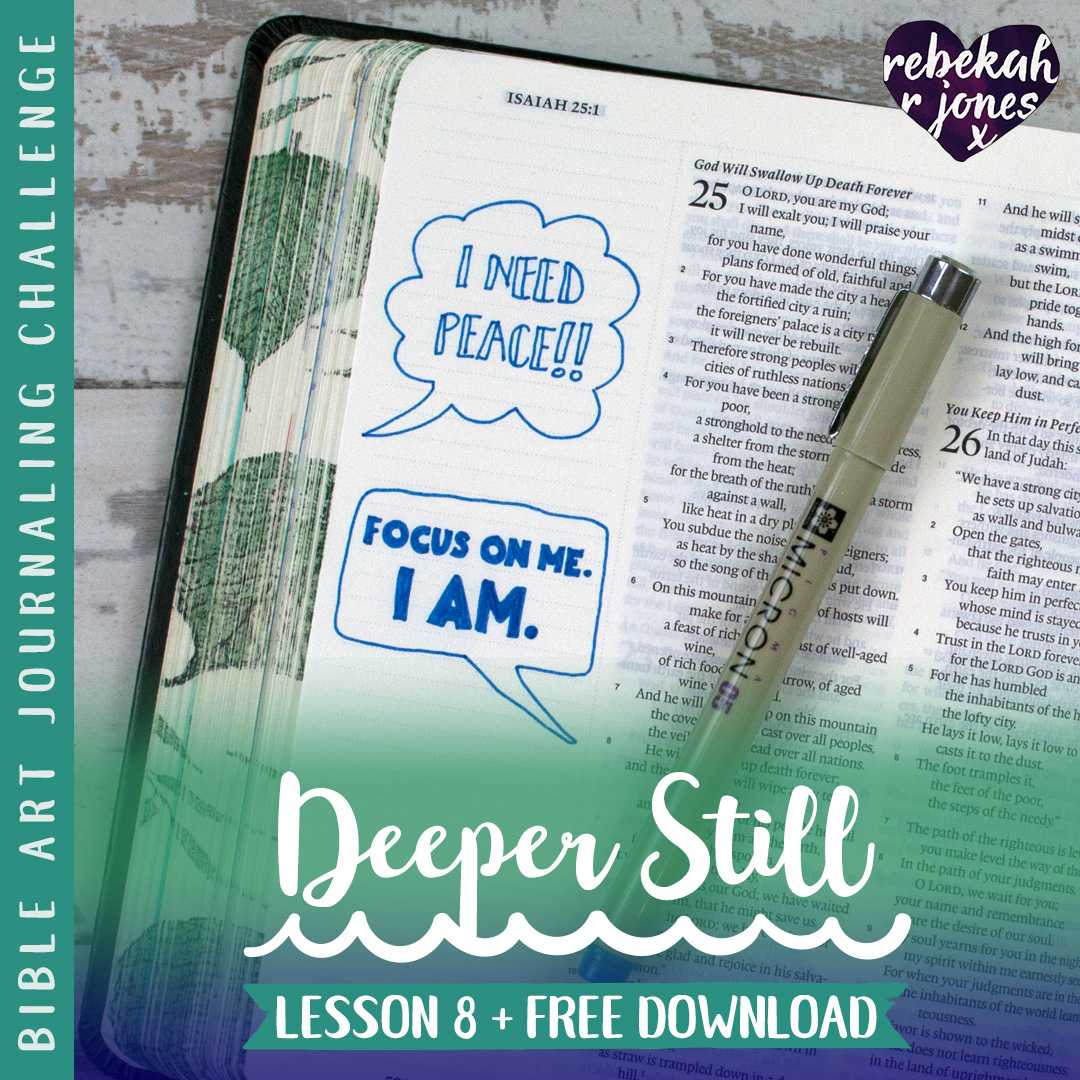 *Scripture quoted and artwork completed in the ESV® Bible (The Holy Bible, English Standard Version®), copyright © 2001 by Crossway Bibles, a publishing ministry of Good News Publishers. Used by permission. All rights reserved.