Art Journal Devotional – Bible Art Journaling Challenge Week 36

Hello Everyone! Welcome to week 36 of the Bible Art Journaling Challenge! SOOO many of you have asked me how to participate, when you don't want to create directly on the pages of your Bible. This week seemed a good time to show you how I art journal devotional time with God.
You can join me in whatever book you like, I just want you to find a way to join your creative pleasure, with your devotional time in the Word. If I can give you confidence in some way, that is what I'd hope for!
Firstly though, two things…
You may have noticed a delay in this post coming out to you. It's 6 days later than usual. Sadly I had a fairly bummer head cold when we headed off to rest in Cornwall and upon our return from that week of rest, it hit me hard. I am low on energy but definitely feel the worst of it is behind me. Thanks to everyone who prayed for me. I'll take it easy until I'm 100% and am thankful I could share this short but fun little post with you, before too much time passed. I hope to do another challenge sometime this week and then begin to get back to the schedule of releasing them Tuesdays. Thanks for your support and patience while I take it easy and focus on recovery.
My website is different! (As if you hadn't noticed…) My amazing husband took countless hours to re-launch my site, so it is now mobile responsive! That means you can browse the site easier with your tablet or smart phone. I am so grateful for him. I took the time to re-do my branding/logo for the re-launch and hope you like it! Sharing is easier now and so is searching for your favorite things.
As for this weeks Bible Art Journaling Challenge, I needed to take it easy so I turned to my art journal for a quick way to creatively record what God was speaking to me about a particular scripture. I hope you enjoy the change of scenery from my Bible for this one! 🙂
As always, please remember, you do not need to use the supplies or techniques I've shown you today, to join in to the Bible Art Journaling Challenge. Simply grab what you have and get spending time in the Word creatively!
Scripture
The verse I am challenging you to join me in creating on this week, is Jeremiah 31:3. It says…
The Lord appeared to him from afar, saying, "I have loved you with an everlasting love; Therefore I have drawn you with lovingkindness.

Because I am still feeling low on energy, I hope you will forgive me not expanding on the scripture as I normally do. Instead, I want to encourage you to dig around and see what this verse means to you personally! You are SO loved! And it is everlasting.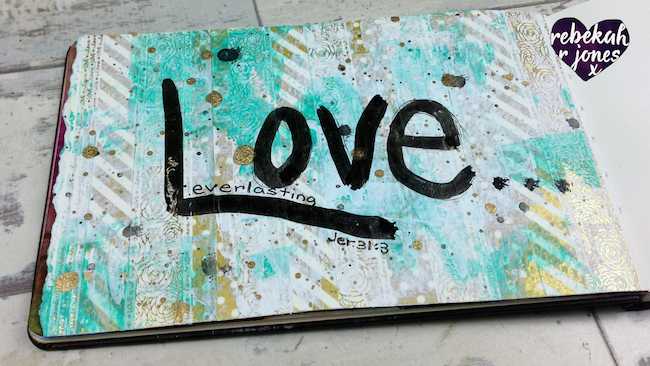 Join me
As I've mentioned, I would love you to try any of the techniques I've shared in my process with you today if you're interested in them. I also want you to feel free to gather inspiration in other places for joining me in this weekly challenge. The goal is to get in to the Word and spend time with God. I'm looking forward to seeing what you art journal in your Bible for this weeks challenge!
You can find answers to most any question you may have about the Bible Art Journaling Challenge over on my Bible Art page found in the top navigation. It also has a full archive! Be sure to head over to our Facebook group and/or Google+ Community, to chat about this weeks Bible Art Journaling Challenge and get started on your own page! Many of you ask if it is okay to share these posts with your friends. Please do! It is a simple way you can partner with me to impact lives.
Today's Bible art journaling supplies
As promised, here are the supplies I featured in this weeks video which you can click on to view or purchase. I hope it helps you find anything you may want to try out. When you find deals which I've searched for and recommended below, I get supported. This has no effect on you and makes a real difference for me. Thank you, I so appreciate your support which helps me provide these free tutorials for you! Where there is just one shop, it'll lead to Amazon. Where there are two links, you'll see SB for Scrapbook.com and AZ for Amazon.
Click images to view art supply details or to purchase.

Recommendations
As promised, in my video, below are some books and art journals I recommend if you want to get in to art journaling. It has been a wonderful way for me to grow creatively. I tend to want everything I do to matter. So, at first, I wasn't keen on art journaling as it meant all my art would be tucked away for only some to see. I then realized, it is the gem of creative growth. Art supplies are expensive and nobody is a master artist the first time they try something.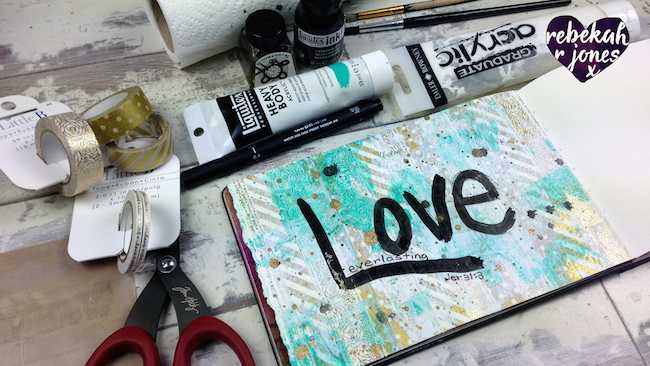 I encourage you to use art journals as a way to grow creatively, try new things and explore what makes you come alive. Then, when you have mastered various things, you can take those skills you've grown, onto the pages of a Bible or canvas, or whatever else excites you. In my opinion, this is the way to give yourself permission to try new things and close the book when you're done for the day. There is a fresh new page waiting when you want to learn something else! Click images to view details or to purchase.
Thanks for joining me today. Please take a moment to share a comment below for us all, about your thoughts, tips, questions and ideas. I look forward to hearing from you!
You are loved. x