Favorite Journaling Bibles
Often times people email or write to me asking one simple question. "What Bible do you film in?" Or, they ask, "What Bible do you recommend most?" In this section, I'll share the Bibles I own, love and can recommend. Perfect if you feel too overwhelmed with options, or just want a Bible you've seen me use.
This page may contain affiliate links, to support you. If you make a purchase after clicking an affiliate link, this ministry gets a small commission, with no extra cost to you. You may read my full disclosure, for details. Thank you, I appreciate you partnering to help impact lives!
---
---
My Favorite Journaling Bibles I Own, Use And Film With

While I do not believe anyone needs more than one Bible at a time, eventually people do create enough in one Bible to run out of space and want another. In my case, I regularly share Bible art journaling video devotionals with tutorials. So, I like to film in a few widely popular Bibles, so you can imagine for yourself, how you might do what I've shown you, in your own Bible. I can see why each of them are popular for various reasons and I enjoy them all.
Also, I find that over time, I have developed an interest in having all my "flat" artwork in one Journaling Bible and more bulky creative entries in another. No particular benefit of using one over the other for these uses. I just got headed in that direction and seem to keep up the theme.
Below are my favorite Journaling Bibles right now.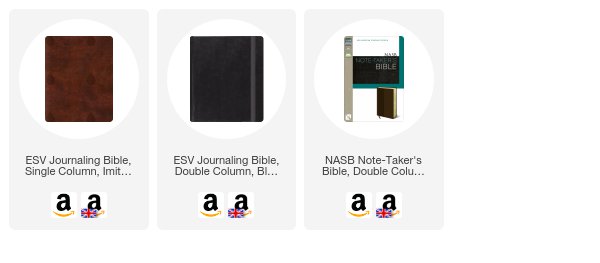 All of these Bibles are the same 6 inches wide and each is a different height.
I like the NASB Note-Taker's Bible (which comes in several translations) and while the outside margin area is narrower (1.25″) than my ESV Journaling Bibles (2″), it does have a nice bit of bottom margin space that the ESV Journaling Bibles do not have. A few key benefits of this Note-Taker's Bible for me is…
I love the NASB translation which this Bible comes in.
The words of Jesus are in red, in all Note-Taker's Bibles.
Lastly, the paper is white.
That said, my absolute favorite Bible for art journaling in, is the ESV Journaling Bible. I currently have (as you see below), two different ones. The ESV Journaling Bibles come with the Bible text either in Single Column, or in two columns (called Double Column, which was the "Original Journaling Bible" before Single Column was introduced). Each of these Bible "insides" come with several cover options.
I love the Single Column ESV Journaling Bible with its beautiful imitation leather cover, that has chestnut leaves imprinted into it. And, I also really enjoy the Double Column ("Original") ESV Journaling Bible with its very cost effective cover, which is a black hardcover.
So which Bible is my ABSOLUTE FAVORITE?!
The Double Column ESV Journaling Bible! It is shortest in height (so less room for creativity than the Single Column), but I REALLY enjoyed altering my Bible cover, which has made it my favorite that I own. Every time I look at the cover, I am invited to pick up my Bible and spend time in the Word… which honestly is the whole point of all this.
In the future, I would LOVE to buy the Single Column ESV Journaling Bible with the black hardcover. Why?
If you get a ruler out, a Single Column ESV Journaling Bible, will contain the most free margin space of any other wide-margin style Bible. Yay! The black cover is often the most budget friendly on the market. Having a plain hardcover Journaling Bible is an invitation to create a personalized Bible cover! 🙂
Well, that is it for this topic of my favorites. If you're still unsure which Bible to get, or want to keep exploring your options, head to the next section of this guide!
---