Favorite Journaling Bibles
Often times people email or write to me asking one simple question. "What Bible do you film in?" Or, they ask, "What Bible do you recommend most?" In this section, I'll share the Bibles I own, love and can recommend. Perfect if you feel too overwhelmed with options, or just want a Bible you've seen me use. My most favorite are right at the top of this list.
This page may contain affiliate links, to support you. If you make a purchase after clicking an affiliate link, this ministry gets a small commission, with no extra cost to you. You may read my full disclosure, for details. Thank you, I appreciate you partnering to help impact lives!
Below are favorite Journaling Bibles I can heartily recommend in the variety of covers currently offered. My absolute favorite Journaling Bible is the ESV Journaling Bible. A close second is the Journal The Word Journaling Bible which comes in a variety of covers you can see above. Click on an icon below to shop for yourself or a loved one!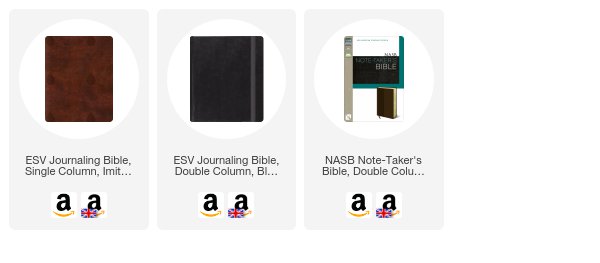 Watch my video below to learn all about my favorite Journaling Bibles.
While I do not believe anyone needs more than one Bible at a time, eventually people do create enough in one Bible to run out of space and want another. And, sometimes you want to create in a handful of heirloom Bibles to pass down to loved ones. In my case, I regularly share Bible art journaling video devotionals with tutorials. So, I like to film in a few widely popular Bibles which I personally love, so you can imagine for yourself, how you might do what I've shown you, in your own Bible. I can see why each of them are popular for various reasons and I enjoy them all.
I personally have developed an interest in having all my "flat" artwork in one Journaling Bible and more bulky creative entries in another. No particular benefit of using one over the other for these uses. I just got headed in that direction and seem to appreciate this approach. Consider what matters to you and go with it.
If you're still unsure which Bible to get, or want to keep exploring your options, head to the next section of this guide to start looking for specific Journaling Bible features you're most interested in, for a comprehensive look at what's available on the market!
---