Things To Consider When Choosing A Journaling Bible

Choosing a Journaling Bible can feel overwhelming without direction. In this part of the guide, we'll start with your free Checklist For Choosing A Journaling Bible. I'll also go over a few helpful things in this part of the guide, which you may want to know when choosing a Journaling Bible. Like, buying on a budget, or investing in an heirloom and even what a Journaling Bible is, versus, what is not. And lastly, a couple important notes to know when selecting a Journaling Bible.
Category Menu
Click any category, to jump to it, or simply scroll. Click any Bible image or shop link, to open a new browser tab to start shopping.
This page may contain affiliate links, to support you. If you make a purchase after clicking an affiliate link, this ministry gets a small commission, with no extra cost to you. You may read my full disclosure, for details. Thank you, I appreciate you partnering to help impact lives!
---
---
Checklist For Choosing A Journaling Bible
When you learn what matters most to you in choosing a Journaling Bible, your choice will be a simple matter of browsing the category types and translations, to see your options and select a favorite. This checklist will help you easily understand what is negotiable or non-negotiable to you, in choosing a Journaling Bible, so you can focus on what matters and pick a winner quickly.
There are some fantastic options on the market and my free checklist can help you narrow down what you're looking for, in four quick and easy steps.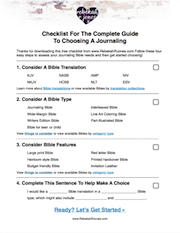 ---
---
Things To Know When Choosing A Journaling Bible

You may be wondering about buying a Journaling Bible on a budget, or what is the best quality Journaling Bible for gifting or passing on to future generations, or what classifies as a Journaling Bible in the first place! Lastly a couple brief but important notes about selecting a Journaling Bible. Allow me to share…
---
Buying A Journaling Bible On A Budget
Here is my thought about buying on a budget. Journaling Bibles change prices too frequently for me to create collections based on budgets. If you're looking for a cost effective Bible, I often find the most reasonably priced Journaling Bible on the market is usually the black, Double Column ESV Journaling Bible listed in my favorites. 🙂 Sometimes others go on sale, but in my experience, this one is consistently reasonably priced. Don't take my word for it though. Find what you like here in this guide and search around to see if you can find it on sale anywhere!

---
Buying A Quality/Heirloom Journaling Bible

Sometimes people want to invest in a keepsake Journaling Bible, which they can gift or fill with treasures to pass on to their children or grandchildren. A sort of heirloom. Those who have the funds and want to buy a quality Journaling Bible which can likely take more wear over generations, may love the beautiful ESV Journaling Bible, which has a leather cover with flap and strap. I've flipped through one and it is incredible quality. I am very impressed.
This same Journaling Bible cover, comes with several different "insides". There is a Single Column version in both standard or large print text, a Double Column and even Interleaved option too. There are of course several types of Journaling Bibles which are fabulous quality. I just want to point you to these, as I often find this is the one Journaling Bible people reach for, when investing in an heirloom Bible. I can see why! I have the Double Column version which is the smallest to hold and it is a beautiful quality.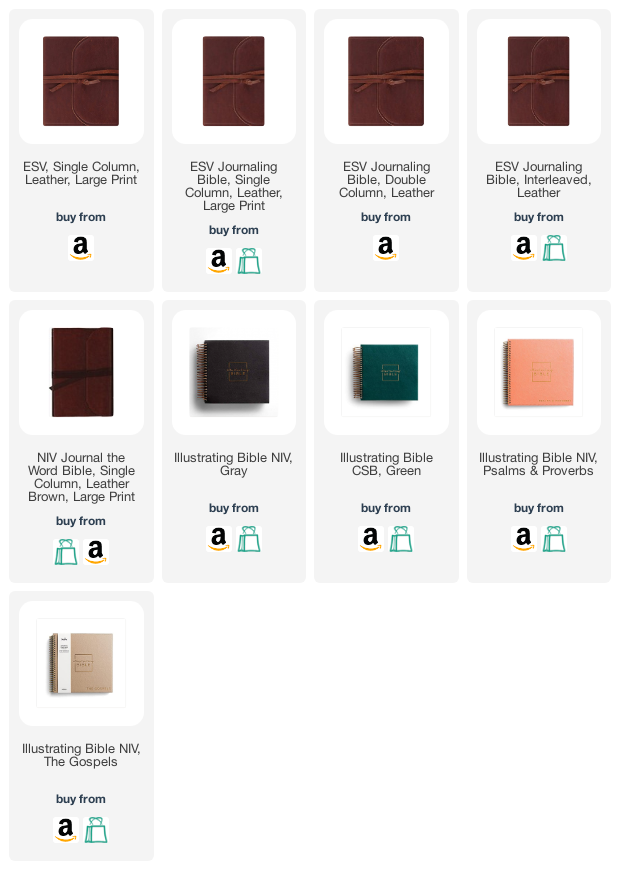 ---
What Is A Journaling Bible And What Is Not?

When people are introduced to Bible art journaling, or Bible journaling, they can feel confused by what is a Journaling Bible and what is not a Journaling Bible. It may seem overkill to even discuss this, but I want to help bring clarity so you can choose a Journaling Bible without feeling confused about your options. So here are a few thoughts starting with the history of the original Journaling Bible…
The publisher Crossway first published the Original ESV Journaling Bible in 2006. Their thought was that it would be good to have a Bible with a good full 2 inch wide-margin on the outside of each page, for note-taking. A way for people to engage with their Bibles more fully.
In early 2014, Shanna Noel (now founder of Illustrated Faith), shared how she was using this Bible to take notes in a more creative way and the rest is sort of history. Everyone realized how perfect it was to help them engage with the Word more freely and the rather decent back stock of ESV Journaling Bibles, were suddenly not available on the market! Crossway worked to create new options in their then rather limited range of ESV Journaling Bibles, and got more on the market.
Once Bibles have finished their design phase and are sent off for printing, the actual print process takes a full 6 months to complete! Other publishers realized how helpful it would be to have other translations in a similar Bible style and scrambled to create new "Journaling Bibles" for the market. But that is the name which Crossway calls their Journaling Bible. So, other publishers have come up with new names for their Bibles meant to serve the same purpose.
So I guess we could say that "technically", Crossway have the "only" Journaling Bible. But, in reality, they simply named their Bible with a title that makes sense to consumers in this movement. Which, has managed to secure them a lot of happy Bible purchasers who want to own "a Journaling Bible". Because, technically, they create the Journaling Bible. And they are also "ahead of the market". Being the first ones to having something available for purchase, in an industry that requires 6 months to print an edition, makes you able to make a name for your beautiful Bibles.
Don't get me wrong, I think Crossway have knocked it out of the park with their ESV Journaling Bible editions and the wider public seem to agree. God has truly inspired them in a way which has enabled thousands of people to engage with the Word more freely.
The drawback though for Crossway is that they only hold the publishing rights to the ESV translation. Other publishers hold the rights to other translations. So, while the market may feel flooded with ESV Journaling Bible options (which is fabulous!), the rest of the Bible publishers were basically waiting on printers which cannot be rushed. Eventually other publishers "caught up" with bringing Bibles to market and we've seen a a wide range of options become available. There are some fabulous options to consider in various translations and types of styles.
For the purpose of this Complete Guide To Choosing A Journaling Bible, I consider ANY Bible which has a wide-margin area that you can create on, to be a Journaling Bible. It's a title for the Bible which Crossway sells, but is also a working title of a type of Bible which serves the Bible journaling process. I encourage you to look at the details of Bibles and learn what you can about the ones you're most interested in.
Bible journaling is truly a movement of God sweeping the nations. Publishers are working hard to create great Journaling Bibles to serve people digging into the Word as it comes alive to them in a creative journey.
All this to say… Just because a Bible is called a Journaling Bible, or has an entirely different name, doesn't mean it will or won't, do the same thing for you. I say it's a Journaling Bible if there is room to create in the margin. 🙂

---
Understand Bible Paper
Not all Bible paper is created equally. In making your decisions, you'll find this video helpful! All of the Bibles featured in the video, are in this guide. You're looking for the ESV Journaling Bible, the NASB Note-Taker's Bible, or the Illustrating Bible.
---
Two Helpful Notes
Briefly, two important helpful notes which answer questions I frequently get about choosing a Journaling Bible…
Each publisher tends to have 1-2 Journaling Bible or wide-margin Bible "insides", which are available with a variety of covers, and/or translations. I have shown every variation possible in this guide.
People often talk about the thickness of paper in various Bibles. Obviously not every publisher is using the same paper manufacturer for producing their Bibles, but I honestly see VERY little difference of paper thickness between different Bibles and more of a communication in marketing to help Bible journalists find Bibles they feel are right for them. I would not even bother considering paper thickness in your selection process. Instead, watch my tutorials on my blog to learn how to create on any Bible paper thickness. It is super easy and fun! 🙂
---
---