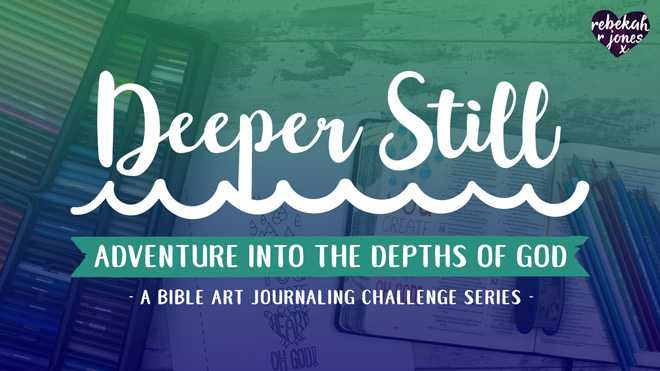 By popular request, I am providing you with a supply list for the Deeper Still series of the Bible Art Journaling Challenge.
While this is not a full supply list of every product you'll see throughout the series lessons, it is key products I repeatedly use during the series. You'll see some items I also featured in the Original series and Heaven Is Calling series of the Bible Art Journaling Challenge. Throughout this Deeper Still series you'll learn even more uses for these fun supplies, while we maintain a skill level anyone can enjoy.
In the Original Series, my goal was to share a broad spectrum of techniques and supplies, to offer diversity. In Heaven Is Calling I restrained myself to a limited selection, so you could get the most out of a smaller collection of key supplies. I will continue to keep the supply list simple throughout Deeper Still.
You can of course, see my devotional lessons and then look across my blog for inspiration on how to use whatever you have on hand. I hope that you will feel free to use whatever you have available to you and feel most excited about. You do not have to use the same supplies I use to consider yourself a participant of the Bible Art Journaling Challenge – only the devotional. Though, I imagine you'll enjoy following along with some of the simple creative tutorials in the series.
Firstly… do you need a Journaling Bible?

If you don't have a journaling Bible yet, I'd love to help you find what is best for your personal creative journey with God. Check out my free Complete Guide To Choosing A Journaling Bible. You'll see my favorites, tips for choosing a translation, categories types of Bibles and translations, plus more. Everything is broken into helpful sections and regularly updated.


I've also got links to my favorite art journals if you're not quite ready to create inside a Bible.

Deeper Still supply list

You do not need to own everything on this supply list to participate. My creative tutorials are optional but super fun. 🙂 Use what you have, or purchase 1-2 recommended color products, based on your preference. Details for supplies are below the collection. I've tried to link to a smaller and larger set of each color medium featured. You can generally look around on the page I send you to, in order to find other various sets with larger or smaller range of color, or different colors when sold separately. Let this process be your own journey and what gets you enjoying time in the Word most. 🙂
Search my blog and look at my Bible Art Journaling Challenge archives for tutorials on how these supplies work, if they're new to you. This is your journey, so be sure you enjoy it! If a product is new to you, try buying the smallest amount, or set first, to try it out. Then, when you're sure you love it, invest in a full set. Enjoy shopping and I'll see you in Deeper Still!


Notes about supply list items…
The craft sheet, clear gesso, blending tool and heat gun are for "page prep" which helps you add a clear protective layer on your paper before creating, so nothing bleeds through to the back of your pages. This is not necessary for dry products like colored pencils, but is useful for anything with moisture including ink pads, Inktense and watercolor. Gesso is a great way to strengthen your paper so it is less fragile to create on. You can learn more about this process and the spiritual and practical foundations of Bible journaling in my Page Prep course at www.PagePrep.com
The ruler, embossing stylus and graphite paper will help with tracing and creating designs.
The difference between the Prismacolor Premier colored pencil and Prismacolor Verithin colored pencil sets are that the Premier ones are soft core and the Verithin are hard core. A soft core (Premier) colored pencil lets you add lots of color without much pressure (which is fab for delicate Bible pages). A hard core (Verithin) colored pencil lets you gently add crisp sharp edges and outlines. The Kum pencil sharpener is one of the only ones which allows you to sharpen a Premier (super soft core) colored pencil without damaging the core. I love mine!
I LOVE Faber-Castell Pitt Pens, (yes, even more than Microns). Pitt Pens will not smear regardless if you create on top of them or not. The set of black ones in different nib sizes, go nearly everywhere with me and I love the color options too!
Derwent make the Inktense Pencils which are one of my very favorite art supplies! These pencils are filled with ink that has been shaped into their core. You color it onto your surface, add water and it all comes to life with intense color! Unlike watercolor pencils, Inktense will not wipe away if you spill something on it!
The Pentel water brush set are brushes that come with an area in the handle to store water. They're perfect for watercolor and Inktense on the go.
Caran d'Ache Neocolor II watercolor crayons are another serious favorite of mine. Of all the watercolor palettes I could grab, these crayons are always a firm favorite for watercolor. Just scribble a bit on a clear acrylic block or other plastic surface, add water and you're ready to color!
Distress Ink Pads are a great product. You can grab a few colors you like the look of and use them for anything from blending beautiful backgrounds to smearing the ink on a plastic surface to use as a watercolor!
If you want to do any stamping, grab an acrylic block set for adhering clear and cling stamps. My go-to all-rounder black ink for stamping in my Bible is the Ranger Archival Ink. When yours arrives, you may want to designate it to Bible journaling by leaving the lid off for 3-4 hours before first using to dry it out a bit. This will give you less chance of bleed through.
*Links take you to my affiliate partners, Scrapbook.com (SB), Amazon.com (AZ), and Amazon.co.uk (UK). When you find deals which I've recommended through my affiliate partners, I get supported. This has no effect on you and makes a real difference for me. You may view my affiliate and product disclosure for more info on how this works. Thank you, I so appreciate your support, which helps me support your creative journey with God!
Save
Save
Save
Save
Save
Save
Save