View Journaling Bibles by Feature

In this part of the guide you'll find red letter, large print Bibles and more. You know… features you want to know when searching for the Journaling Bible you're after. You can see collections of unlined, lightly lined and boldly lined Bible margins and further collections of white, versus cream paper Bibles too. This is a great place to cross reference features in Bibles you've spotted in other parts of the guide.
Category Menu
Click any category, to jump to it, or simply scroll. Click any Bible image or shop link, to open a new browser tab to start shopping.
(Alternatively, view Journaling Bibles by Type, Edition, Translation, Feature, or Audience. Even Other Languages.)
This page may contain affiliate links, to support you. If you make a purchase after clicking an affiliate link, this ministry gets a small commission, with no extra cost to you. You may read my full disclosure, for details. Thank you, I appreciate you partnering to help impact lives!
---
---
Large Print Bibles
These large print Bibles are perfect if you need larger text to read and study during creative devotionals. Pay attention to what each seller claims the font size is for Bibles you are interested in. The large print font sizes seem to range from 9.5 to 12 depending on the Bible. Also note that large print Bibles tend to be larger and heavier to accommodate this feature.


---
Red Letter Bibles
Some Bibles have the words of Jesus, printed in red, to help them stand out from the rest of the text. These Bibles each have the red letter feature.


---
Extra Creative Space Bibles
If you're excited about Bible journaling and feel cramped with the typical 2 inches of space in most Journaling Bibles, these will be super exciting for you! You'll find below Journaling Bibles with extra creative space and wider margins.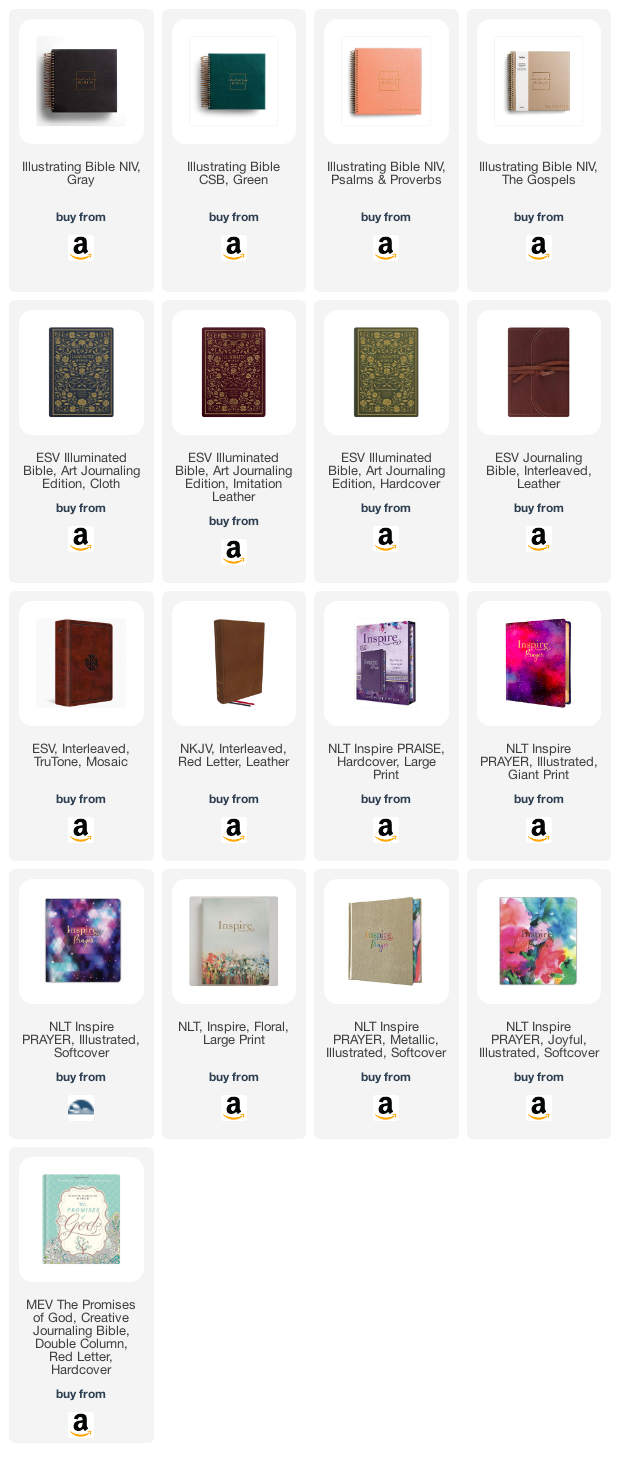 ---
Spiral Bound Bible
There is only one spiral bound Bible on the market and it is designed with Bible journaling in mind! The Illustrating Bible is gorgeous and I am excited to share it with you!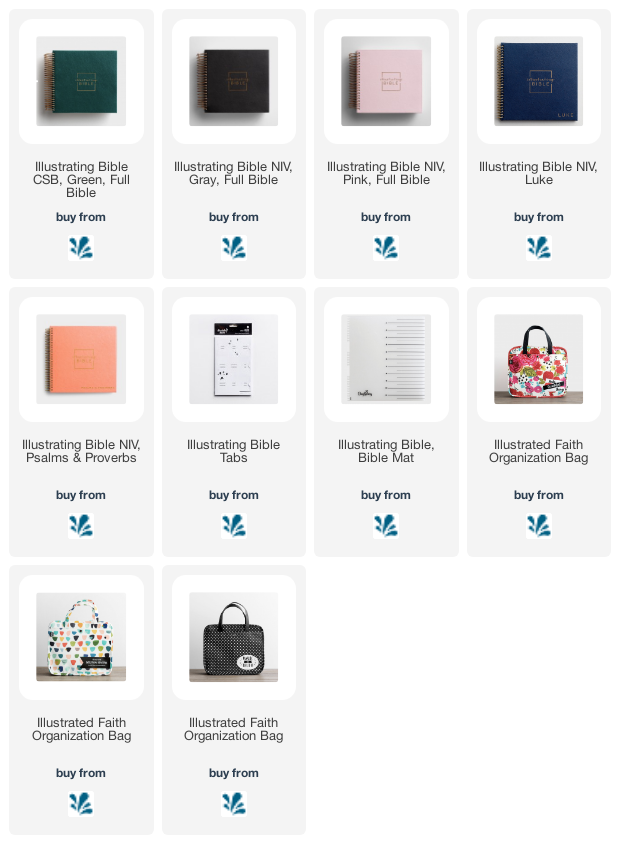 Want to be emailed whenever I share videos featuring the Illustrating Bible? Sign up here! I'll also keep you up to date with this ministry and all the fun stuff I've got coming up for Bible journalists like you.

---
Unlined Margin Bibles
These Bibles have unlined margin space, which is ideal for creativity and journaling.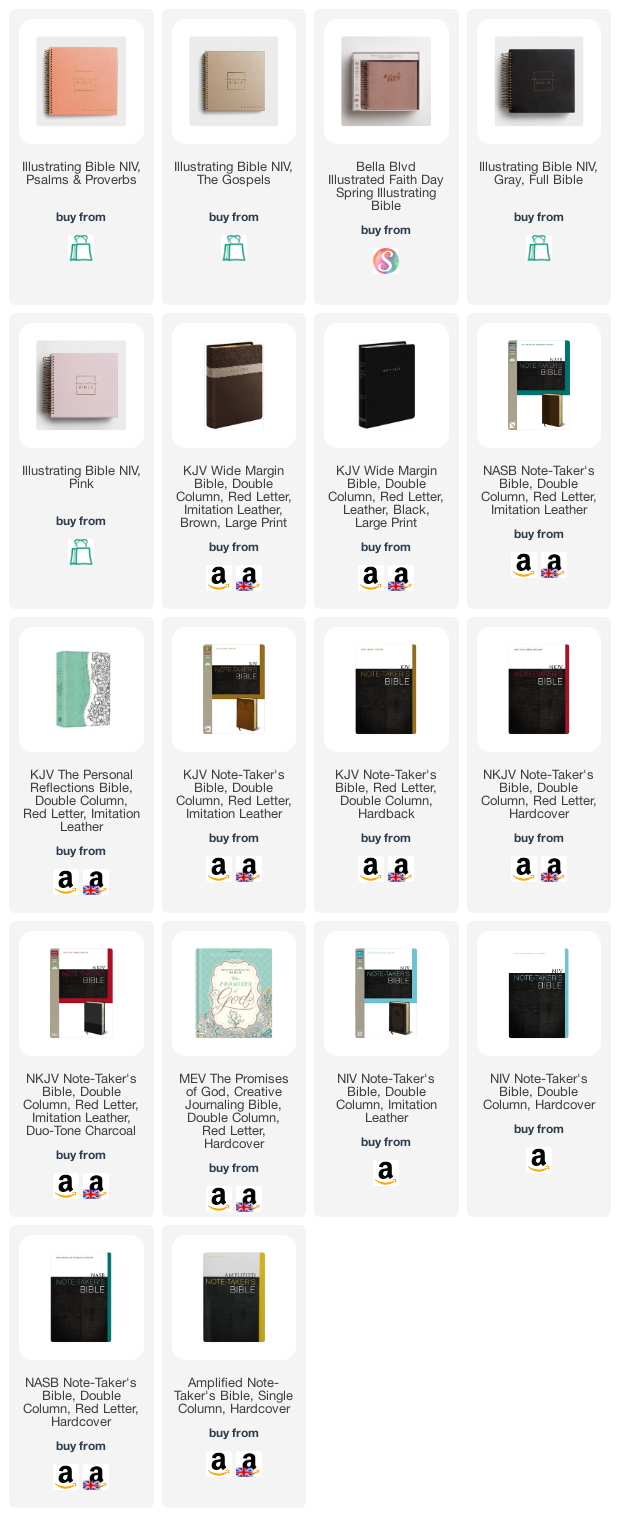 ---
Lightly Lined Margin Bibles
These Bibles have faint lines in the margin area for lining up creativity and journaling, which should melt into your creativity with color added.


---
Boldly Lined Margin Bibles
These Bibles have more visible lines in the margin area, which are ideal for written journaling, or the lines can be covered with paint or gesso, for creativity and journaling.


---
White Paper Bibles
These Bibles are printed on white paper.


---
Cream Paper Bibles
These Bibles are printed on cream, or ivory paper.


---
---